Received an invite for lunch in the city, so figured that it will take about 30 minutes to get there, 1.5 hours for lunch, 30 minutes to get back and we are done with it. Little did I know what was in store for me.
I have been to
Claridges
before on many occasions but I was puzzled by a term on the invite. It said, "chef's table". Hmm, very curious indeed. So off I toddled over to the hotel and asked the concierge, where on earth is this thing called as a Chef's Table? He pointed me to the Gordon Ramsay restaurant.
Gordon Ramsay
, for those who live on another planet, is a famous foul mouthed chef who is supposed to be the bees knees of cuisine and gastronomic delights.
Here's
another bio of this great man.
Anyway, I went in and met my very gracious hosts and colleagues, had few drinks at the bar and then were lead into the restaurant. But we did not stop there but were lead into the kitchen itself. In a tiny corner off the dessert section, was an alcove, with sufficient seating for about 5 people comfortably.
And then the gastronomic journey began. One by one, the various chef's would bring their creations to the table, and wine would be served to complement the palate for that particular dish.
We were taken for a trip around the kitchen. It is no less than a factory, with the most delicious olfactory sensations. You start with the basics, then go up to the broth (huge vat of the most interesting and piquant bits bubbling away), then to the fish, then to the meat and over the other side, is the dessert place.
Its tiny, cramped, hellishly hot. And it is all coordinated, one person cooks the vegetables and other the fish and another the sauce and they start shouting out the time left for the main meat/fish and then everything comes together in a master stroke of timing and epicurean pleasure.
They invited us to cook one dish, the sea bass one. It was amazing, the coordination which is required. I think we all messed it up but still it tasted delicious. Had to unfortunately leave before the cheese came around but till then, it was brilliant. I should have taken the afternoon off!!!! Our host took some photo's of the event which are here.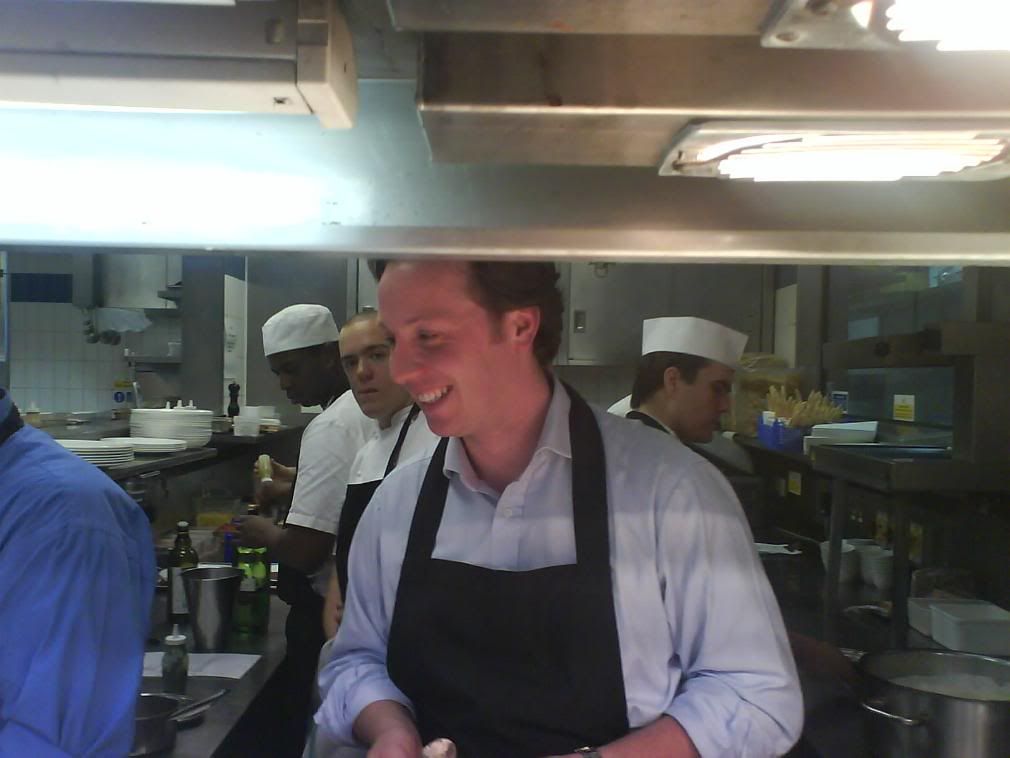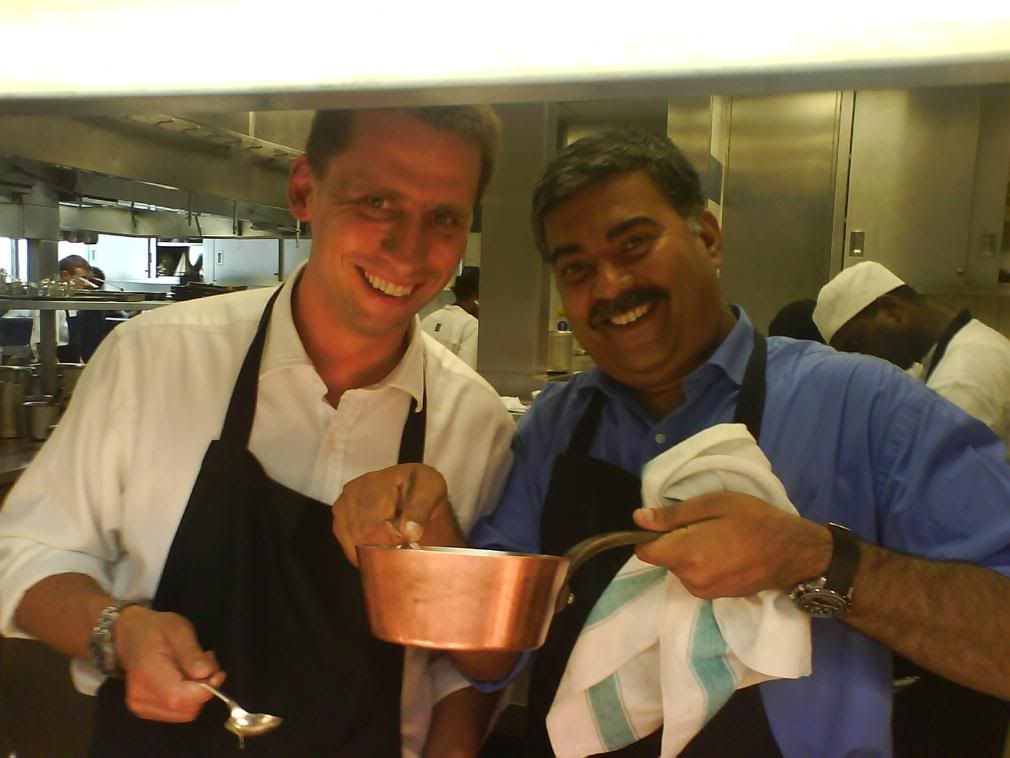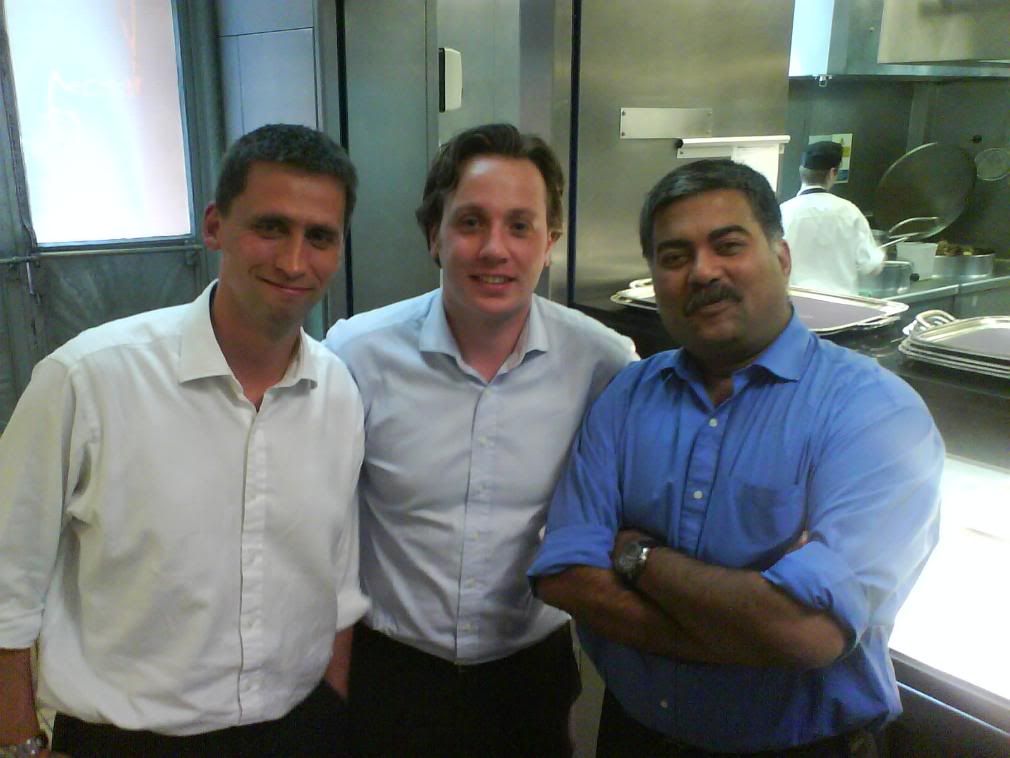 Here's the menu:
Chilled beetroot soup,
smoked Childwick cheese, cured coppa ham
~
Salad of Cromer crab and carrot a la greeque,
ginger and carrot dressing
~
Mosaic of Label Anglaise chicken, foie gras,
leeks and toasted brioche
~
Pan fried stonebass, green olive, crusted potatoes, provencale vegetables, basil viege
~
Assiette of Cumbrian veal; confit shoulder, roasted rack, poached and roasted loin, pomme purée,
roasted vegetables, grain mustard lyonnaise
~
Selection of British and French cheese
~
Vanilla cheese cake with strawberries
~
Honey crème brûlée with hazelnut sablé, raspberry sorbet
~
Coffee, infusions and chocolates
And here's the wine list:
Marsanne, Ibarra Young Vineyard, Qupé Winery,
Santa Barbara Count, 2005
~
Grüner Veltliner, Grande Reserve,
Anton Bauer, 2006
~
Chardonnay, "Art Series", Leeuwin Estate,
Margaret River, 2005
~
Solengo, Tenuta Argiano, 2003
~
Château La Tour Blanche, 1995
All in all, a great afternoon indeed. I do not think I have ever had such a huge taste explosion in one day ever. That was a shame, so many new flavours and tastes, it all was jammed in one day, I wish it could have been spread out so that I could have enjoyed it longer.