Very disappointing, to put it bluntly. We were invited to visit the Tutankhamun Exhibition at the O2 centre in London for a corporate dinner. I have to admit that I was quite excited about it, having had an interest in all things Egyptian for a very long time. So we all got decked up, and despite the fact that a large part of the evening would be spent on corporate networking, I figured, at least some part I can go and touch the hot sands of Egypt.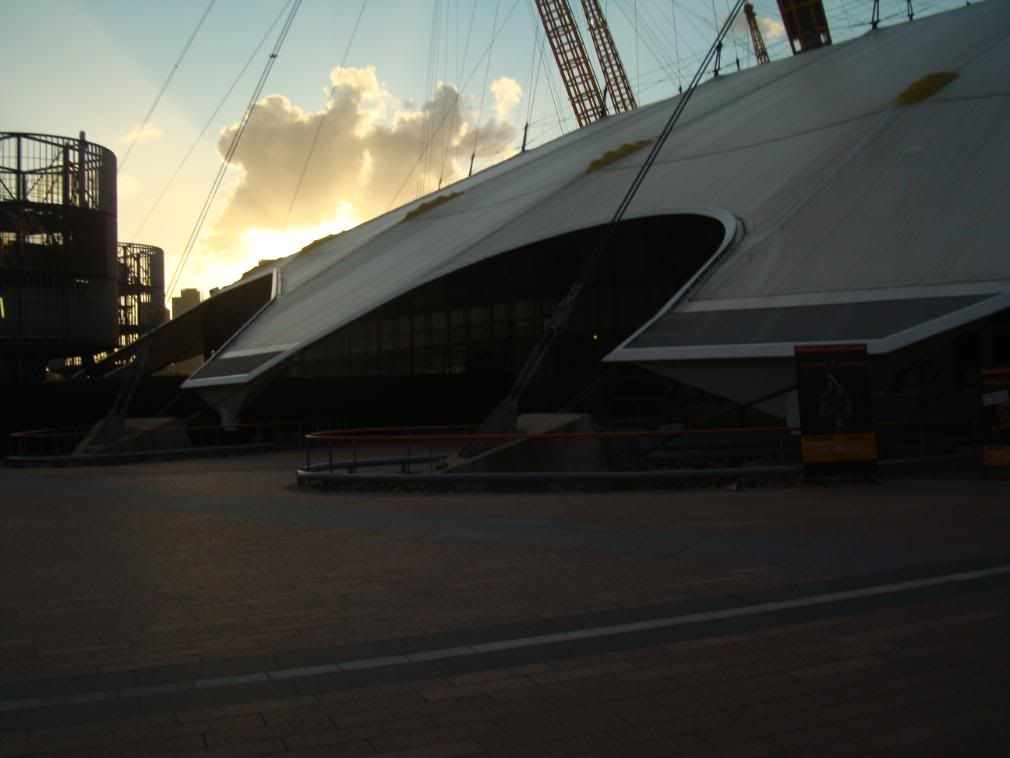 It was the evening when we arrived at the O2. It is horribly designed, I tell you, no good parking or drop off/pick up areas. We had to walk literally a kilometre from the car to the exhibition. So be warned, all you ladies with high heels, it is a pain. Your best choice would be to be dropped off just next to the taxi rank and then leg it from there, rather than from the car park...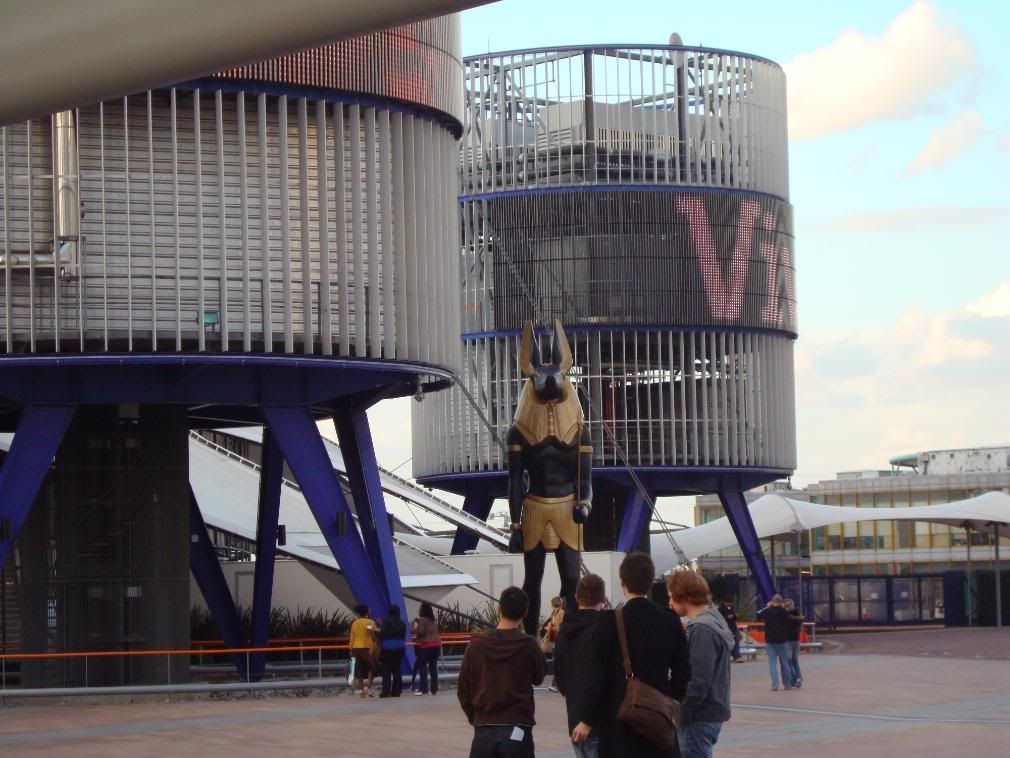 Here you go, Mr.
Anubis
himself on the right. Welcoming guests to the o2. I immediately had a sinking feeling, why on earth would you put the god of the underworld, mummification and embalming as a welcoming god? Not to mention the very idea of weighing my heart against a feather and if I am found wanting, then visiting hellish tortures on me?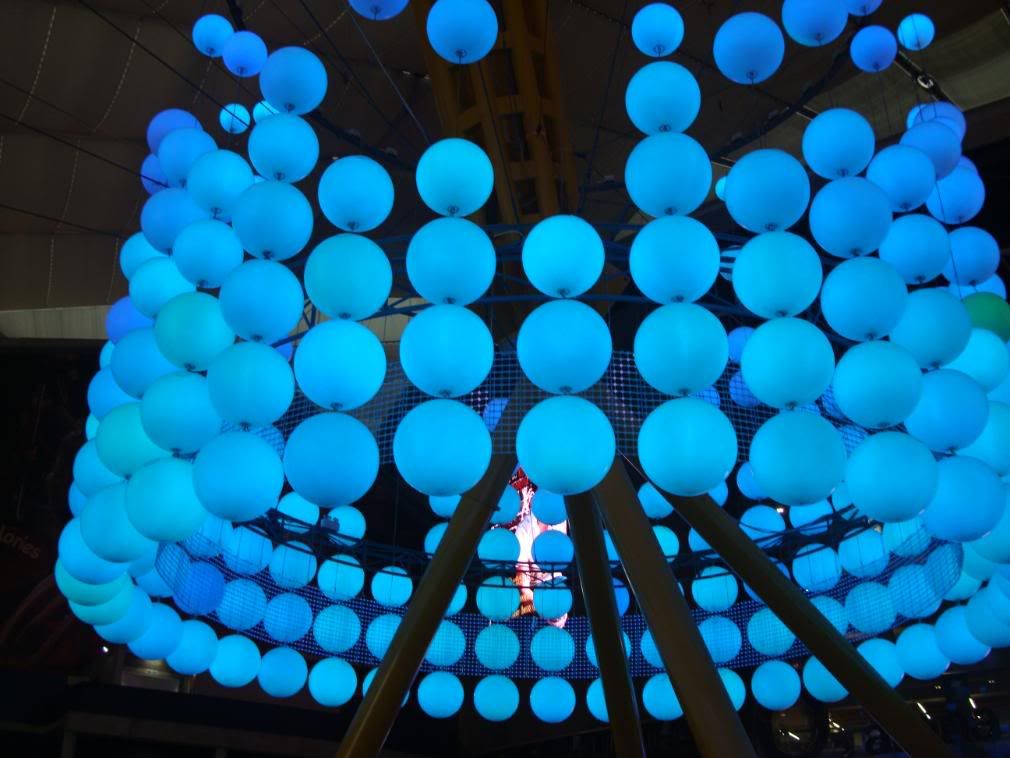 Entering the foyer, a lovely light sculpture, it was beautiful. The soft blue light would move in waves up and down and it looked beautiful.
London Stock Exchange
also has something like this in its foyer.
A view of the O2 from inside, you can see one of the legs, the wires and the roof, how it is all supported, very airy and very nice.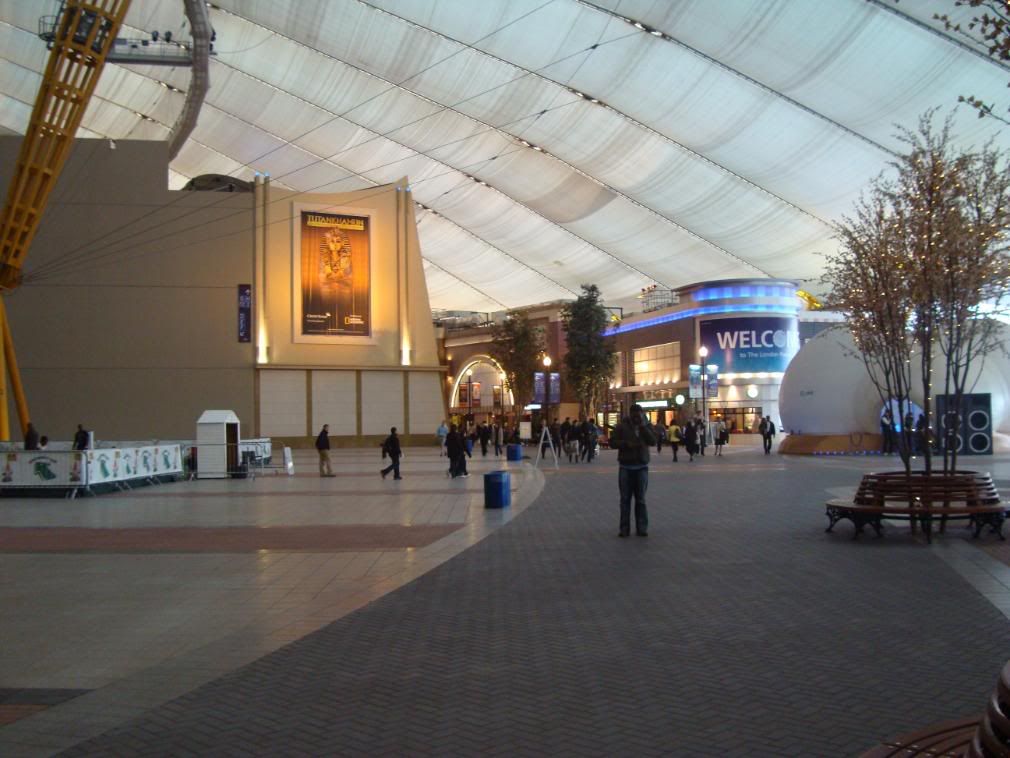 We could see the large sign up up on the wall which said, King Tut. Finally, it was a bloody long trek and I was constantly hearing about how inconsiderate my hosts were for putting up the dinner at a place where ladies have to walk a mile in high heels and how men do not know the joys of high heels and if we did we wouldn't have put the poor innocent women ....
The entrance hall. We were handed headphones and a playback unit.
Omar Sharif
in a voice over, introduced the exhibition. He has a lovely voice, and I was slowly getting all excited about it.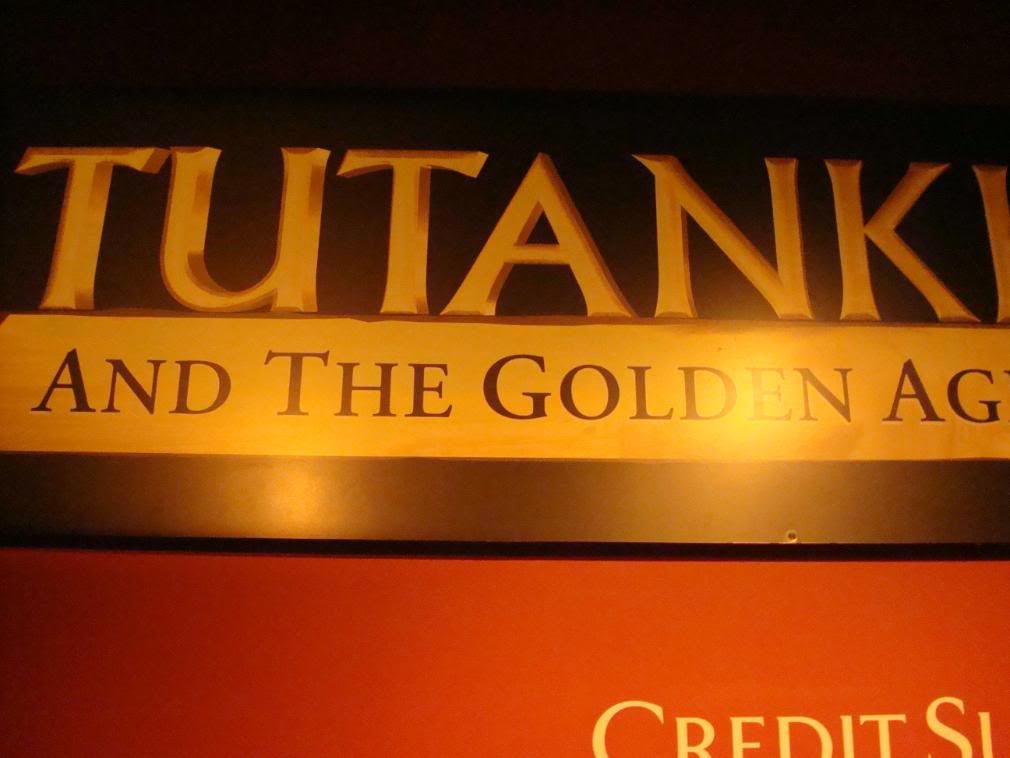 We were told to switch off our cameras so this was the last photo before the exhibition. There are 18 halls of exhibitions, the full trip to take about an hour. Some exhibits had numbers against them. We went inside and you press a button for the number on the unit. Then the dulcet tones of Omar Sharif would give you a 30 second potted history of that item.
The exhibition started from King Tut's ancestors,
Amenhotep III
, to
Akhenaten
, their assorted grandmothers and wives such as
Tiye
,
Tiaa
,
Nefertiti
,
Ankhesenamen
(sighs, another thing which bummed me out was to keep on overhearing people saying, this is the queen from the
Mummy Returns
film and she loved
Imhotep
), and other officials. Well over half of the bloody exhibition relates to others for a start.
There were not that many artifacts around. I liked the representation on the floor of how the nested set of
sarcophagi
looked like. Some of the ornaments which were included inside the mummy were also displayed and some of them were beautiful.
There was quite a lot of displays about the excavation,
Howard Carter
and
Lord Carnarvon
. Quite an interesting hall, that one. But then that slimy git,
Zahi Hawass
, appeared and that ruined it for me. He is such a monumental egotist and bore that one cannot imagine. His voiceover on the head phones, his huge photographs on the wall, his video's, it was like, Howard Carter and then Zahi Hawass. And actually what has he done in so far as King Tut is concerned? nothing that I have read about. Done a
CAT Scan
on King Tut. BFD.
And then at the end, the inevitable souvenir shop full of tourist pap which I ignored royally and marched out. I suppose, for those who have not been to Egypt and actually been to the
Cairo Museum
(where most of King Tut's stuff is kept) or smelled the sands of Egypt, this is good, but it was a deep disappointment to me. As I said to my sister, this was the McDonaldisation of King Tut. If you have the money and inclination, then I suggest saving the cost of admission to this exhibition and going to Egypt to actually see the Egyptian Museum. At least you will avoid seeing and hearing that slimy git.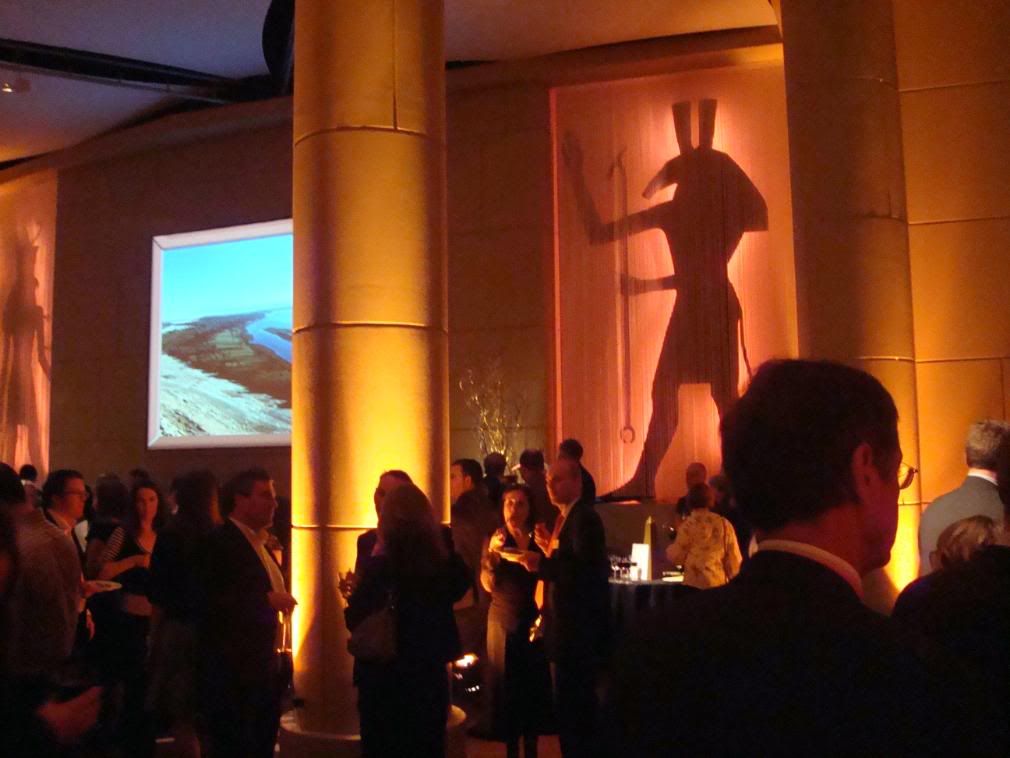 Some photographs of the dinner place, lovely food and conversation, met quite a lot of old friends and acquaintances. They had done it up well. I was looking for
foul
(I love that),
beef knuckle soup
and
karkade
but couldn't find it. But still, it was good.
Nice view of the escalator up to the film theatre
And the top of the theatre.
And the exit. And again got an earful about the high heels.
So, all in all, not impressed, boring and not for people in high heels nor for people who are serious about Egypt (can be both as well...).