I nipped across the Amsterdam earlier this week for a meeting and was at a pretty high level up on a sky scraper, so took the opportunity to take some photographs. 
Curiously, the first thing which strikes me is the lack of trees inside the city, but that said, this view does contain trees. But other than that, some boring views of railways and roads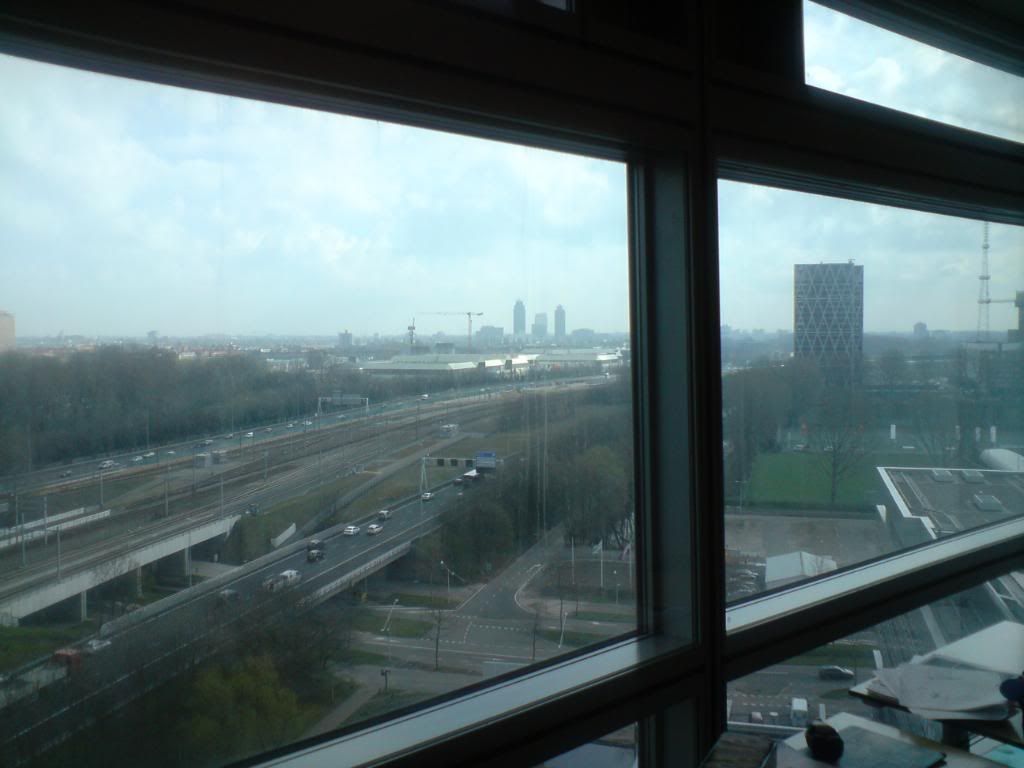 Say what you will, the Dutch have some good adventurous architecture, every time I get to this window, I am attracted to that wavy line on the middle of the building. It is a sort of a ladder like formation...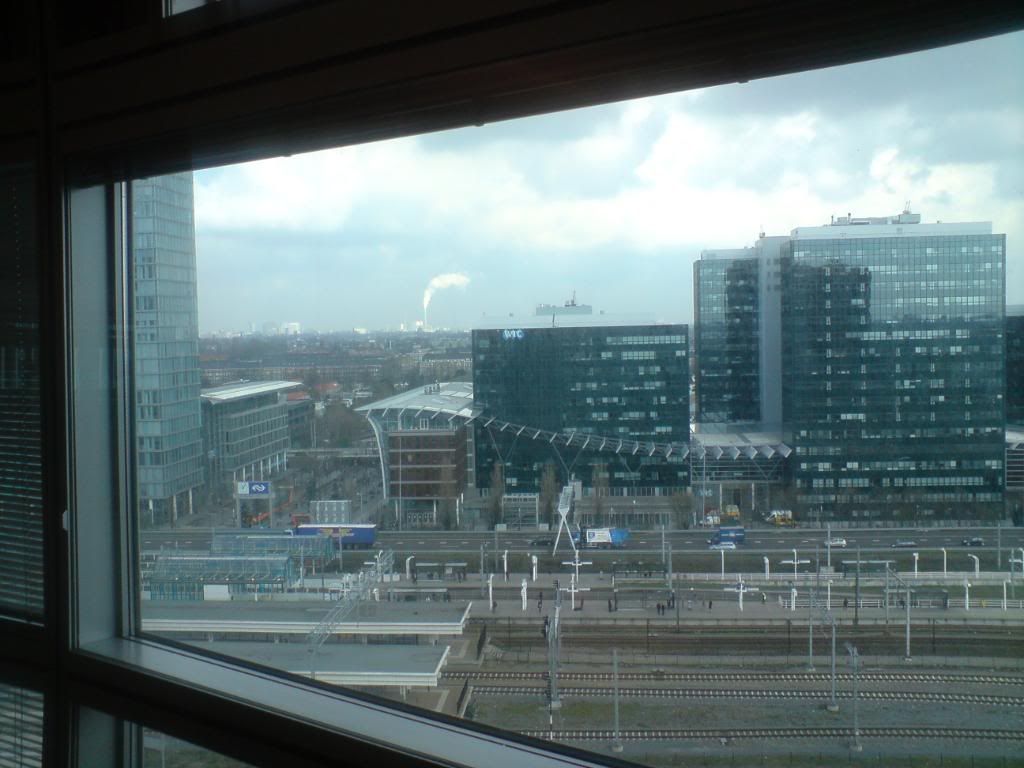 Where the road and rail meet. One of the problems of living in a settled country is that it is processed to an inch of its life. Even more so in a country like Netherlands which is mostly reclaimed. So for example, this tilted shot shows a landscape which is full of straight lines, the pond, the road, the railway lines, the bridges, the lampposts, everything, all lines and squares...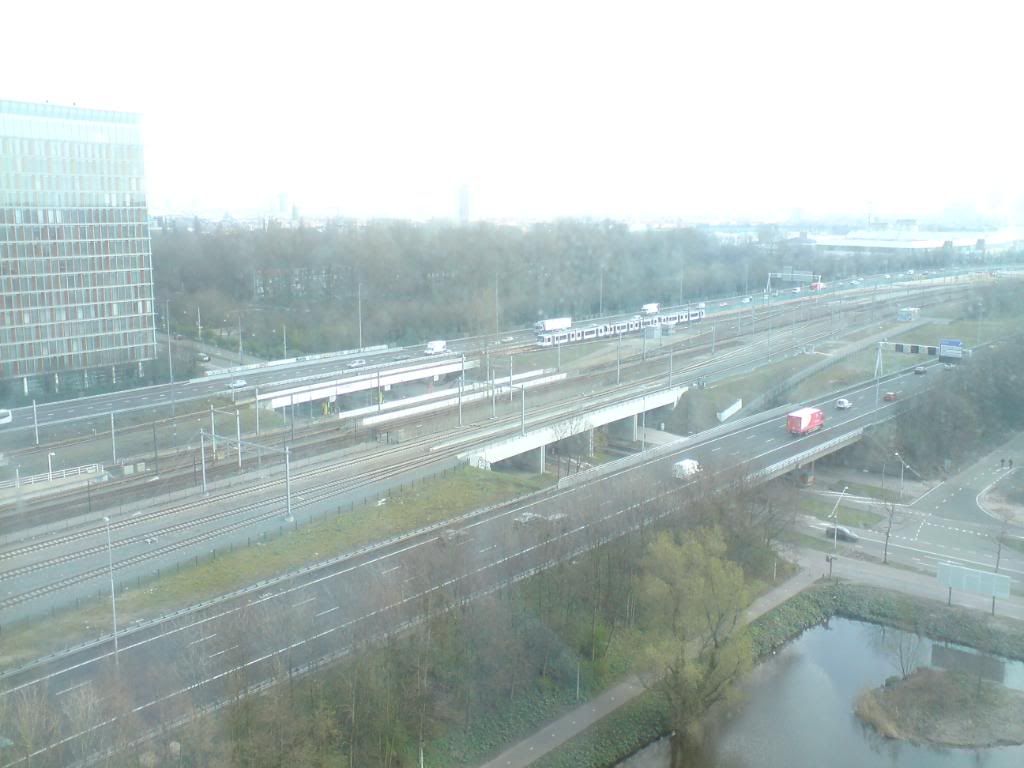 The train station. The Dutch have an excellent railway system, very nice, powerful and on time (usually). I am, of course, comparing it to that half baked abortion of a British train system. The trains are clean, payments swift and clear, and very well connected. One day, once the kids are grown up, I will go on a Europe wide trip just on the trains, it is fascinating to travel via train! Anyway, here's the train station, if a bit boring in architecture.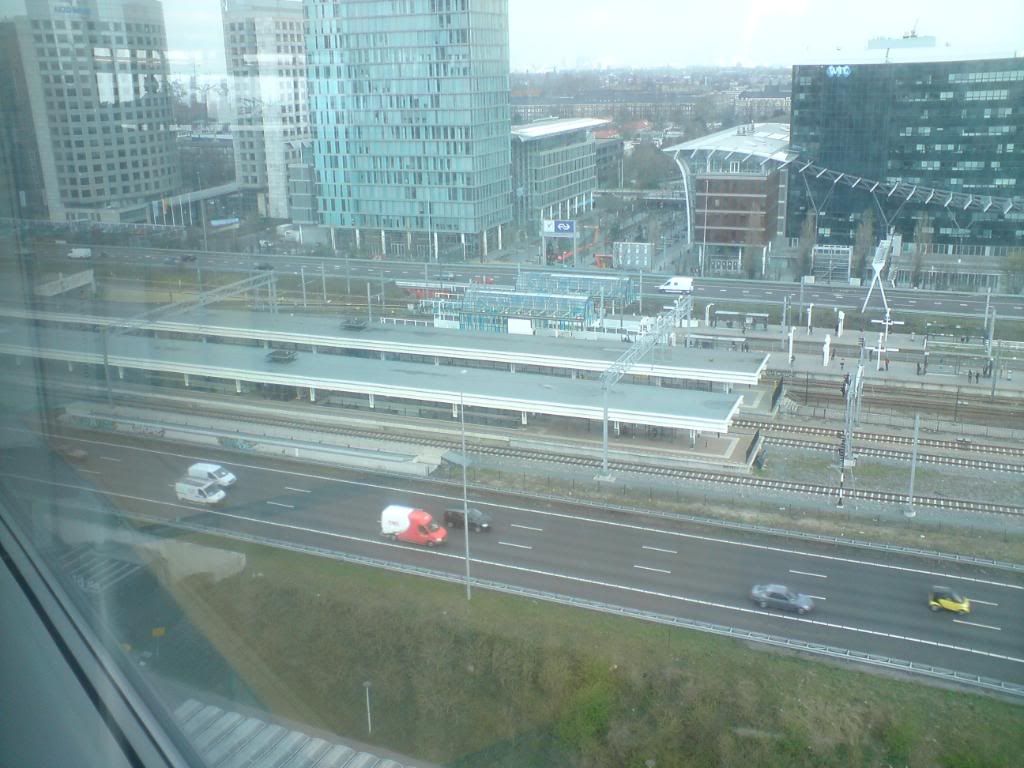 A Photo-Essay on Amsterdam would not be the same without a photo of the obligatory bicycle stand. I think we have zillions of those poxy things all over the place. And for such a wet place, to see so any bicycles is amazing. Very good. But a traffic menace!, lol.
I call this building as the weird one. The way they have made the outside of the building looks like it has been put together by a giant kid. Very eye catching indeed. From other perspectives, it looks like it is cracked and makes me want to reach for my giant tube of polyfilla.
And then this is the ship, well, I call it the ship building. Can you see the garden on top of the building? There are many fellows on top who were gardening!!!, nice. I bet it would look very nice in the summer. Again, you would note the weird construction, the strange shapes, the holes, all which go to make the buildings very eye catching.
There you go, a 10 minute overview of a part of the commercial district of Amsterdam