So i went off to the Victoria and Albert museum to check out its Maharaja Exhibition, eagerly cradling my camera, wanting to take some pics. But no, sorry, wouldn't work. They had banned photography inside the exhibition hall. Plus I got there quite late, so really wasn't able to take as many pictures as I wanted. So…, consider this as just the first of potentially many essays.
The exhibition was ok, and I wasn't really very happy. Every time I see anything to do with the princes and maharaja's, i do a severe burn. These princes, maharajas and kings were, by and large, blood suckers. All the jewels, gems, palaces, cars, paintings, clothes, all of this was based upon an extortionate system which sucked the life out of the ordinary Indians. People claim that India was very rich, well, only the rich were very rich, rest of them were groaning under a horrible system of tax farming. The feudal system sucked majorly. Anyway, that rant over, lets go back to the beginning. This essay is in four parts.
Part 1: The Entrance
Its a pretty imposing entrance. Sorry could not take a longer view picture, it was fairly chucking it down. On the right is the plaque which says that Queen Victoria and her consort Prince Albert inaugurated this museum in 1899.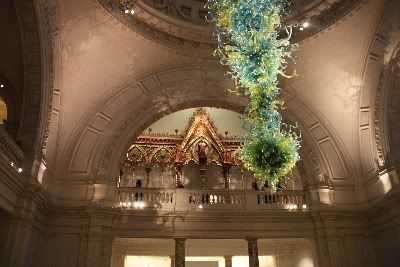 As you enter the great hall, you see these two eye catching exhibits.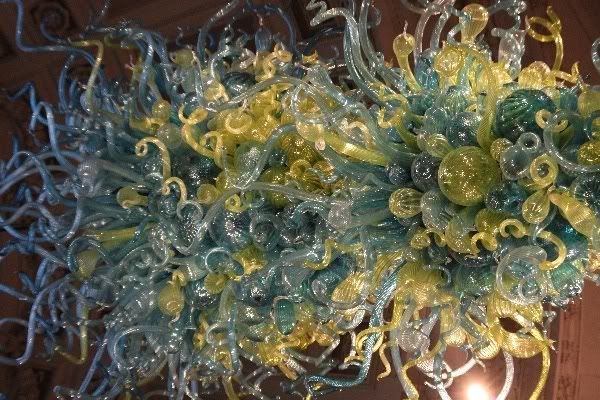 This looks variously like medusa's hair, a collection of the spiral penis of a duck, or an explosion in a glass factory. Take your pick.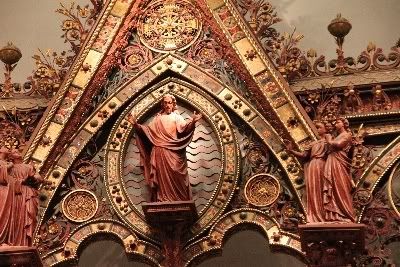 The wooden church facade in the back was quite impressive but I was not able to have sufficient time to take a closer look at it.
And at the top, you also have this clock. Its a damn strange place to put up a clock if you ask me. It could be very complicated and all that nice stuff, but who, other than idiots like me, will look up to the arch and see the time? very strange. Anyway, another thing to be investigated.
Part 2: The Statues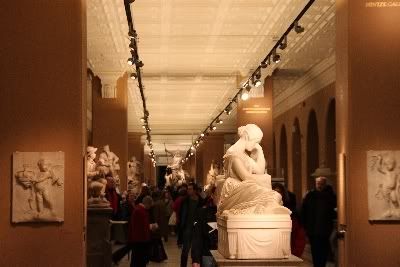 Then if you keep on walking straight through the shop, you get to the main aisle where there is an exhibition of marble statues kept in country houses (both indoor and outdoor).
I clicked some of them. Not much point in going too deep into the people they represent as they wont make sense, Lord XYZ in the 16th century in some weird place in Northumberland, ermmmm, ok…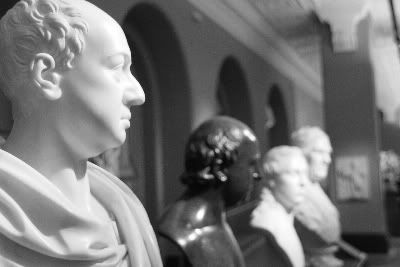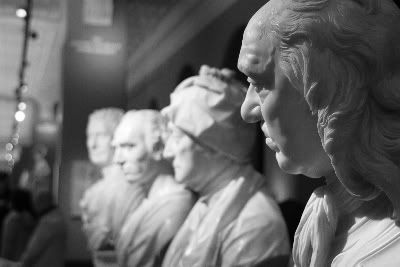 Looks like they are having a conference :)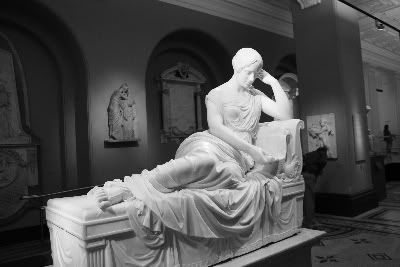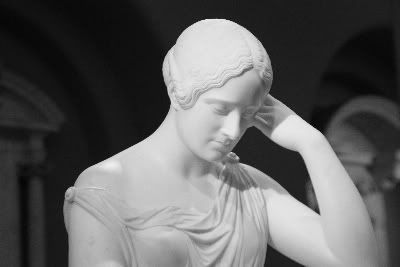 This statue of Emily Georgina spoke to me. She died prematurely in 1848 aged only 39, she is reclining and reading a scroll in her hand. The statue glows from inside and is quite a good piece. Very graceful. Poor girl.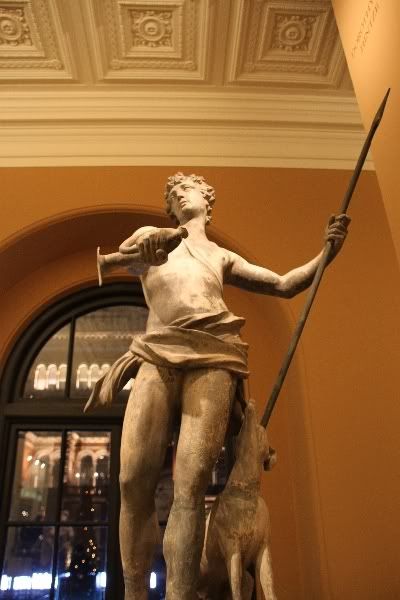 A hunter with his dog.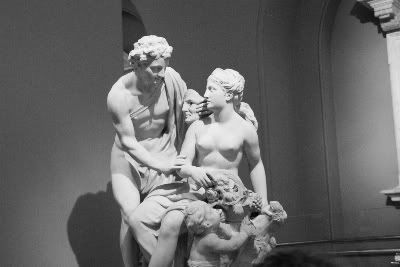 The Nature God Vertumnus wooing the nymph Pomona. Nice.

Part 3: The Courtyard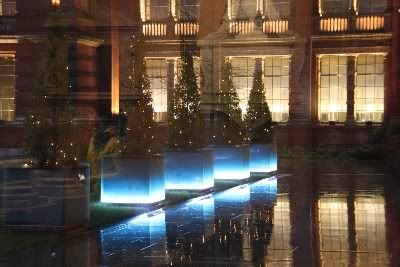 While walking up and down the aisle, I happened to peek outside and noticed that darkness had fallen. Now that's a brilliant lighting scene, aint it?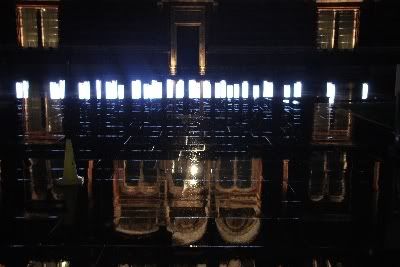 And with the rain chucking down, the courtyard was totally wet, so got some good images of the uplighted building, the windows and the lighted flower pots.

Part 4: Eating and Drinking in the Mughal Times
Now this again made me do a pretty severe burn. This kind of stuff should have been in an Indian museum. Anyway. Quite interesting stuff going back to Mughal times.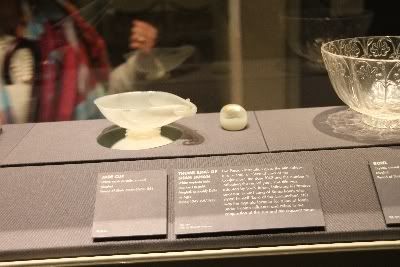 Here you see the thumb ring of Shah Jahan. Pretty heavy duty ring, one can give oneself a bruise if you hit yourself while wearing it. The cup on the left is a Jade cup used to drink wine.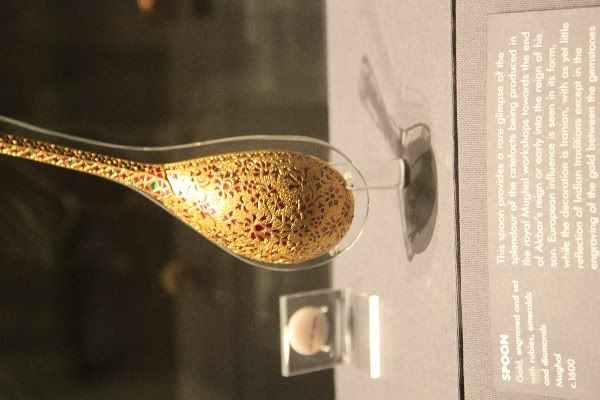 Here's a spoon produced by Akbar's royal Mughal Workshop. Made out of Gold, engraved and set with rubies, emeralds and diamonds. You can just imagine Akbar having his soup using this. The experts detect European, Persian and Indian traditions in the manufacture of this spoon.
Then we have the Jade wine cup of Jahapana Shah Jahan. Pretty impressive work, brilliant work. On the left you see turban ornaments.
More rings and jewellery which belonged to the Mughals. And yes, that red stone IS a ruby.




The green cup is Emperor Jehangir's wine cup in 1613. It has Persian calligraphy engraved on the top of the cup and says in Farsi, "Through the World Conquering king, the world found order". Pretty normal looking cup, eh? Sots, the lot of them.
All in all, I think I spent about 4 hours in the museum and I think i will take another 3-4 years to fully explore this wonderful treasure trove. So watch out.