The next street that I entered was the Sharia al Muizz li-din Allah.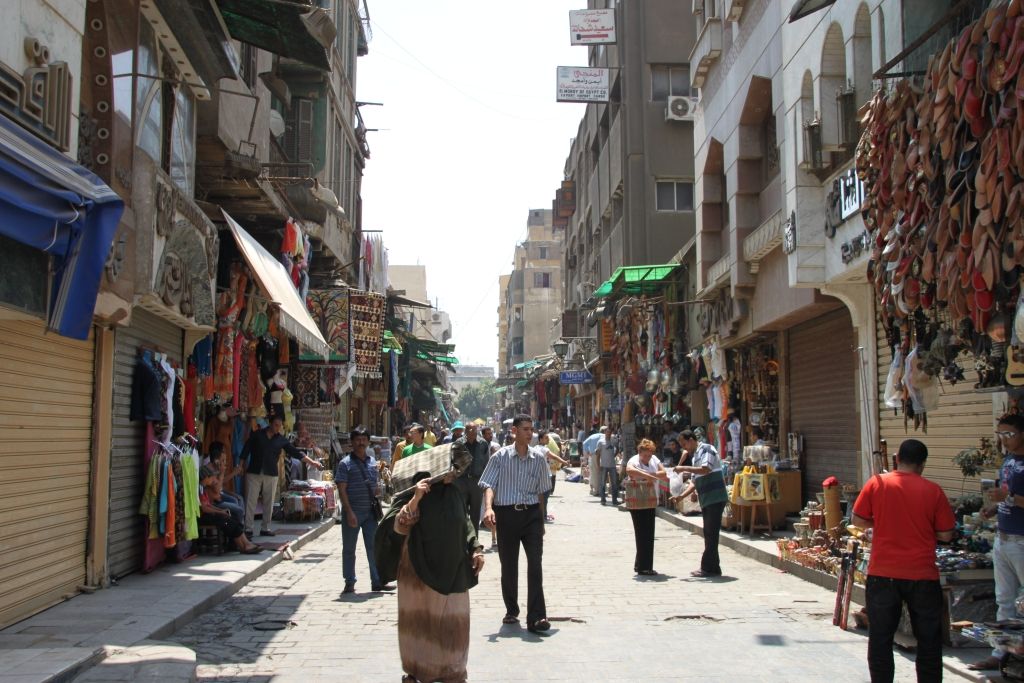 It was a Sunday and most of the shops were actually closed. Not many people around the streets which actually gave me a chance to take some photos. This street is about a mile long and is frequently mixed with old mosques, tiny alleyways and tons of shops. Lovely warm place and reminded me of old Chowk in Old Bhopal where I grew up. Anyway, onwards and upwards.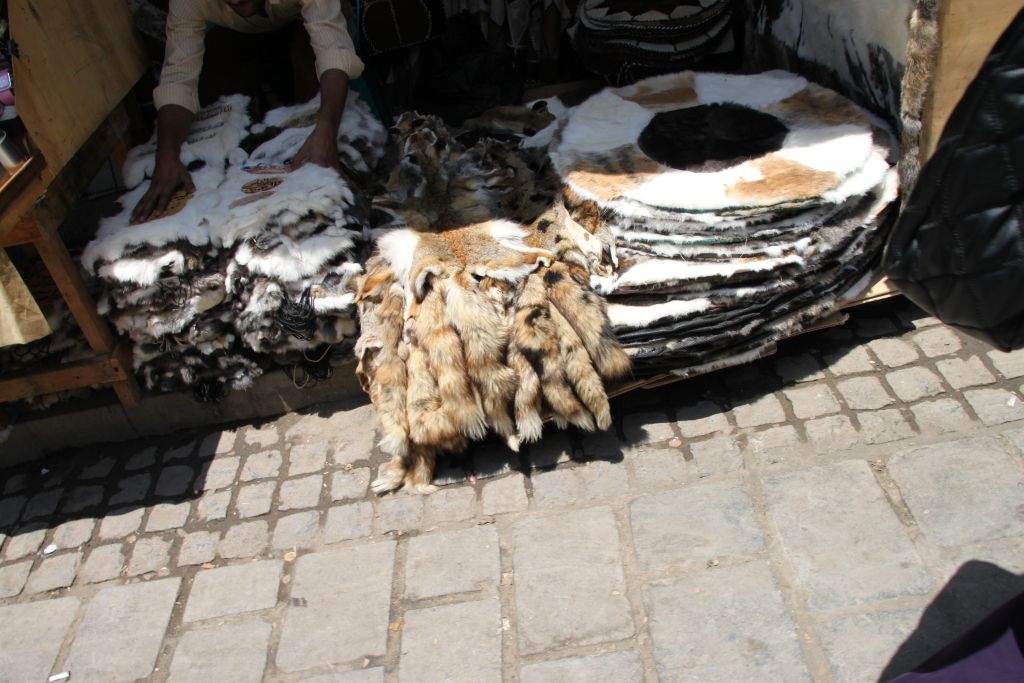 Fox pelts in the middle and what looks like seat covers of some kind covered with cowhide.
And a scooter!
Even the cats were running around.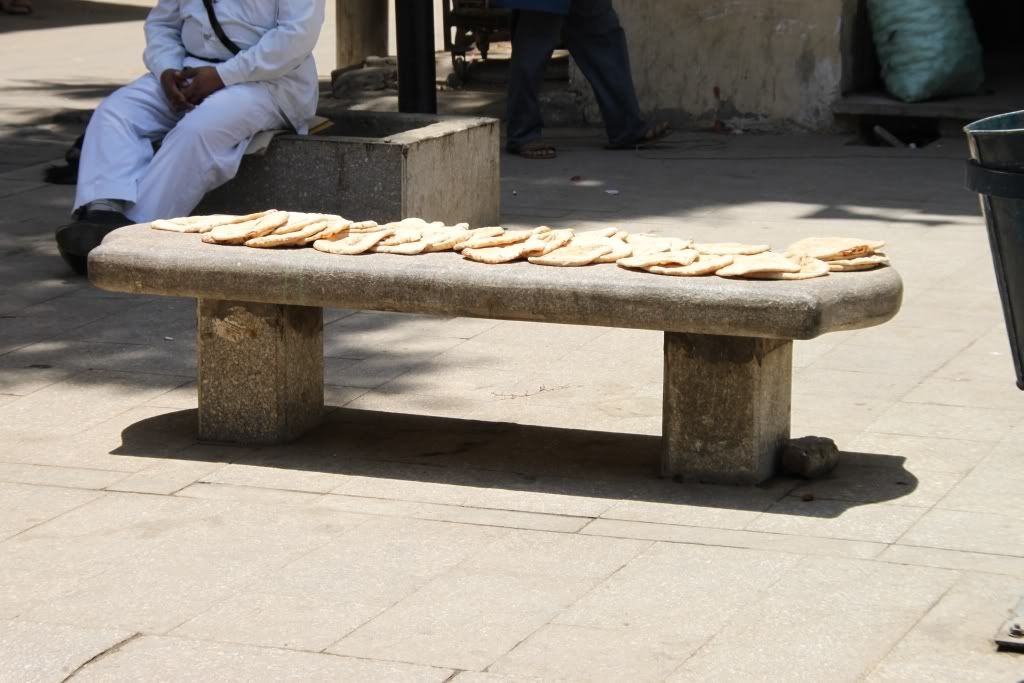 The flat Egyptian Bread which has been laid out on a bench to coll. This is the staple food for most Egyptians, the price of which is fixed by the government. You know when Egyptians riot? It's when the price of this bread goes up or the bread becomes scarce. I was reminded of Rome and the problems of Grain.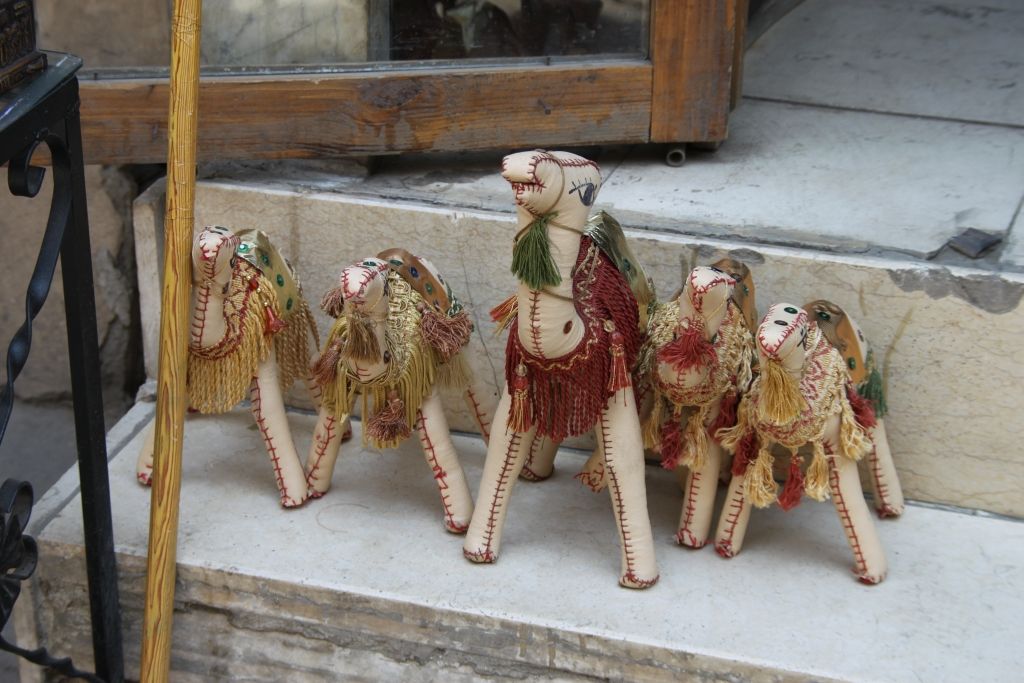 Some very comely looking camel statues, just call me Camellia.
This lady was carrying a box full of bread, I guess this was her weekly shop and she gave a long impassioned monologue to the tourist police fella. I have no idea what she was on about, but she went on for about 5 minutes constantly and then took off, all while the policeman was standing there looking like
Admiral Ackbar
at her.
A flight of extremely narrow concrete stairs which go up somewhere, presumably the houses or workshops on top of the shops.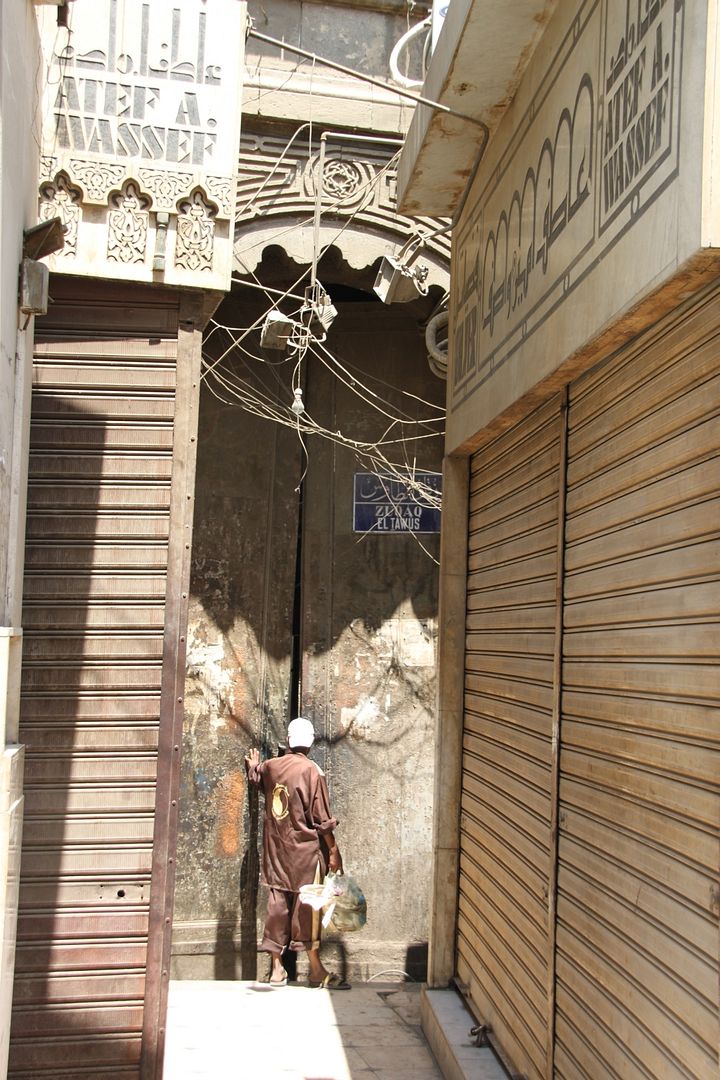 This road was obviously much wider at some point. So there is an old building at the back with a lovely carved lintel and huge doors closed with a chain. But now, it;s been hidden behind the modern row of shops, it;s been ignored, there are wires hanging all over it and looking quite sad. But still have this chap trying to enter.
Somnolent Sunday Cairo. Tall sun drenched concrete and brick canyons where the only sound you hear is the humming of the air conditioners and the faint susurration of the wind whispering amongst the buildings.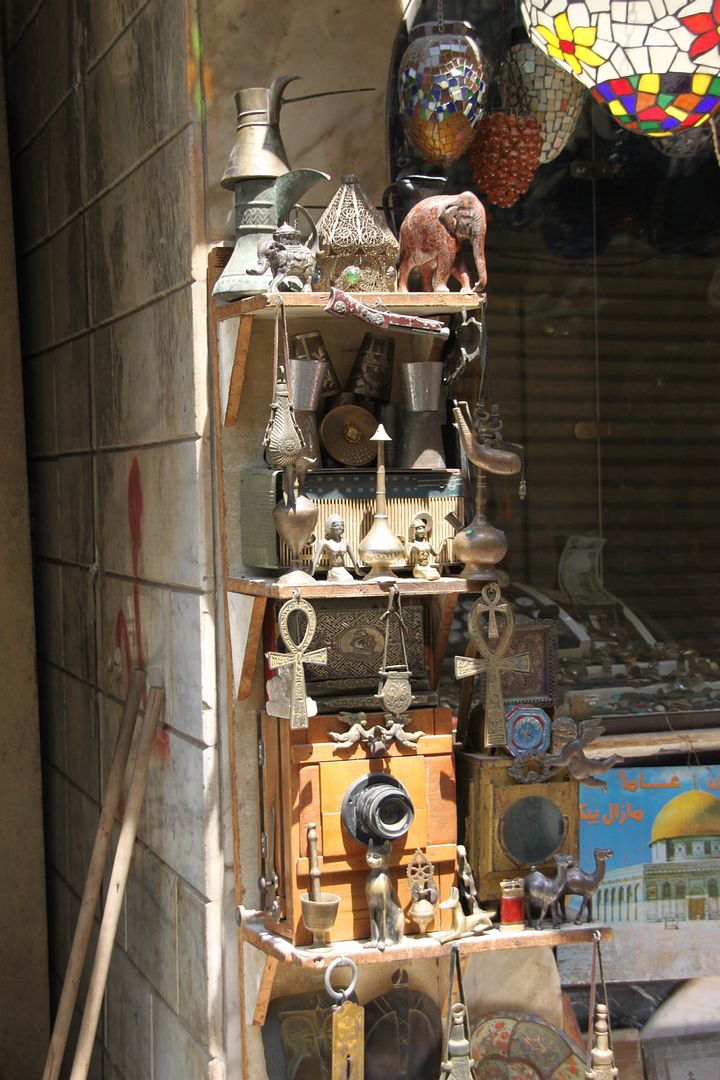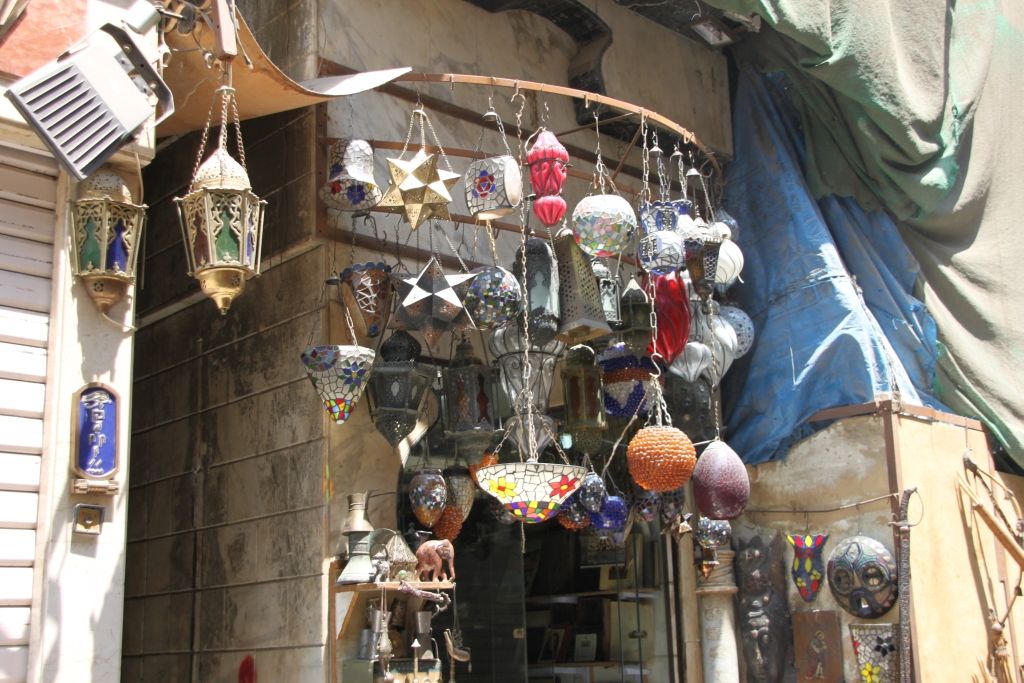 An extraordinary collection of odds and sods hanging outside this shop. Wonderful lanterns, tons of Islamic, Coptic, Ancient Egyptian, tourist kitsch, and stuffies all piled and hung about higgledy piggery.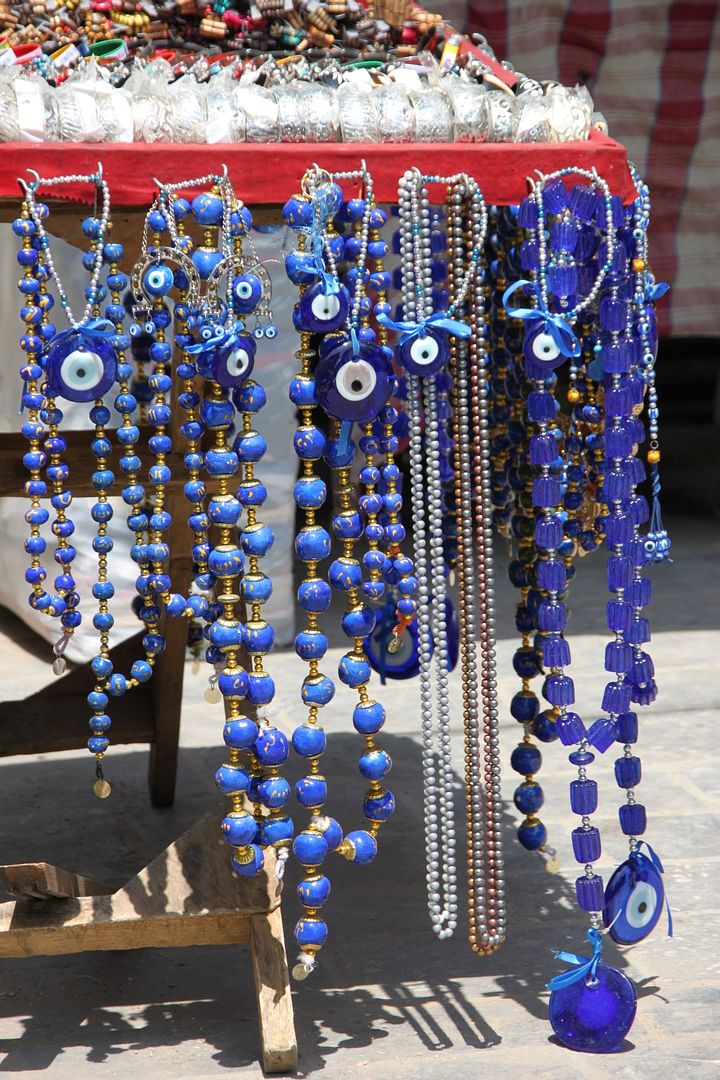 Some of the lucky Eye business if you want to be protected against the evil eye. The cerulean blue colour is just fantastic, I love it.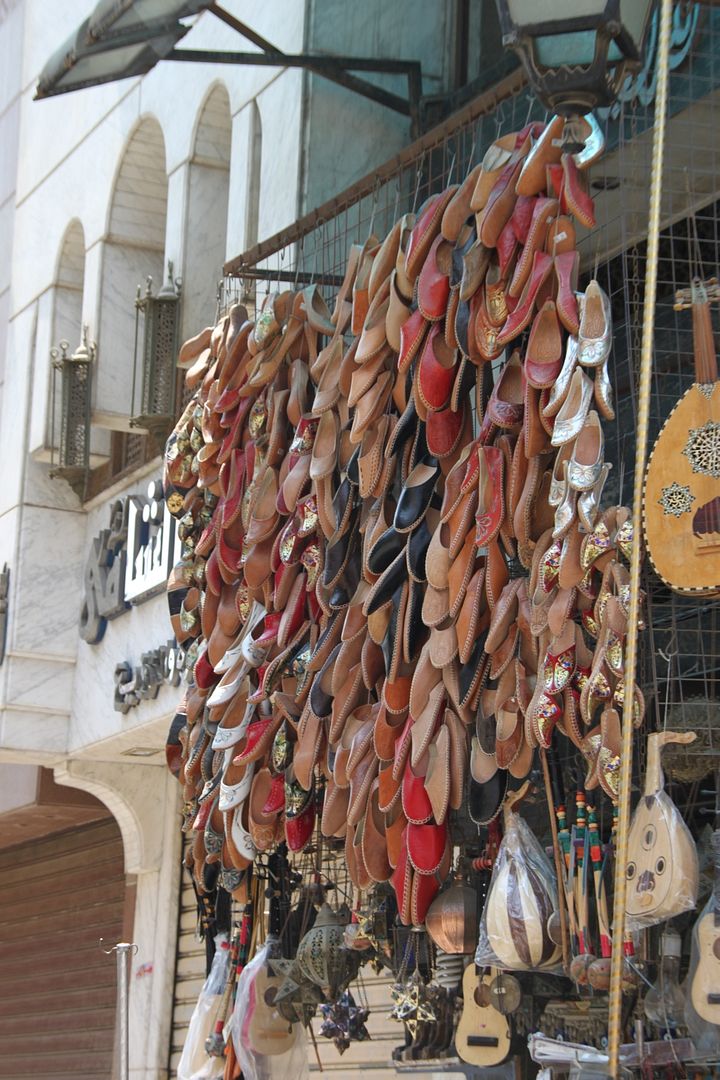 Some shibshib for you? these are the flat slippers which I have seen so many Egyptians wear.
Fez for the men and belly dancing caps for the women. Neat eh? I was so tempted to purchase one of those hats but then figured, I am already a figure of fun, lol. Perhaps next time. And would they have something for my big head?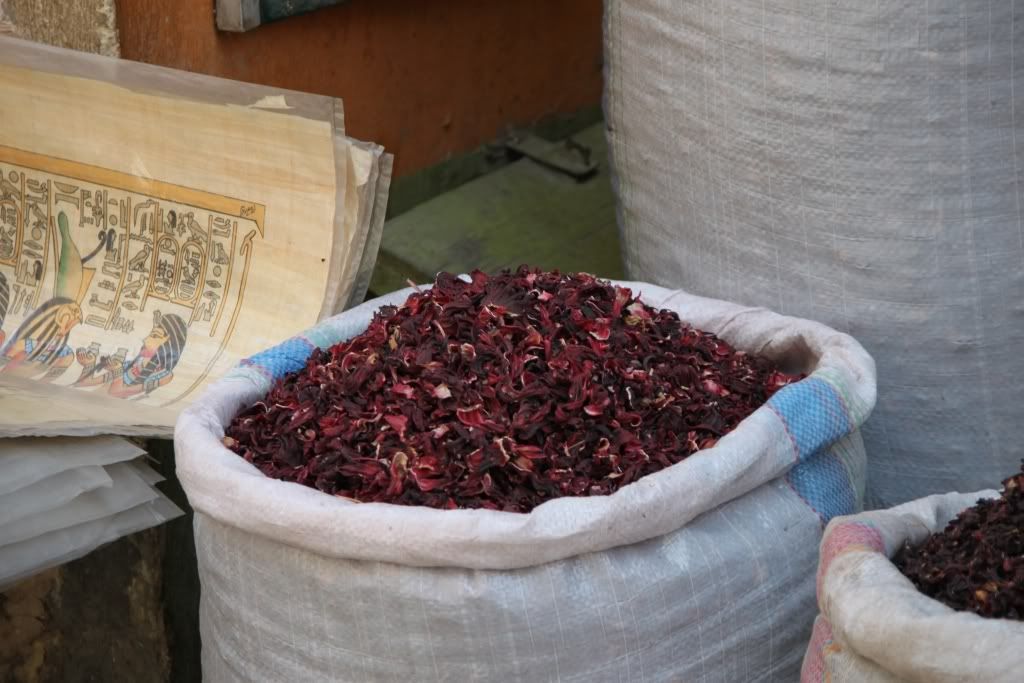 Egyptian Papyrus and dried Hibiscus flower petals. These are made into one of the best drinks in the world, called as
Karkade
. Absolutely divine, I used to drink this by the gallon, very refreshing indeed. Oh! by the way, they don;t put in the papyrus into the drink, just found it interesting to see the two being sold together.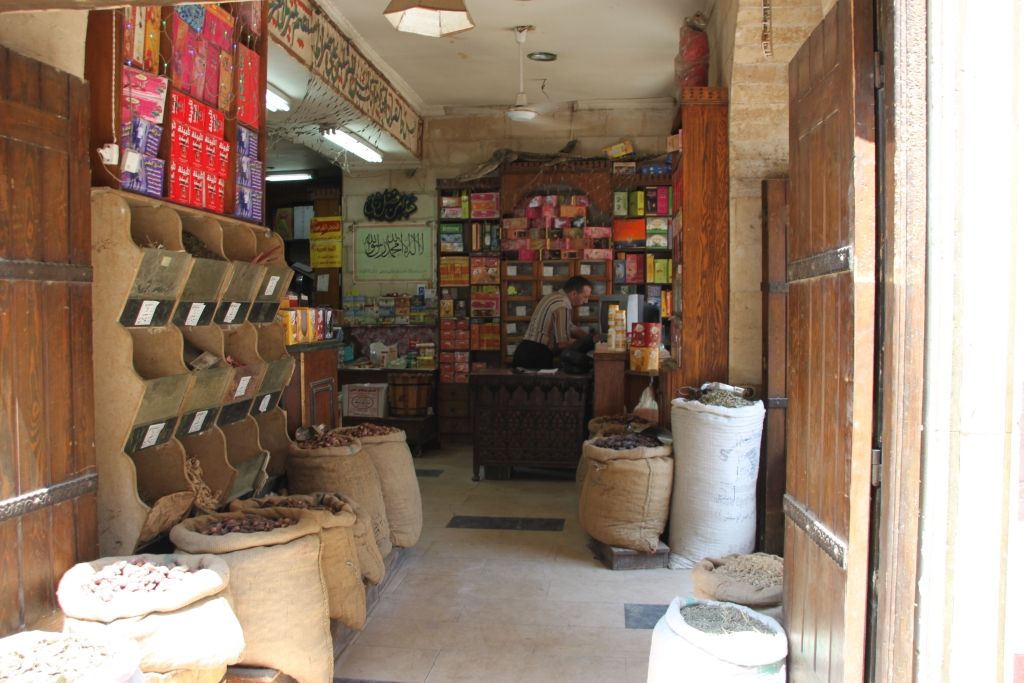 Bags of spices.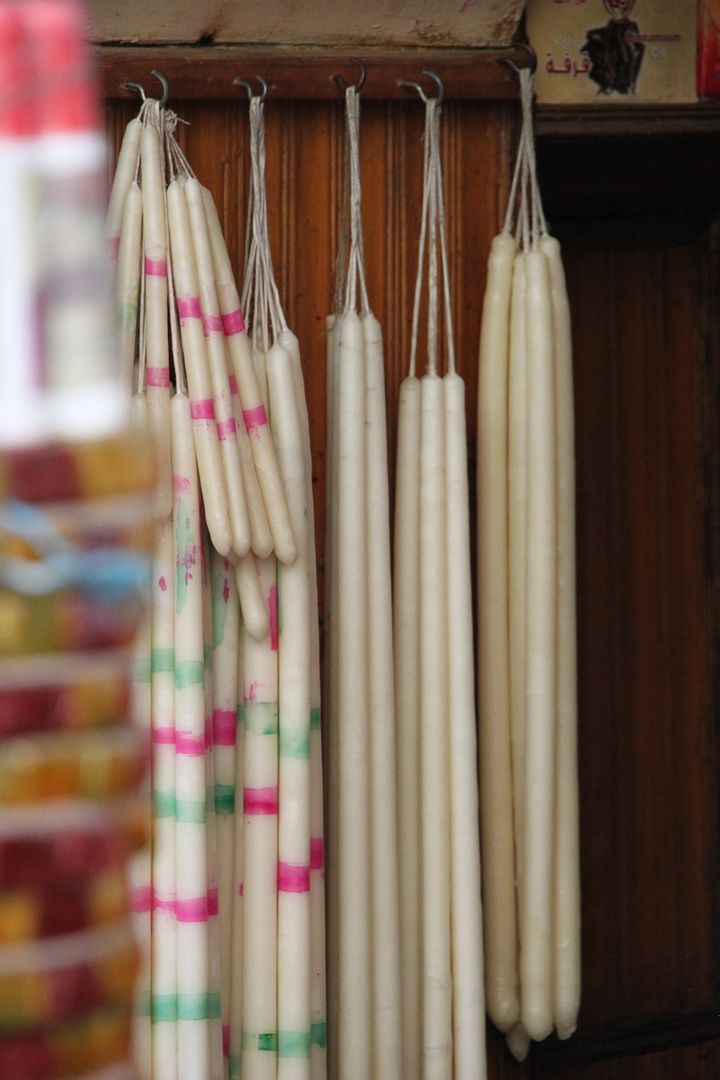 These are ceremonial candles, made by this candle maker. You can see the wax slabs on the bottom photograph and the actual candles hanging on the top. I took a discreet sniff of the candles, lovely waxy, faintly aromatic smell.
There were an extraordinary number of perfume, incense sticks and other aromatic stuff shops down this street. Here is a shop selling a variety of aromatic oils.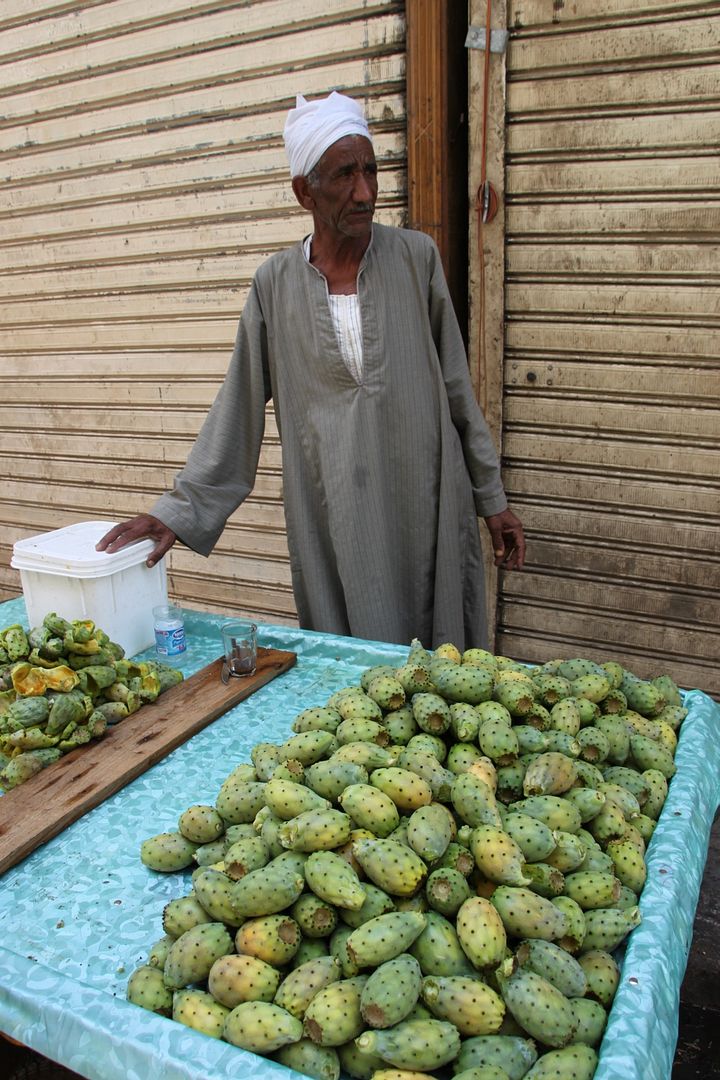 Then I stopped at this street seller. They looked like little green grenades, but on closer inspection turned out to be the fruit of a particular cactus.
Prickly Pear Cactus
.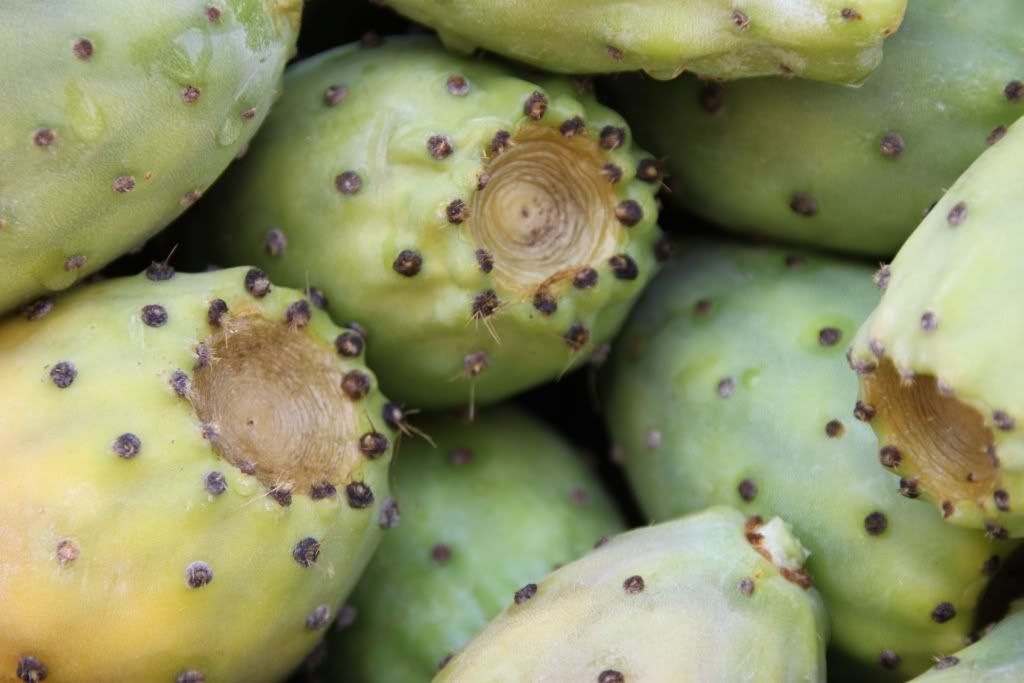 Can you see the thorns in this close-up?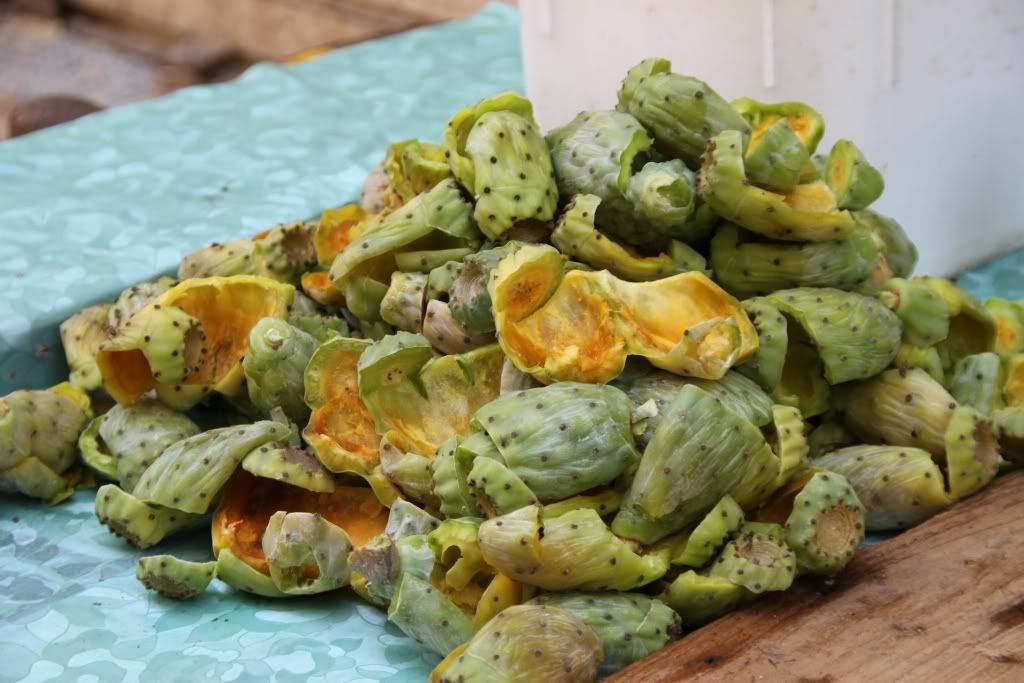 So had four of them. It was a nice taste, cool, yellowish fruit on the top. The man cut off the tops and then sliced down the middle, opened up the green skin and you are supposed to bite into the flesh. Very nice.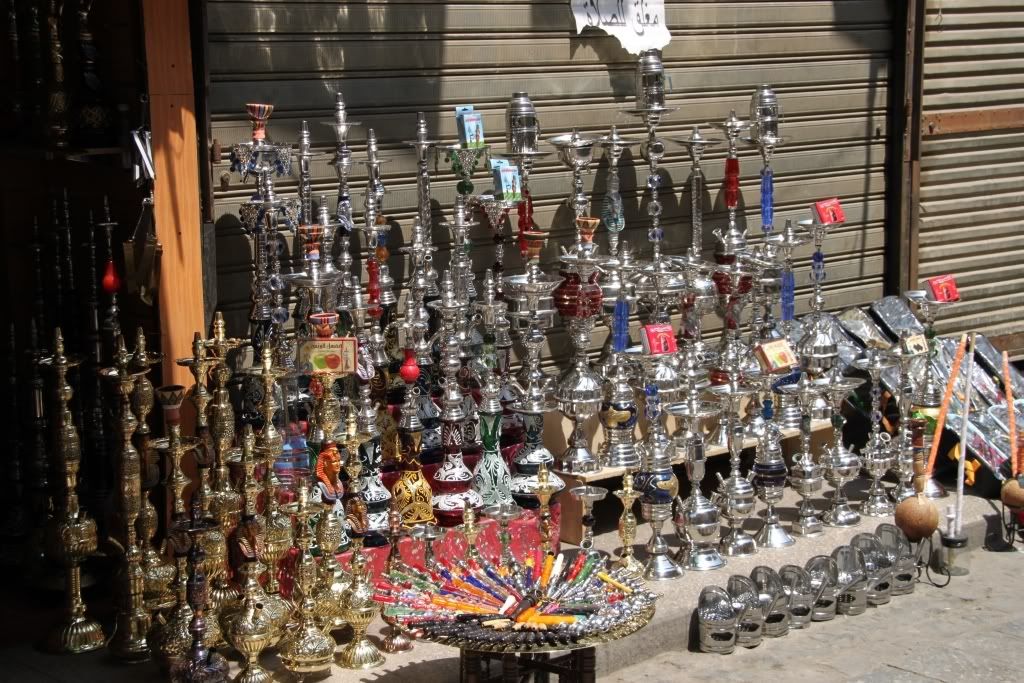 You can't get away from the water pipes / hubbly bubbly / shisha.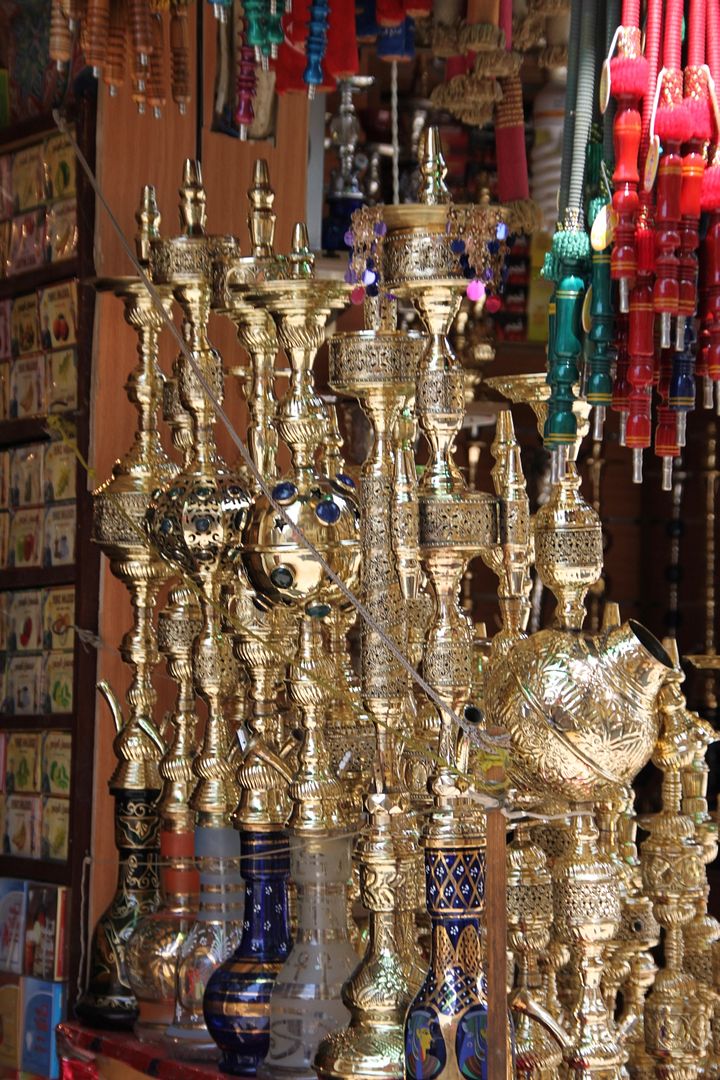 Tall graceful bronze ones.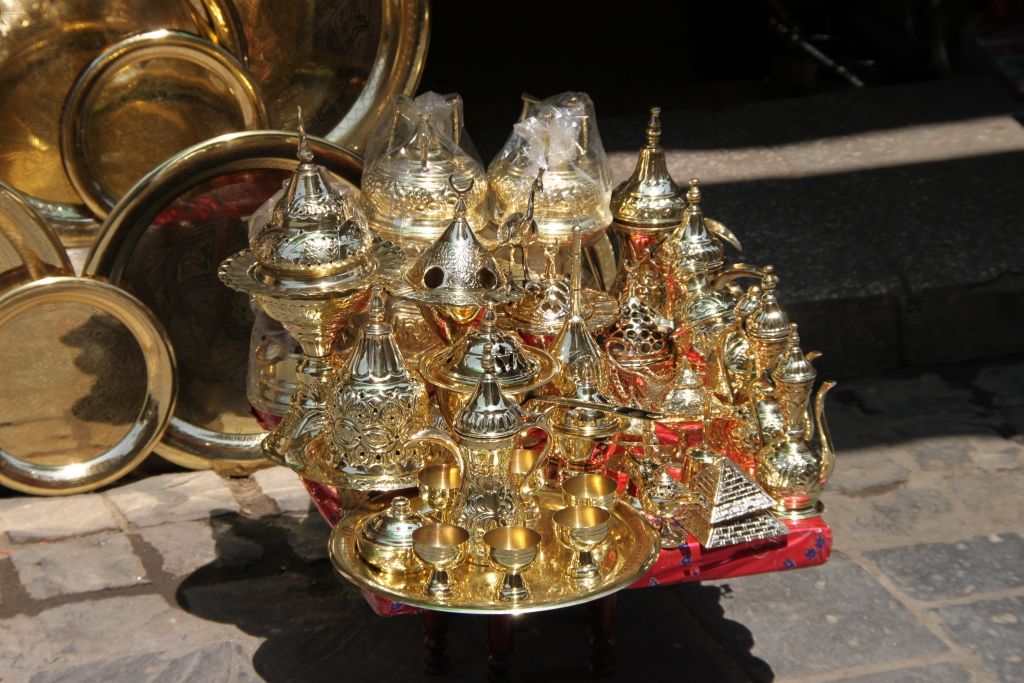 More brass ones, this was an nice sight, looked as if the tray was floating. Please click
here
for the slideshow for loads of more photographs in higher resolution. Only a few photo's have been shown here.