After the old citadel sojourn, the kids were feeling hungry so we came out and this series of photographs came to being. Relates to Corfu Town.
Quite a lot of horse carriages around the place as we come out of the citadel. But no chance of getting one, too heavy for it.


This is a classical french architecture view, lovely place.




The girls are all tired and thirsty and and and.


There are these giant umbrellas with seating areas in front where people can sit and drink beer


This was a church and house if I am not wrong.


The umbrella has a bunch of dried leaves….


The beautiful century old lamps….


Another interesting dichotomy, this is actually the Museum of Asian Art. And it looks like a Greco-Roman palace.


The building is in the shape of a semi circle with these lovely colonnaded balcony


With an ancient bronze statue in front on a pedestal.


Classical scenes on the pediment


With huge arches on either side of the building. We didnt have time, and frankly the idea of popping in to see chinese porcelain in Corfu? sort of strange, lol.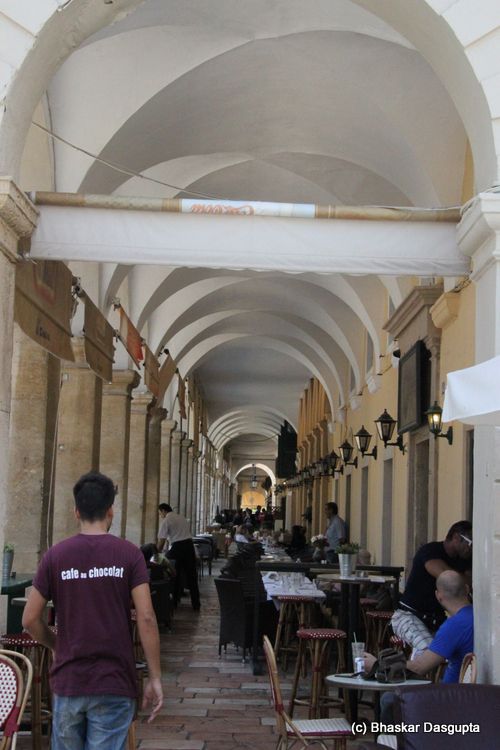 Liston: built by the French in the same style as those in Rue de Rivoli, Paris. Looks really nice.


The spire of the church of St. Spiridon. We will get to it later on.


With cafe's dotted around the place. This is a German one.


The cobbled arched passageways were so cute and nice.


Most of the streets are pedestrianised so you can walk around in gay abandon without worrying about the manic traffic


It is getting a bit down, the shutters are somehow falling to pieces.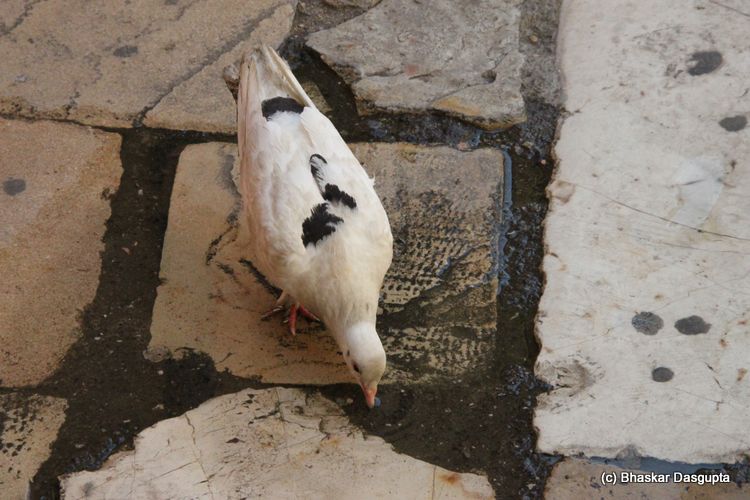 A pigeon having a drink from a pavement tiny pool of water.


One of the tiny squares which abound in Corfu town, small ones, lovely, with a cafe and some historic building around it. Beautiful. Look at the pastel colours.


With those traditional bell towers.


The traditional Eastern Orthodox Onion domes.


Another view of the bell tower.


Walking up towards St. Spyridon's church.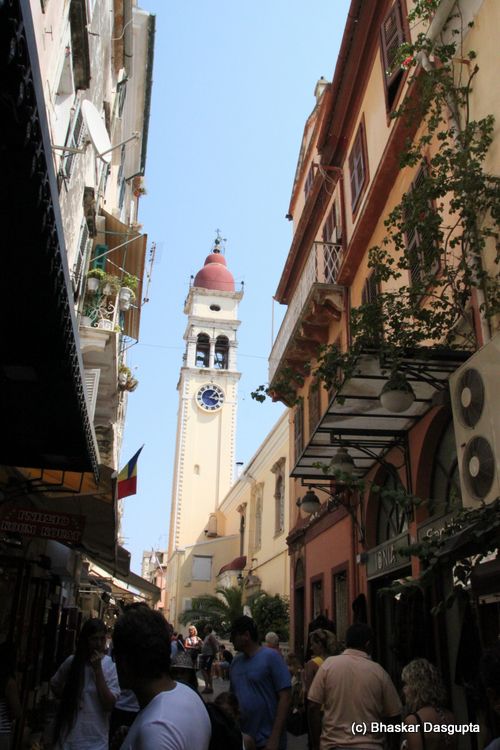 I clicked this photo, but you arent supposed to take photos inside. So let me describe it. It is massively decorated. Seriously massively hugely decorated in wood, gilt, paint, silver and you name it. At the far end, you have this giant marble edifice with the altar in the centre and barely visible on the right is the shrine of St. Spyridon. I took the kids and we asked for his blessings and lit candles.
Spyridon has a fascinating history, he was born in Cyprus, took part in actually crafting Christianity as we know it at the First Ecumenical Council at Nicea in 325AD, then died and was buried in Cyprus.
After the Arabs invaded Cyprus, his remains were taken to Constantinople, but unfortunately the Ottomans followed him there and then his remains were moved to Corfu. He is the patron saint of Potters. He personally intervened (ahem) in one of the battles against the Ottomans in Corfu.


There is a small shrine outside the church where these candles can be lit and put on a sand table. Incidentally, did you know he was also the patron saint of the Tolstoy family? Interesting or what?


With another statue of a Corfiote.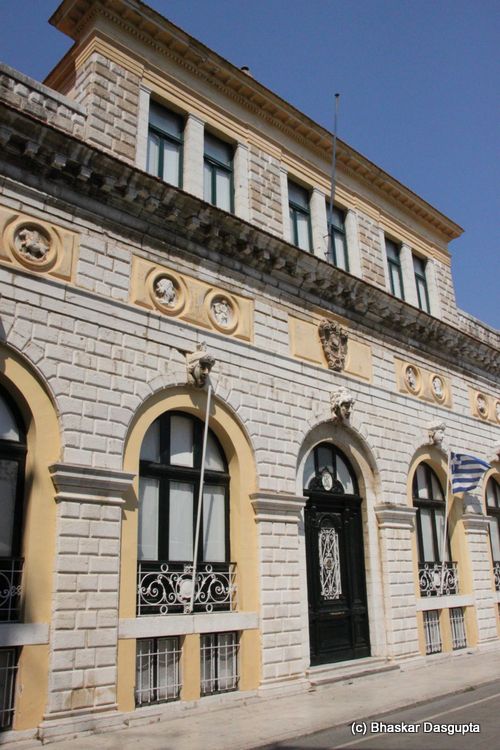 This is the theater. A small building actually, but well, i dont suppose there was much of a population for watching dramas and plays, eh?


Popping into a shop to buy some souvenirs.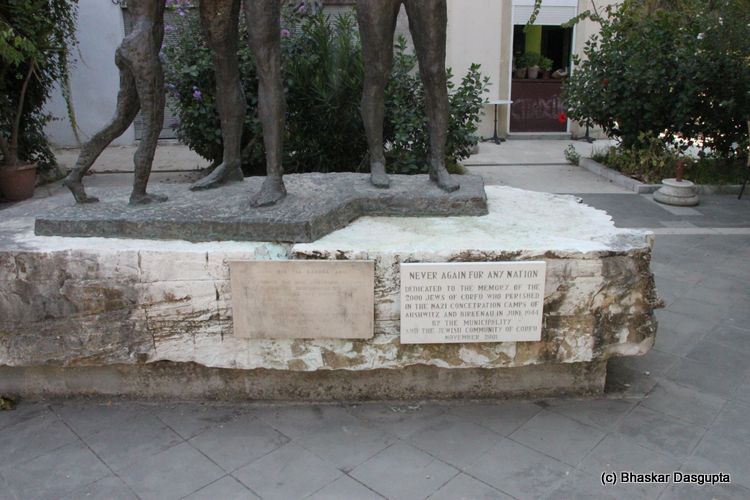 This is a memorial stone, dedicated to the 2000 Jews of Corfu who were brutally dislocated from Corfu and died in the Nazi Concentration Camps of Aushwitz and Birkenau. The Germans have much to atone for. And you know what I have started to hear from Germans? That they have said sorry enough. Oh! yes, killing 6 million and 50 years, those apologies will be enough. NOT!.


The New Citadel, where I will be going in next.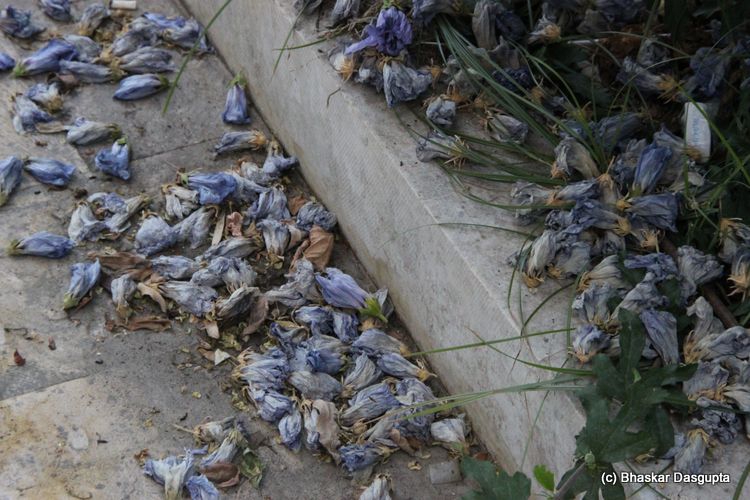 Indigo flowers, on the branch and on the floor.