So I popped into Highgate Cemetery. Why are people so upset at visiting cemeteries? say its creepy, its worrying, its weird. ha! its so much fun.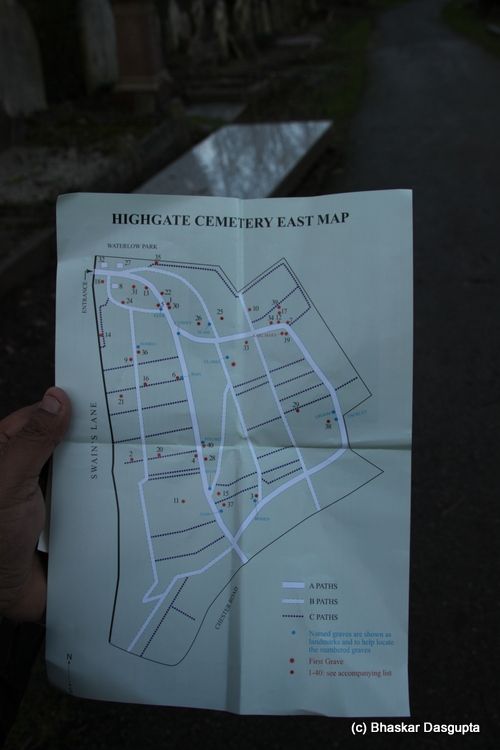 So popped in, its like a tourist attraction, paid I think £3 and were handed this little booklet.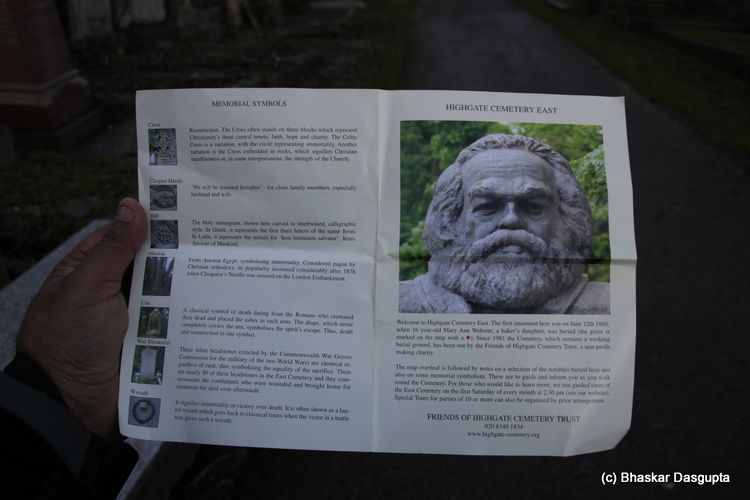 there's Karl Marx himself
But there are some amazingly famous people buried here. See here for more details.
Some seriously impressive vaults and graves…very well maintained. At least here in the front.
Quite a lot of intellectuals and philosophers…
Why do they have a speed limit in the graveyard? ghosts are driving vehicles nowadays?
shafts of early evening sunlight
I walk down the path
This was a very poignant grave. Made even more poignant when I read about him. Do read that link, its very very frank and moving.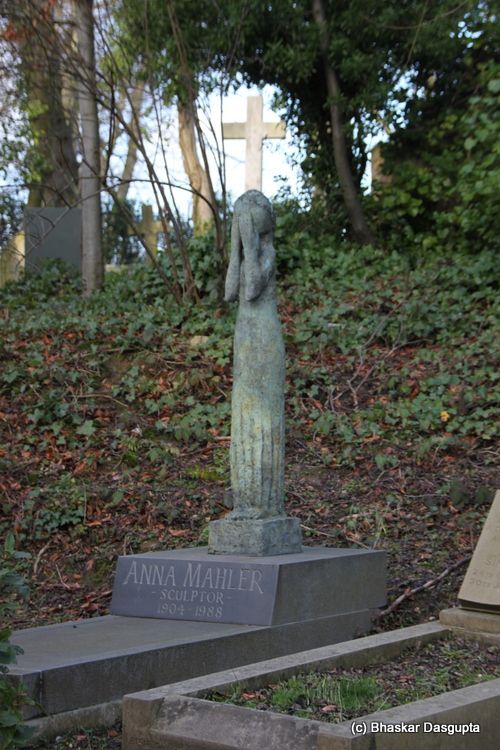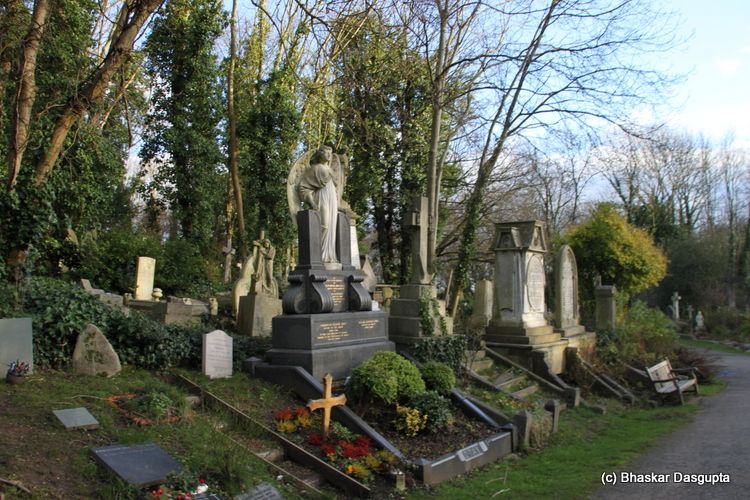 Beautiful angels. The top right handside angel belongs to Anna Mahler who was an Austrian Sculptor, daughter of composer Gustav Mahler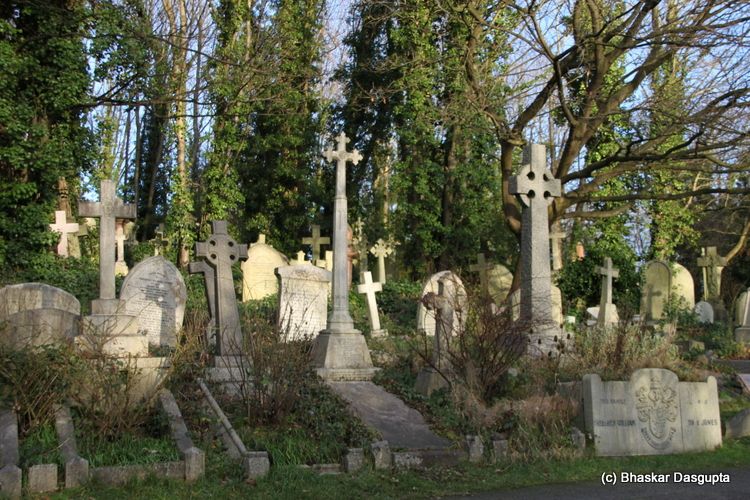 And the sunlight highlights the Celtic crosses beautifully
A Celtic Cross and another angel.
You get to read about the most amazing and emotional messages. This is the grave of Minnie, wife of Edward Jacobs who died in 1894 after 5 weeks of marriage aged 18 years. Can you imagine the situation? I was standing there just thinking how this may have panned out. Sad
The place is just crammed with graves.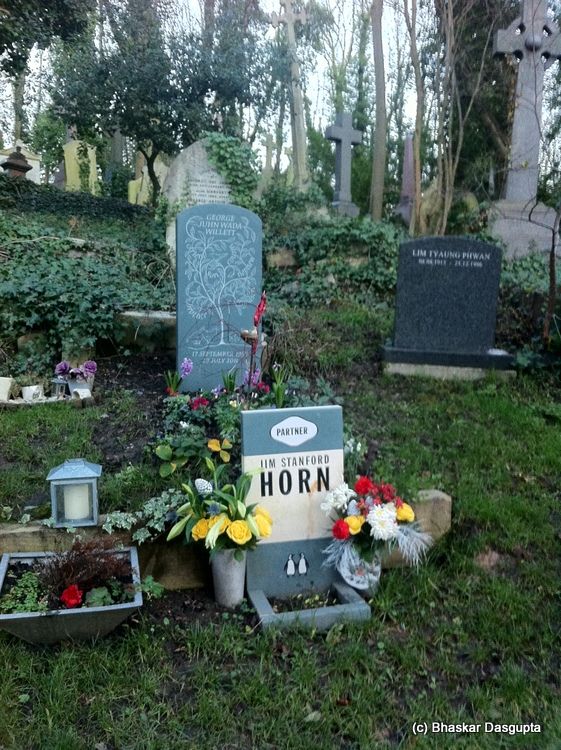 What an excellent gravestone for a book editor?
Curious history. So he won his VC near my father in law's house in Lucknow and then he was a policeman in London and this was where he was buried in a pauper's grave. Strange coincidences. Read up on this story about how he managed to get this modern looking gravestone.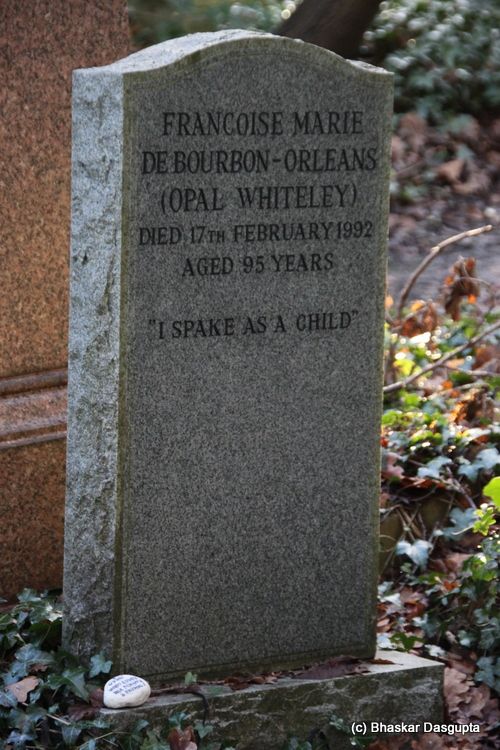 What a fascinating story this grave holds of Opal Whiteley. Here's the wiki entry. Another good New Yorker article. But why have the name of French Royalty? bit of a mystery here.
Angels
And then this absolutely brilliant gravestone of Patrick Caulefield. Brilliant sense of humour.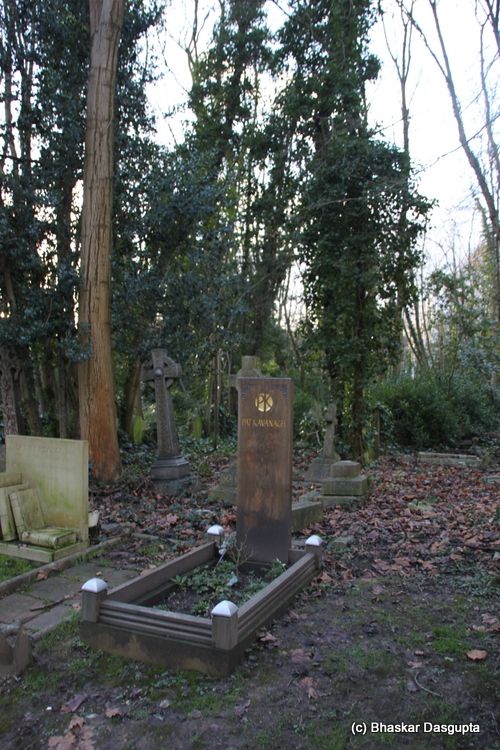 A rather nice gravestone of Pat Kavanagh, a literary agent.
And then this gravestone of Jeremy Beadle. One of the great men who made people laugh. His gravestone says, "Writer, Presenter, Curator of Oddities". What a fascinating chap. Quoting from his wiki page: "He had a number of jobs, at one point taking photographs of topless models,[2] and worked as a skin-diving instructor, lavatory attendant and tour guide. He often said that he gave the best London tour because he realised that what people wanted was stories of blood, sex and death." lol. brilliant. Have fun old chap.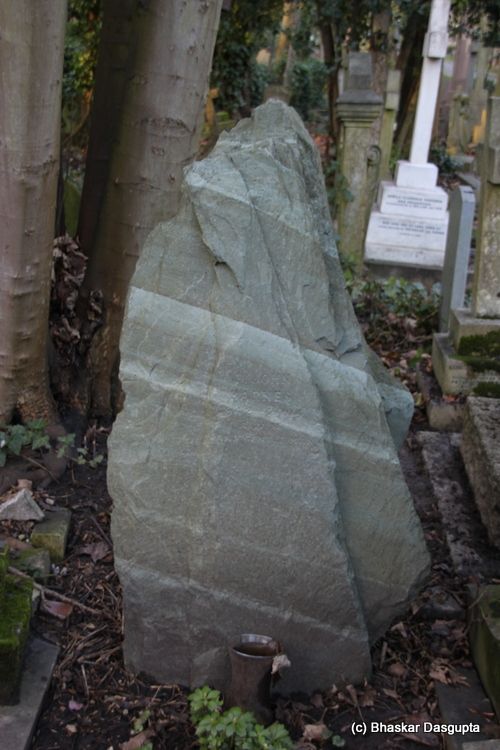 Cant make out the lettering but fascinating gravestone…
A London Fire Brigade Memorial. I came across this poem while researching this gravestone. Moving.
If I remember, Hamish (Red Watch, Paddington Fire Station) was still a proby when he was killed in Room 13, on the night of Friday 13th December 1974 during the 30 pump fire.
Hamish, 2 other Firemen and a Station Officer, were trapped when the roof fell in on them. He was suffocated under the rubble and was dead by the time he was released.
My old Assistant Chief Fire Officer, Neil Wallington, was his Station Officer.
Not long after the fire at Maida Vale, a hotel worker was arrested for arson.
As for the Memorial - I can't remember if it commemorates the men of the LFB who died in service before, during or after WW2. I know there is a dedicated WW2 memorial to London's Firemen and Women who died between '39-'45 elsewhere in Central London.
There used be a service held at the Highgate Memorial every Rememberance Sunday.
D.O. Clisby was detailed to break the news to Hamish's wife in Rochester, Kent.
Ironically, the late Divisional Officer Charles Clisby (from HQ Staff and a poet) had written a poem entitled 'Breaking the News', and Paddington's Red Watch were chosen for a 30 minute TV documentry about Clisby's fire poetry 10 months before the fire.


I spoke a calmly as I could,
'Do please sit down, I've brought your mum',
At this the girl then understood.
'Oh No!' she cried, 'Oh God, Oh God!'
Picked up their infant from its cot.
'He's dead,' she said. I simply nod.
'By how? A fire?' I nod again
Her thoughts are for the little one.
'The roof fell in, he felt no pain.'
The fewest words, two moves of head.
My task is done, her's has begun.
The going's hard, tears will be shed.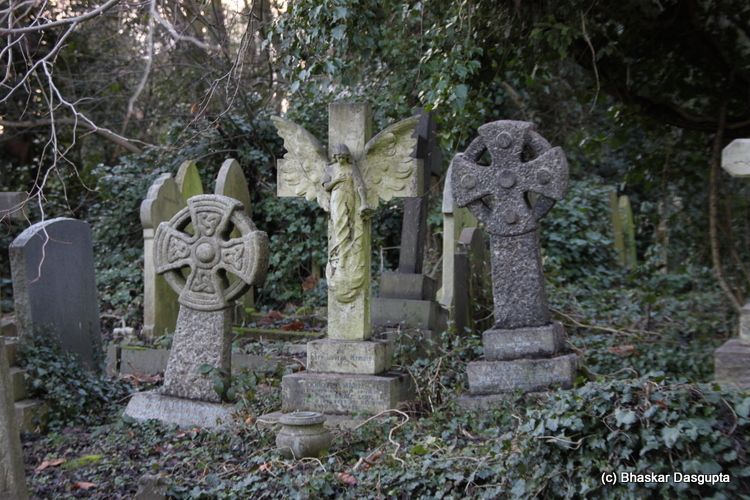 More angels and Celtic Crosses.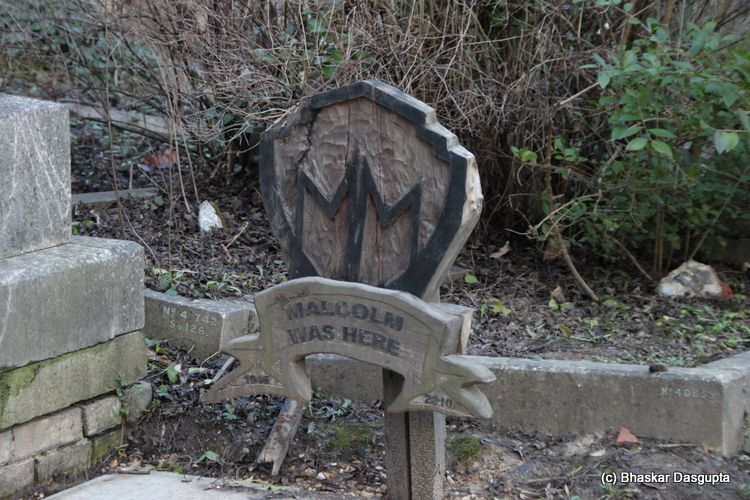 What an extraordinary Grave. This belongs to Malcolm McLaren, people may recognise this reference from the Sex Pistols. This has now been changed to a new memorial. Click here to see what this has been replaced with. Scroll down to the April 2013 news.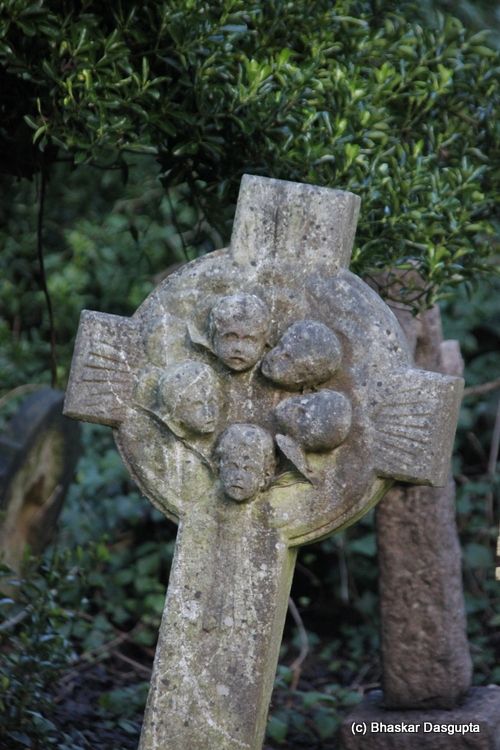 What an interesting Celtic Cross with these 5 stone heads of children.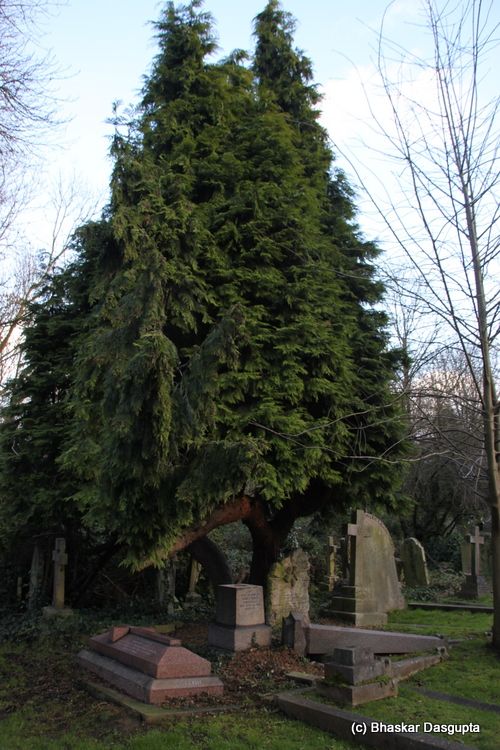 A very peaceful sight
Rows of graves..
It must have been raining horribly, the water logging is terrible. Hmmm, can ghosts exist underwater? Interesting, others have asked this question. Here. And John and Elise Bray…
Tall memorials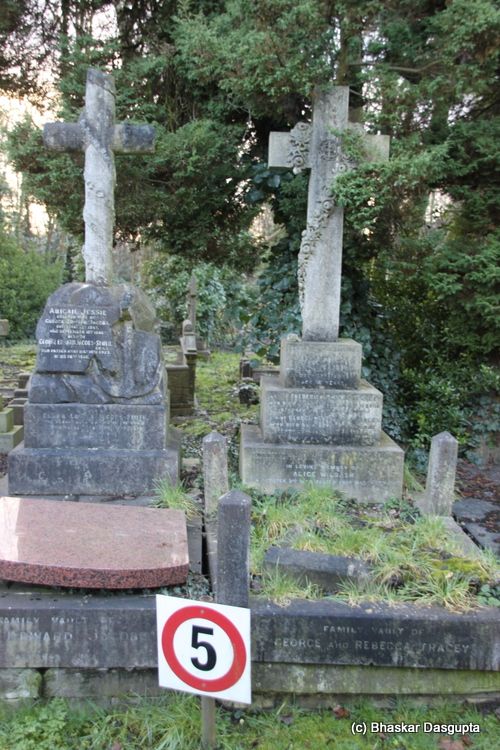 And another speed sign…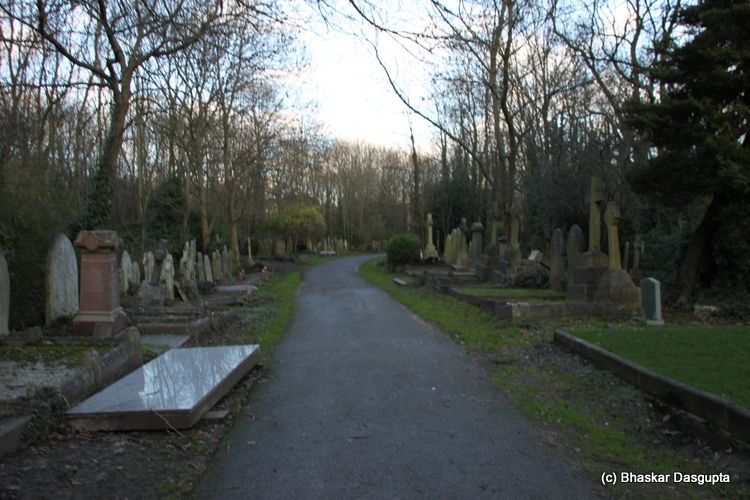 Not much need for speed down these lanes…
More angels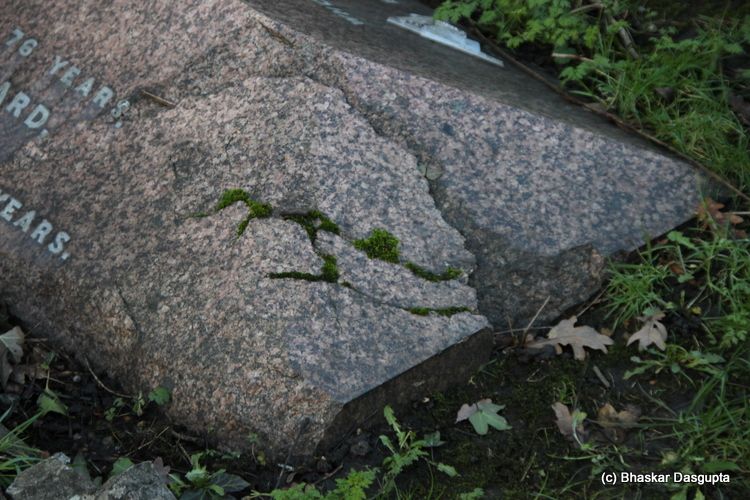 And how nature is slowly reclaiming the grave
Very fine carving on this Celtic Cross.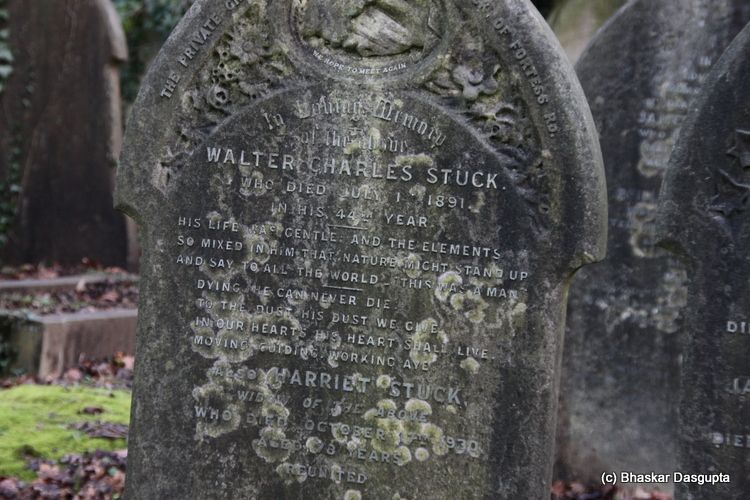 What a fascinating name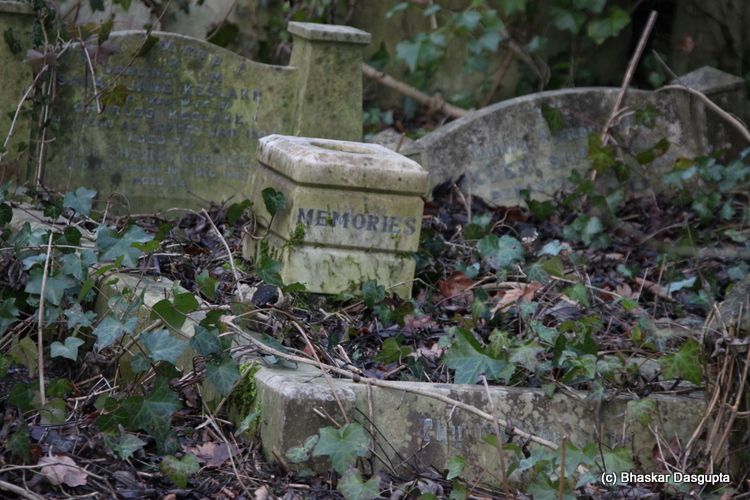 Memories. Don't have to say anything else…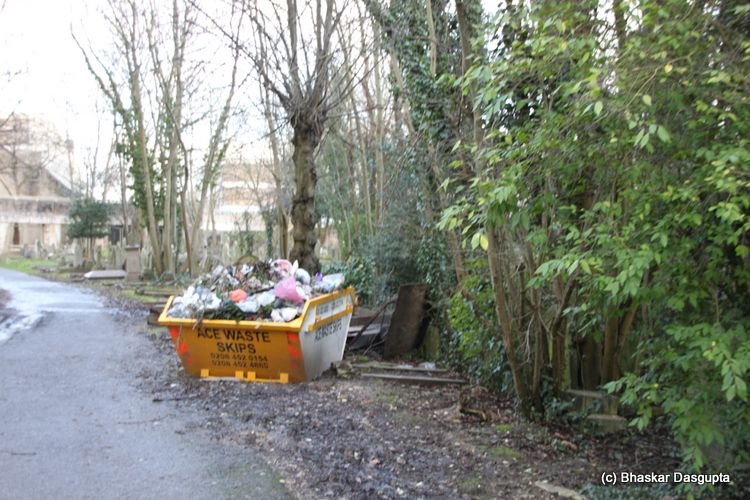 Another grave stone…
The cemetery is crisscrossed with these little dirt paths. At first I didn't go down here but later on I did..
Now there's an excellent carving…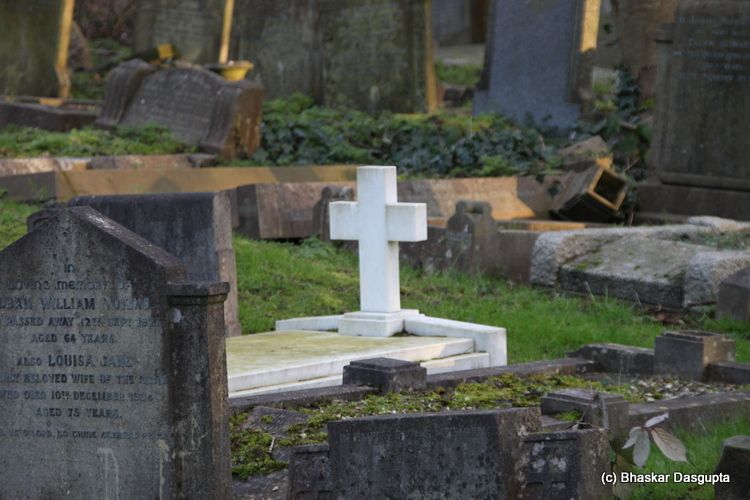 This white marble cross caught my eye, must have been a new grave for it to be still shining bright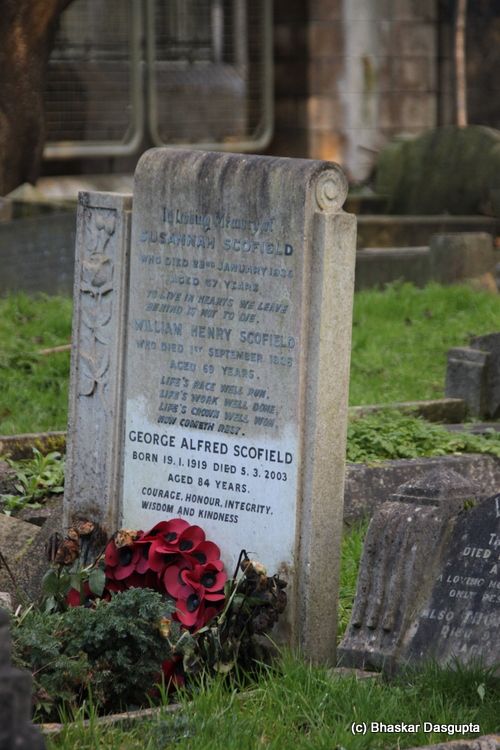 I find these gravestone additions very fascinating, how families keep on joining graves..
A gravestone of a little boy…
Not only they are waterlogged but even trees/roots are growing over the graves
What an amazing man. Anybody who can be this charitable and wonderful is worth saluting.
A family named Groom
Curious overgrowth of the creepers over the gravestone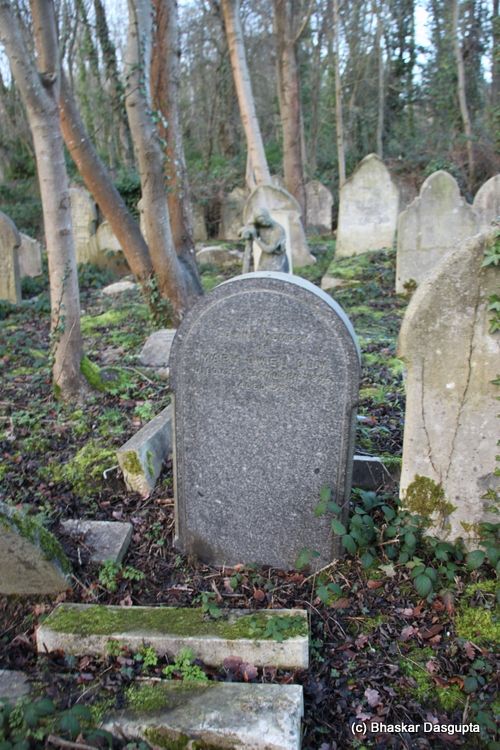 the grave of Mary Cow.
One of the unsung heroes for free speech.
What a man. He went to prison for his beliefs to publish what he wanted.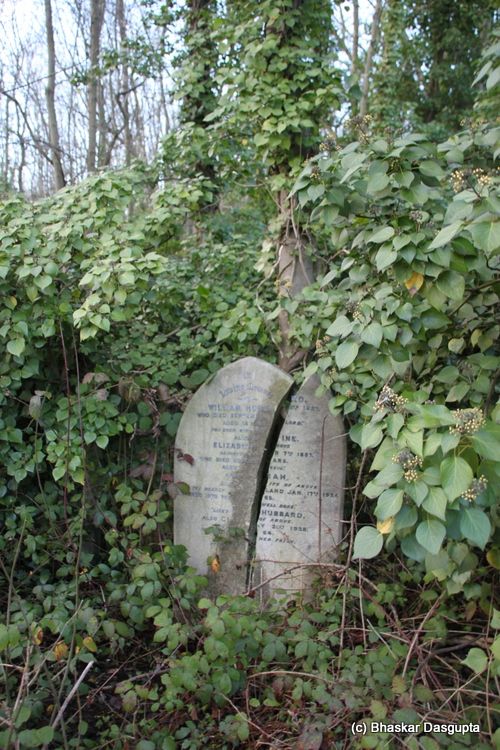 Crikey
I have now come around full circle and have reached the place where there are much newer graves
See?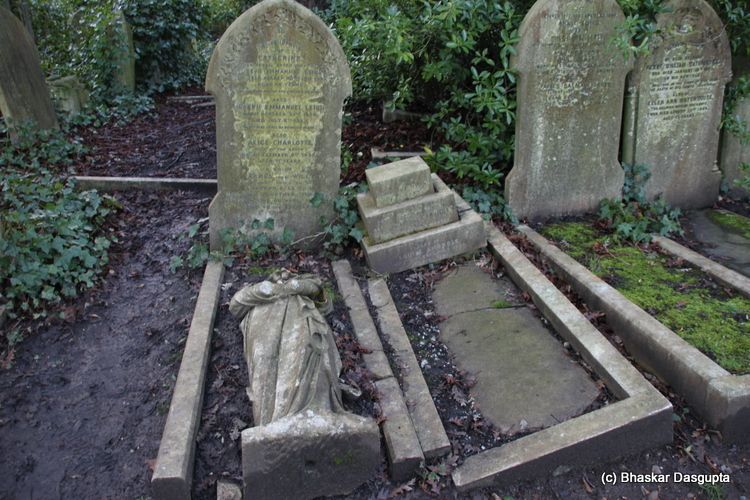 On the other side of the aisle, the old stones and statues still exist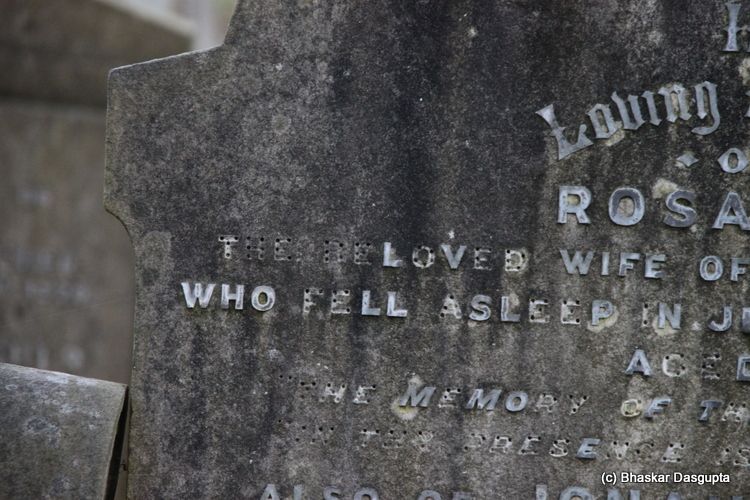 You not only lose the person but also the letters from the gravestones.
Moving up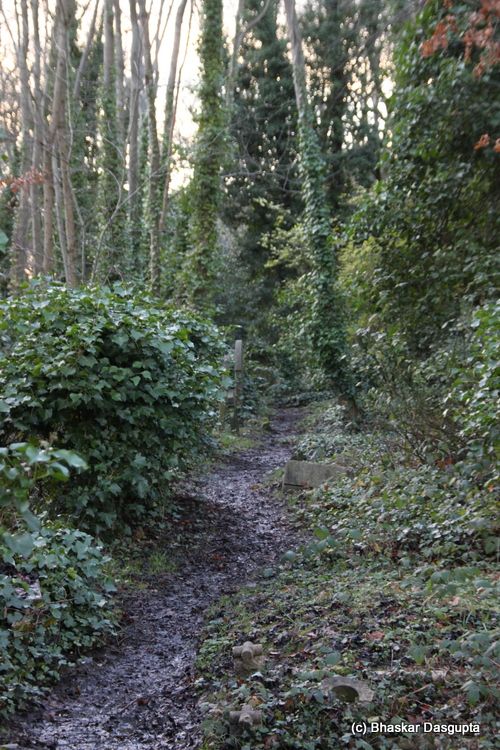 Another little footpath
The Commonwealth Graves Commission allows families to select the gravestones themselves or they provide the standard Portland Stone standard gravestone. In this case, this brave soldier died in WW1.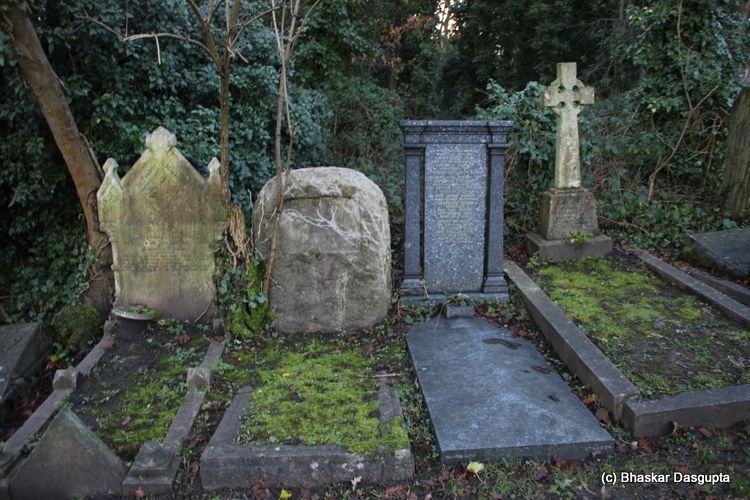 There's an interesting collection of gravestones from various eras
And then we start with an extraordinary collection of communist and socialist gravestones.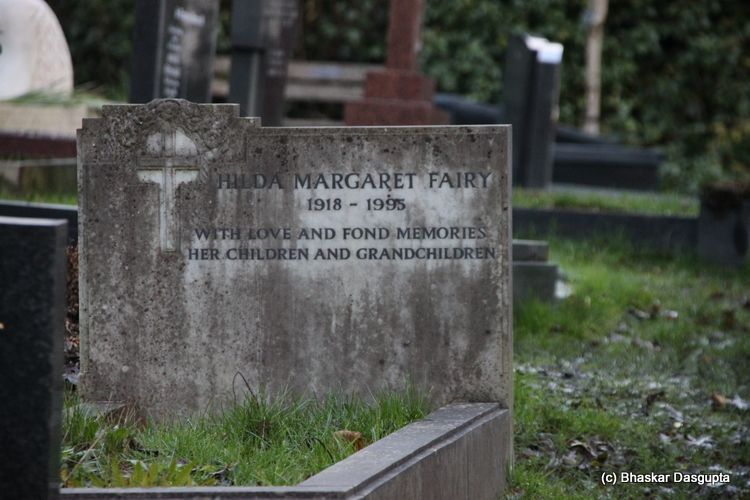 Nice name
A book gravestone..
Lava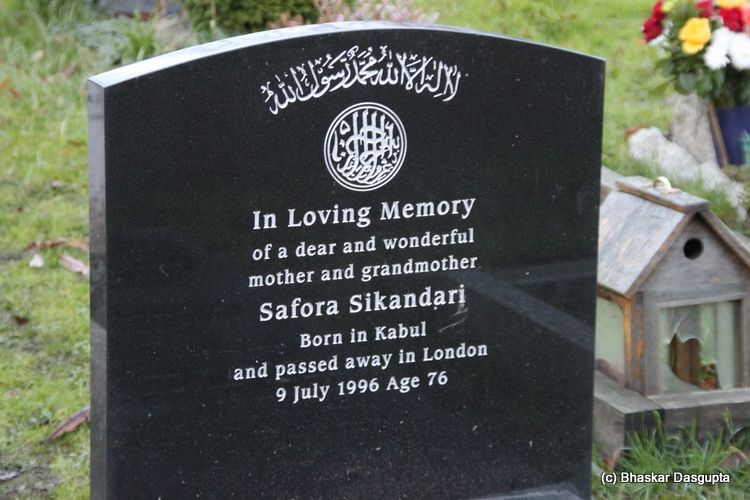 Quite an interesting collection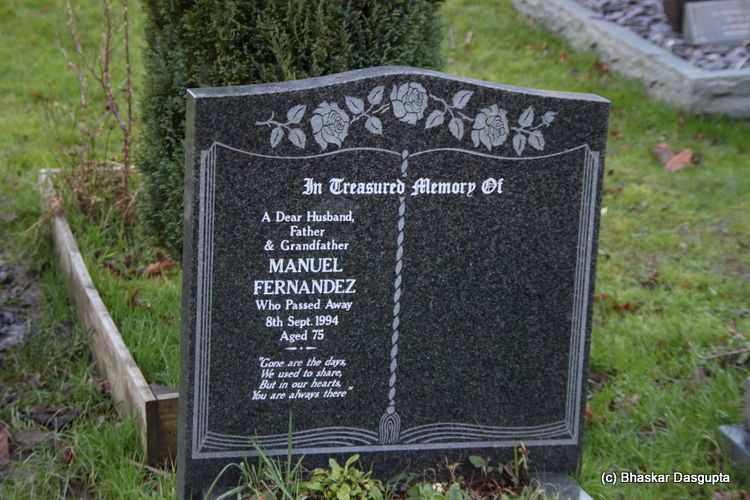 I am not quite sure why all these graves would be here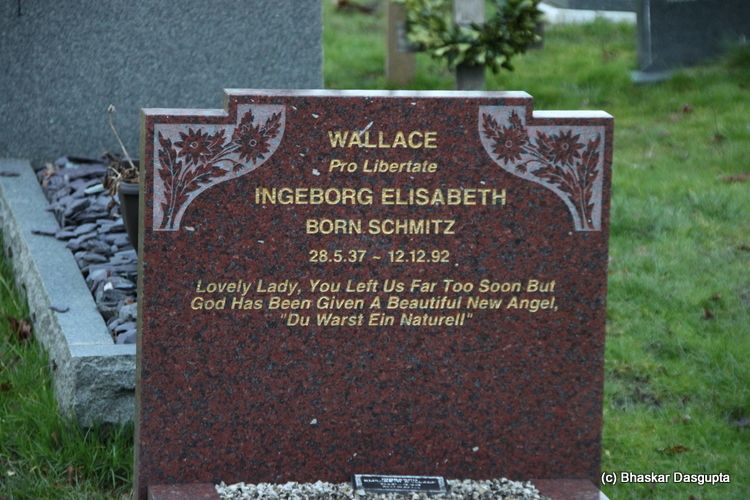 Is that because Karl Marx is buried here?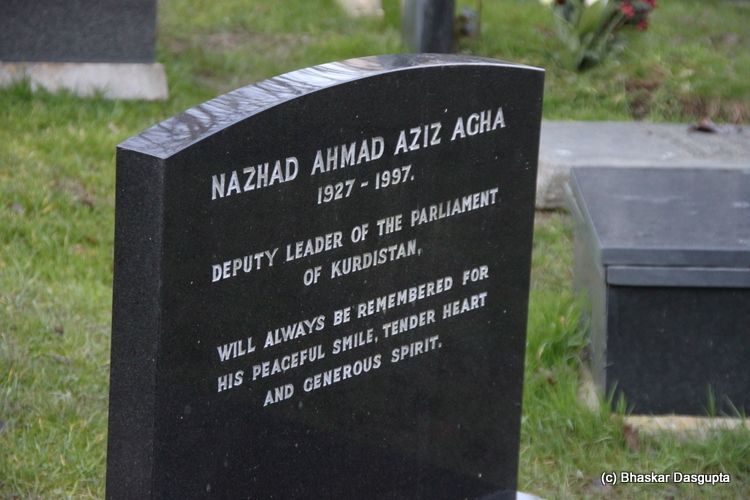 Hmmm, why here?
A ton of Iraqi's here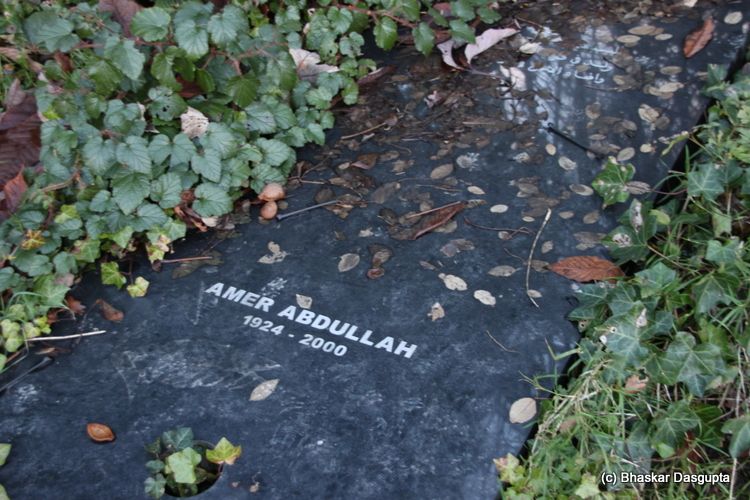 Quite interesting
And a desi
What an extraordinary obit..
Another activist from Iraq…with old flowers…
Psychoanalyst…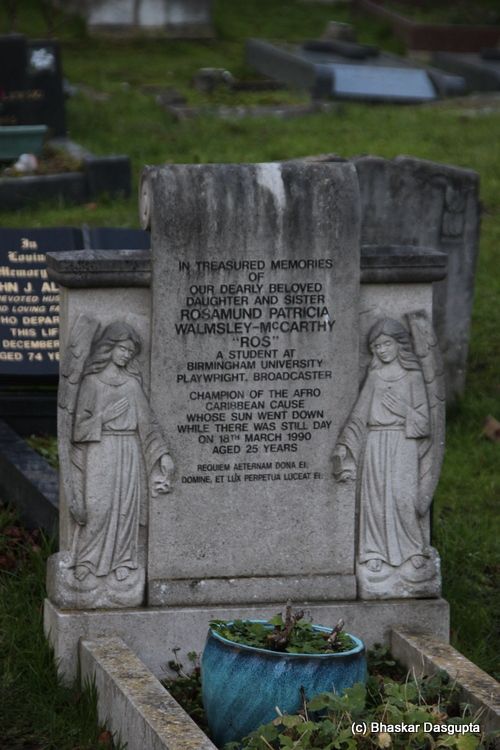 Fascinating…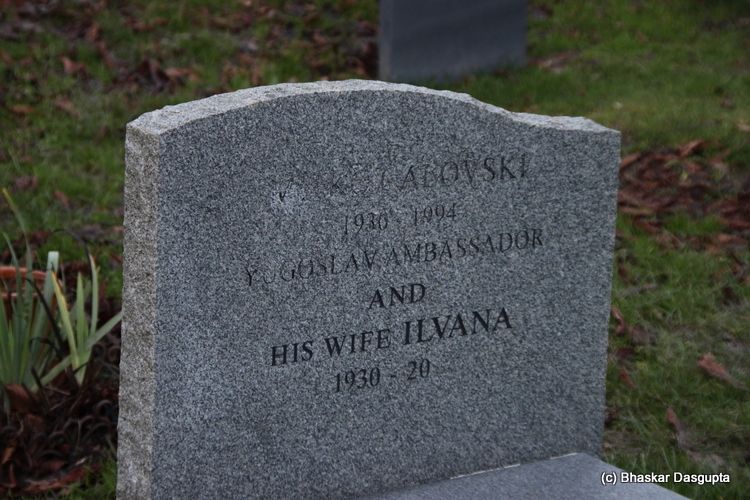 Even an Ambassador…
Brilliant quote
What a lovely quote…and that too from Shelley…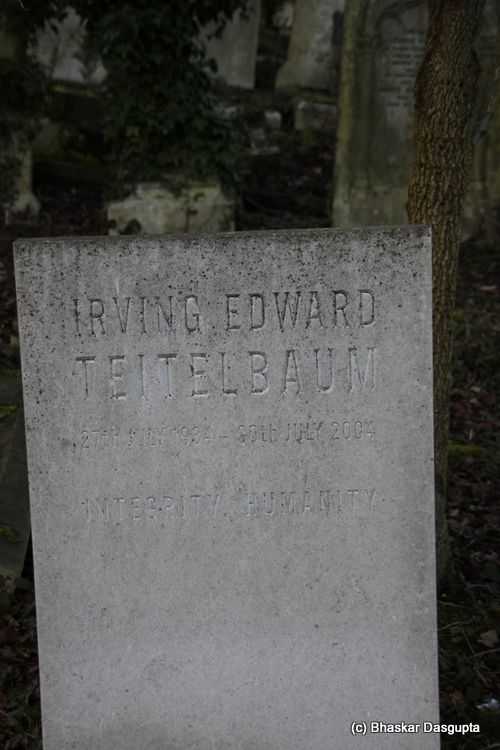 Integrity Humanity
A man who refers to Don Quixote…brilliant.
Nice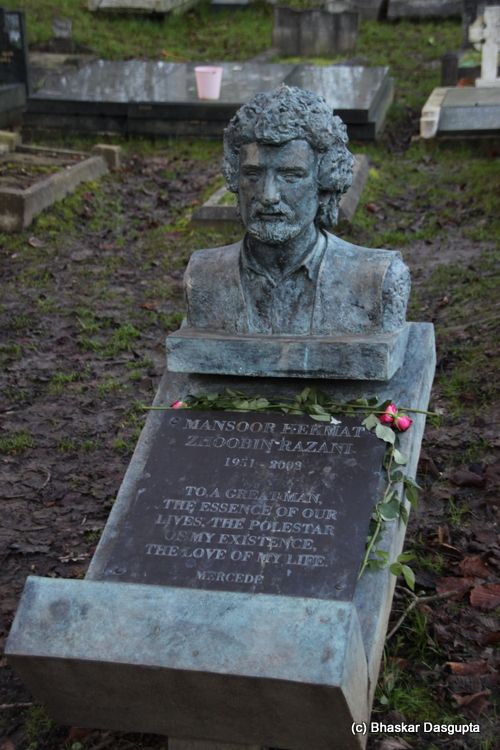 Nice
More comrades and revolutionaries
And here's the man himself. Gosh…
This is the grave of an extraordinary man. Herbert Spencer. I quote from this wiki entry.
Herbert Spencer (27 April 1820 – 8 December 1903) was an English philosopher, biologist, anthropologist, sociologist, and prominent classical liberal political theorist of the Victorian era.

Spencer developed an all-embracing conception of evolution as the progressive development of the physical world, biological organisms, the human mind, and human culture and societies. He was "an enthusiastic exponent of evolution" and even "wrote about evolution before Darwin did."[1] As a polymath, he contributed to a wide range of subjects, including ethics, religion, anthropology, economics, political theory, philosophy, literature, biology, sociology, and psychology. During his lifetime he achieved tremendous authority, mainly in English-speaking academia. "The only other English philosopher to have achieved anything like such widespread popularity was Bertrand Russell, and that was in the 20th century."[2] Spencer was "the single most famous European intellectual in the closing decades of the nineteenth century"[3][4] but his influence declined sharply after 1900; "Who now reads Spencer?" asked Talcott Parsons in 1937.[5]

Spencer is best known for coining the expression "survival of the fittest", which he did in Principles of Biology (1864), after reading Charles Darwin's On the Origin of Species.[6] This term strongly suggests natural selection, yet as Spencer extended evolution into realms of sociology and ethics, he also made use of Lamarckism.
And then some bloody animal shits all over the grave. Bah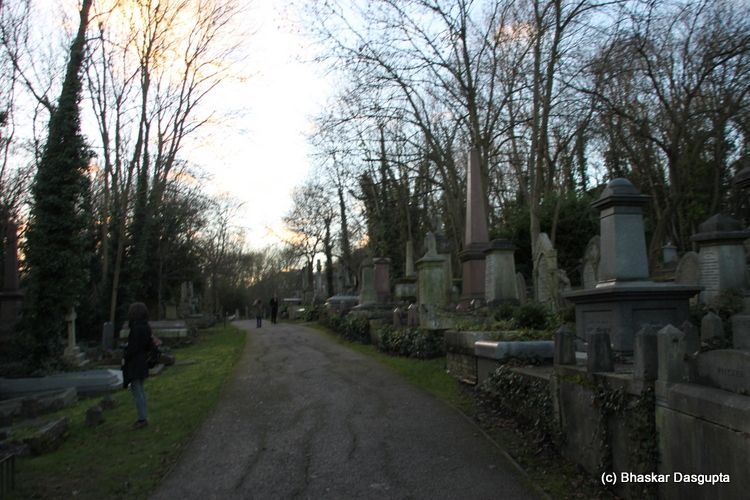 It is getting dark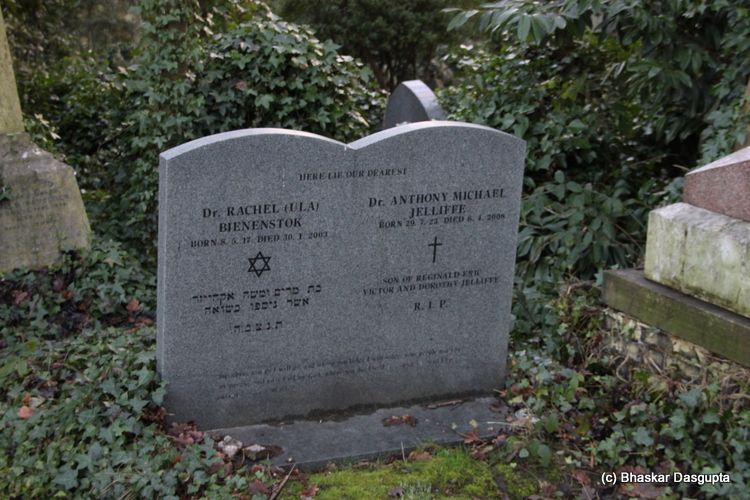 Curious juxtaposition…
The sun is setting
I dive down one of the footpaths, the graves off the beaten path are much less maintained…and this one is open to the elements…
Hmmm, hello?
This is a giant grave, must be a large family grave…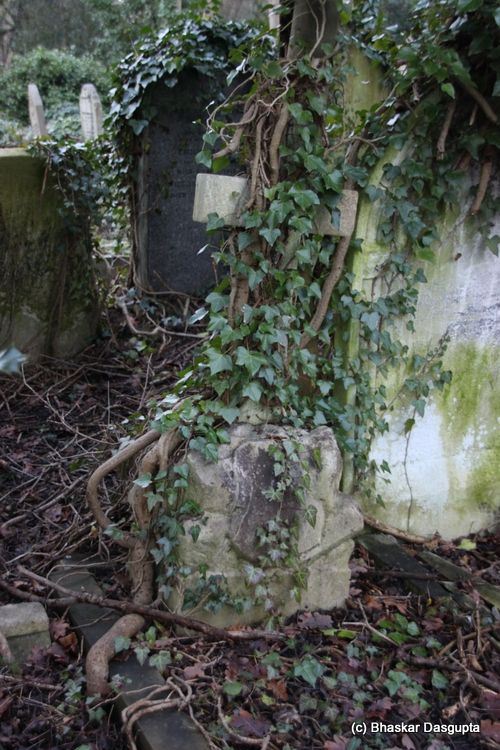 Yet another gravestone which has fallen prey to the creepers.
the grave of George Eliot, the pen name of Mary Ann Cross, the author of books such as The Mill on the Floss and Middlemarch. Did you know that this book, Middlemarch, has been describe the greatest novel in English Language by Martin Amis. And I do believe much in this statement. Its a brilliant book.
A fine grave of Holyoake..good man.
A brave doctor…
lol, very apt…and then he helped make bread. Next thing to sliced bread, literally…
And then we hear this gentleman go walkabout clanging his bell. signifying that the cemetery will be closing soon.
Here's the video of it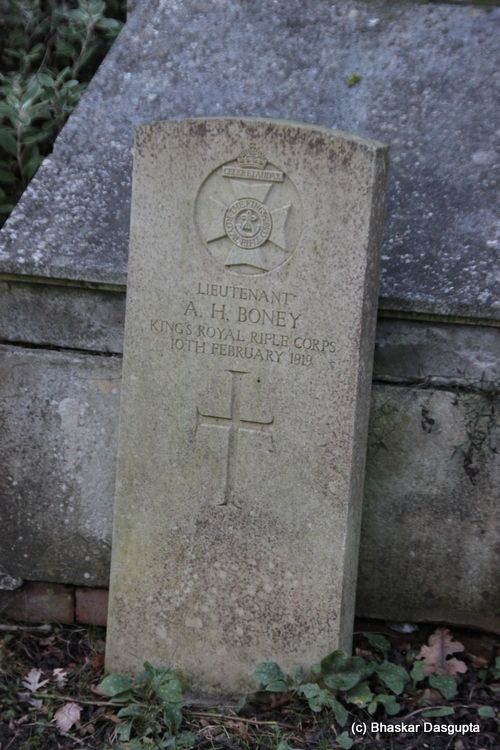 A war grave…
Hmmm, nice one
The grave of Douglas Adams…writer. What a lovely tribute..
Quite a lot of authors buried here…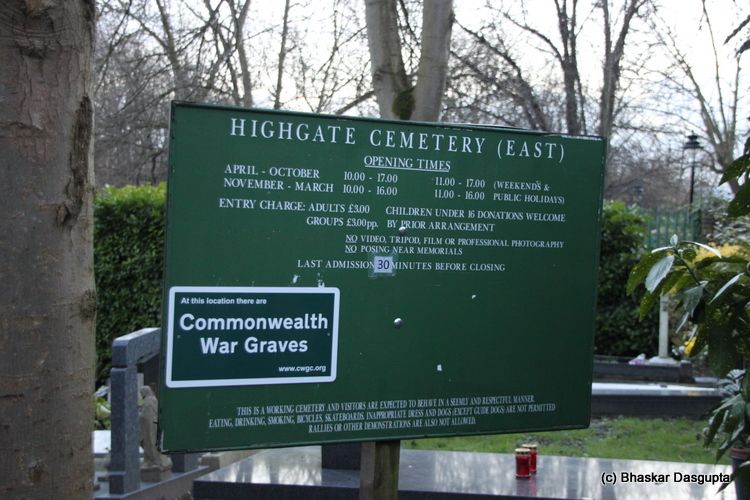 The sign…
More angels..
I walk out..
Nice houses..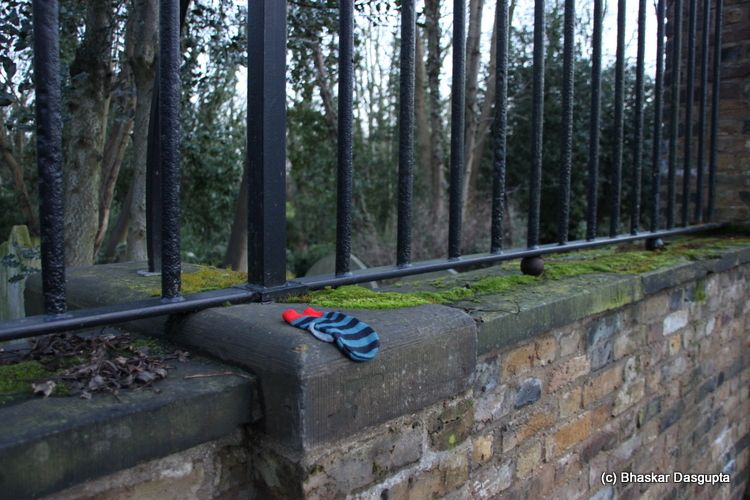 And another unidentified sock…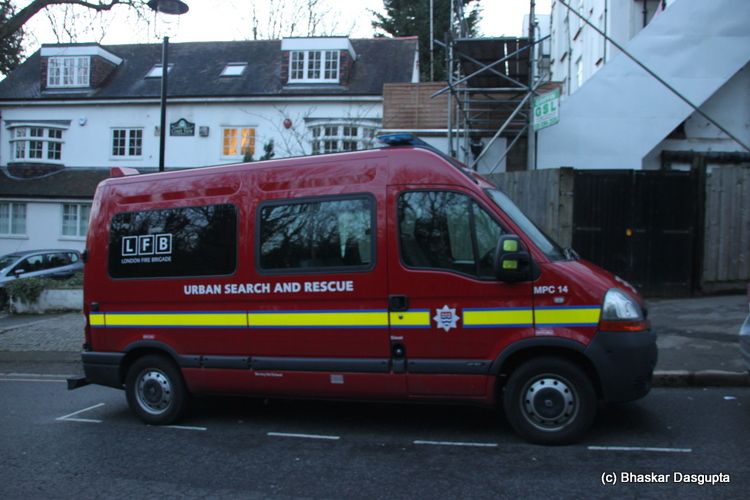 What's this doing here?
On the way to the bus stop, I come across this absolutely beautiful house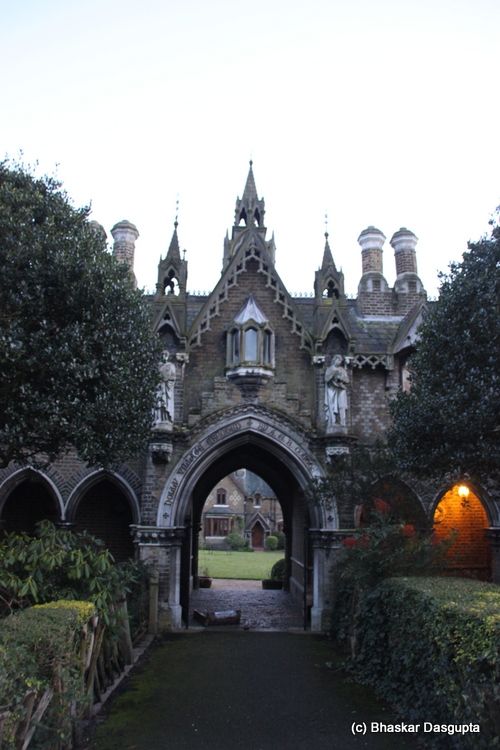 I walk into the garden
fascinating..
Private? bugger
i zoom
And then take some photographs from the outside.
I was only able to see the West Cemetery. The East Cemetery can only be seen through an appointment, so its on my list of places to go and see :)