I had to attend a dinner at the Lloyds building so I asked if they will allow me to take photographs inside this iconic building. Unfortunately, due to security concerns, my request was denied. So rather disheartened, I walked out and between the Lloyds Building and Liverpool street, a distance of about 500 meters, took the following photographs. This is from the corner of Lime Street and Leadenhall Street, up Leadenhall Street, turn right on Bishopsgate and walk up to Liverpool Street just after Dirty Dicks and turn into the station.
View Larger Map
Guess was very lucky with the lovely soft light. Walking on the sidewalk and taking photographs almost directly vertically is rather interesting and unique, one usually does not do this but the perspective is fascinating. So here goes (and here is the slideshow for those who want to just flick through the photographs rather than read my witterings, the slideshow has more photographs).
The Lloyds Building.
First view of the Lloyds Building


This is the building in front of the Lloyds Building with a curved facade, lovely images


a modern well, looking up
Some serious air conditioning pipes.


An elephant..Loved the quote, 9/10th of all failures in the world are from not quite doing enough from one of my hero's, Isambard Kingdom Brunel.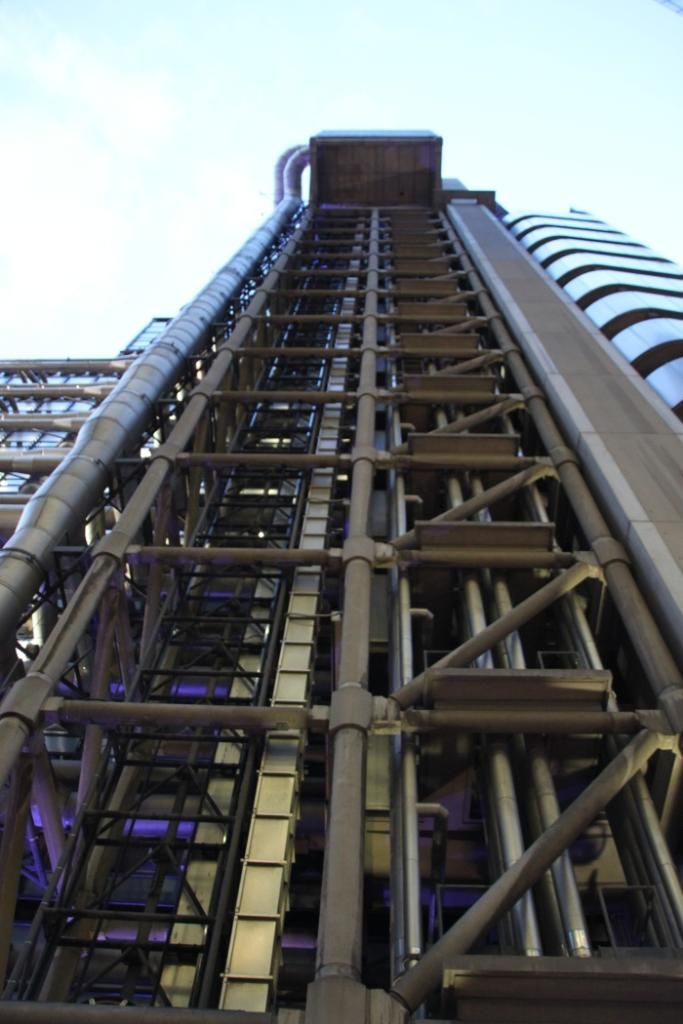 Another view of the fire escape. 


Turning the corner of the Lloyds Building


A walk way into the Lloyds building which is barred.


Elevators taking off on the left and on the right, they have left the base. Apparently the rumour is that you haven't really arrived as an Lloyds Insurance broker till you have ummm made a beast of two backs in one of these elevators.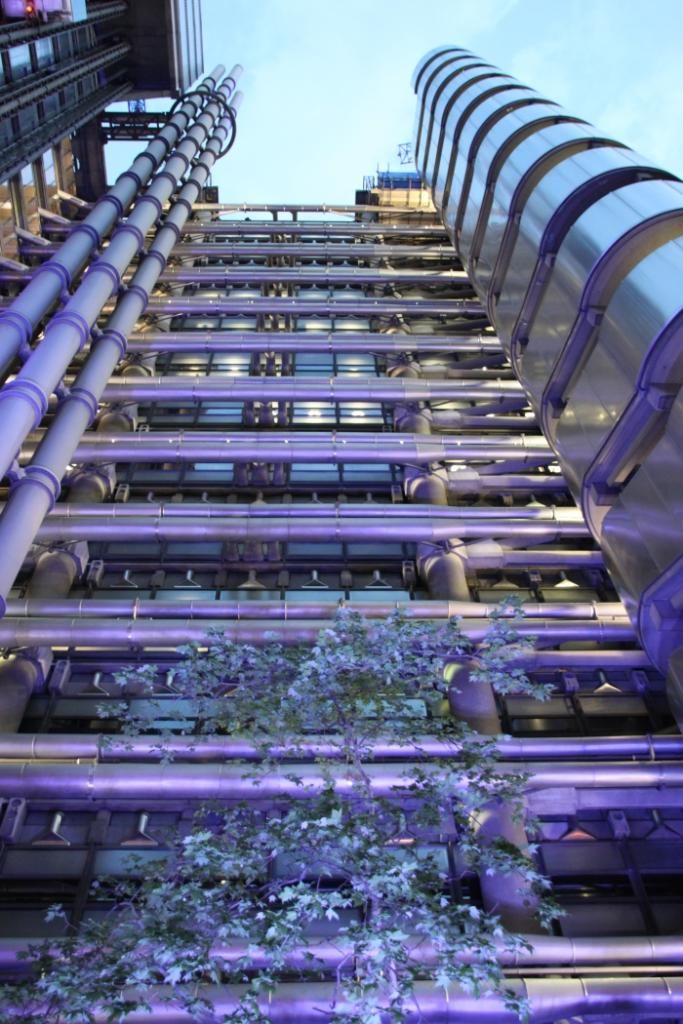 The air conditioning ducts, this building is also called as the inside out building for obvious reasons.


reaching high into the skies. 
Tall concrete towers.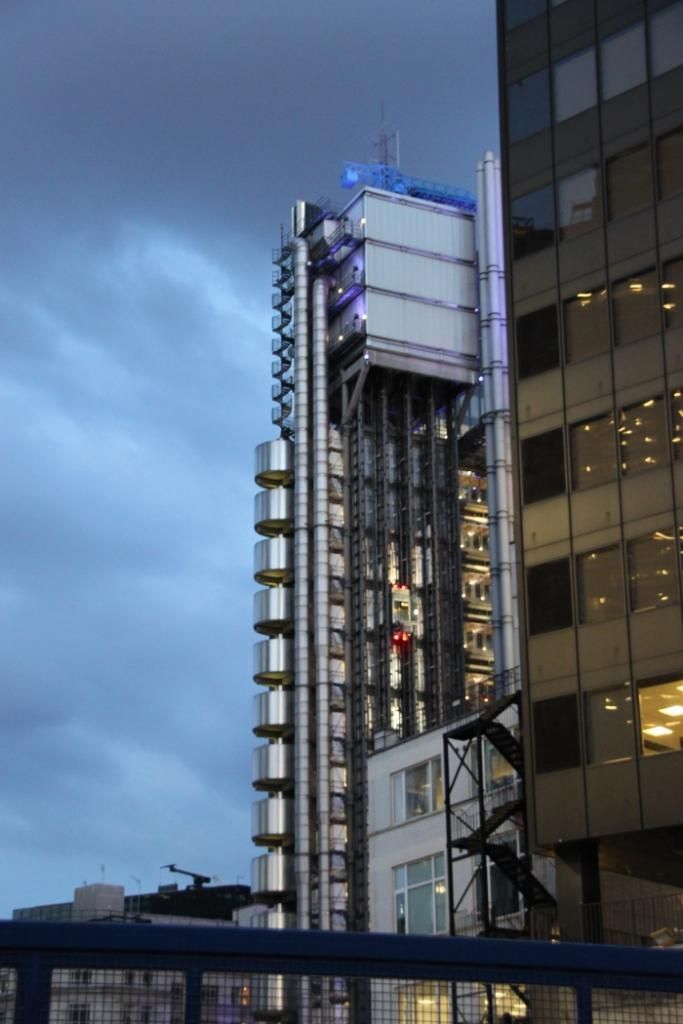 Looks a bit like a strangely futuristic boxy space ship ready to take off, no?

The Gherkin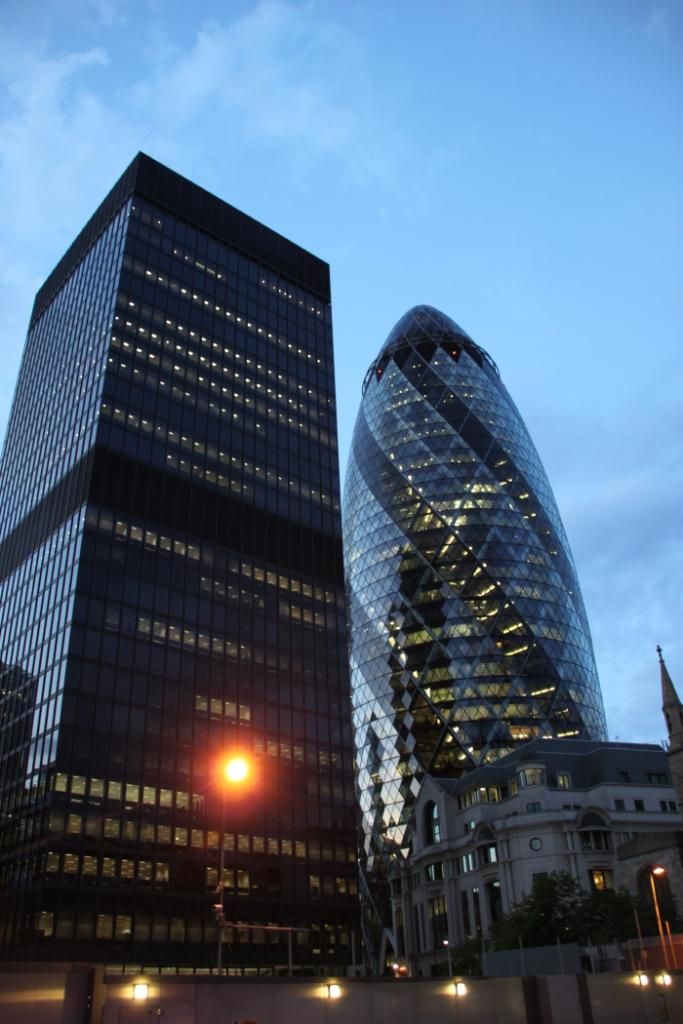 Boxy and round shapes.
A close-up of the Gherkin
Looking at the Gherkin from way over on Bishopsgate.


The heron tower under construction in the back-ground.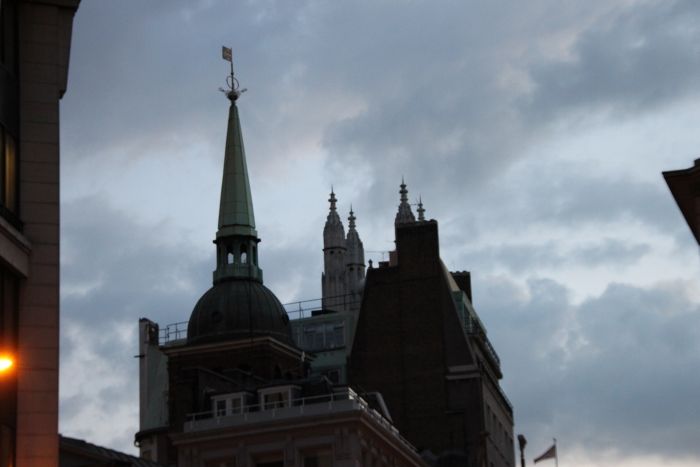 A fascinating roof top in stark contrast against the twilight sky.
Rafarain Bank with Arabic writing.


A building with a curved roof, looks faintly starwarsish.
Tower 42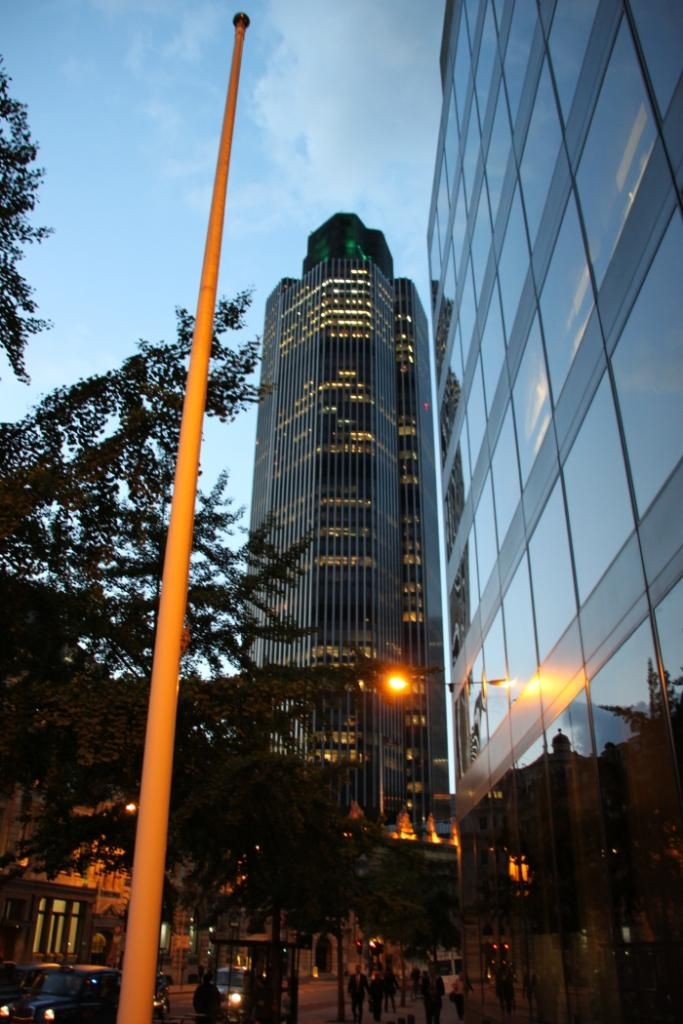 Lloyds Bank Building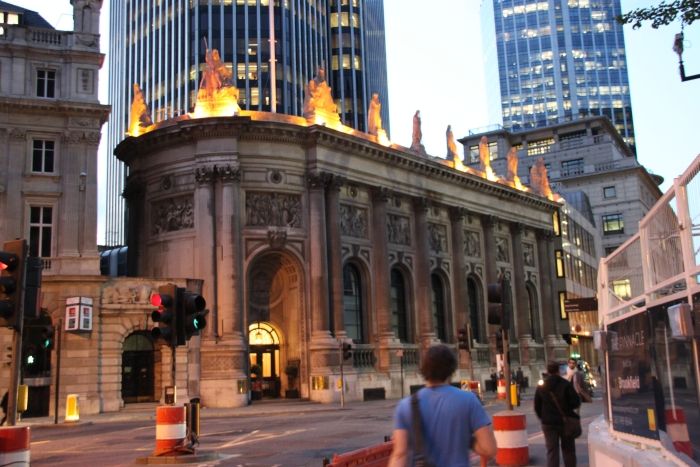 This looks like a stage, with lovely statues on top.


The statues are covered by heavy netting. Looks extraordinary. 


91 Bishopsgate tower. Notice something in the top left-hand side window?


Lovely stone pillars but with rubbish at the bottom.
London Wall
The Heron Tower.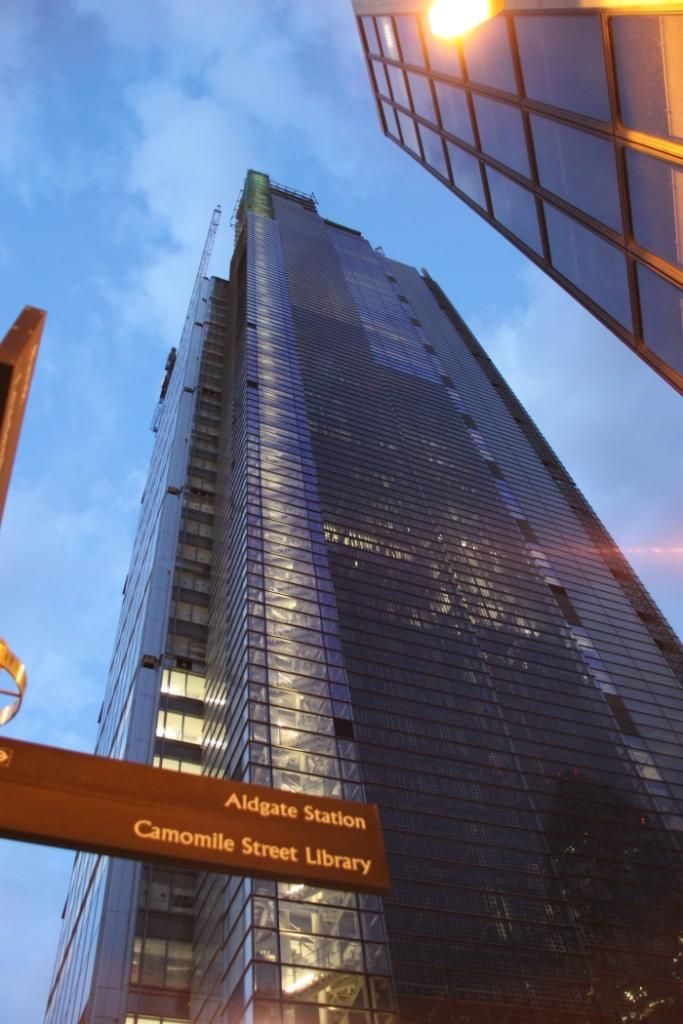 A tiny narrow street. 

Bishopsgate and Liverpool Street
A plane with flashing lights crossing the darkening skies.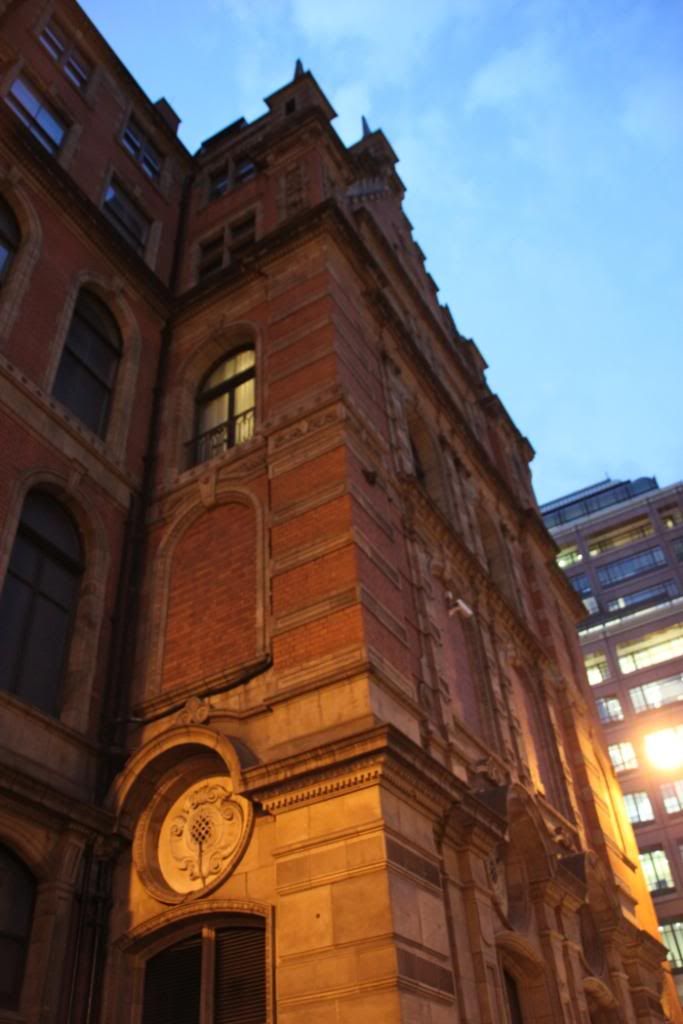 The bus stop on Bishopsgate in front of the station. In the far end, you can see a faintly ship shaped building which is the old ABN AMRO building, now RBS owns it.


A yellow train indicator board.
Short walk but very interesting sights.