Had to attend a meeting in the city and thankfully carried my camera with me. While turning a corner, I came across this fascinating memorial bang in front of the Westminster Cathedral. This is a memorial for Westminster School students who died during the Russian and Indian Wars of the mid 19th century. Fascinating history of the school with an august list of alumni.
Its a column of Peterhead Granite, red in colour on a base of Portland stone. At the bottom, there are four lions. Then at the top of the granite pillar are statues of Edward the Confessor, Henry III, Queen Elisabeth I and Queen Victoria. This is an extraordinary collection of monarchs and for the life of me, I simply cannot understand the link between these 4 monarchs. Not the school, not the Abbey, nothing other than the fact that they were UK Monarchs. But why them? No idea. Anyway, on the top of this set of four statues is a statue of St. George and the Dragon. This was designed by an amazing designer Sir Gilbert Scott (who is incidentally buried in Westminster Abbey and the list of his projects is amazing, top man!) and executed by J Birnie Phillip in 1861.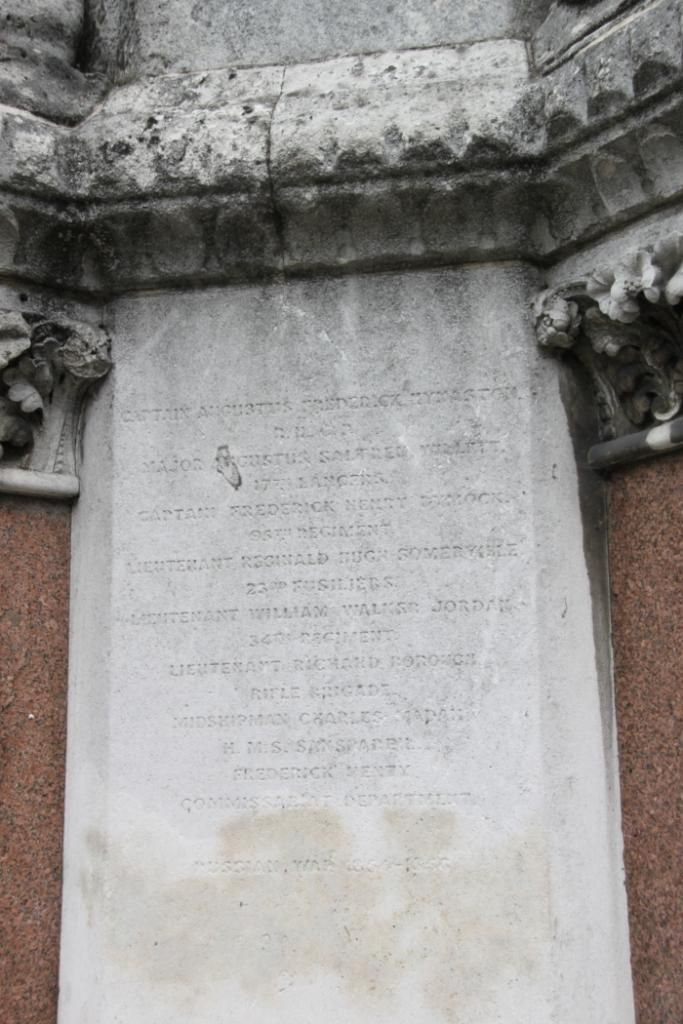 The carvings are much worn away. This plaque talks about the alumni who died in the Russian war of 1954-1856. Dont bother looking this up, we know it now as the Crimean War. Lancers, Riflemen, Fusiliers, Midshipmen and even somebody from the commissariat department. Officers and servicemen.


Now obviously you wouldn't put the generals in with the ordinary officers and men would you? So you have Field Marshall Lord Raglan and Lieut-General Frederick Markham.


Then we have the connection with India and the Indian War/Great Mutiny. It starts with General Sir Henry William Barnaby and has other officers / peers on the list. They all died between 1857 and 1858.


The final plaque says (and apologies, the carving is a bit worn and my photograph is a bit manky):
To the memory of those

educated at Westminster School

who died in the Russian and Indian Wars

AD 1854-1859

on the field of battle

or from wounds or sickness

some in early youth

some full of years and honours

but who all alike

gave their lives for their country

this column was erected

by their old schoolfellows

in token of sorrow for their loss

of pride in their valour

and in full assurance

that the remembrance of their heroes

in life and death

will inspire their successors

at Westminster

with the same courage

and self devotion

I find such memorials sprinkled around the country and this is good. If the country is sending its young men and women out to fight for the country, then it behoves them to remember their deaths, howsoever long ago it was, so that their bravery and courage, their full and final contribution is remembered. Growing up in India, there were very few memorials like this. Extremely few. But what I liked was something like this being done at a school. Good for young boys and girls to see what their predecessors have done. School years are the years that hero's are remembered and character formed. One can do much worse than remember their older alumni who gave up the ultimate sacrifice.
Full slideshow here with greater resolution photographs.