One of the interesting aspects of life in the UK is that you get invited to some very interesting tasting events. Lets see, over the past few years, I have been invited to cheese tasting events, tons of wine events, some scotch events, Indonesian rice table events, cake tasting events, chocolate tasting events, one very interesting chips tasting event, fish events but never been to a Rum testing event.
We walked in to see a very nice arrangement of the room.
Each table had a collection of wine glasses placed on white thick cards, water glasses, water and a sheet of paper.


the wine glasses were for the rum and the white card was there to show the colour of the rum. You tilt the glass and see the rich claret or dark red colour of the rum. Beautifully rich, succulent and impressive.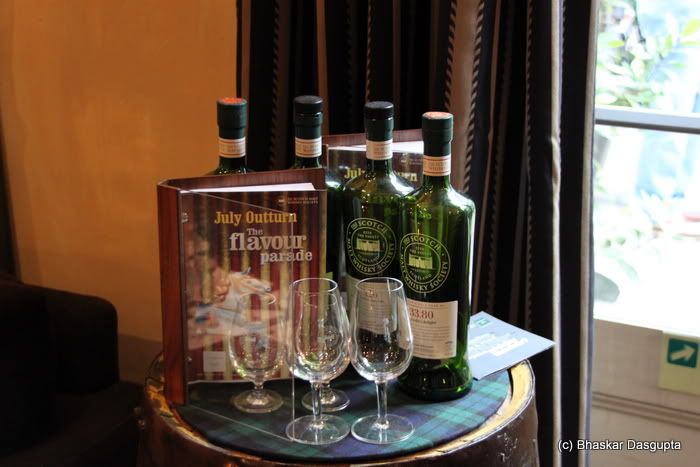 The room also had this collection of scotch bottles. Quite an interesting collection. These single malt bottles are of a limited collection (usually not more than 500 bottles) and are meant for a small exclusive club called as the Scotch Malt Whisky Society. They are not branded but are given numbers such as 33.80 and given some very interesting descriptions. One said something like, "savoury sweet with deep fried seaweed….water released pears and vanilla…..the taste is fruity and spicy…." This 33.80 version had only 242 bottles made out of a single cask. Now that would be brilliant, eh? One day when I grow up, I have to join this.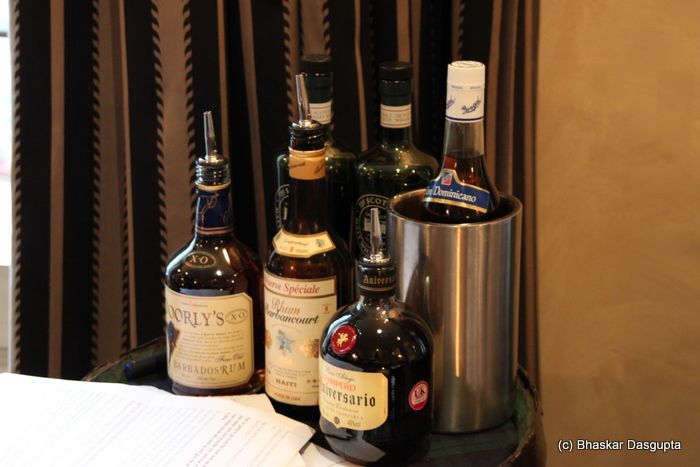 Here are the run bottles. Barbados, Venezuela and Haiti. These were the origins of the three bottles. The man was very knowledgeable, he was telling us all about how this started. I perked up when I heard that one of the ancestors of Rum came from India, Marco Polo also is said to have had a sugar cane sugar fermented juice in Iran but the true recent home is the Caribbean. It took the hot, humid air, the slave labour, the remnants of the sugar refining process – molasses – to be made into rum, pirates, taxes, very very bloodthirsty history. Rum is thick and heavy and somnolent and luxuriant, the feeling of a woman's dense long heavy silky hair in your hands as you brush it with an ivory backed brush, the feeling of satin dresses swishing in dance during hot and humid evenings, the scent of frangipani.


The chap was good, he was describing how the various types of rum is prepared, the history of rum. How you can drink them, straight, mixed with other ingredients or in cocktails.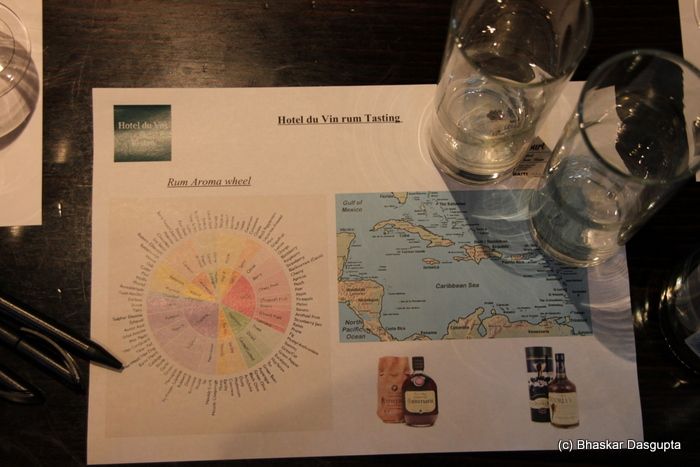 This wheel on the left showed how rum is evaluated in terms of its aroma. Some of the combinations are extraordinary. The chap asked us to take a sip and then try to figure out the aromatic combinations. I, as usual, made a total hash of it, my taste buds have been dug out and replaced with an asphalt road. Anyway, the combinations are related to the three circles on the card, and the combination end up on the outside circle. So some examples of the outside circle are like olives, black peppercorns, cut grass, asparagus, sulphur dioxide, ethanol, butterscotch, cedar, pine, smoky, plastic and tar. Gobsmacking.
But no, at the end of the session, I am afraid I am going to stick with whisky as my main love, I have had long memories of getting pukingly drunk with Old Monk Rum but those were in the dim and distant past. Now I am old and decrepit, cant take this kind of violent drinks any more :)
I am going to end with this photo of a wine rack. this was a very interesting way to store wine bottles. Here is the slideshow with some more photographs and bigger resolutions in case you are interested.