Here are some photographs of Vasant Vihar.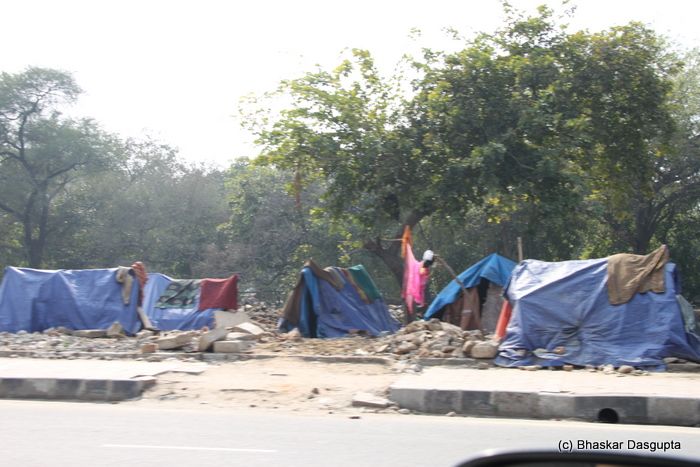 Turning into Vasant Vihar. These are tents belonging to the labourers who are making the pavements.


Here are the aforementioned labourers.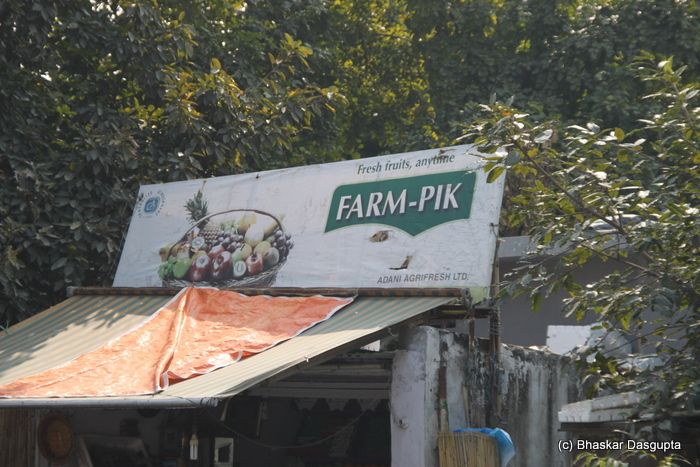 Rickshaws full of foliage and flowers.


An aircooled security guard hut.


This is the equivalent of the Sabil in Egypt. People put up these earthenware pots for thirsty people to use. A bit of philanthropy. You can see the little temple in the back.


Beautifully sandstone carved house ornaments. Absolutely lovely.


Do not honk if you love peace. Hmmmm, ok.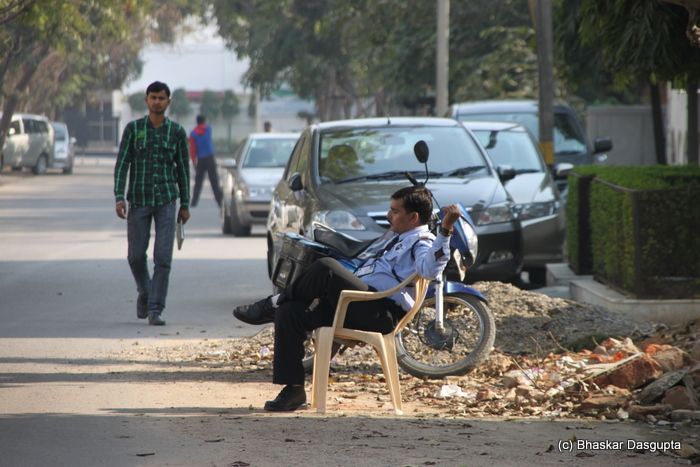 I am responsible for security here.


Those are just not trusting eyes, eh?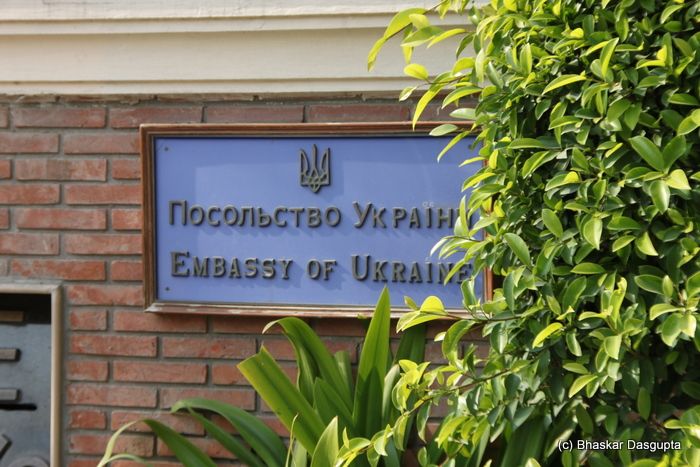 A little piece of Ukraine in India.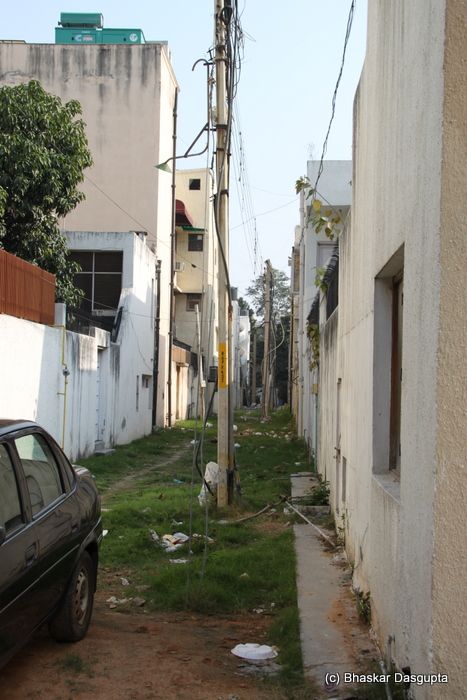 A tuk tuk in Indonesia, a tok tok in Cairo and an auto in India.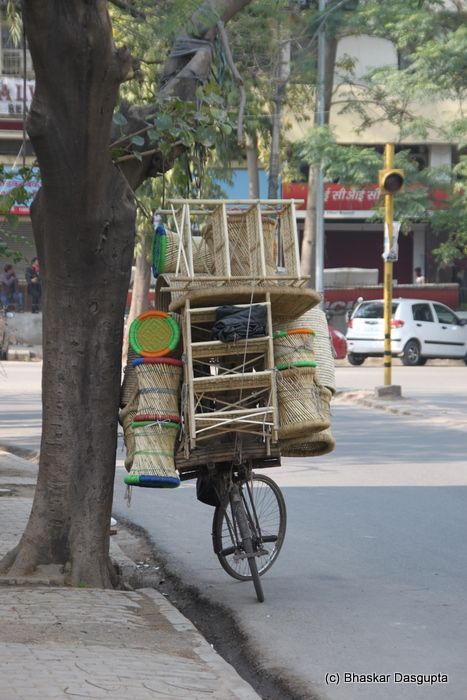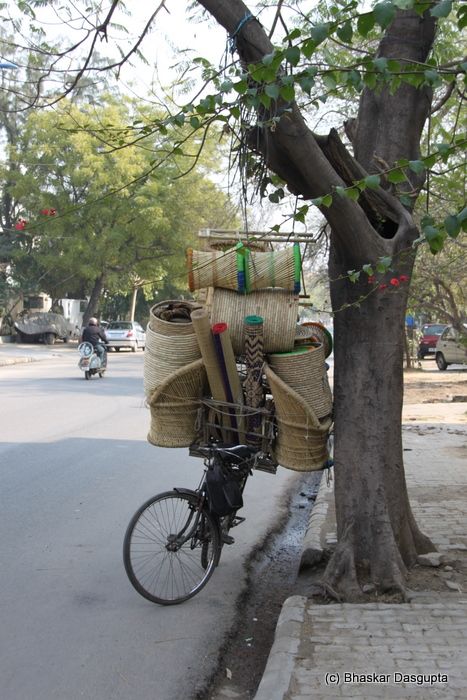 Mobile shops.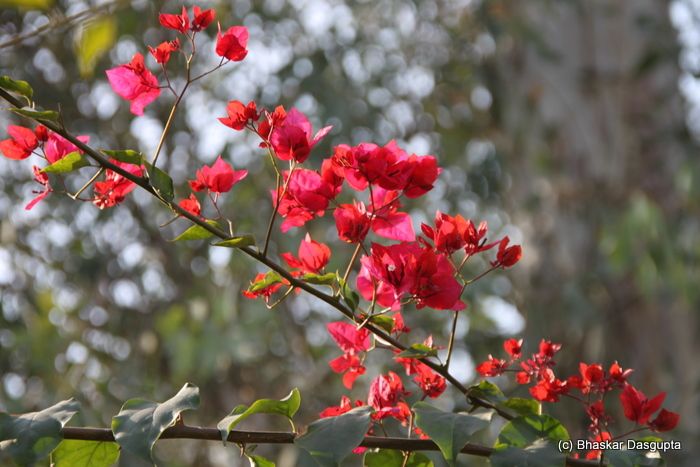 Gherua (saffron) coloured dress. Could be a priest off to do some puja somewhere.


More earthenware pots for water.
The next set of photographs are capturing an amazing sight.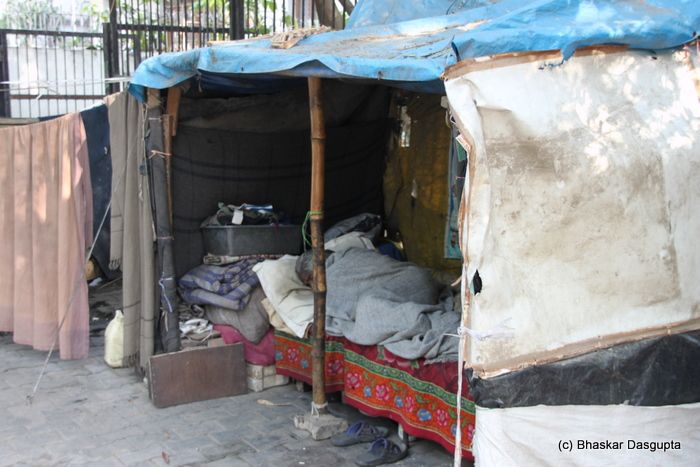 On the pavement, there is this leanto, with two people sleeping.


It has become a proper house with a bed, clothes, a place for utensils, covered with plastic sheeting. There are big posters of Mother Teresa and Mary and the Last Supper and and and.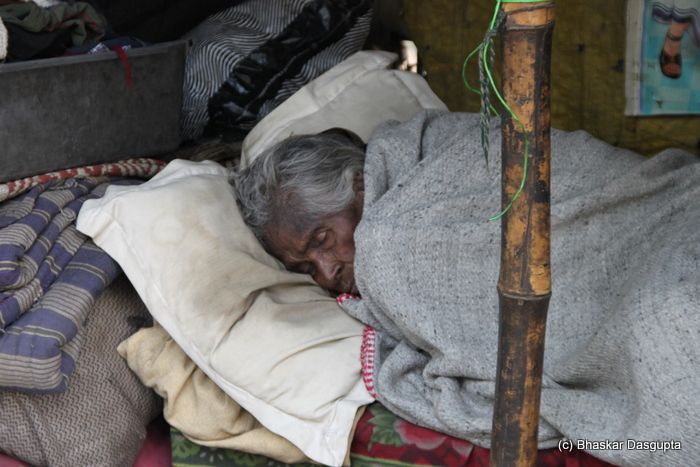 A very ancient lady, sleeping warmly bundled up. This was around 3PM, so not that late either.


There is a cricket match going on hence the near absence of traffic.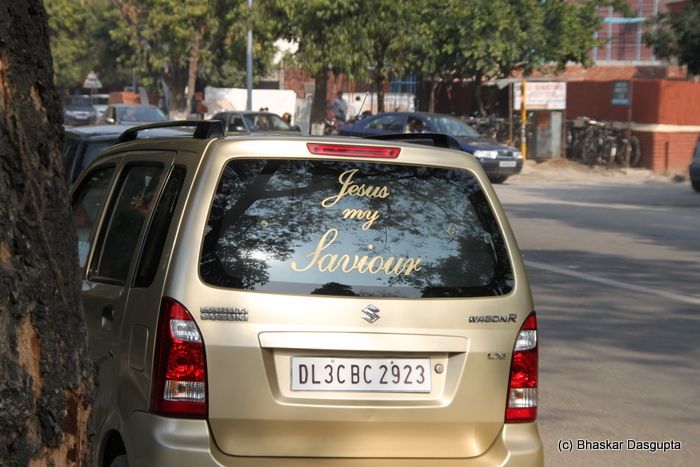 You do need divine help here in Delhi. Specially with the traffic.


Well, if you find a Dorctor, let me know as well.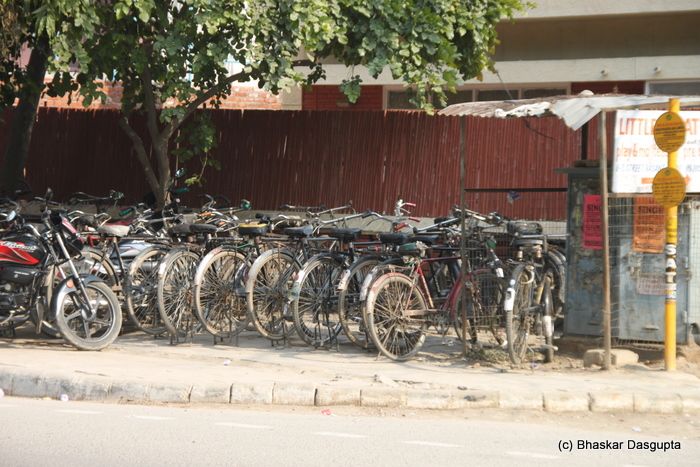 Its a tobacco free school. Hmmm, what the hell?


Brave man there, high up on the scaffolding without any safety harness or anything.


No Do not Honk Parking. Double negatives?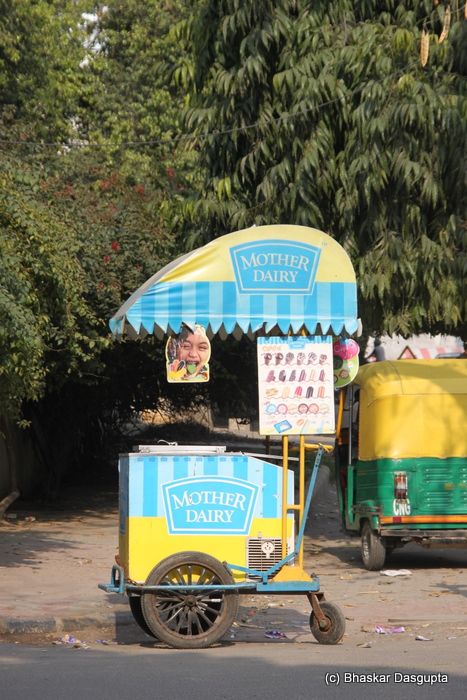 Blowing your horn is a swear word. How about blowing your own trumpet?


Another alleyway.

With the country's national passtime being performed.


Flowers and snacks shop. Plus somebody sweeping the pavement and then dropping everything in the road where it just blows back up.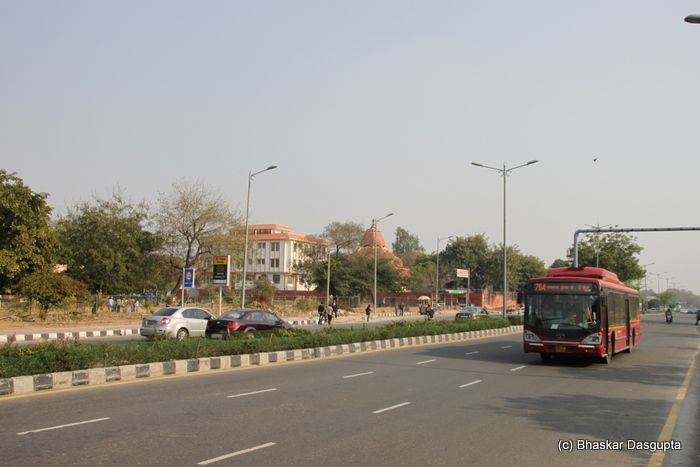 First time that I have seen a bicycle being used as part of a wall in this little house which has been constructed out of spare materials on the sidewalk. It is amazing how and where people manage to live.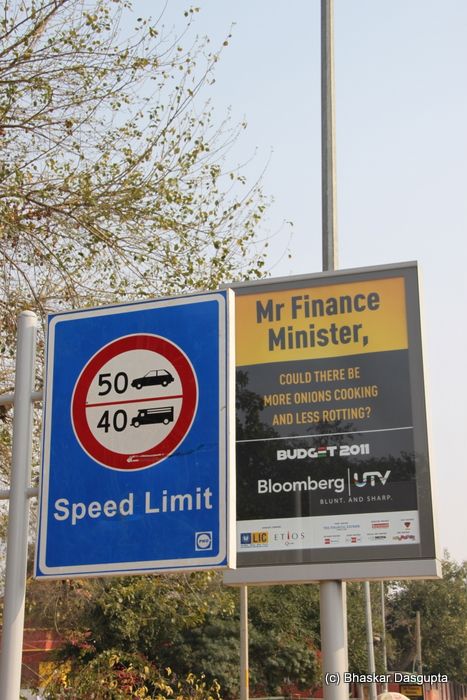 Quite a good question indeed. The amount of waste in the food supply chain is stupendous, and even more horrible when we are looking at a country which is full of malnutrition!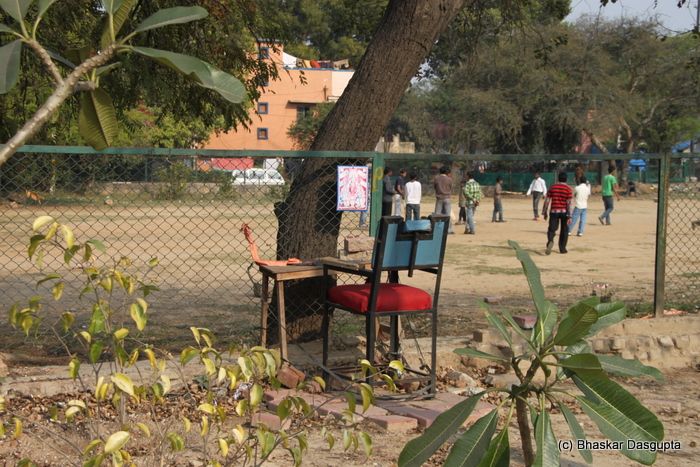 An open air barber shop. Sadly unused at the moment. The chair has a head rest in the back. What you need is to sit there and ask the chap for a head massage. Its just brilliant to experience.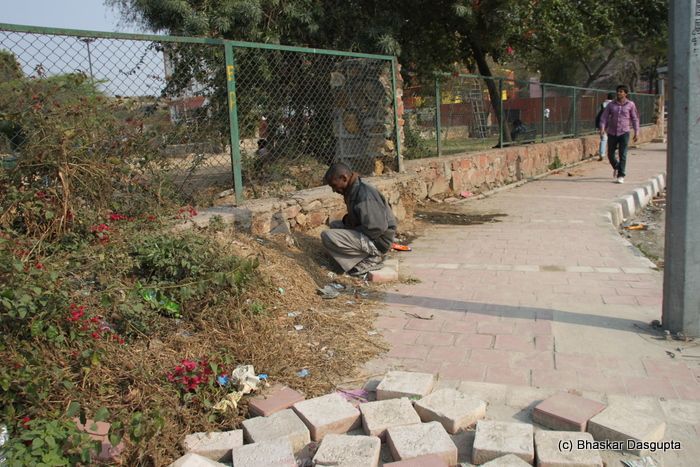 And two steps onwards, you find somebody peeing. Sighs.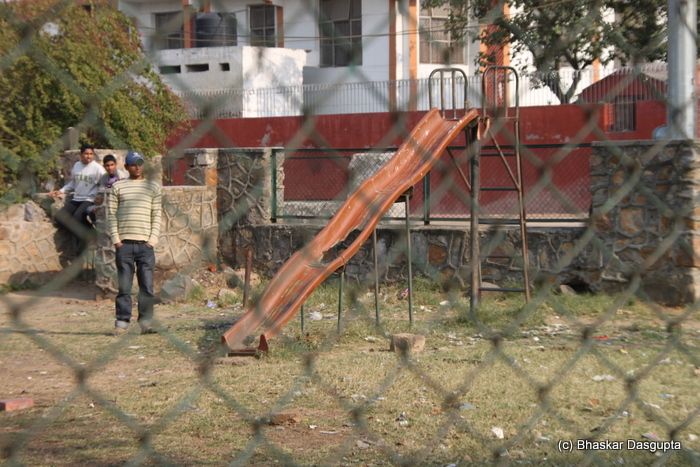 A slide. With holes. I wouldnt recommend trying it out. lol. Very amusing. In fact, looking at the garbage around it, I am not sure that kids should be anywhere near it anyway.
Tri language notice, English, Bengali and Hindi. Its a Bengali Kali Bari.


Rather extraordinary colour scheme and architecture, no?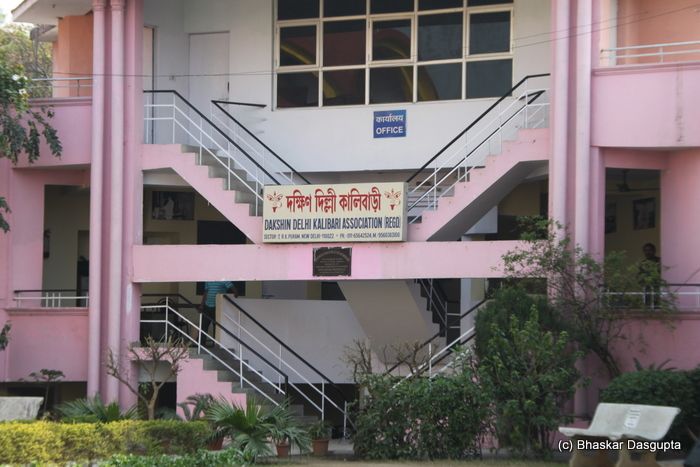 Good lord, who on earth selected that pink colour? gaks.


I can never get this idea of getting politicians to put in foundation stones of temples. Just what does this have to do with anything?


I remember in my childhood that I had to take my books to the pujo and get them blessed. And pray very hard. I used (still am) to be a very bad student, obviously needed divine intervention to get my education going. And some fairly heavy thumps from the mater. Not that it worked, lol.


Then checked out the Kali Bari. There she is, Kali Ma. She is Mother. Shakti. The other side of woman, the dark side. I used to love reading about RamaKrishna's stories about Ma Kali. Could and still fully appreciate it. Its a kind of love. A divine love which makes you want to weep and cry and just feel loved by Her. Madness, eh? but love her to bits. See here what he says about Ma.


Walking back out from the temple and witnessing a cricket match in progress.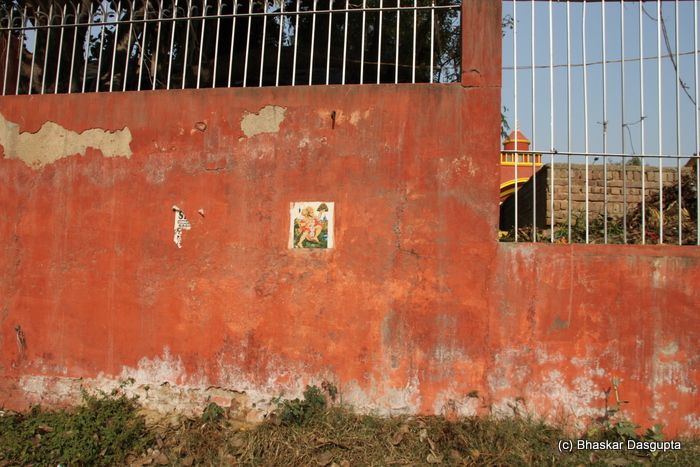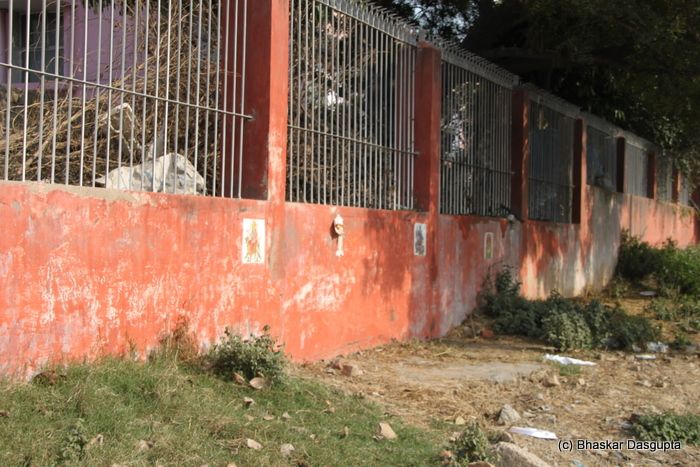 Religious icon tiles on the walls, in a vain attempt to stop people peeing and spitting on the walls. Disgusting.


A rickshaw, scooter, van, car, you see everything on Delhi Roads.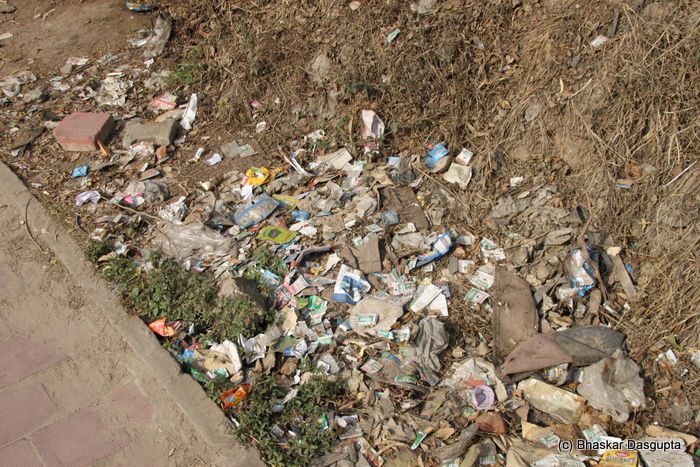 And rubbish. The detritus of civilisation. Bloody plastic.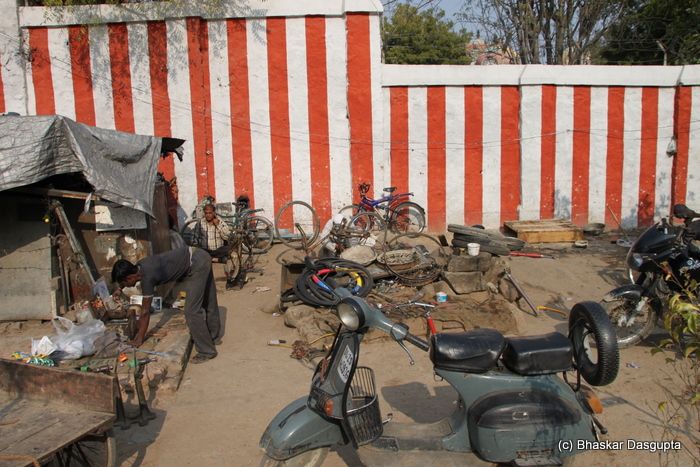 A roadside mechanic's shop. Ready to fix anything from cycles to scooters to motor bikes.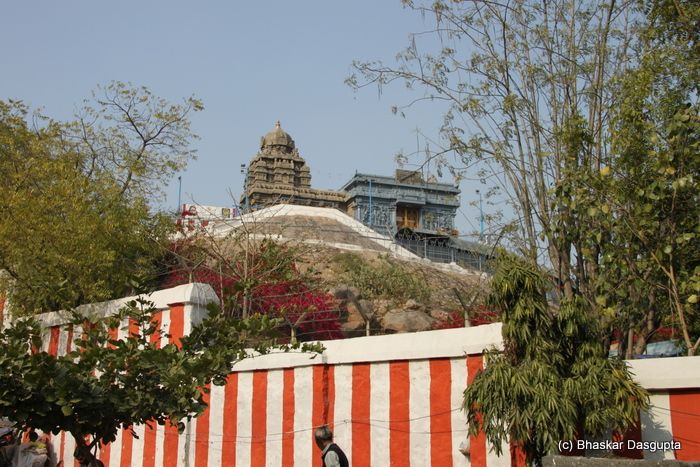 Notice: Please keep an eye on your chain, purses and mobiles, and car and motorcycle to be parked in the parking – Dilli Police. I love the use of English in a Hindi sigh.


I got inside this temple. They did not want to let me in, but I was quite bolshy and asked for permission from the head of the temple. So while the security guard went in, I popped in and started to take the pics. heh. Evil. You dont ask, you dont get. The temple area was painted with this strange steel grey paint all over. Its not the colour of the stone. The temples were closed basically so was not able to get inside either. Which is a shame, they are beautiful.


A bunch of oldsters sitting and yakking away in the winter afternoon sunshine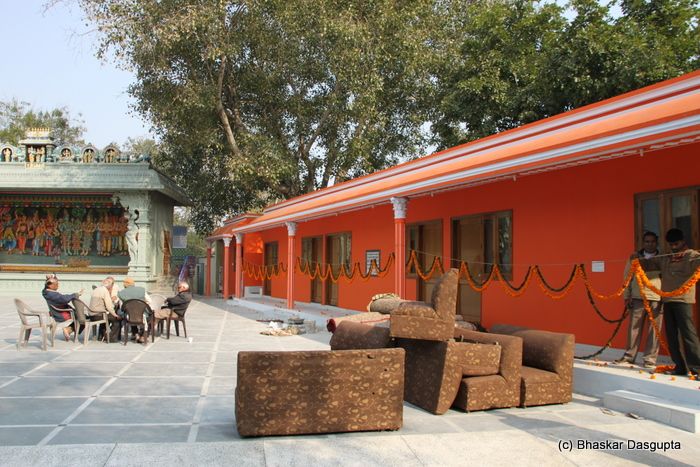 Good lord, the colour! bloody hell. And what's with the damn sofas?


Here's the mask that many hang to ward off bad luck. Pretty hairy looking demon, eh? with big fangs, huge red tongue, staring eyes and horns. But the orange colour! gaks!.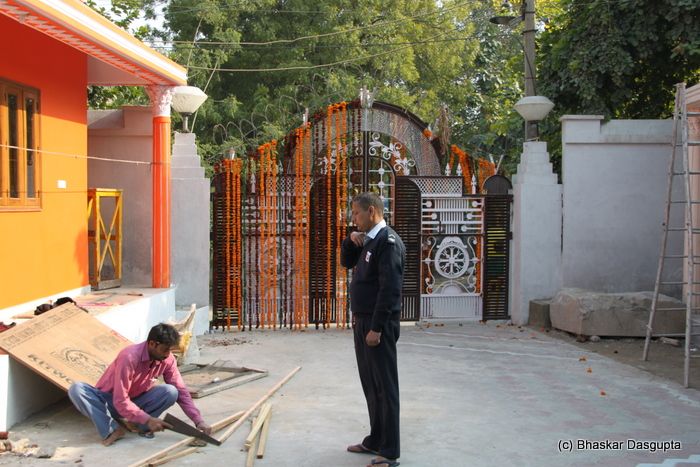 Here's another example of stupidity. The Chief Minister of Delhi State coming to inaugurate a Vedic Cultural Block. What the heck is a Vedic Cultural Block anyway? Indian Secularism to the fore. The security guard got very upset with me taking a photograph of this, he said, stop stop, you cant take a photo here as its not formally inaugurated yet. Good heavens.


The entrance to one of the temples.


Photography strictly prohibited and please switch off Mobiles. The same will be impounded if used. Yes, Sir! click click click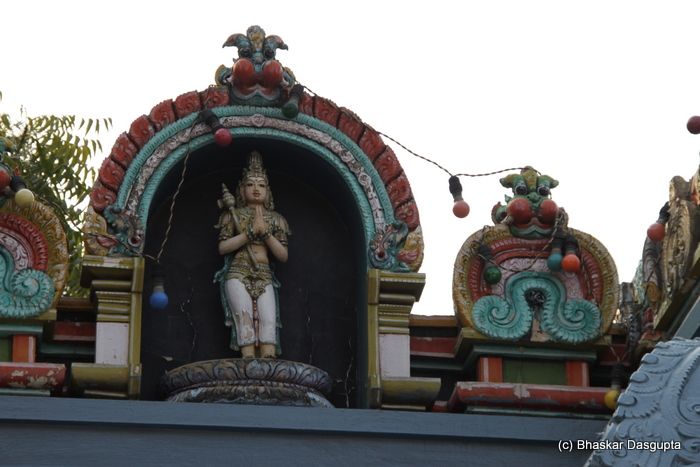 That looks like Kartikeya to me.


Vishnu. This kind of architecture with statues on the top of the temple, brightly painted is a characteristic of temples in South India. .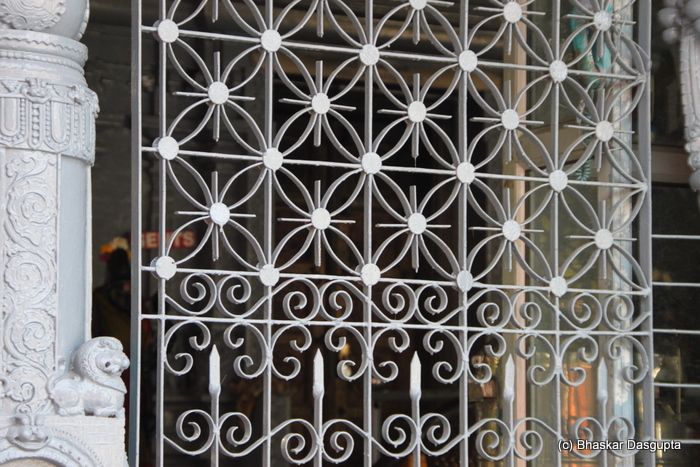 The Gods need to be protected.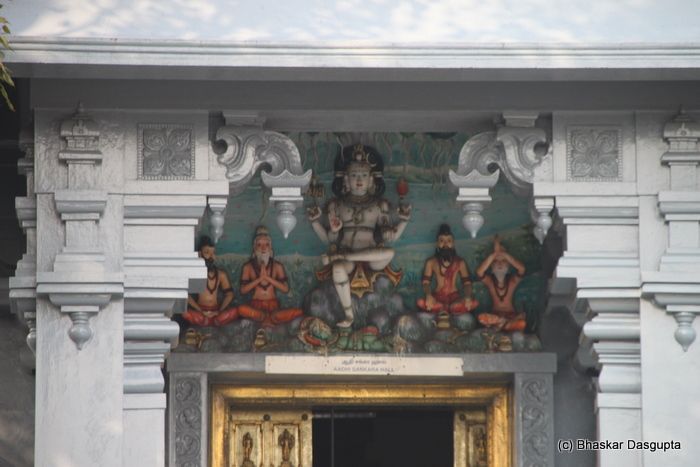 Shiva with a group of rishis surrounding him.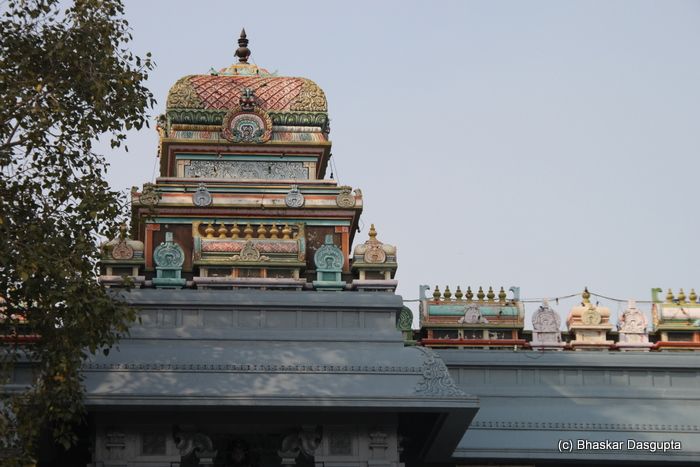 The gopuram.


Another temple with a wonderfully if a bit corpulently carved elephant.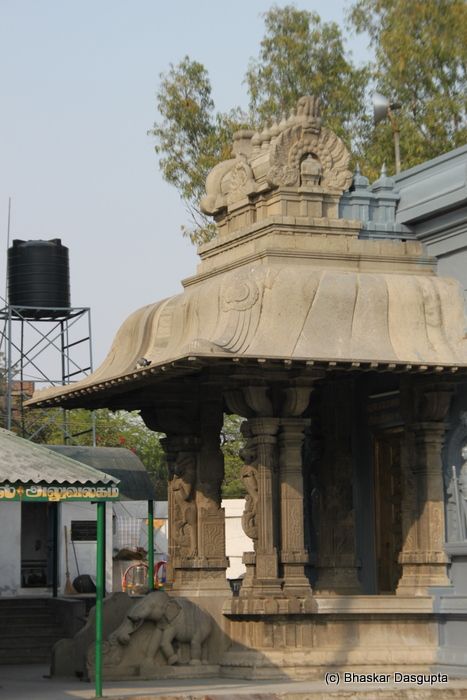 Nicely carved statues on the walls with some temple decorations.


Another richly carved set of pillars for a door but this time, the railings and stairs are rather modern. Bit jarring considering the rest of the temple architecture.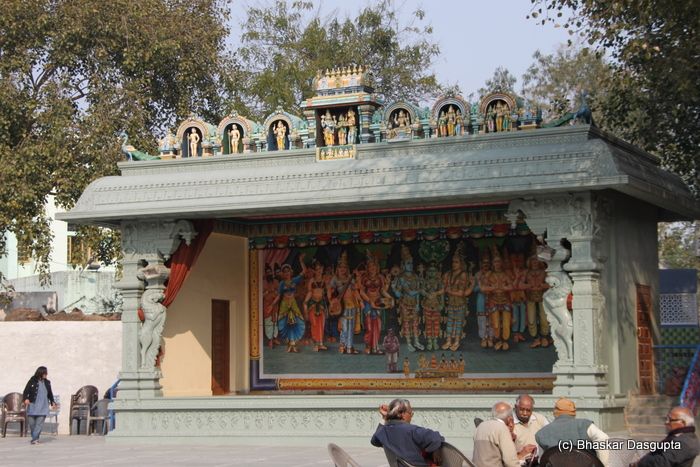 This is where presumably the cultural and religious events take place, a stage sort of thing. The backdrop is very highly painted.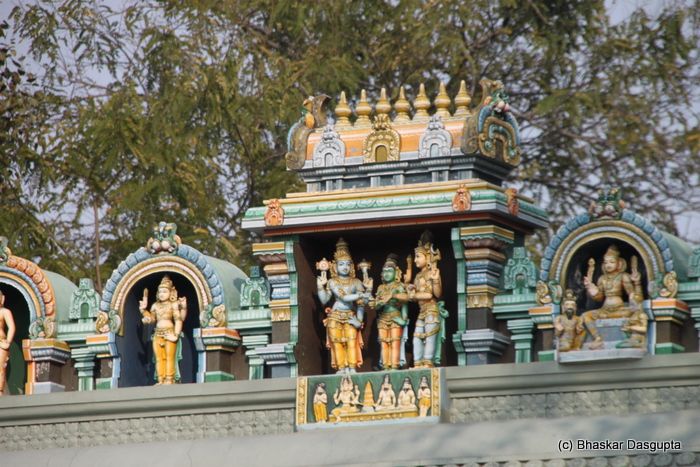 Even this has a small gopuram. The central structure looks like we have Vishnu, Shiva and Brahma, the holy trinity. Cant make out the others.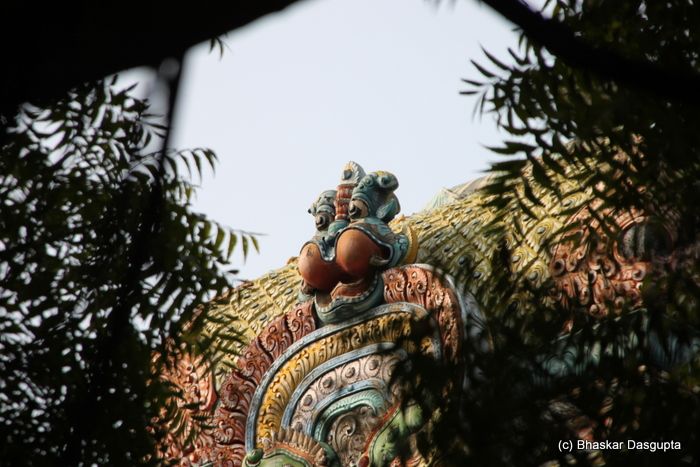 Moving back tot he left, you have somebody with some serious teeth problems.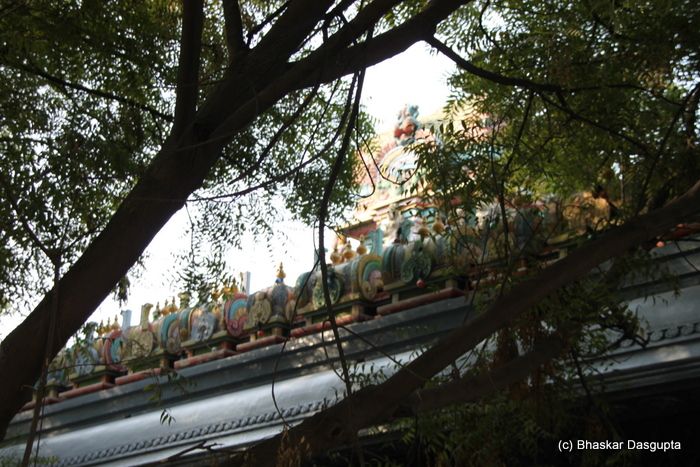 Some lovely flowers in the temple. Anyway, I was chased off by the security guard who came back and said, sorry, no permission for taking any photographs here please. Okeydokey, Sir. Not a problem. I am off.


Looking back at the temple on the mound. I wasn't able to get up to the top. But that entire area had 5 large temples. Lovely place.
Very tightly and intricately carved stone.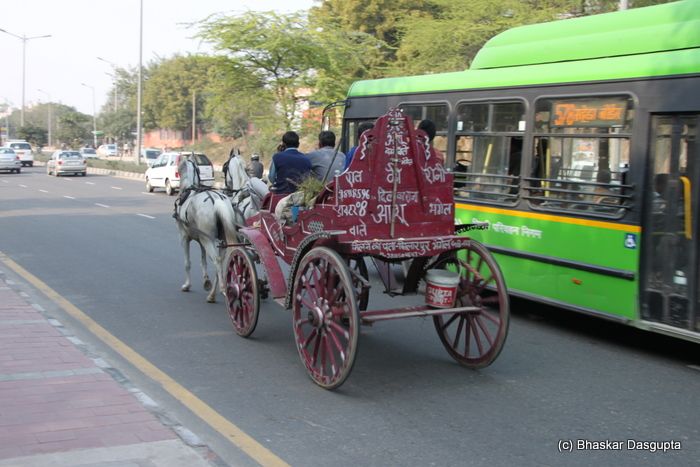 Its a chariot. The writing on the back says things like, "Queen of the Night, King of the Heart" Then a mobile phone number. Then presumably the name of the owner, Ashu. And something strange, Bhugol Wale. Cant really figure out what he is trying to say here. And at the bottom, there is the address with another mobile number.


The innards of a street light pole.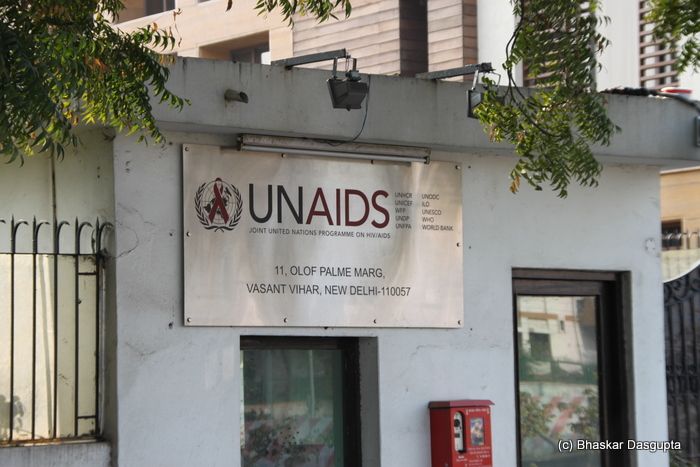 The United Nations is present here with doing something with AIDS. Heading back home now.




Construction Workers.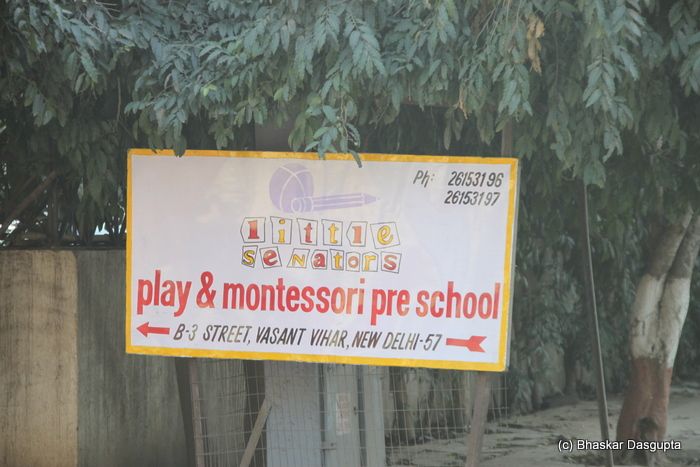 Little Senators? Bloody hell. Just what are you trying to make them into?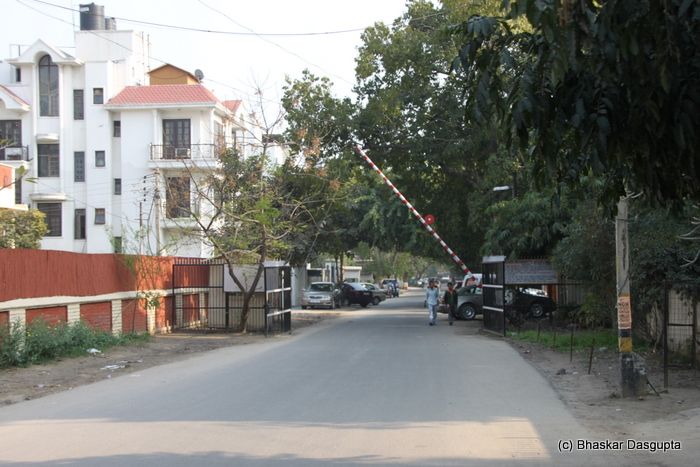 A road with a road barrier across it.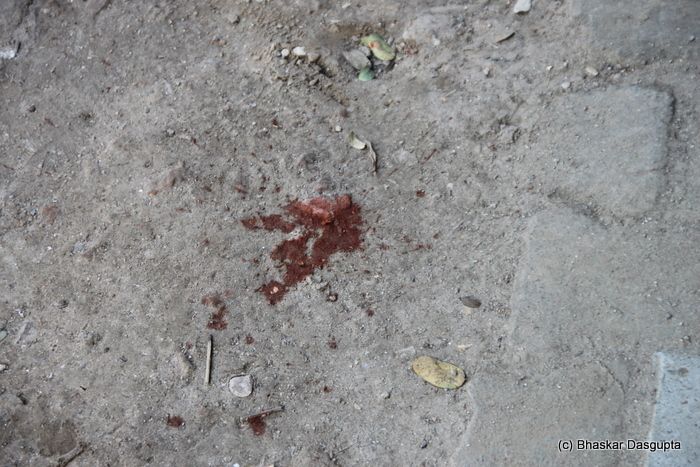 More paan spitting. Disgusting!


That's a stone marker which states that there is a gas pipeline underneath.


We have strange ideas of cleanliness, sweeping the pavement but just dropping everything into the street.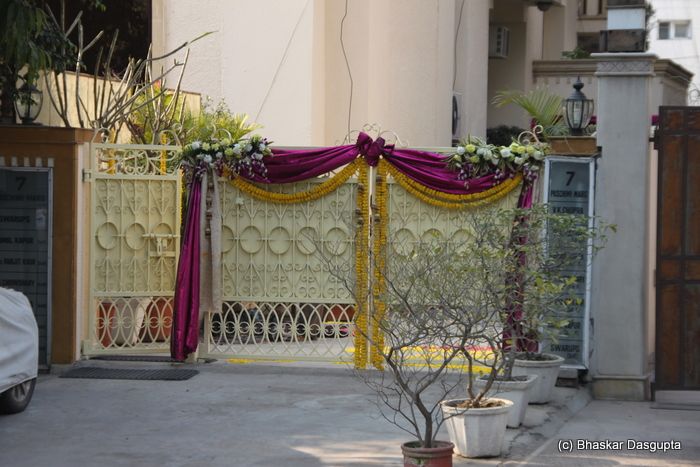 Somebody is getting married. The gate decor…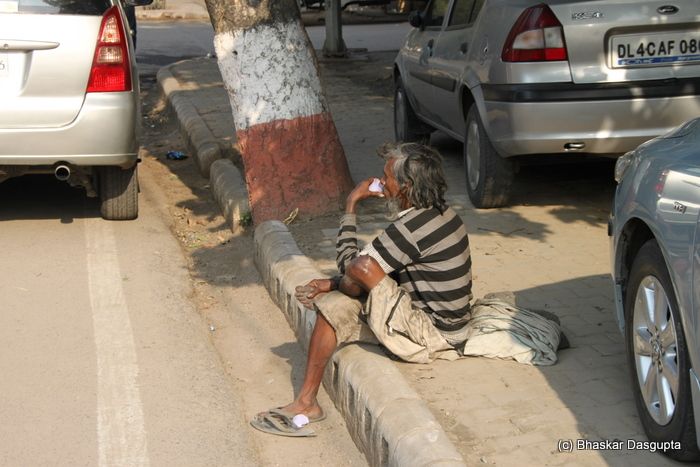 The man is looking so relaxed, drinking a cuppa tea out of one of those ubiquitous plastic cups.


A Domino Pizza delivery chap also relaxing.


I am a fixer. lol. a Plant. Protect me.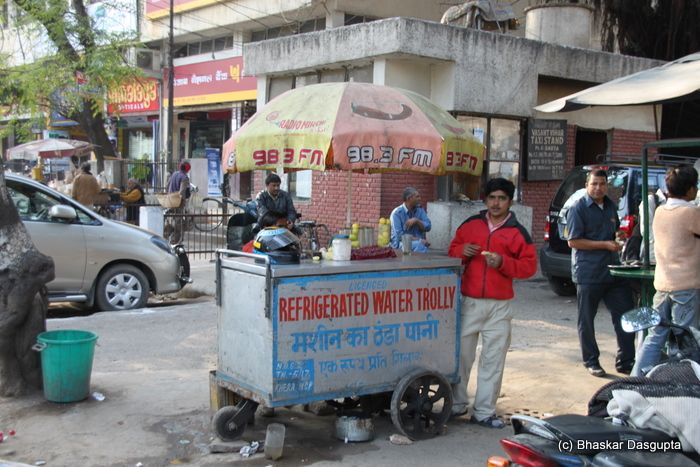 Cold water. You can actually add some lemon juice to it.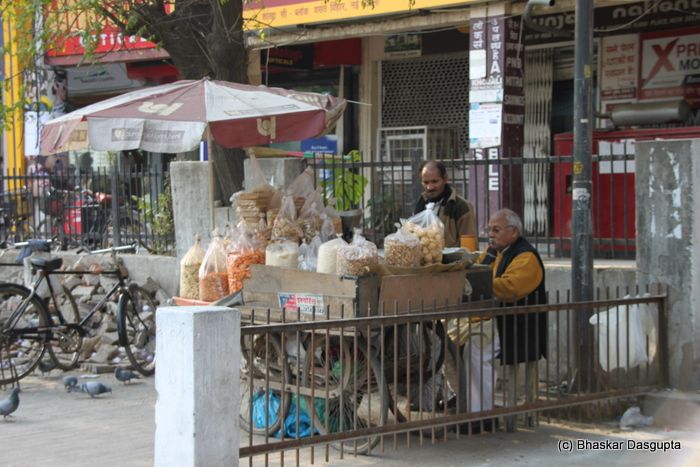 A crowd of notice boards. We have a New York After School Activities Center as well.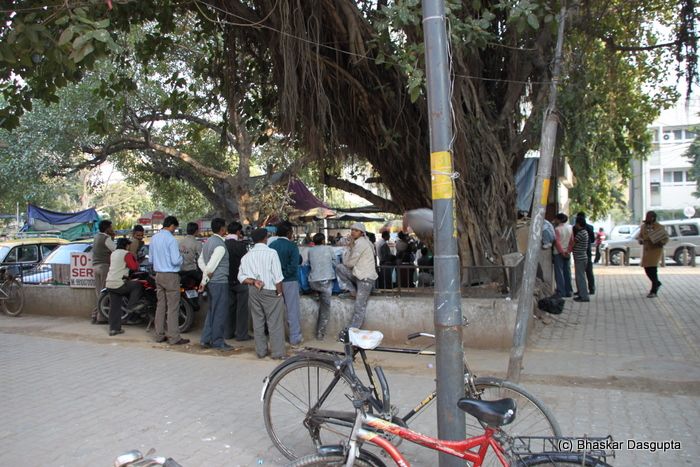 People clustered together watching the cricket match.


No Parking, No Standing. That standing is actually no waiting. Just a bit of Hinglish for you!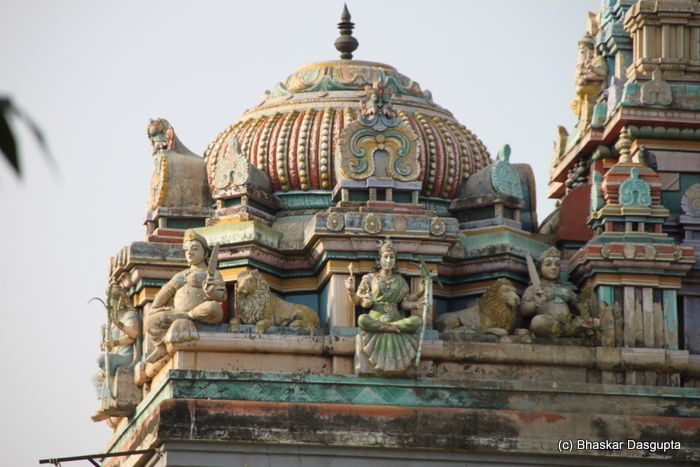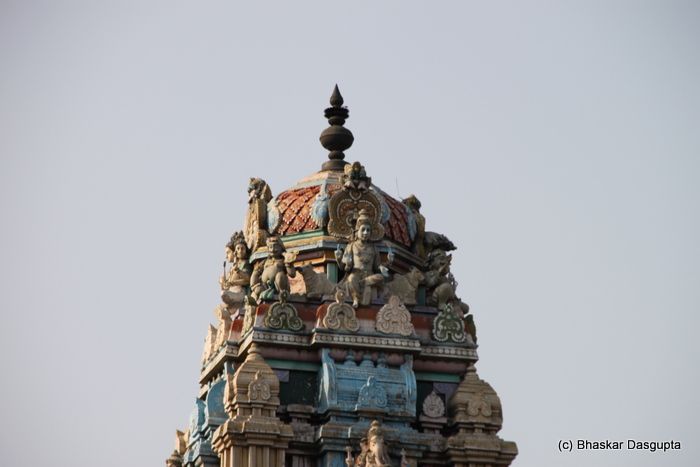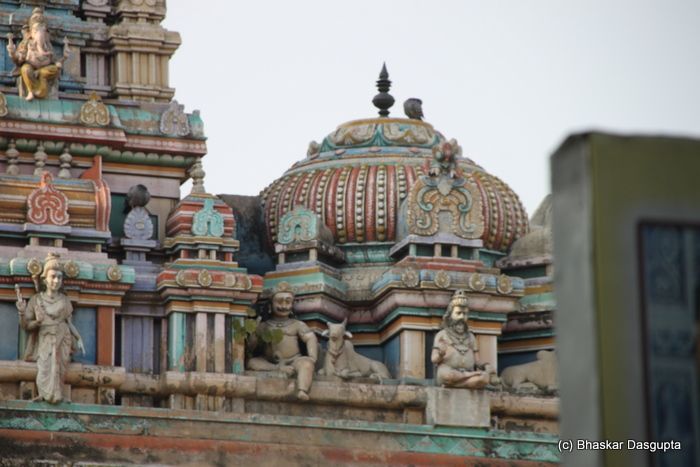 Another South Indian Temple. See what I mean with the brightly coloured roofs?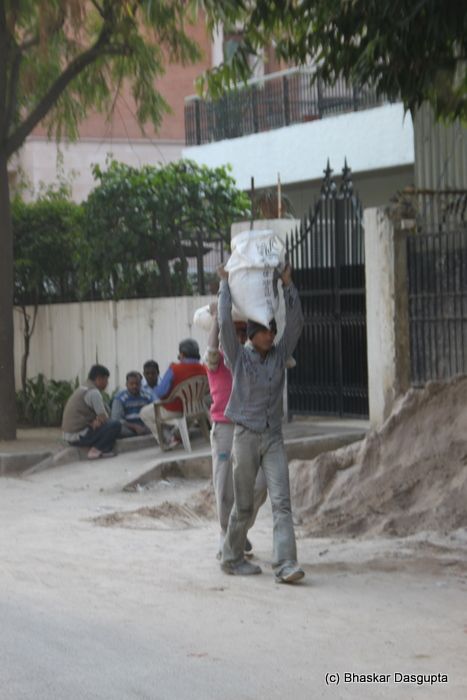 Child labour, construction going on.


Whiling away the time playing cards.


I was so tempted to add an apostrophe.


Back at the guest house with the afternoon sun flooding in.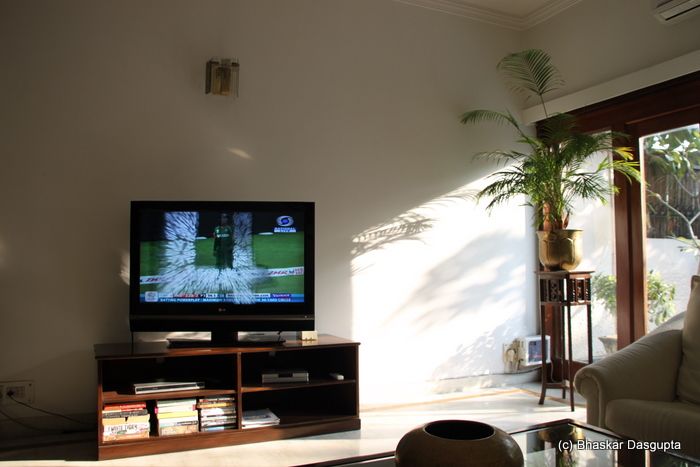 There's a FOUR!!!!!! I think it was the first match, India versus Bangladesh, although I could be mistaken.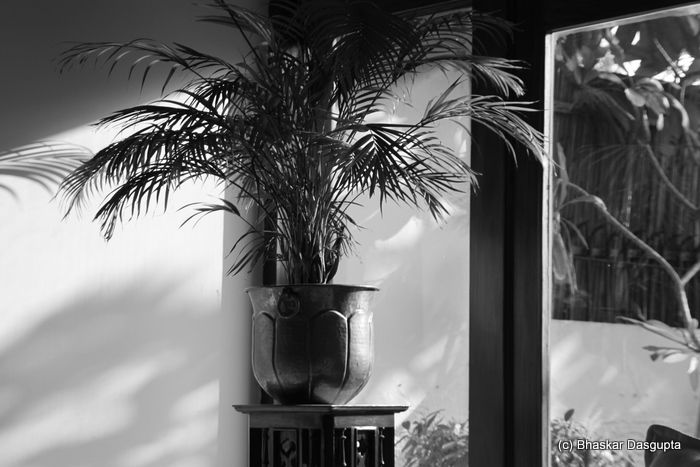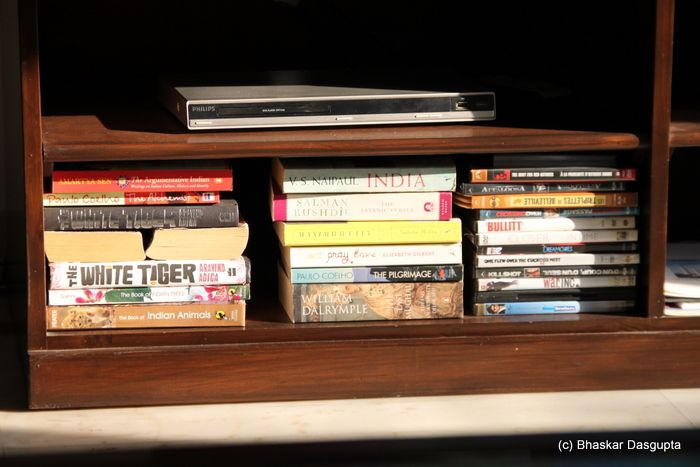 And some books in the bookshelf.
Here is the slideshow with more photographs.