Sangeeta had her book reading in Mohammad Bagh in the Cantonment in Lucknow while we were there. This is in two parts, the first part are some photographs of the garden of the Mohamad Bagh Club and then the actual book reading.
Here is the history of the club. So while waiting for the session to start, I pottered around the garden and took some photographs.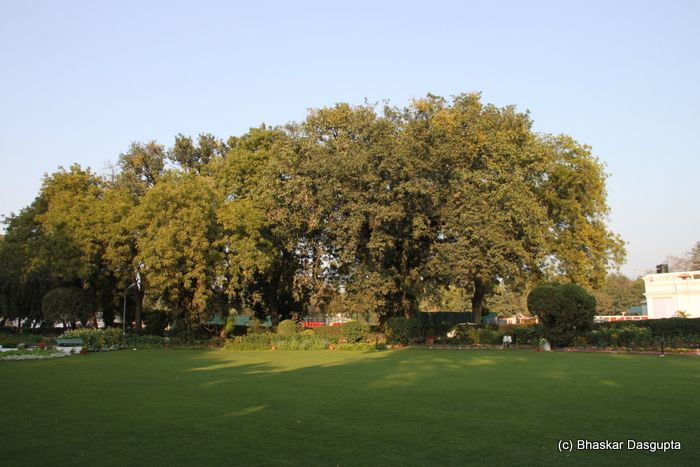 The driveway is buttressed by these lovely tall trees and in front of the club is this lovely old garden.
Couple of highly polished cannon's placed at the entrance. Next are some of the flowers that I saw in the garden.
I think I like this flower arrangement the best :) Then we all went inside the hall.

The book reading was arranged by my father in law and Universal Booksellers of Lucknow as part of their occasional series of meet the author. The lady on the left is Dr Saroj Chooramani Gopal, a paediatric surgeon and the outgoing Vice-Chancellor of Chhatrapati Shahuji Maharaj Medical University, Lucknow. The sessions is now being introduced by this gentleman from UNICEF, Mr. Augustine. UNICEF is trying to improve the health of girls and mothers, hence their interest in Sangeeta's book.
The two subjects of the book. Both of them highly bored and sitting around. Well, they are obedient little children, I will give them that, lol.


The owner of the Universal Bookseller shop, Mr. Chandra Prakash also giving his comments.
Then the VC rose to give some comments, she was very appreciative, bless her.


And then Sangeeta read out some of the letters.


There's the FIL on the left and then the photographers attacked.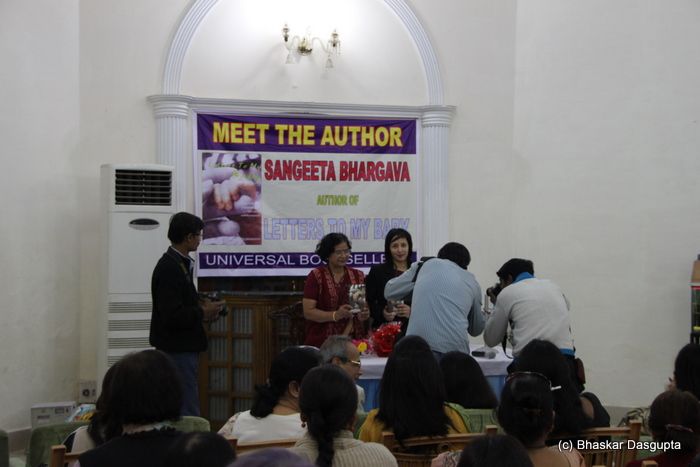 See what I mean? Damn locusts, these photographers
Then they opened it up for questions. Quite a lot of questions came through.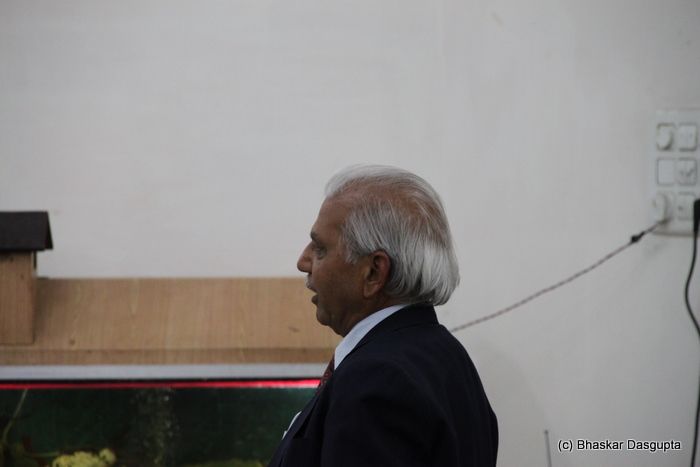 Questions on where to get the book, or languages in which the book is written, availability in electronic format, the motivations of the author, etc. etc.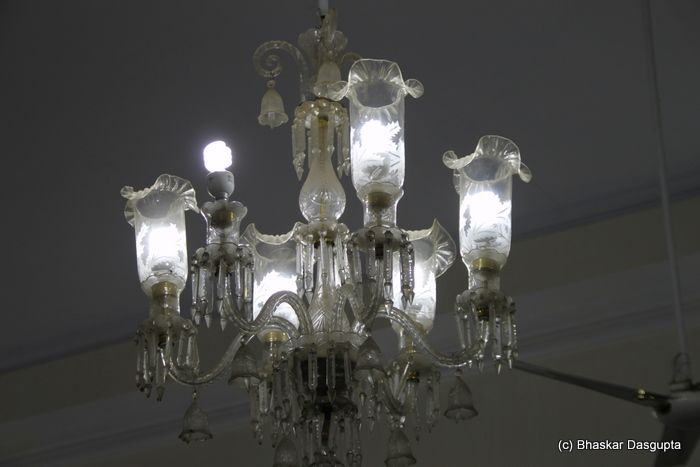 This chandelier is obviously older than dirt and is designed around use with candles but has been converted to electricity. What I found amusing was that the chandelier was using energy efficient bulbs. Fascinating juxtaposition of the ancient and the new.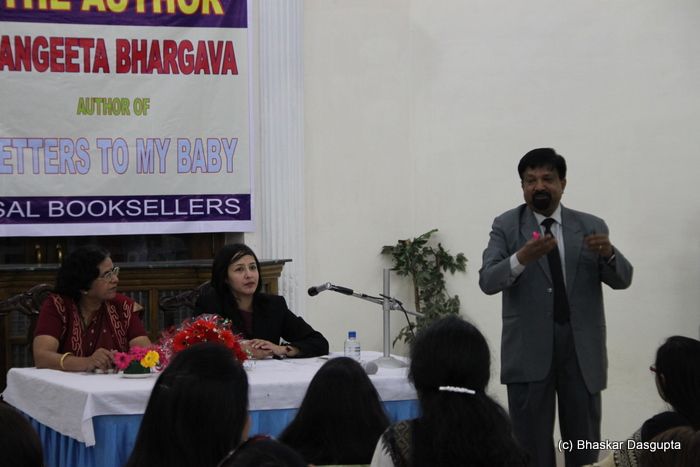 And the kids were requested to come up in front. As you can see, eldest cost centre is totally bored. While little Ms. Munchkin is very happy to be photographed.




Ended with some food and snacks. Here is the slideshow with more photographs if you are wanting to see more. It was a nice session. Very good audience, houseful!. Apparently almost 50 more people came in but didn't have place to sit so they had to leave. The literary scene seems to be flourishing in Lucknow. Anyway, here's a nice little book review that was published recently.