here's the next church. Santa Maria dell'Ammiraglio
the bell tower is fantastically baroque. There used to be a dome but it fell off in the 1726 earthquake, don't forget this lies in the volcanic zone…
fairly simple entrance
and then there is an explosion of colours. Absolutely amazing.
the ceilings and walls are covered with paintings and frescos.
the ceilings are covered with gold and paintings in a strangely orthodox style…but this is the Med, so intermixing of cultures has happened for multiple centuries.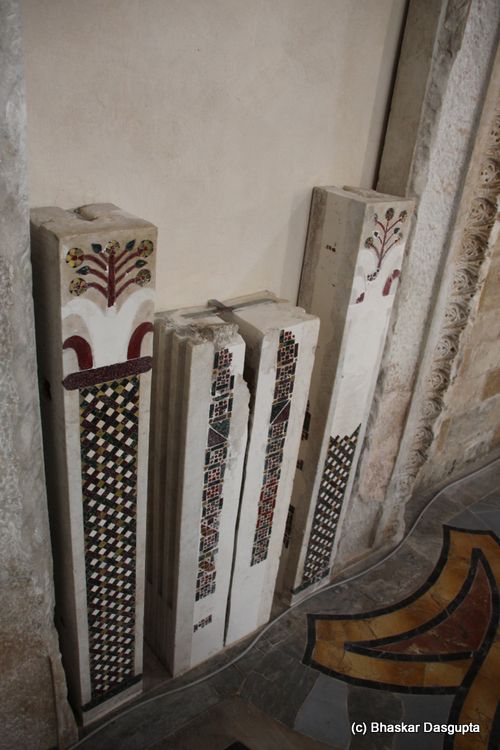 some marble columns…
the altar has this large fresco on top. and surrounding it are a whole bunch of exquisite statues.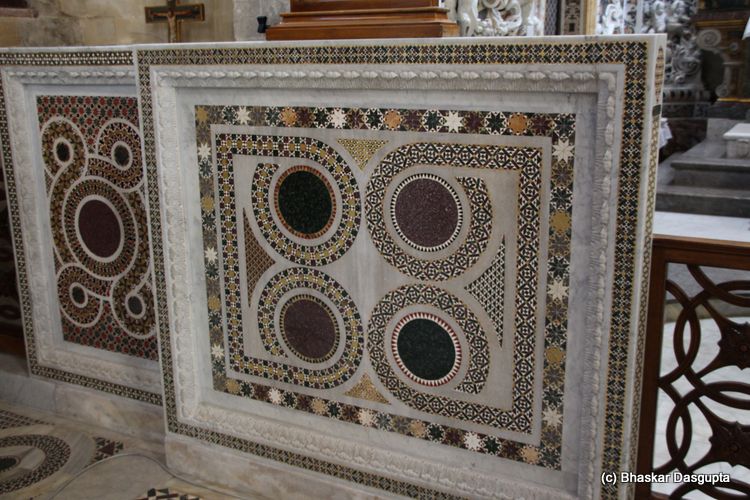 with some lovely lovely marble, red porphyry and other stones inset in lovely mosaics.
Its baroque madness.
the side walls are covered with these lovely inlaid marble panels and statues.
I wasn't clear what these panels were there for.
lovely little dome on top of the altar.
Christ Pantocrator surrounded by angels.
The front part of the ceiling is this amazing gold background and enamel type of work with various saints and angels.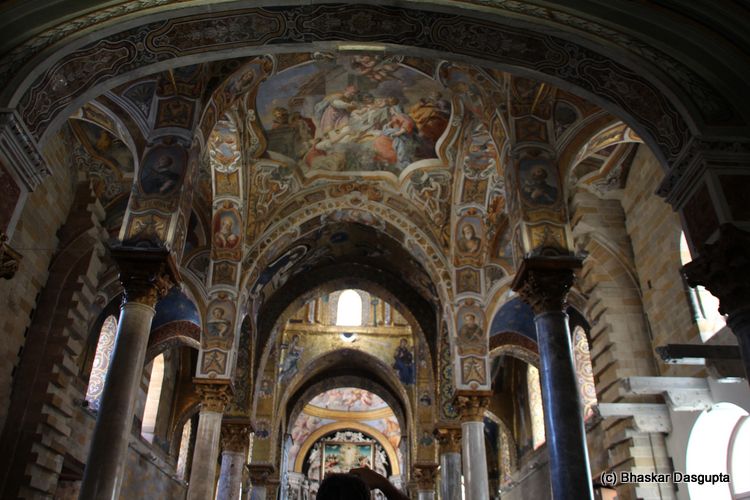 But as I look back at the back of the church, there is a little gold plated balcony and the paintings are clearly from another age, a later age, with more of a medieval European theme. explosion of colours.
these hoisting poles poke out…not quite sure what they are for.
Pietre dure, that's what this kind of work is called, inlaying marble inside marble…this is very expensive, very slow, very amazing work. a small table can set you back thousands of dollars with a simple geometric pattern, and here we are talking about giant tablets…
here is the only known portrait of Roger II being crowned.
the door is richly carved
what is this? a font? pulpit? a vase?
absolutely brilliant church, the colours are extraordinary.
And then this..what on earth are arabic versus doing on these columns? These call out to God, in the name of God, the Merciful, the Beneficent…and its to Allah.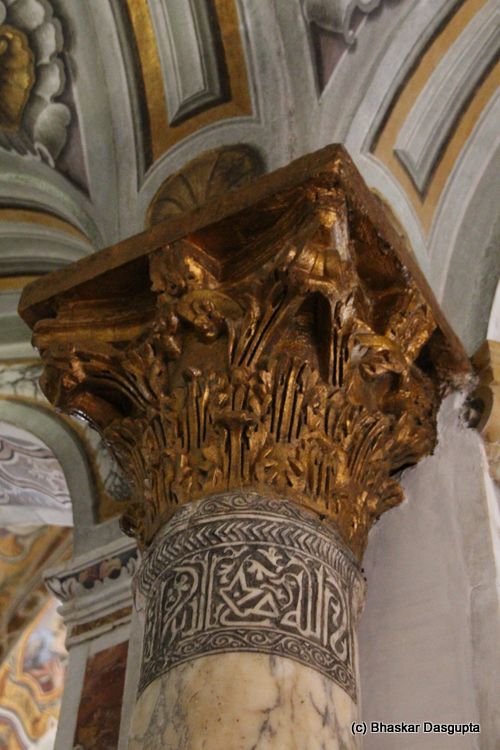 the panel around the column just below the gilded Corinthian top is clearly Arabic as well.
but they also have these crosses chiselled into them.
I come out of the church…the bell tower exit as I mentioned is brutally simple.
the fantastically Baroque facade of the church.
the bell tower looks a bit sad without the dome, no?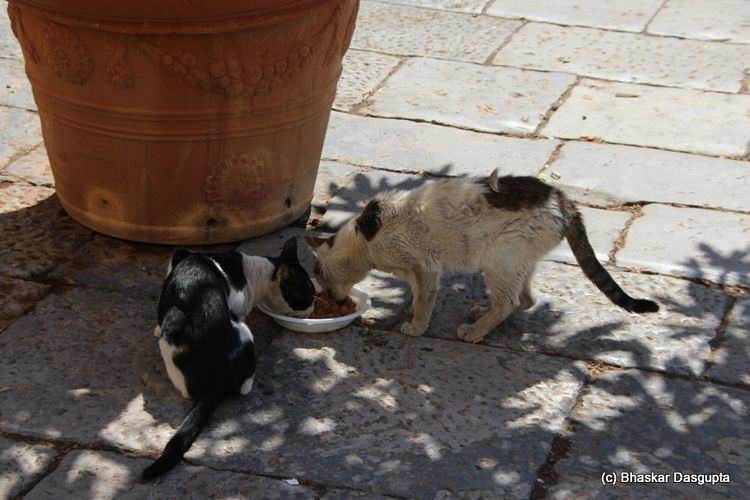 and two lovely mangy cats enjoying a bite to eat.
So there's a story about this church, the lady who founded the nearby Benedictine convent was Eloisa Della Martorana and she used to decorate the church with handmade marzipan fruit. Its therefore now Palermo's most famous delicacies..Frutta di Martorana.