So I woke up at a disgusting time of 5 AM and went off on a photo walk. Even the bins were sleeping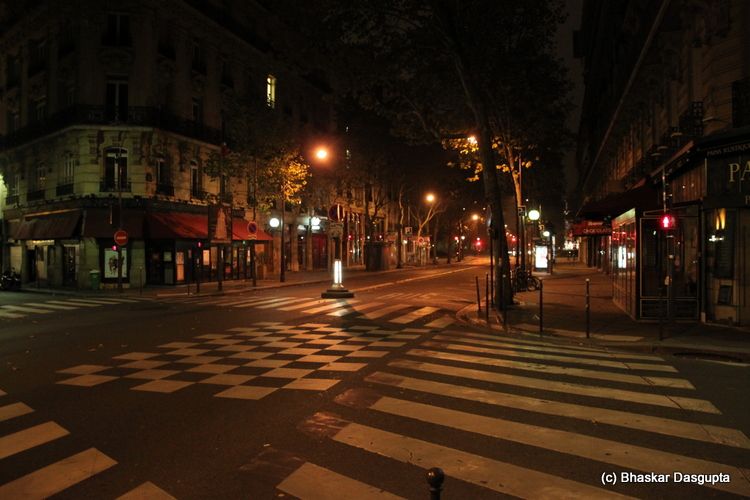 A giant checkerboard in the middle of the street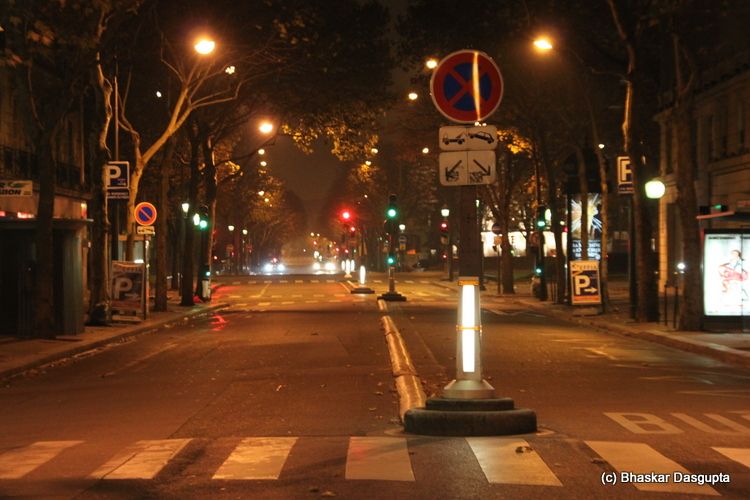 long empty streets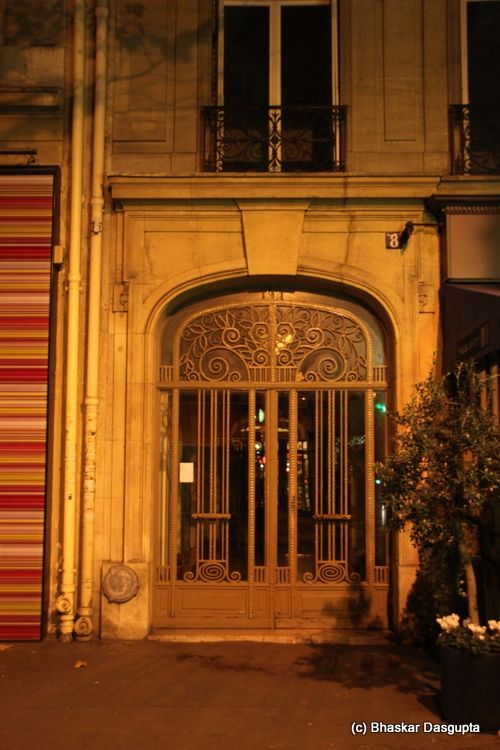 nice little door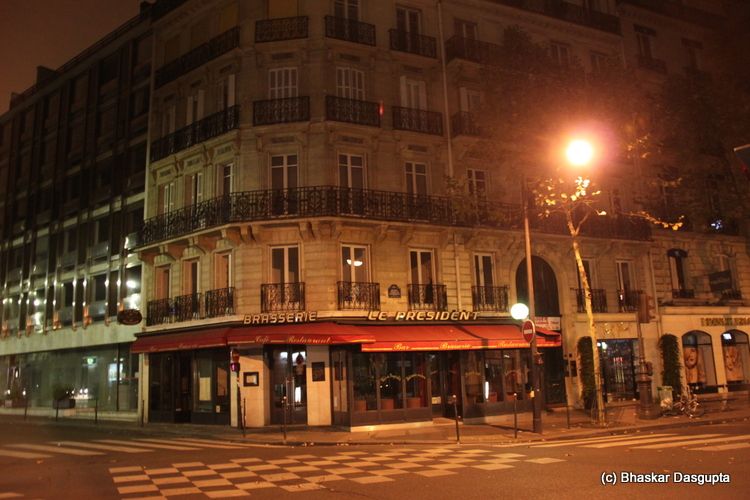 Le President?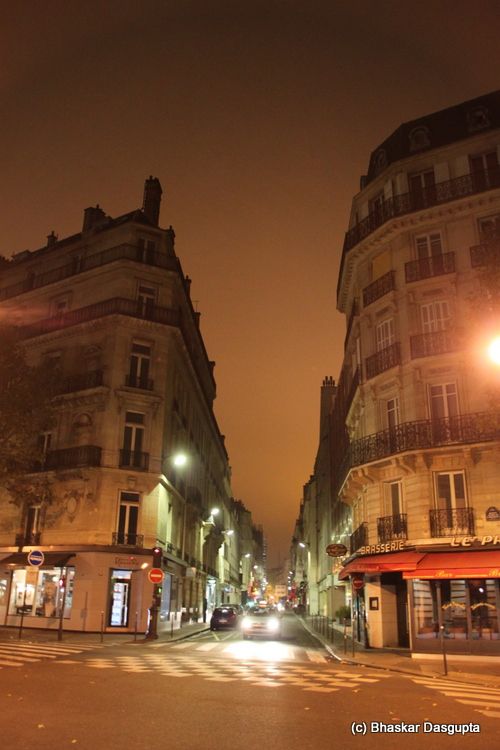 I finally see a car but check out the sky…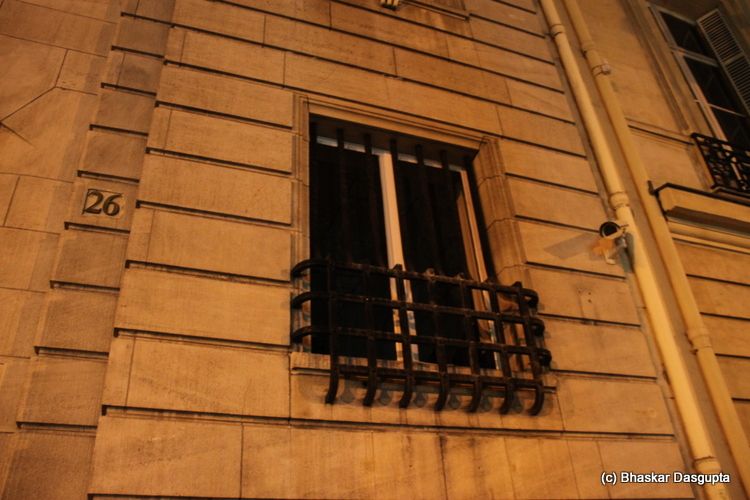 that's a strange window, what's the point of those grills?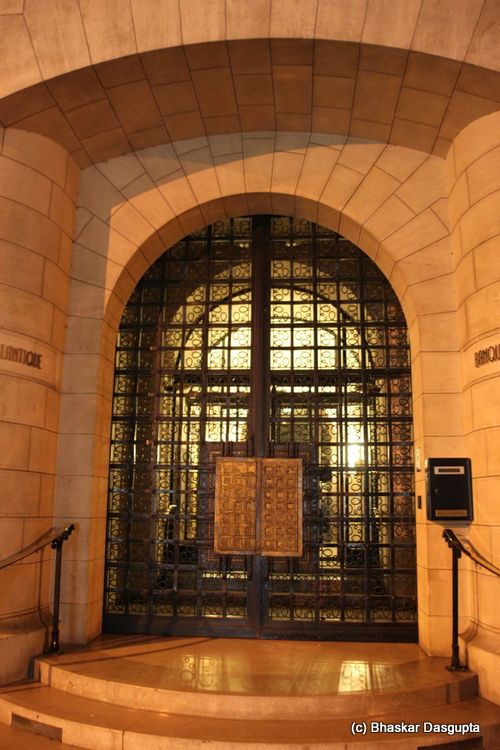 Another imposing door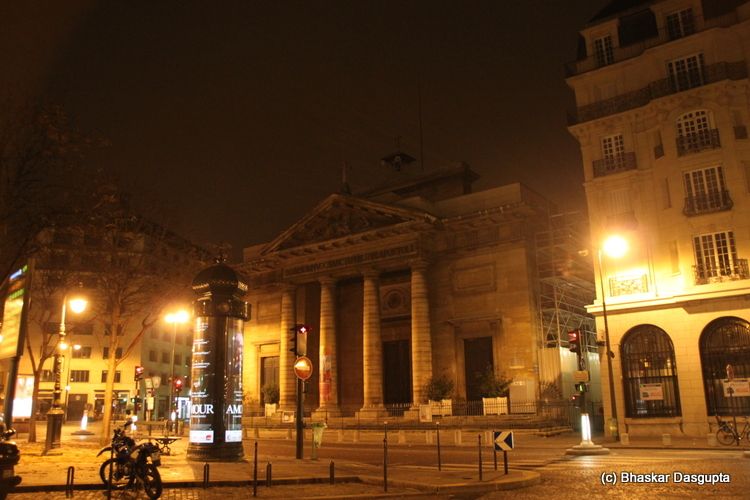 Not quite sure what this is
still quiet, with lights disappearing down the street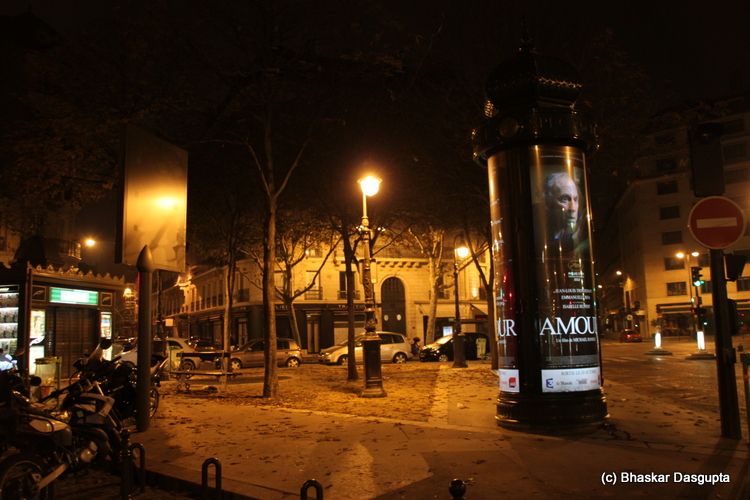 I like these subway ventilation exit type of structures in the middle with advertisements, an interesting piece street architecture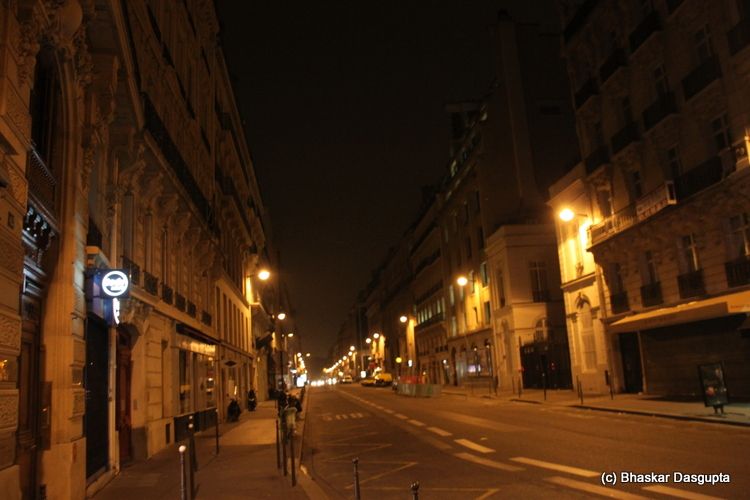 this is one of the reasons why I love going out early morning, you see the city without the poxy humans, lol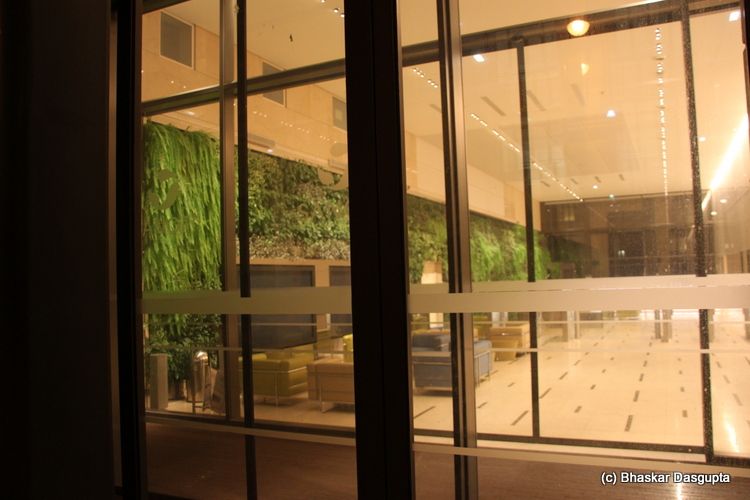 a living wall of green colour
Another massive door
looking a bit dodgy
I wonder what the ship decal on the top stands for?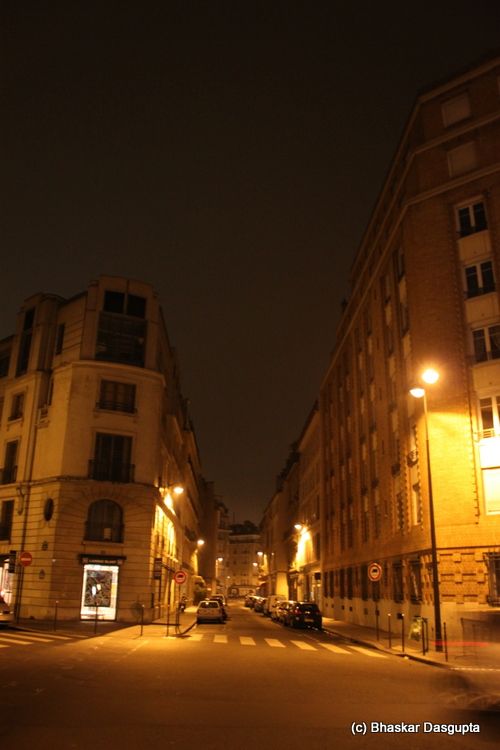 Another long empty street
Whoa, these chaps must feel tired..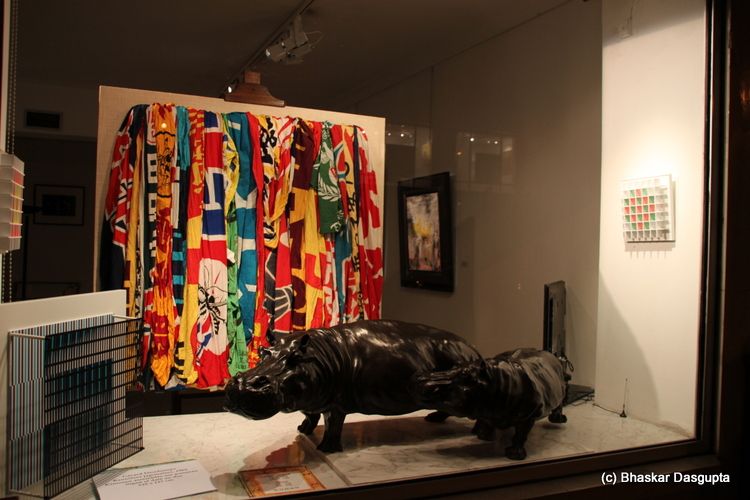 nice hippo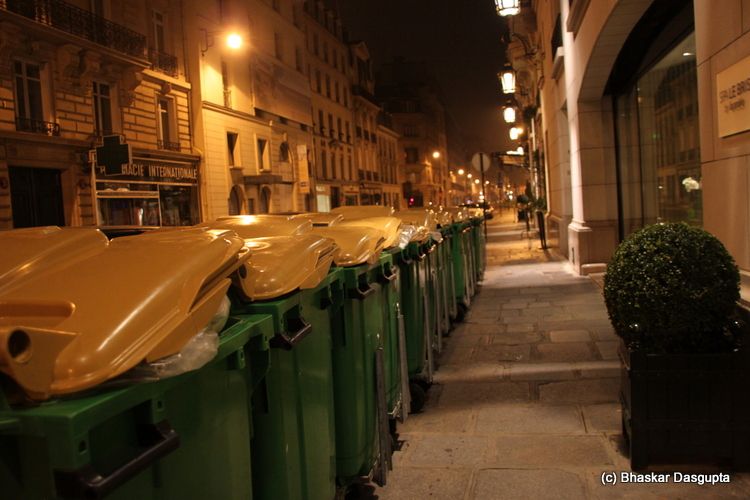 bins lined up..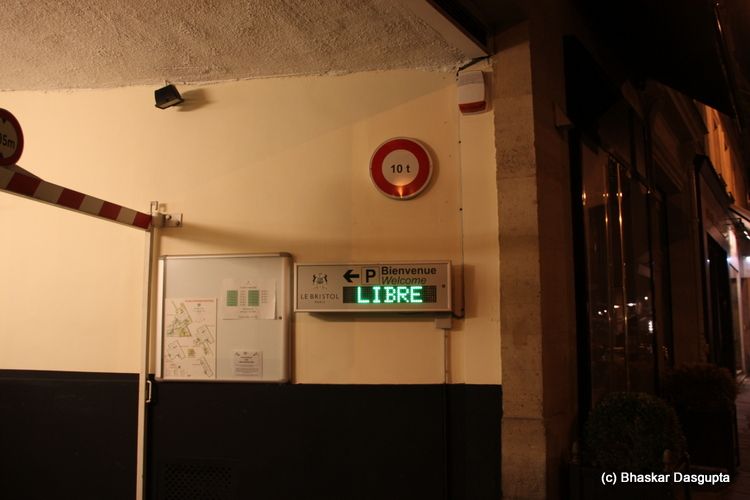 the entrance to a parking lot. Paris has quite a lot of these little lots around..
And another one
Another of those grand sweeps of road, gate, windows…Paris does this brilliantly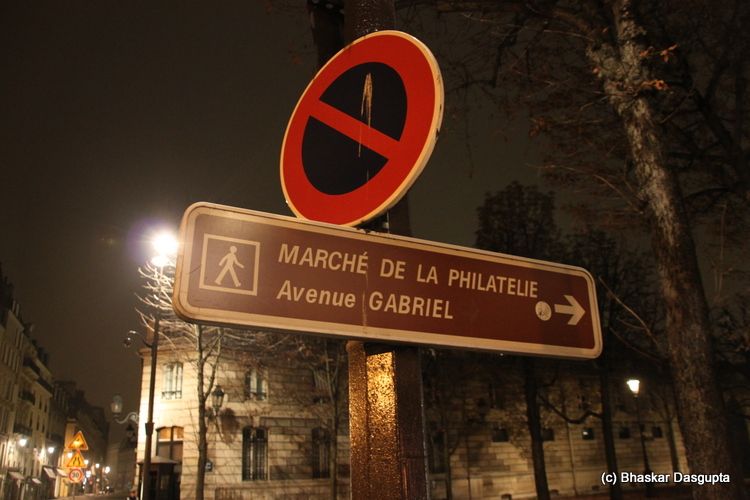 my old stamping grounds? :P
I cross the street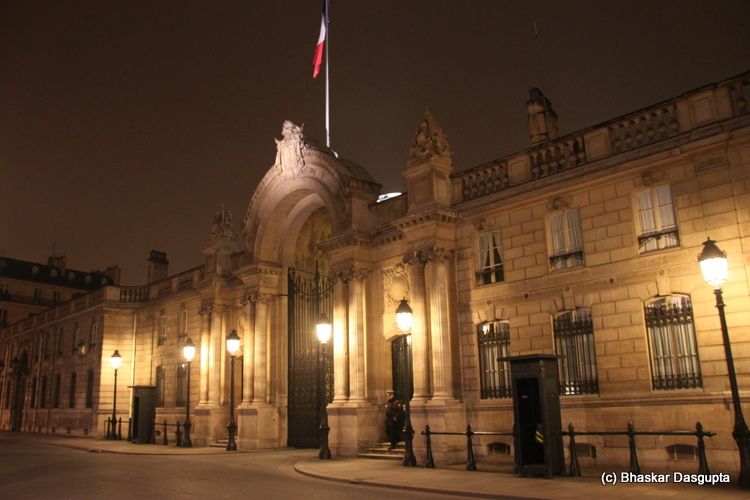 And whoa, here's the old rascal's house, the French President Sarkozy himself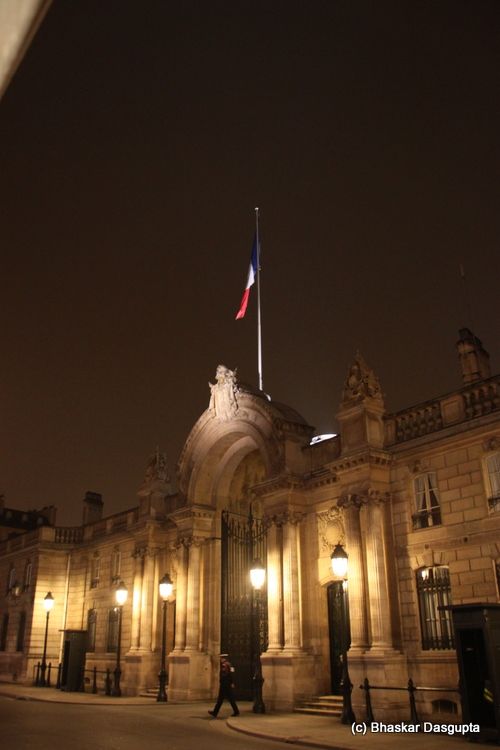 Pretty impressive eh?
the next street over from the Presidential Palace, this is the Rue de Elysee.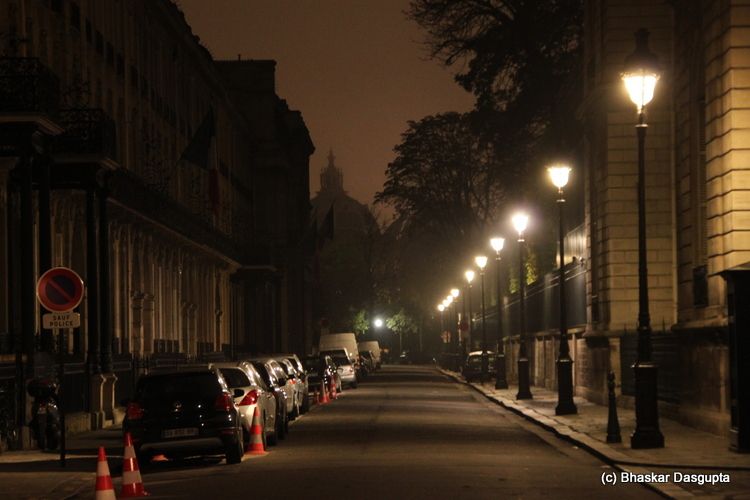 Much greener than the usual other streets.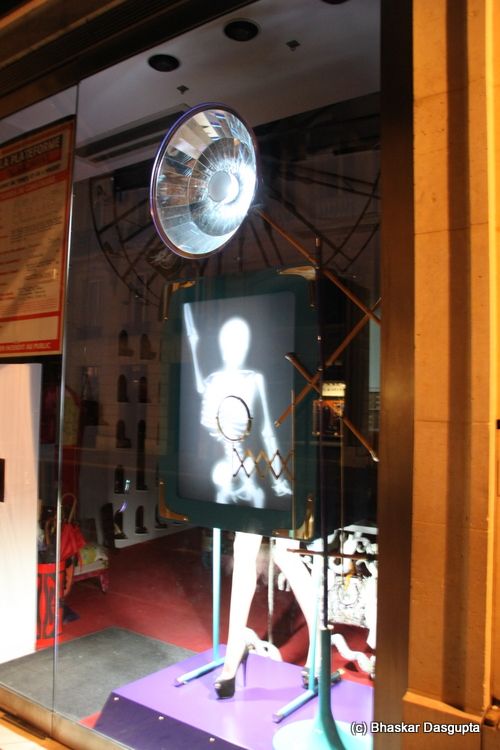 I am not really sure what they are trying to portray here..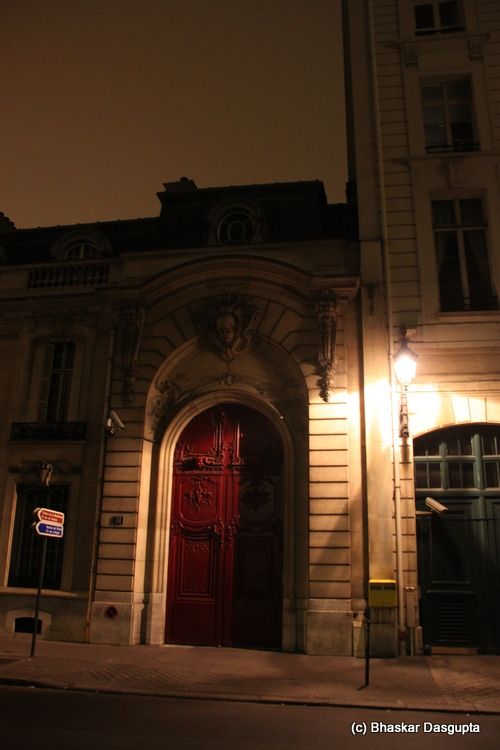 Another huge big door…very impressive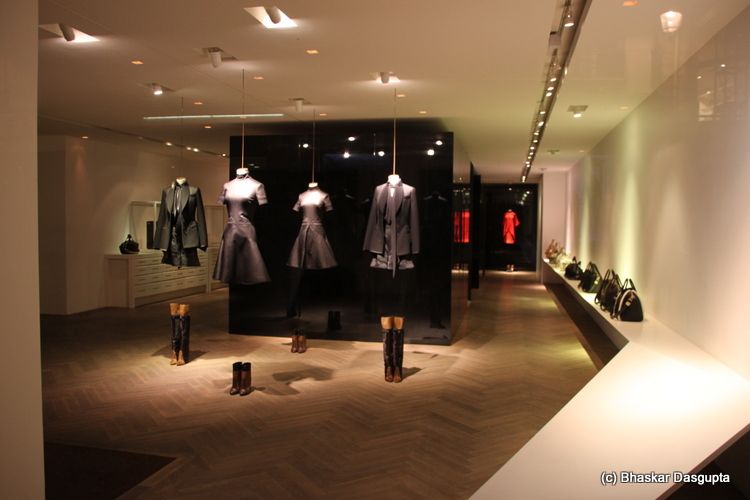 Hmmmmm, what a strange store, but then, what would I know of fashion?
I am peering down Rue Royale to the Place de la Concorde, and you can see the Ramses II obelix in the distance
I think that's the opera house
Here is the Notre Dame de l Assumption Church
The Rue Cambon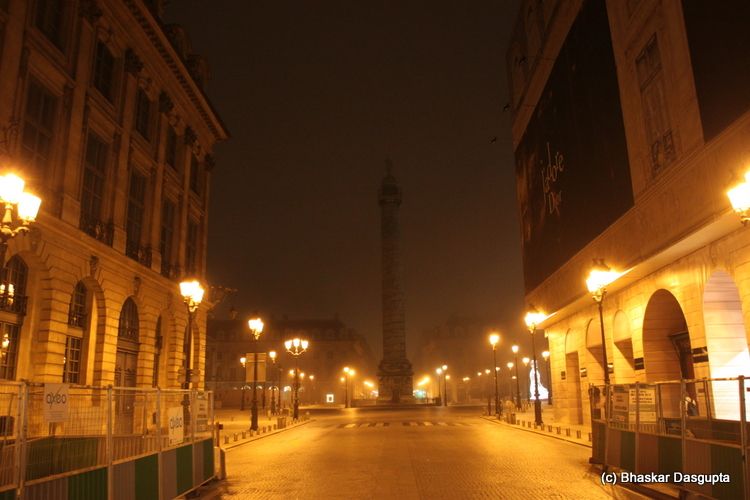 And then I come to Place Vendome
I turn into it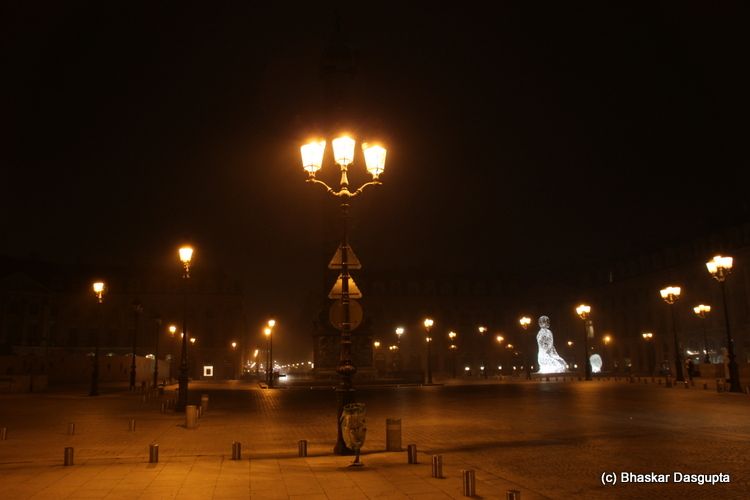 Its a big space
This is the Vendome Column, modelled after Trajan's Column, to celebrate the Battle of Austerlitz. 425 bronze panels circle up..cast from bronze cannons captured at the battle. And at the top of is Napoleon himself. This column has come down and then went up again..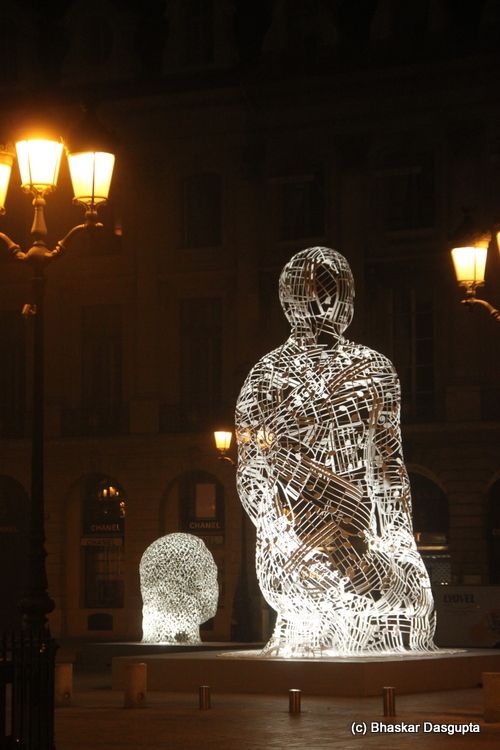 Nice sculpture
The Neon Lights give a strange colour on the panels.
pretty awesome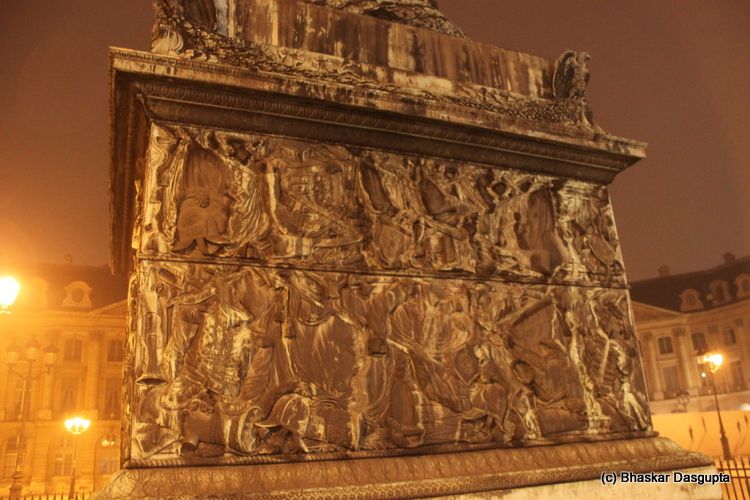 not very clear about the details, could do with a bit of scrub.
Looking back at where I came from.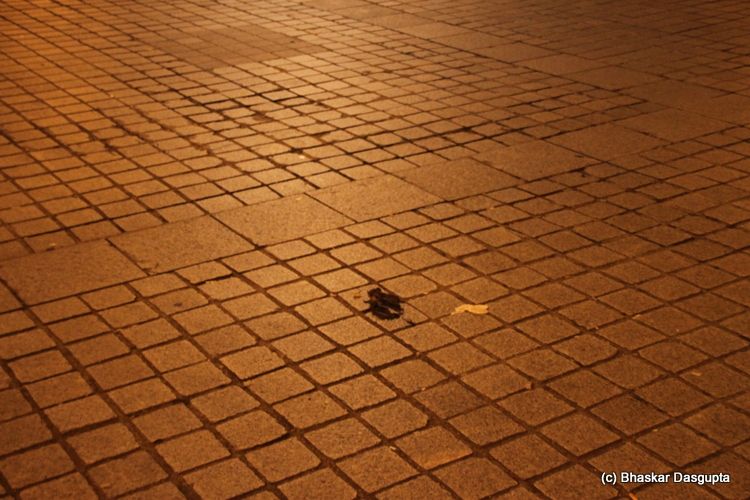 Dog poo, damn city is full of it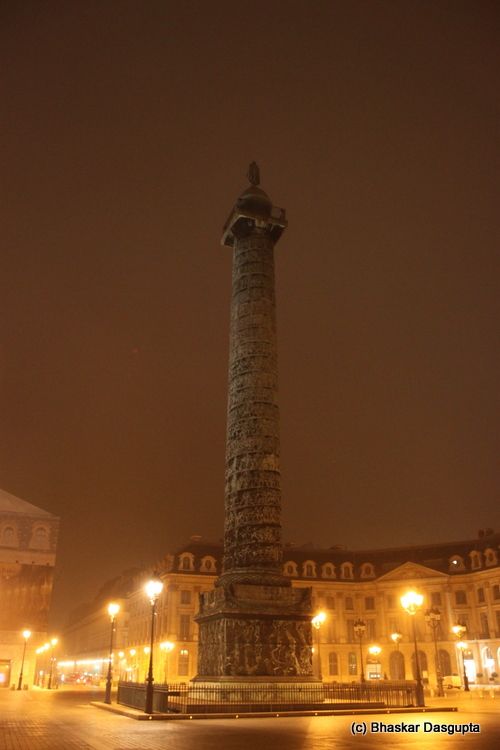 A last view of the column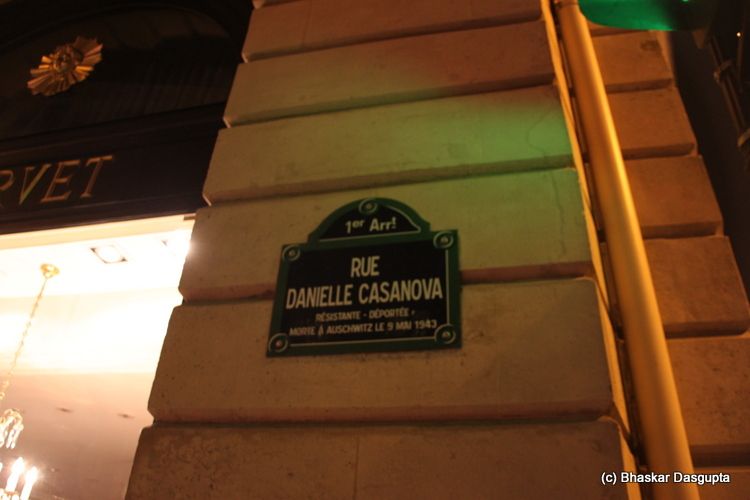 She was a communist and member of the French Resistance, she was captured and transported to Auschwitz and died there. Hats off to you lady.
Paris's bike scheme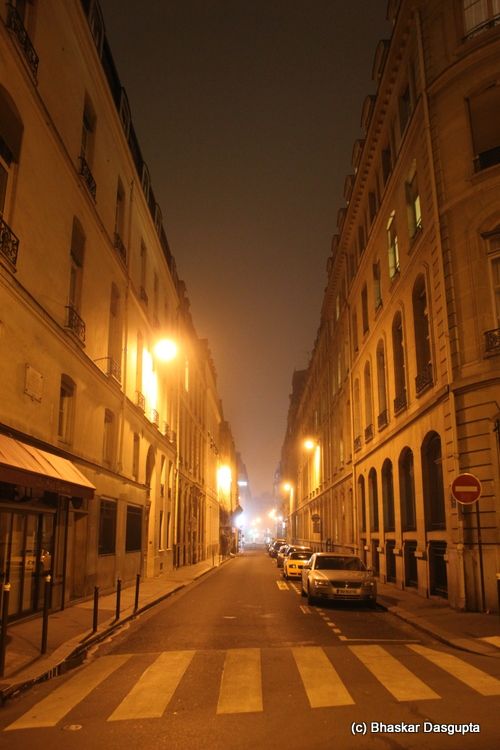 And another street..
The opera junction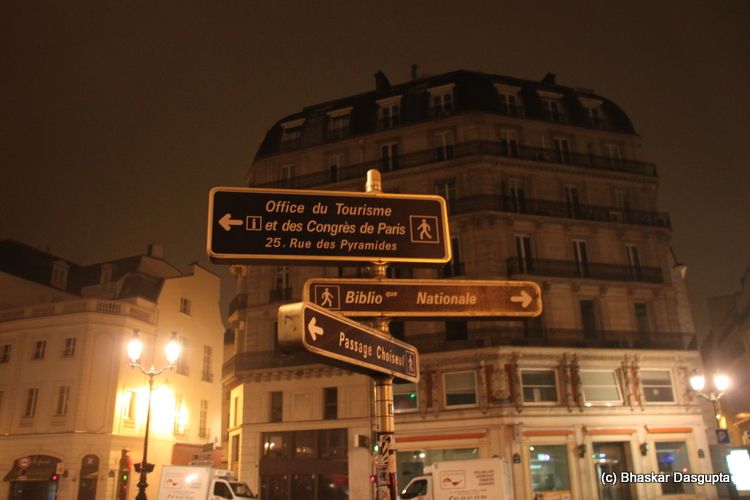 All over the place, I make a bee line towards the library..Walking up the Rue des Petits Champs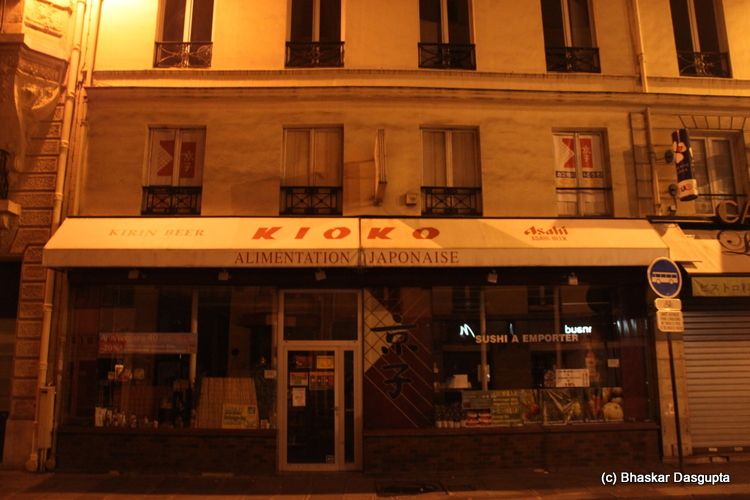 Alimentation Japanese? hmm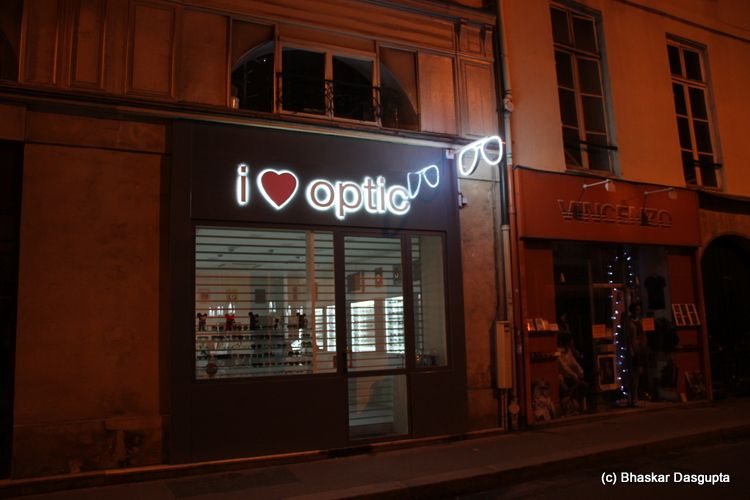 Optics
Rue de Richelieu. What a man.
The entrance to the library…you could smell the books when you walked this street, what a lovely place to live.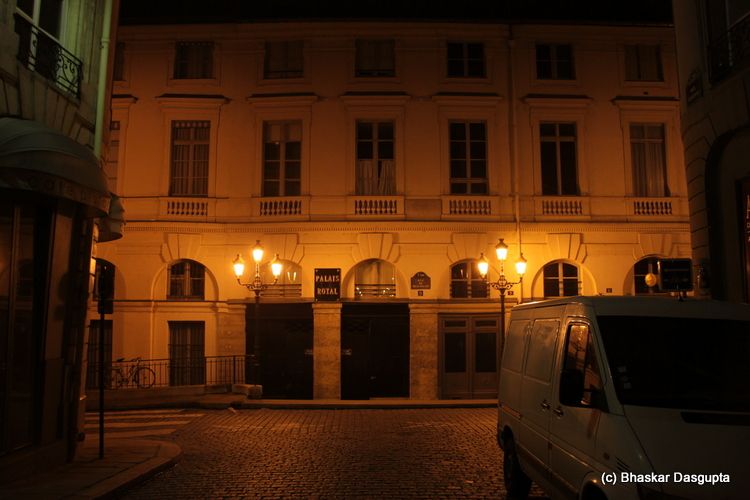 Palais Royal. The Cardinal Richelieu lived here and then after that, Anne of Austria lived here.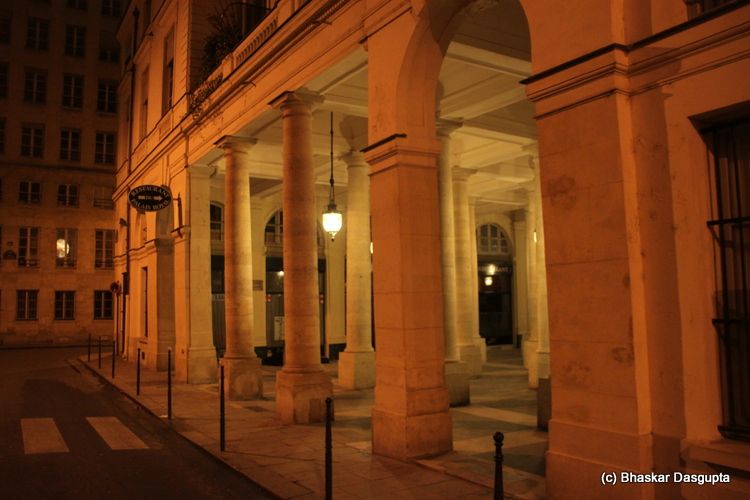 The walls talked to me.
Long corridors of the Palace.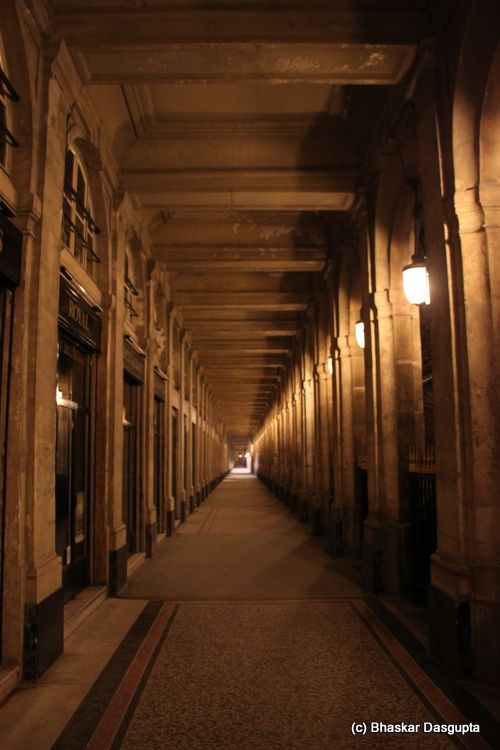 Very long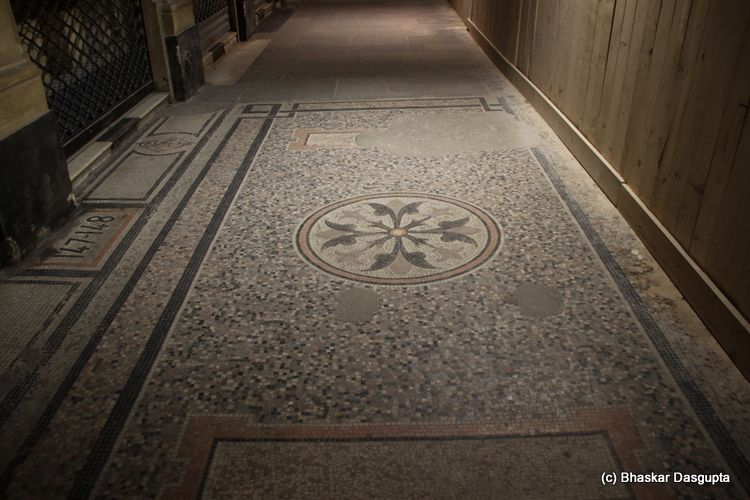 Some parts of the floor have some lovely mosaics
And some have vagrants..sad…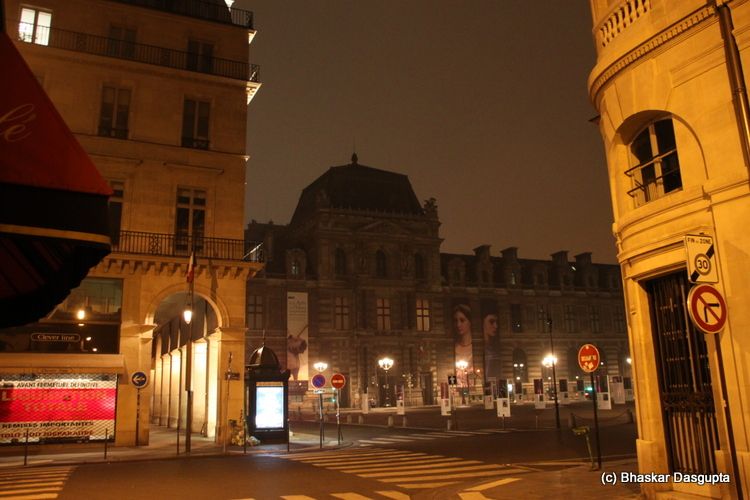 I emerge into the Rue Valois and in front of the Louvre
Looking back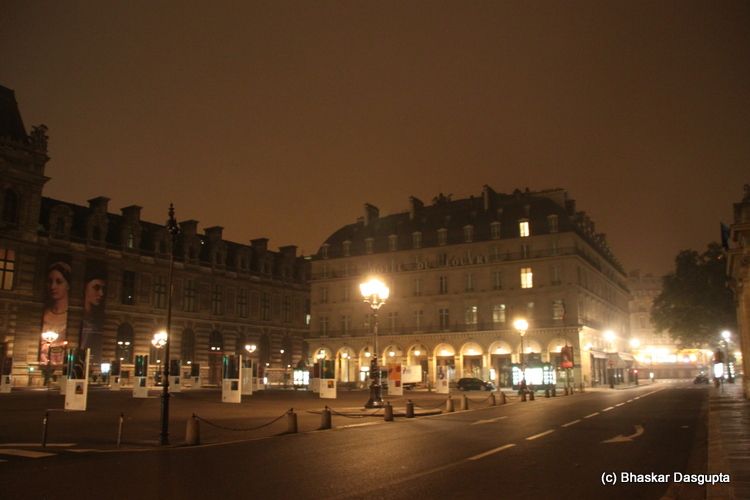 I start walking down the Rue de Rivoli
A gift shop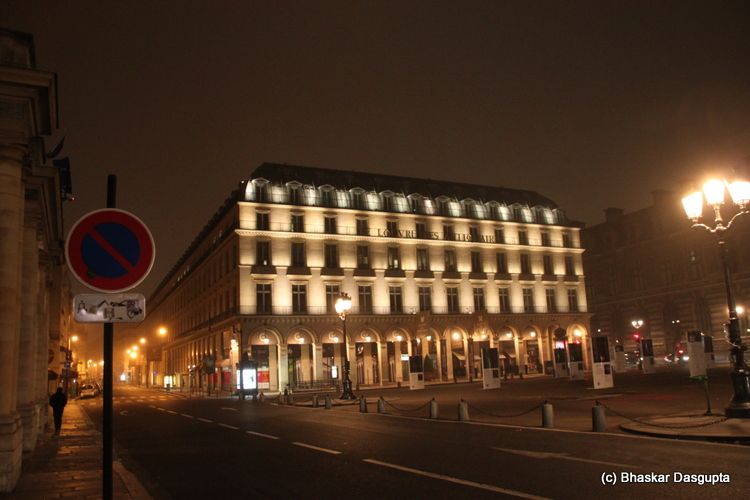 A lovely building
pillars
An entrance to the metro..
chuckles.
a passage of laughs?
Keep walking back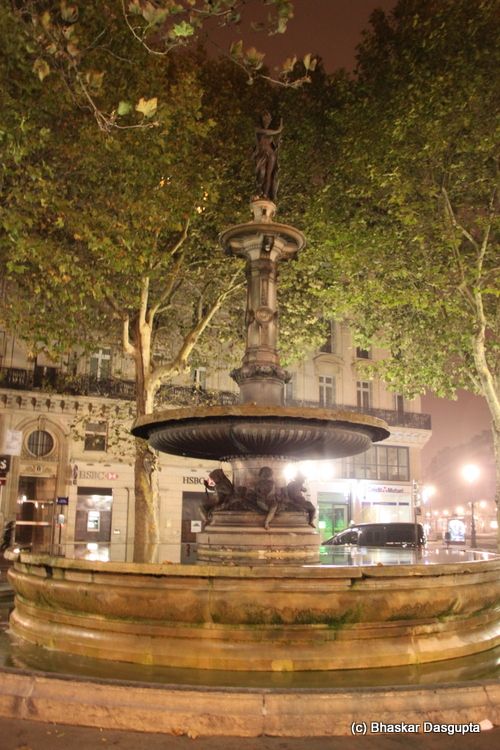 A lovely little fountain.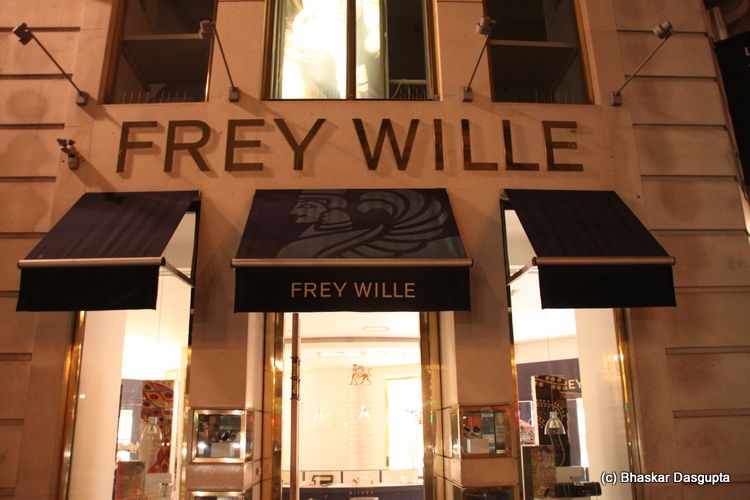 Frey Wille? hmmm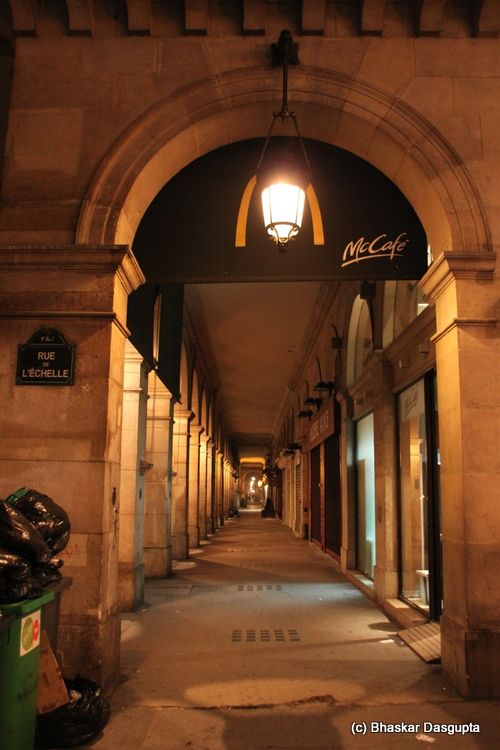 Walking past the gardens
Long way to go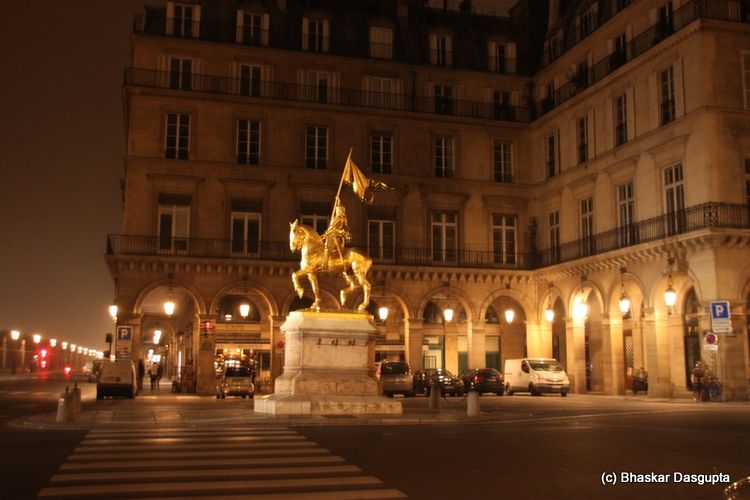 The golden statue of Joan de Arc
A national heroine. Although I think she was a bit off the head.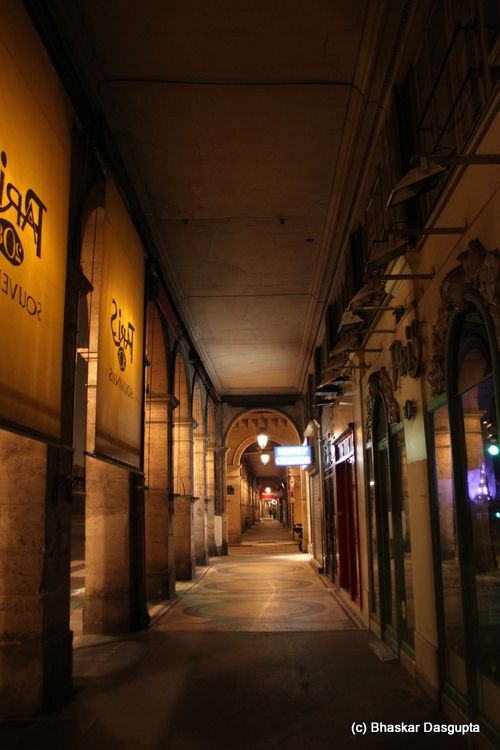 what i love are these passageways
Baby Cuileries?
These windows are brilliant, just love them.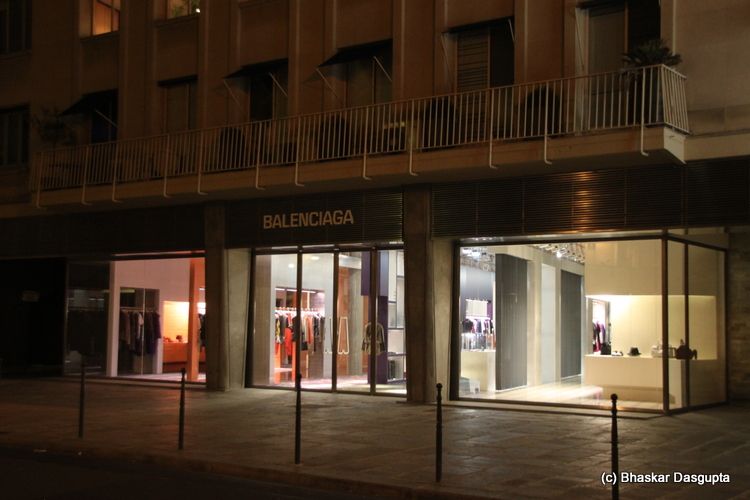 whoa, expensive stuff
More lovely buildings
all closed up but should be good to see when open :)
nice one..
English Church's!!!! in Paris! check out the shot of the shoe.
Walking past Place Vendome.
More passageways
Now why have you locked up this poor little palm tree? afraid it will run off?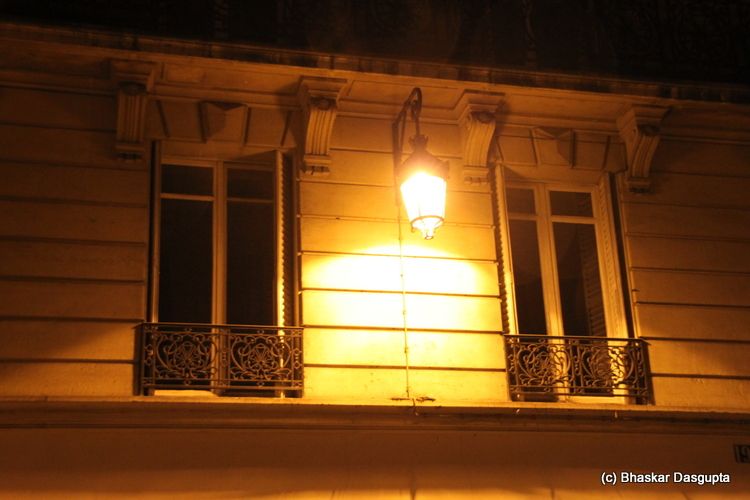 beautiful windows…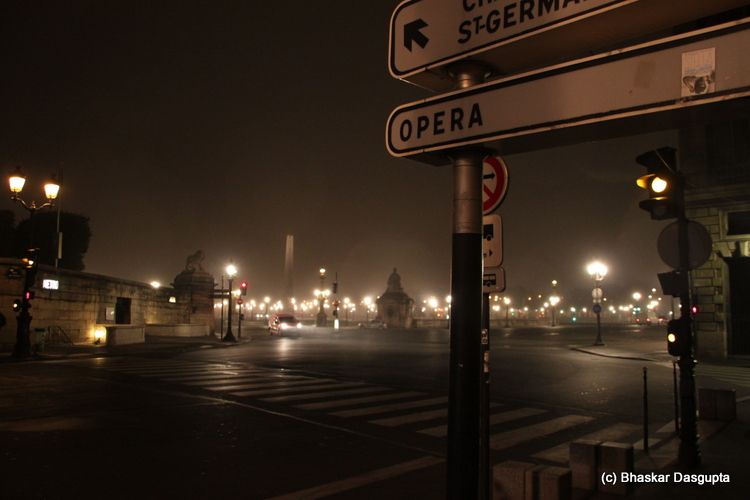 I reach the corner of the Place Concorde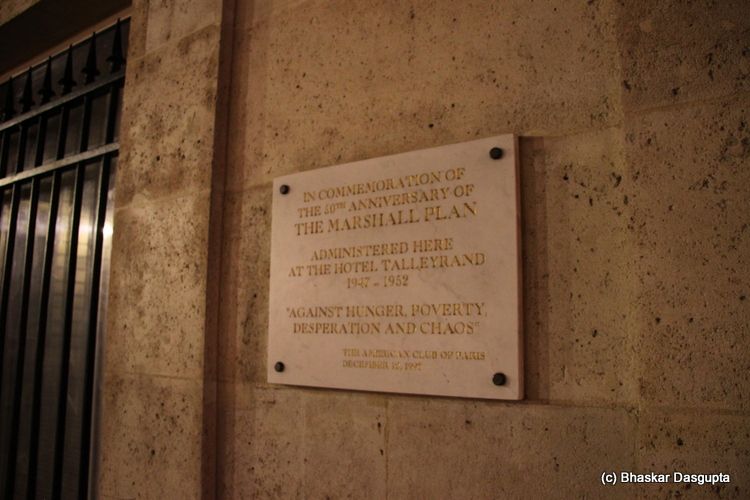 Ah! I didnt know…really? very nice.
Looking back down Rue de Ravoli
The Place Concorde all lit up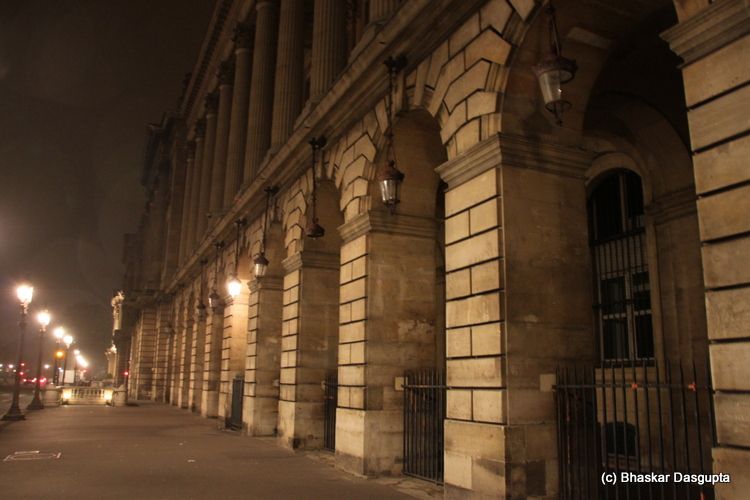 Hotel de la Marine
the Obelix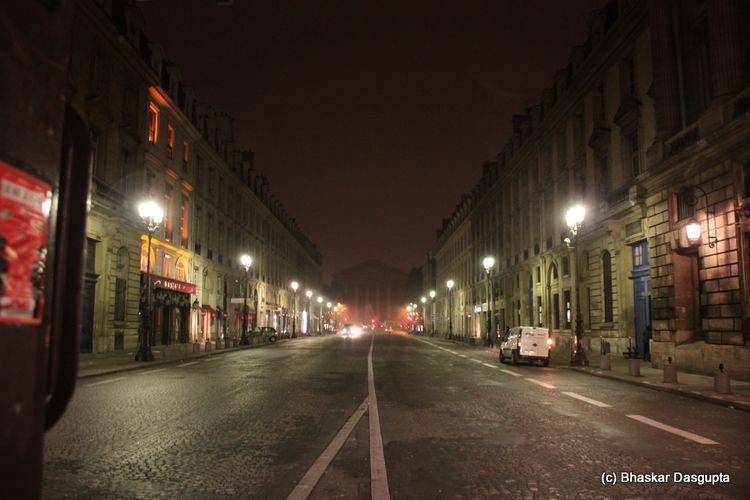 Rue Royale, which ends at the Eglise de la Madeleine. It used to be a synagogue, then a church, then something else then this and that and now back to a church.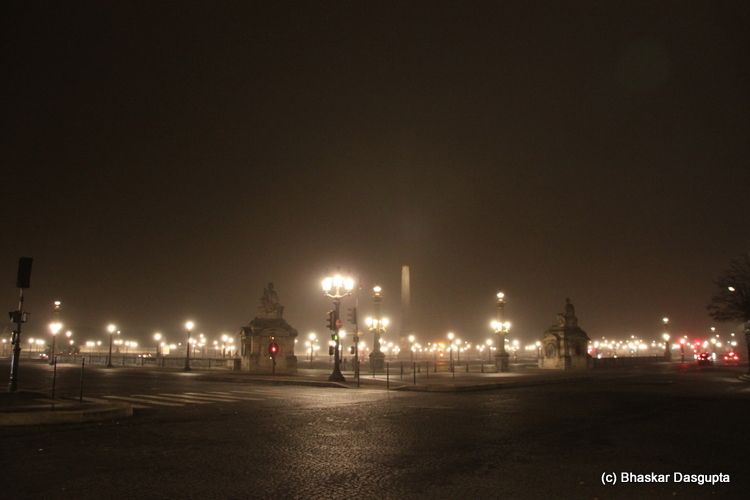 More views of this vast open space
I am now moving near the Avenue des Champs Elysees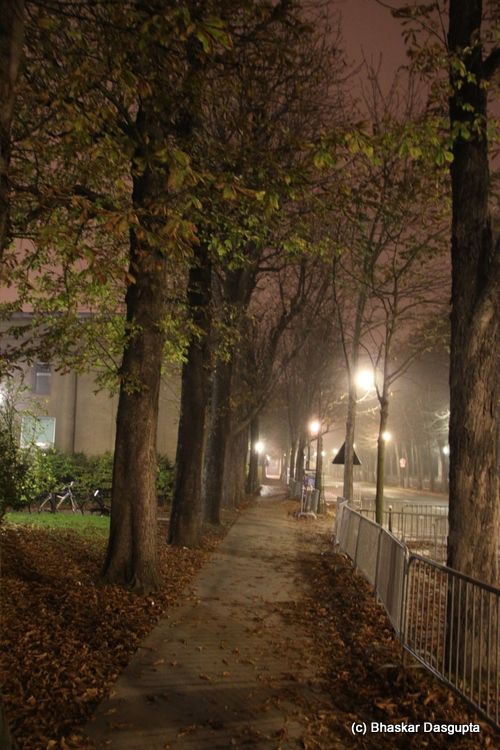 down a pavement
big mask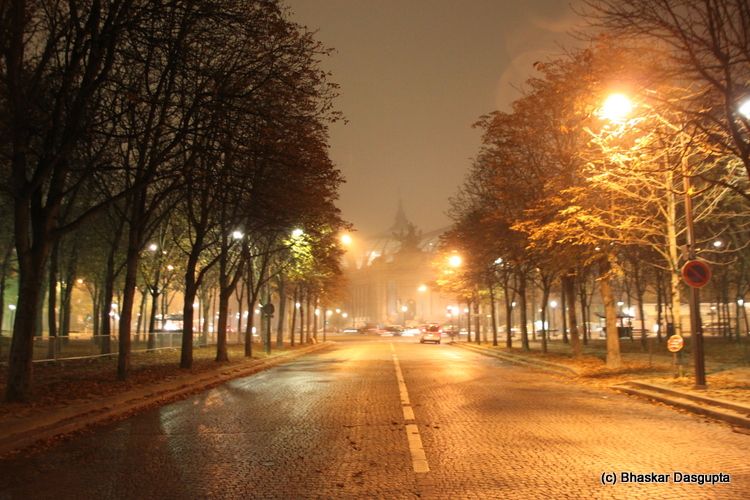 heading up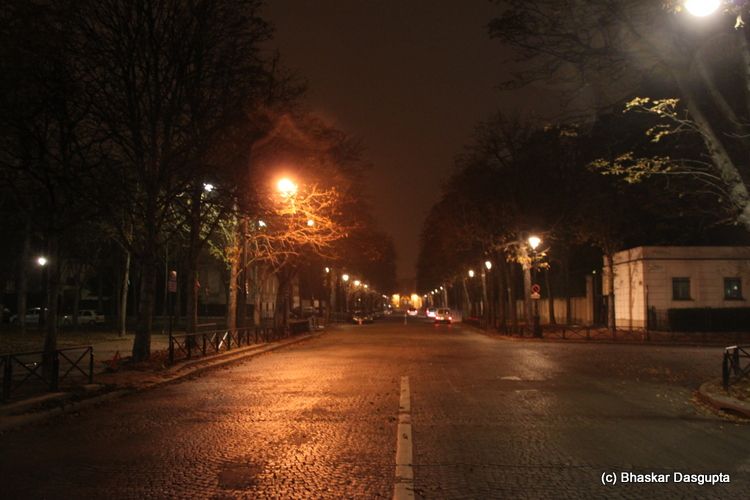 Looking down Rue de l'Elysee…I wonder if Sarkozy will offer me a cuppa tea?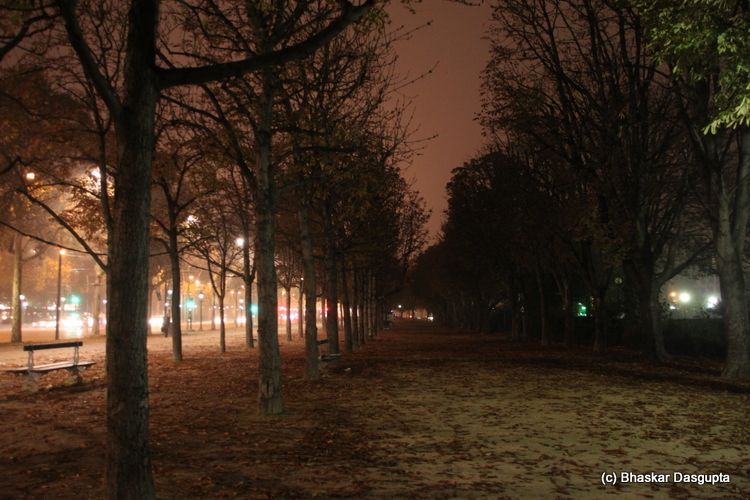 nah, sod him, keep going down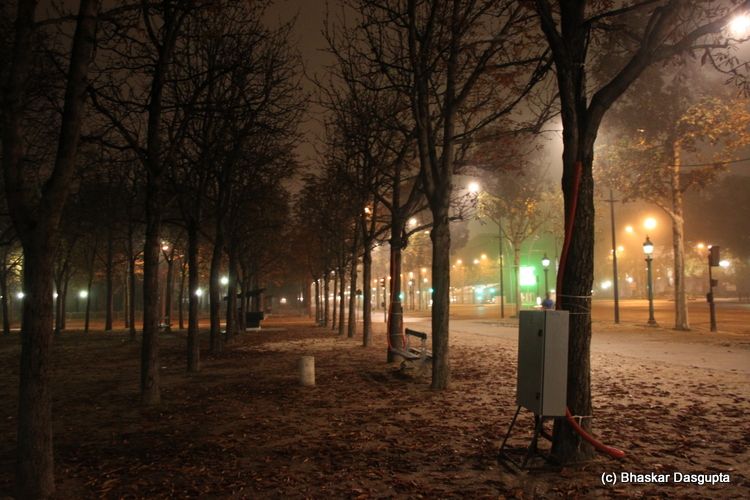 walk walk walk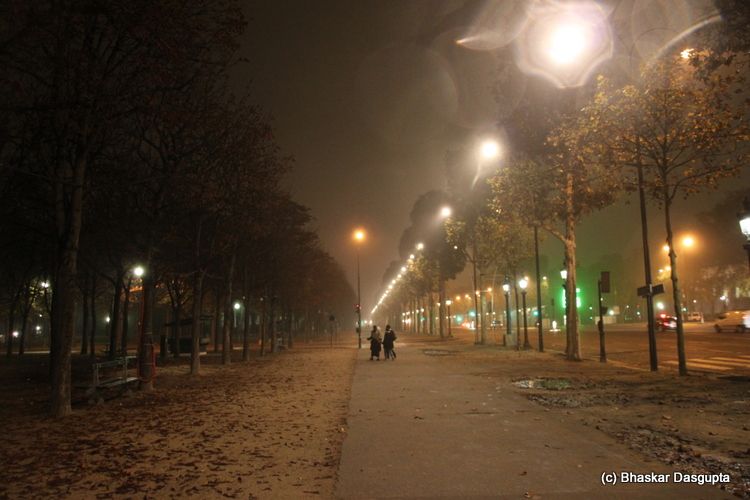 Now I start seeing people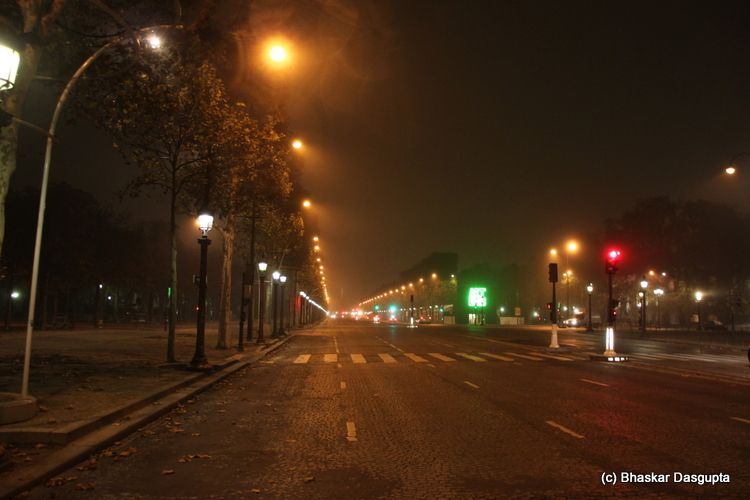 But the main street is all empty
the police are out…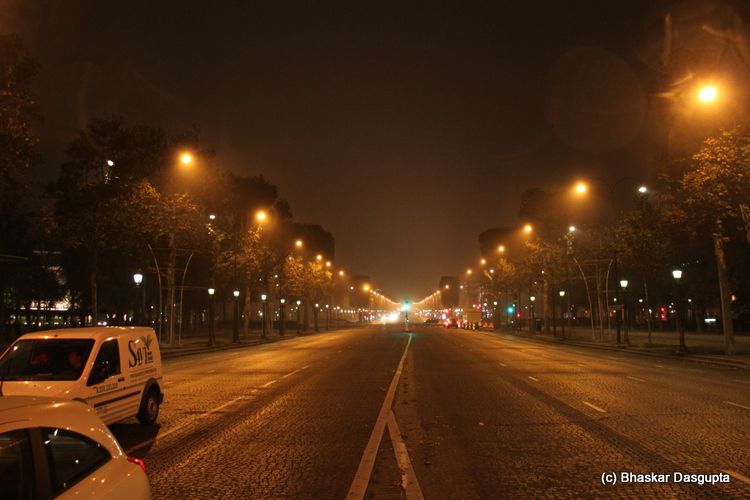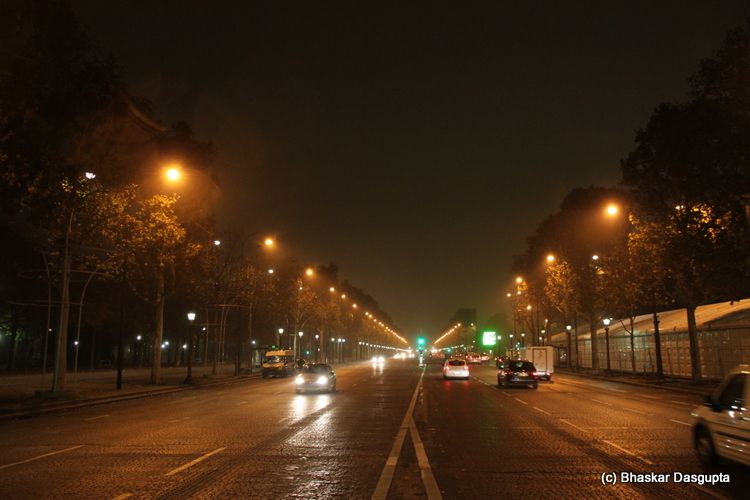 traffic is present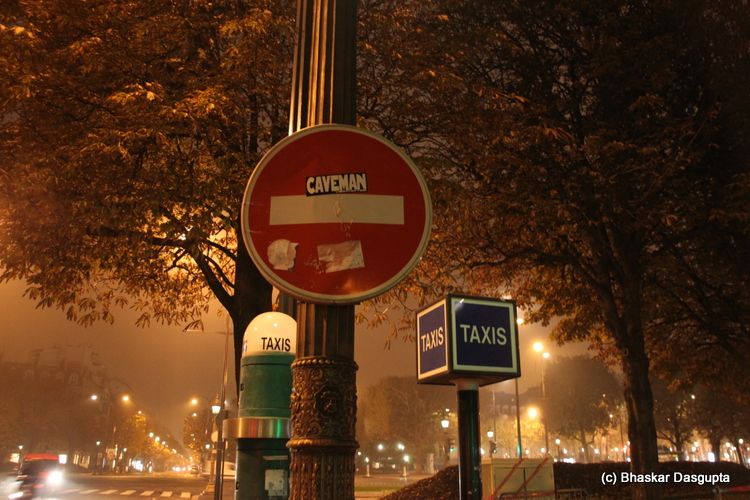 Caveman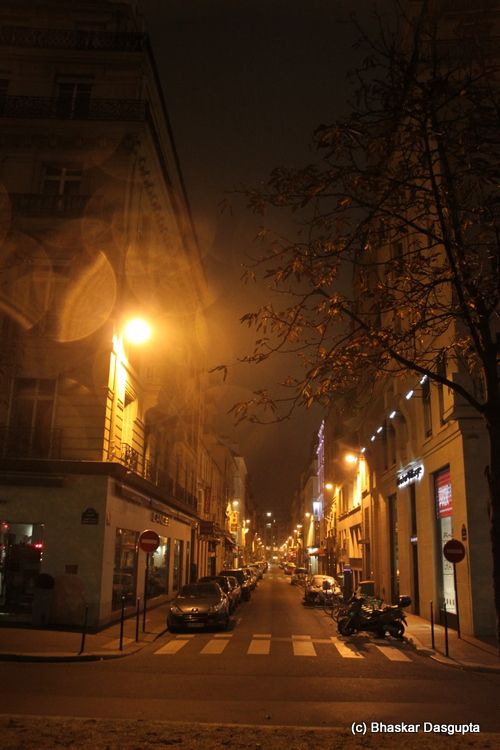 More empty streets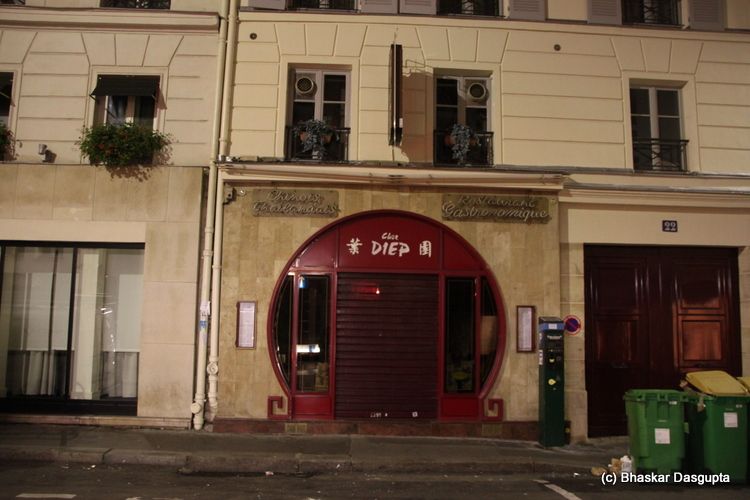 A moon gate, next to the hotel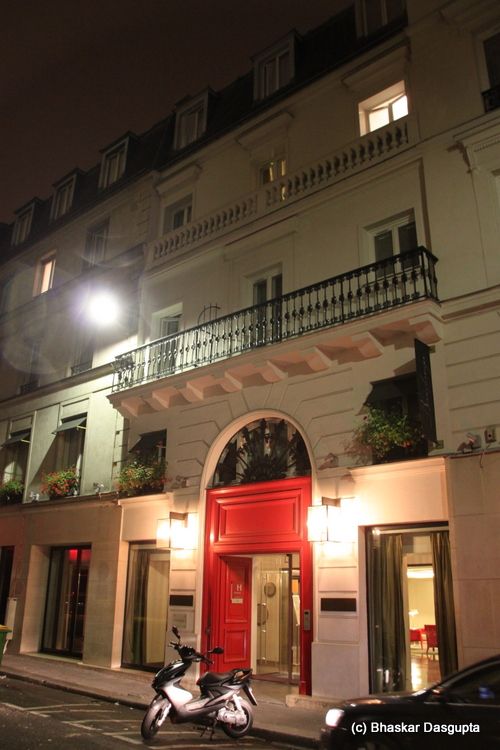 I reach my hotel, Hotel Beuchamps.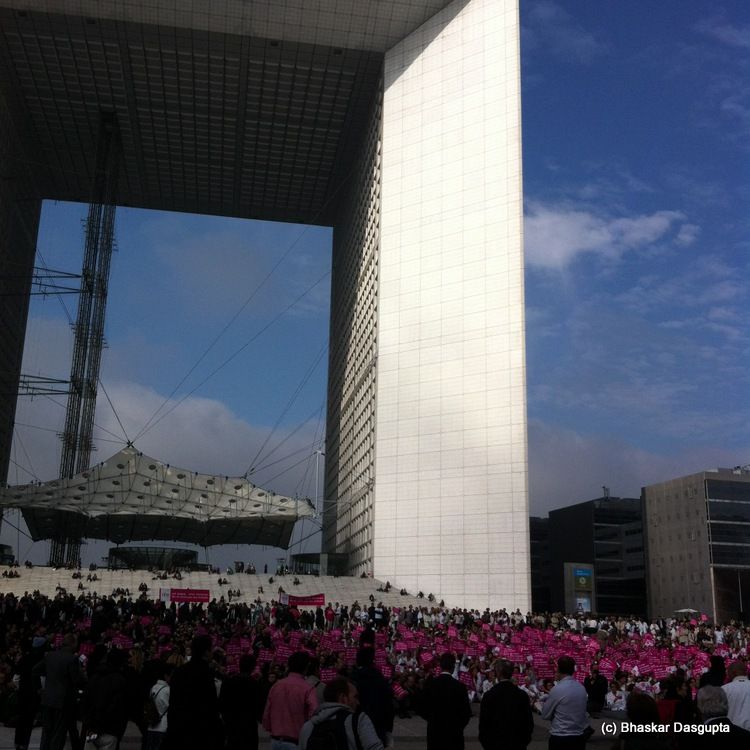 And the day after, I see these chaps protesting gay marriages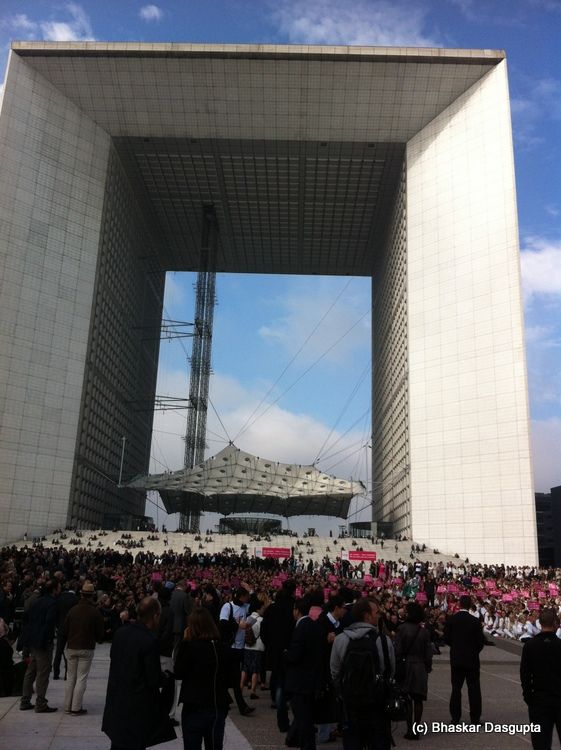 Next to the office…I didnt know so we asked and I just looked at these people in disbelief, what a bunch of muppets.
And I am now back home…what a way to welcome tired travellers back :)