This is St. Martins Church of Ludgate. Did you know about the history behind all these names, Aldgate, Ludgate, Bishopsgate etc? These were the gates which were in the Roman Wall which encircled Roman London and Medieval London. Fascinating.
And this was rebuilt by the great Sir Christopher Wren, one of the greatest of British Architects, way back after the Great Fire of 1666. Including the St. Paul' Cathedral's update, he made a total of 51 churches to replace the burnt and damaged churches.
But the actual history of the church goes back many many moons. Some say that this has a history going back to 677AD. The steeple is quite spiky, the top has so many layers. Quite interesting as a matter of fact.


Its squashed between two buildings so isnt really as wide as one would normally find in a church. It also doesnt have the usual space that you would expect around a church like a churchyard. Its book ended by shops. Did you know the famous London Coffee shop was next door? Ben Franklin and James Boswell used to frequent the coffee shop and would frequent the church.


St. Martin is a patron saint of Travellers. Did you know that? I didn't. I should get a medal with all the travelling that I do, lol. I opened the door and walked in. Looks like the church is undergoing serious amounts of repair as there was plaster, plastic sheeting, scaffolding all around the place.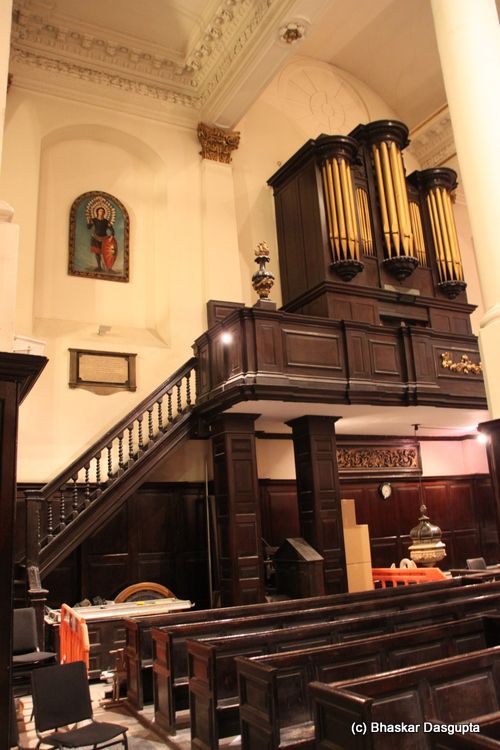 The church is in the shape of a greek cross, squarish. And the 1848 AD organ is right up there, accessed by this lovely heavy dark wood carved staircase.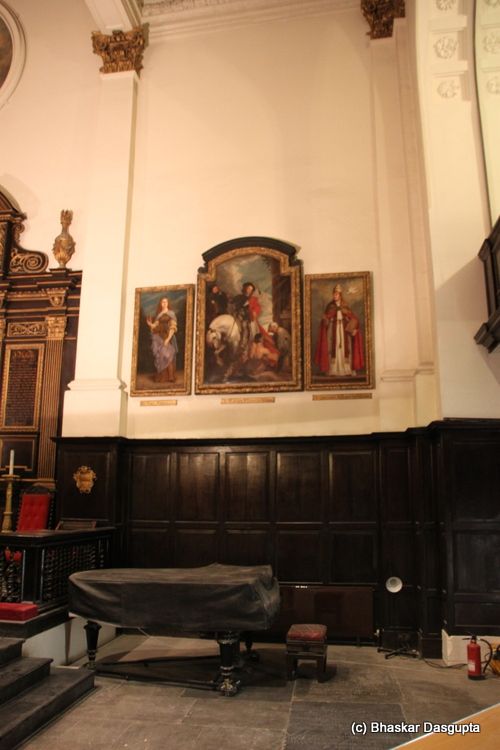 There's the altar. The white painted walls make the church look a bit severe, despite its age.


A giant chandelier hangs down from the ceiling in the middle of the church. Apparently this was brought over from the St. Vincent's Cathedral in West Indies and is dated back to 1777. Old old stuff. But nobody seems to know why and how this arrived here.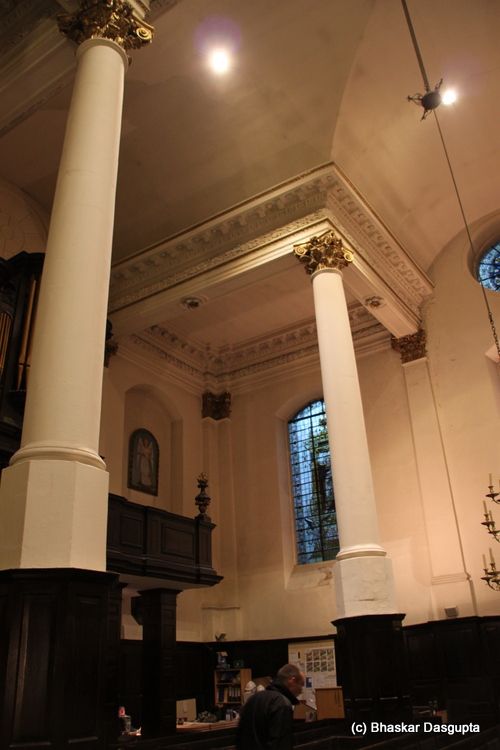 Each corner of the church, on the points of the cross, are these tall Corinthian pillars holding up the lovely swooping roof. Makes you feel a bit like you are inside a giant iridescent sea shell.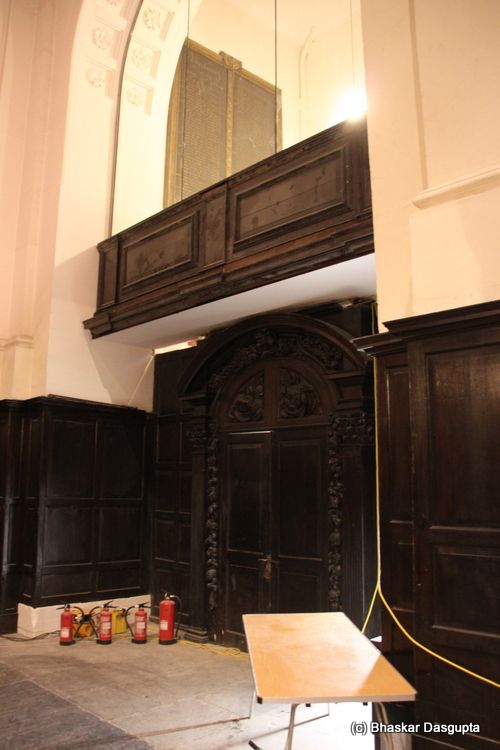 See? they are repairing the place, the fire extinguishers are placed on the floor in front of this lovely carved door and the air itself was very dusty. Can you see the plaque on the 1st floor? That was the list of benefactors to the church.


Looking back up at the upper stories. It was unfortunately blocked so wasnt able to pop upstairs.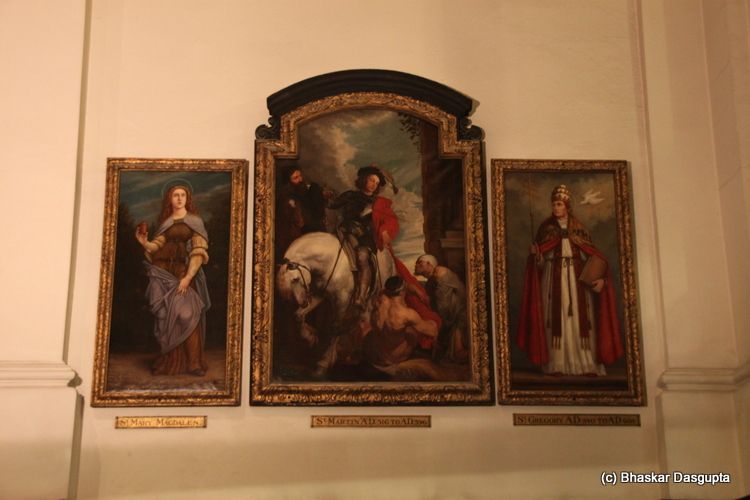 A triptych of Mary Magdalene, St. Martin and St. Gregory. So why these 3 paintings? well, there were three parishes, St. Martin's, St. Mary Magdalene Old Fish Street and St. Gregory by St Paul were united. Ergo, to show the merger, 3 paintings.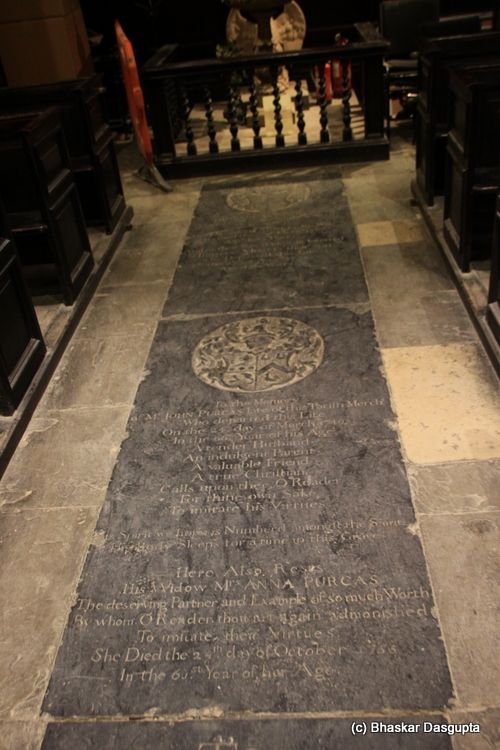 To the east side, this passageway contains some gravestones, very old, at least 4-5 centuries old.


The 17th century font. The base isnt stone actually, its wood painted to look like stone. Did you know there is a Greek palindrome carved into the font? Nipson anomemata me monan opsin (Cleanse my sin and not my face only). Fascinating stuff, palindromes. I know of one, Madam, Im Adam and here are some more for your delectation from this site.
Don't nod
Dogma: I am God
Never odd or even
Too bad – I hid a boot
Rats live on no evil star
No trace; not one carton
Was it Eliot's toilet I saw?
Murder for a jar of red rum
May a moody baby doom a yam?
Go hang a salami; I'm a lasagna hog!
Satan, oscillate my metallic sonatas!
A Toyota! Race fast... safe car: a Toyota
Straw? No, too stupid a fad; I put soot on warts
Are we not drawn onward, we few, drawn onward to new era?
Doc Note: I dissent. A fast never prevents a fatness. I diet on cod
No, it never propagates if I set a gap or prevention
Anne, I vote more cars race Rome to Vienna
Sums are not set as a test on Erasmus
Kay, a red nude, peeped under a yak
Some men interpret nine memos
Campus Motto: Bottoms up, Mac
Go deliver a dare, vile dog!
Madam, in Eden I'm Adam
Oozy rat in a sanitary zoo
Ah, Satan sees Natasha
Lisa Bonet ate no basil
Do geese see God?
God saw I was dog
Dennis sinned
Looking back at the altar with the lovely chandelier hanging low. This church also, very interestingly, holds a mandarin Chinese service. Regularly. Very nice and interesting.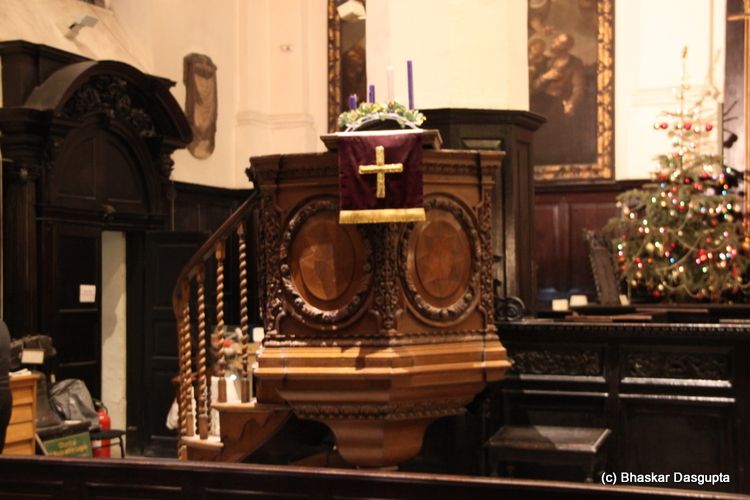 The pulpit which dates back to 1680AD. I was looking at it dubiously. I don't think it would take my weight. Blasphemous. btw, did you know that Ludgate was famous for a place for publishing, Fleet Street is just down the road. and I quote:
In 1631, the entire print run of a new Bible had to be destroyed, and the publisher fined £300, simply because of a one word mistake. They missed out the word NOT, from Thou shalt NOT commit adultery.
lol.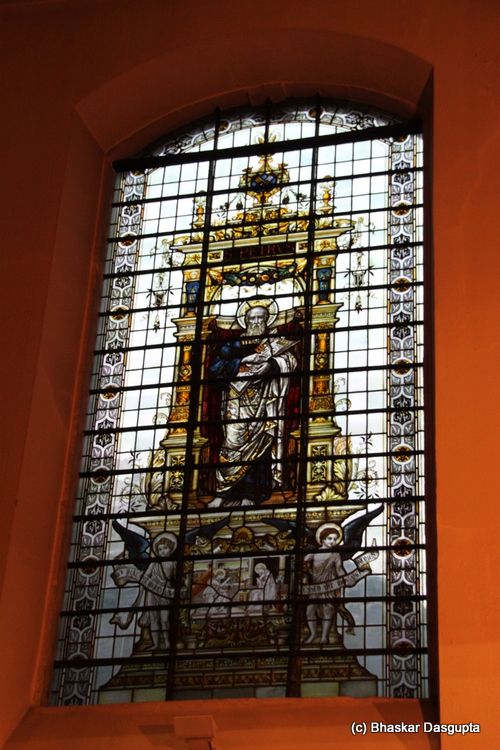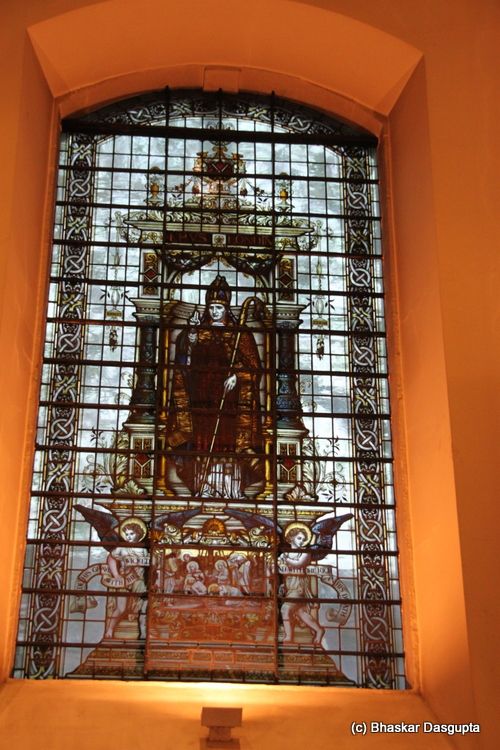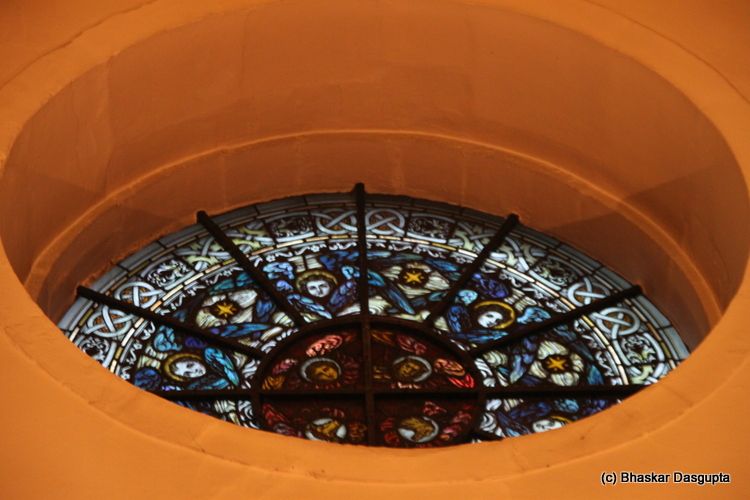 Three incredibly detailed and beautiful stained glass windows. The various patrons of the church are represented in the circular window.
Did you know, Admiral William Penn, whose son founded Pennsylvania, USA, was married in this church in 1643?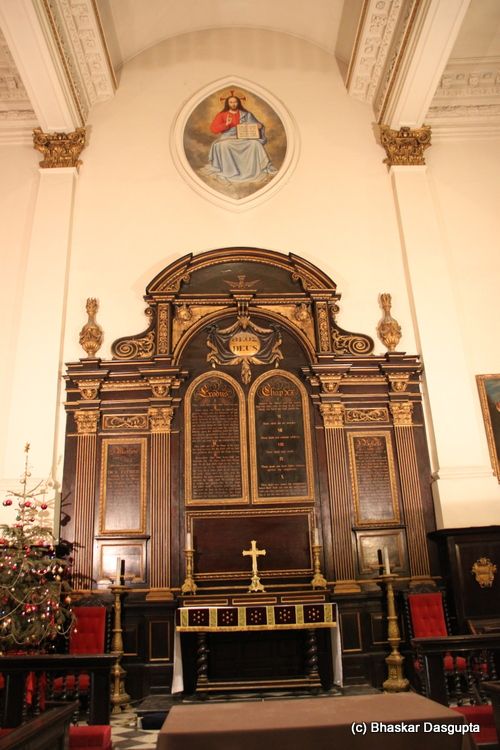 A closer view of the altar. Pocahantas used to worship here as well.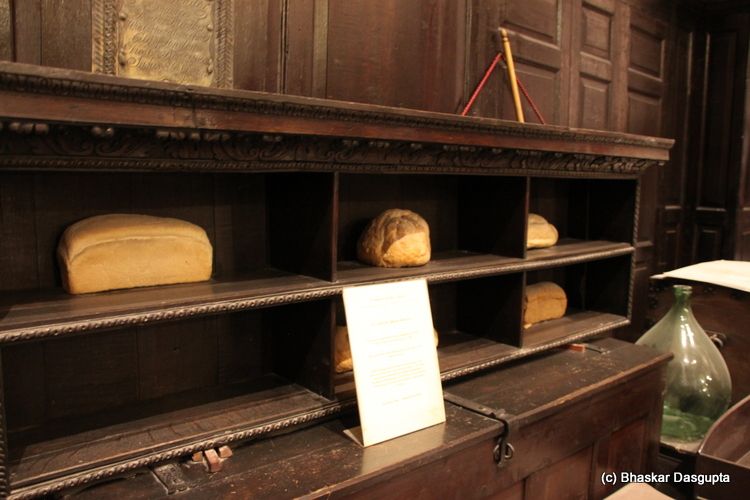 Moving on to the North Wall, these shelves come from the Mary Magdalene Church which burnt down in the great fire of 1666. Bread loaves would be kept there after services for the poor parishioners to take away. The benefactors of the church would donate the bread to the poor.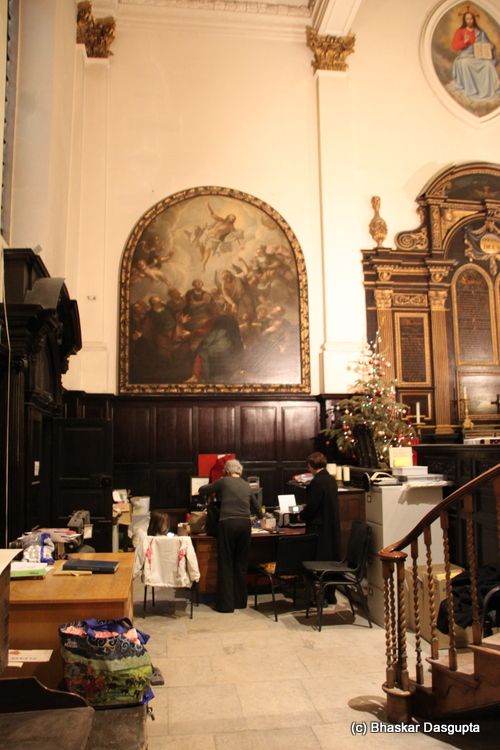 This is a massive painting and turns out that this is modelled after a Raphael painting, dating back to 1720 AD, and comes from St. Mary Magdelene Church.


Looking back at the entrance of the church.


Heading back. Its a construction site all right, temporary stairs and warning taped glass door.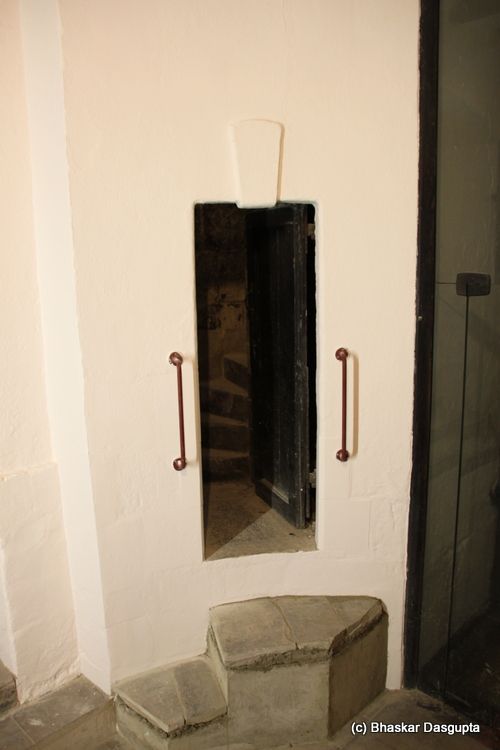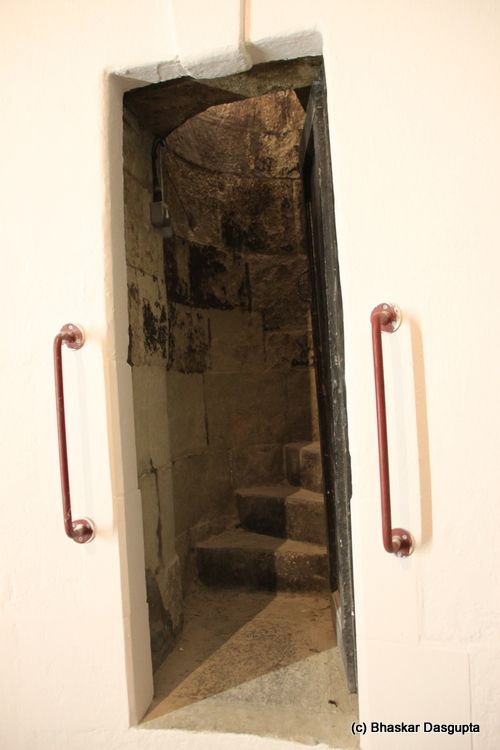 A tiny entrance with tiny steps with a circular staircase winding upstairs to the first floor. I wish I had time to pop upstairs…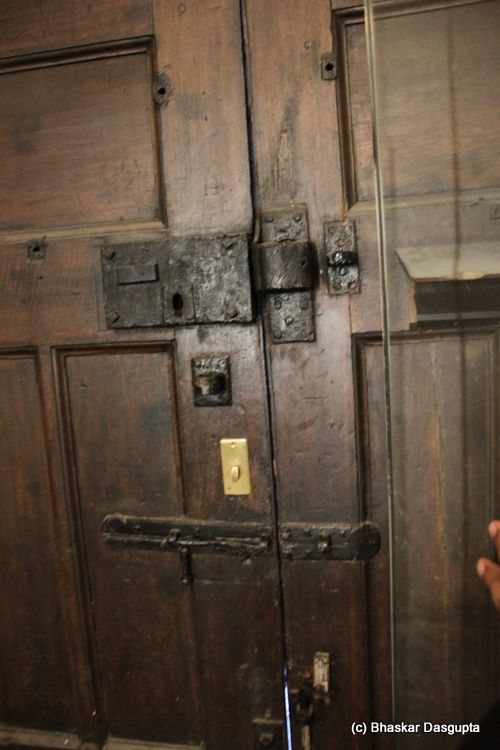 The door is ancient with modern bits added.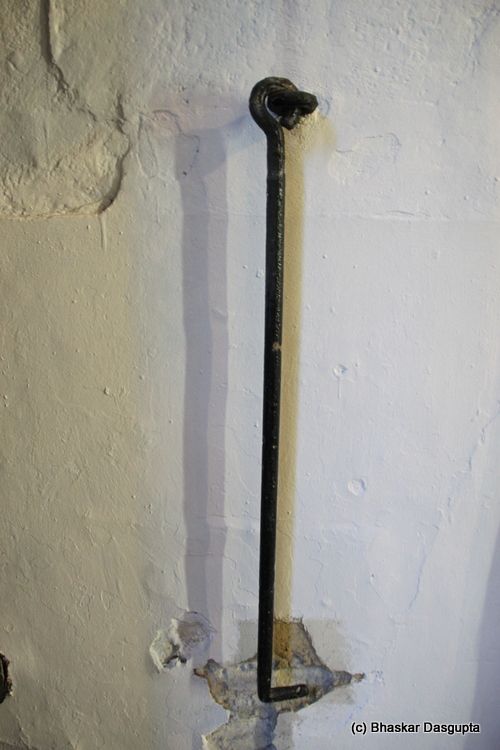 The iron door stop.
Lovely church, it spoke to me, it had a serene atmosphere, I could have worshipped here and strangely enough, it was the palindrome, the bread and the fascinating chandelier which made it very lovely to me.