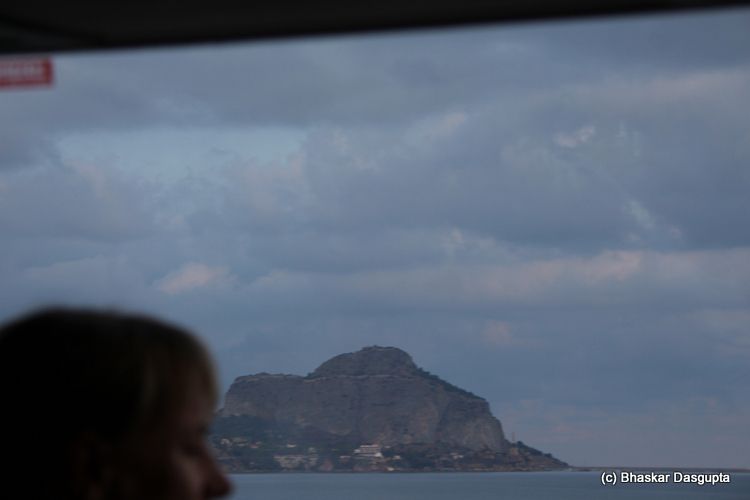 so we decided to spend a day visiting Taormina and then do one of my bucket list tasks, visit a Volcano. So jumped into a bus and drove off. That's the rear view of the Cefalu Rock. Cant believe the previous day I climbed up there.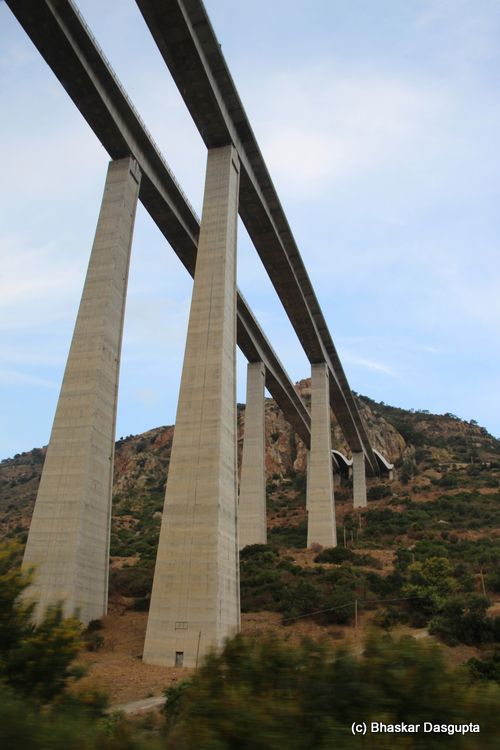 I am constantly surprised at the hilly nature of this island. Here's a giant pair of road bridges…thanks to the EU..And then we crossed so many little valleys.
very pretty little valleys indeed.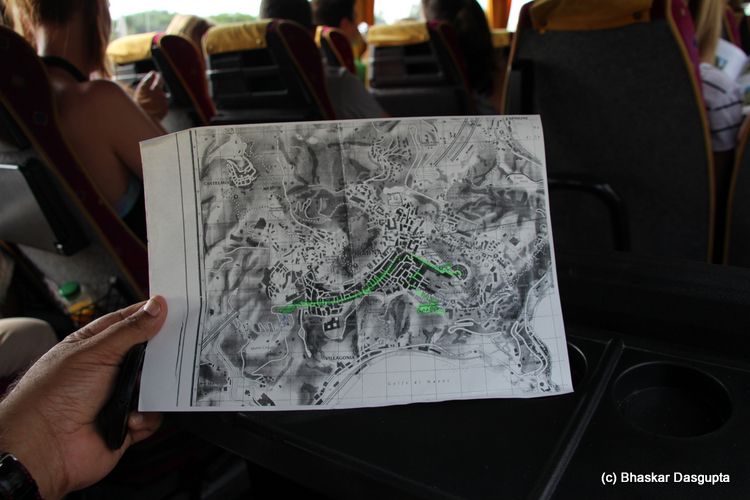 And then we were handed these little maps of Taormina. On the left hand side is where the bus is parked and then we walk to the end and then to the right is the amphitheatre.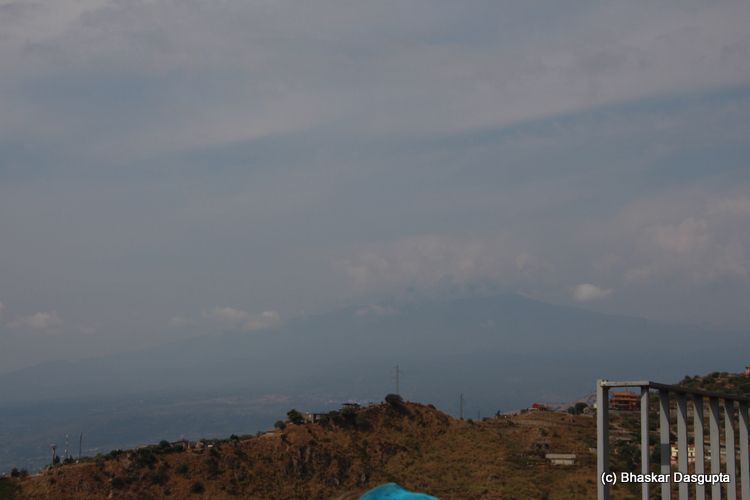 we get down and then I get to see her. Mount Etna. In all her glory. Its cloud covered, but the vast brooding presence is made clear even so far away.
lovely view across the bay
and then this hotel, i wonder what would be the views of the volcano?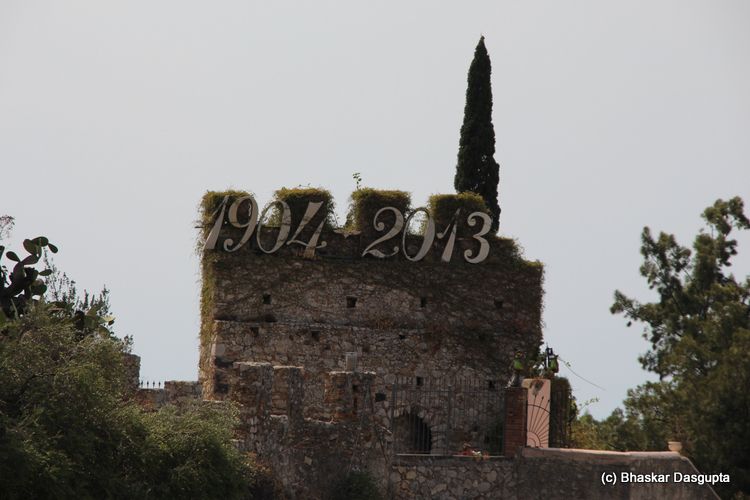 there was some kind of a celebration recently, eh?
this is a little town and has such a long history. It was originally settled by the Greeks…can you imagine? even though the original inhabitants, the Siculi did live around here. The walls have obviously been rebuilt.
but you can see the Moorish influence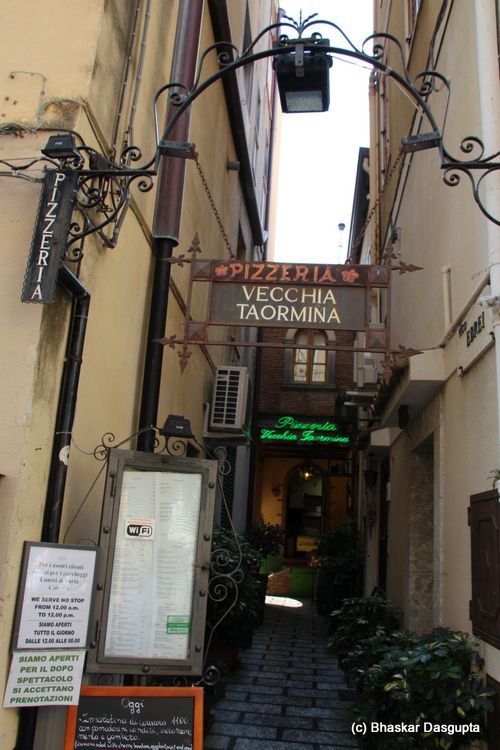 lovely little streets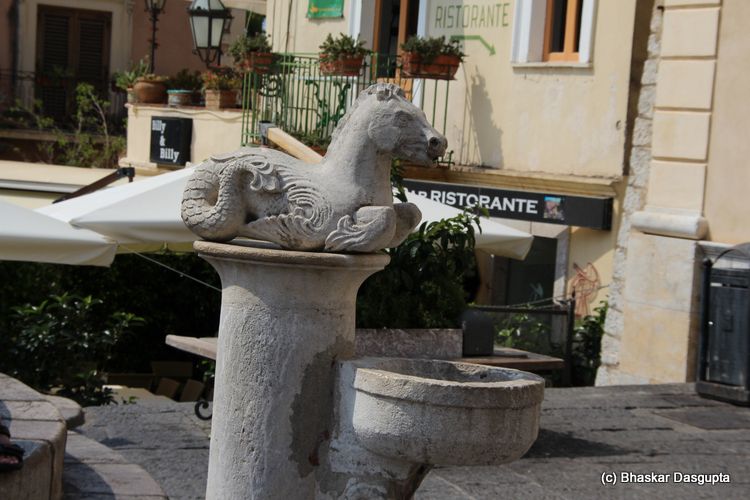 a sea horse?
and then this lovely amazing fountain. Its a very old one. In 3 levels. The top is a man with a fish tail? or the hind quarters of a horse. Then 4 statues and then holding up a shell are these four men with kids.
and then this lovely little church.
the doors were quite nice. The church was built in 1636, well, at least that's when the plaque is from. I am sure the antecedents of the church go back much earlier.
pretty good solid roof.
quite a lot of little altars on the side with pietra dura work. Very very nice work.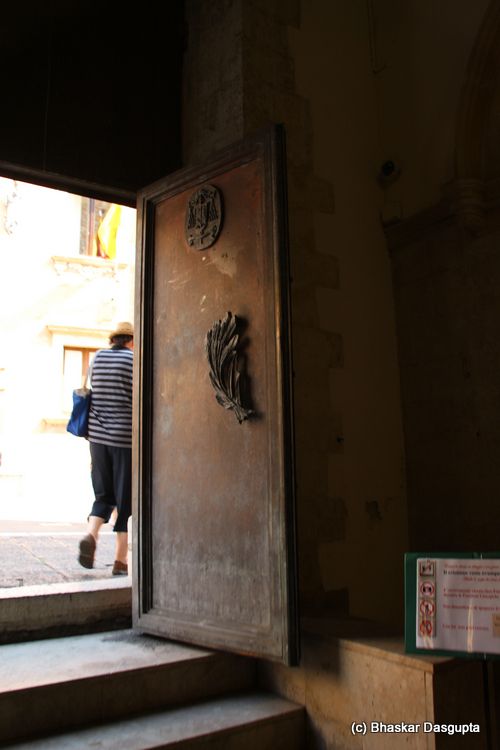 the door out to the main road.
one of the side chapels. Amazing marble work.
the main altar. quite severe. But the panel below the table was exquisite. Amazing work.
more chapels on the left and right. And then this lovely cute tree in two versions for candles.
Hmmm, now this is the most interesting piece, you can see how they are trying to restore it…by doing digital restoration.
And the family is sitting outside, there's Baba again with his penchant for poking around in mouldy old buildings and churches.
The police station
no photography. so i had to photograph it. Lemons and Limes and citrus fruit…its the national fruit, eh?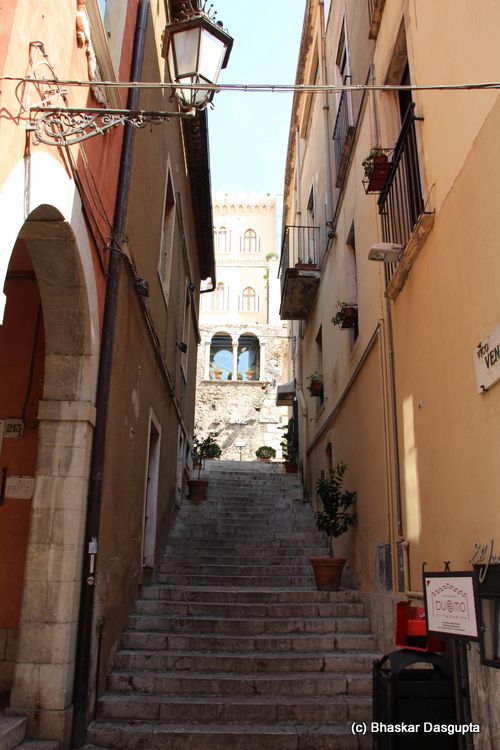 Another tiny street full of stairs.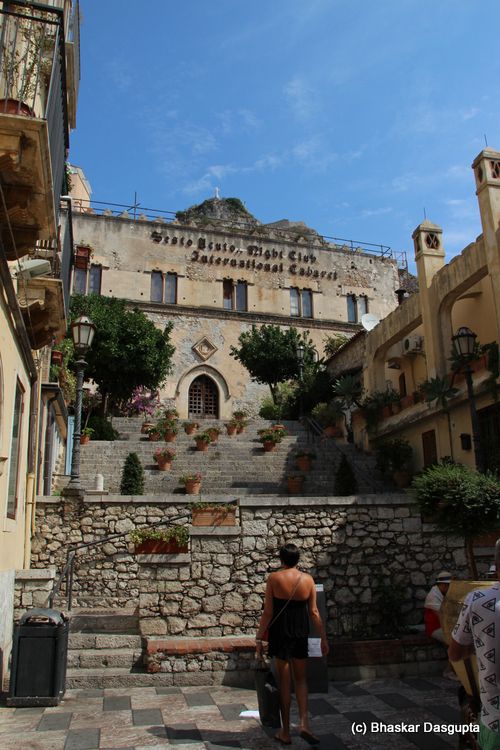 wooo…cabaret…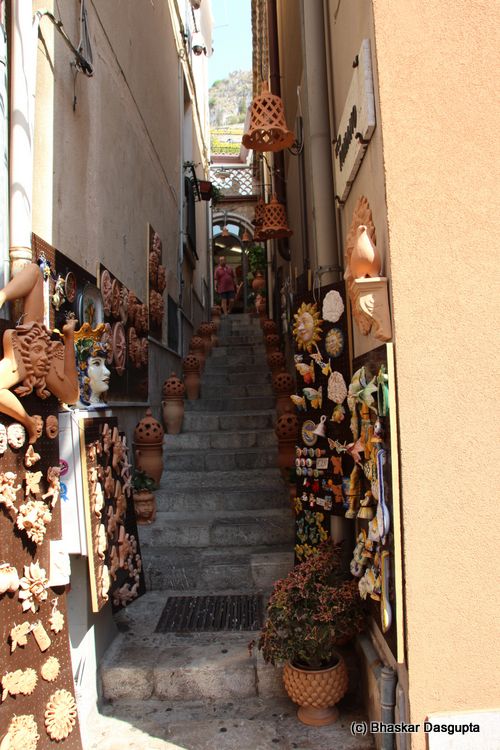 Another tiny street, I would be scared of walking up here…clumsy giant bear me.
its just one long long street
And a lovely little cafe. You can just imagine the glitterati of Europe and USA staying here, ranging from DH Lawrence, Tennessee Williams, Jiddu Krishnamurti, Halldor Laxness, etc. all stayed here. Stay away from Jiddu, he can send you into serious depression. And then you had Liz Taylor and Richard Burton here…
with views like this, why wouldn't your literary juices flow?
a much newer church, dating back to the 1953 times.
lovely interiors..faintly baroque in style sometimes..but good. Nice.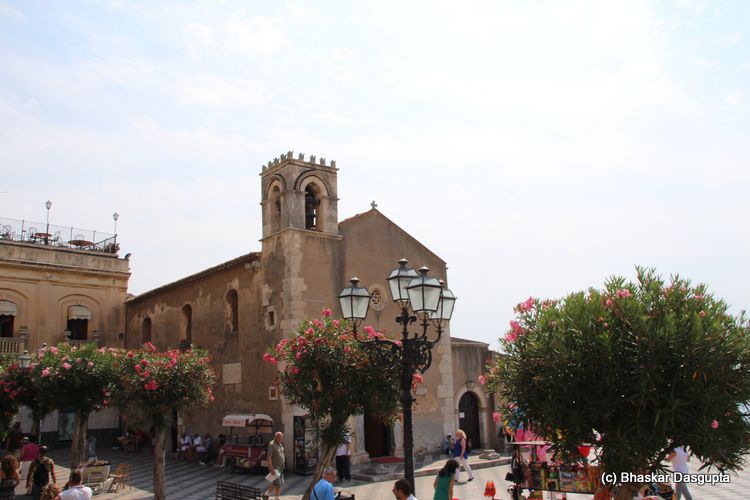 I come out…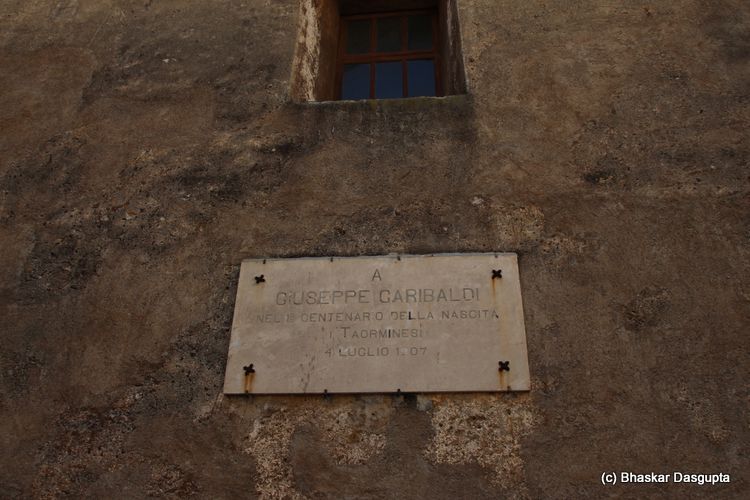 ah, this is a bit of a local lore. I quote:
The square was named after the 9th of April, 1860, when mass in the Taormina cathedral down the street was interrupted to announce that Garibaldi had landed at Marsala (on the far side of the island) to begin his conquest of Sicily that made it part of Italy
The ex-church of Sant-Agostino on Piazza IX Aprile, Taormina. (Photo by Pablo Canateam)(The name is actually a bit of a statement of nationalist pride, since the excited local rumor mill that fed the anouncement was actually a full month ahead of events. Garibaldi did not land in Marsalauntil May 9, 1860, but the Taorminese are proud that they called it ahead of time.)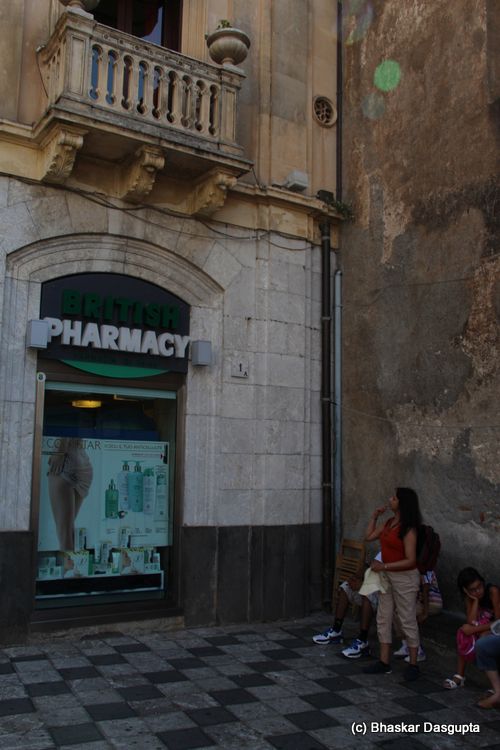 British Pharmacy. one old story goes,
By this time Taormina had become "a polite synonym for Sodom" as Harold Acton described it. Later, however, after the Second World War Acton was visiting Taormina with Evelyn Waugh and, coming upon a board advertising "Ye Olde English Teas" he sighed and commented that Taormina 'was now quite as boring as Bournemouth'.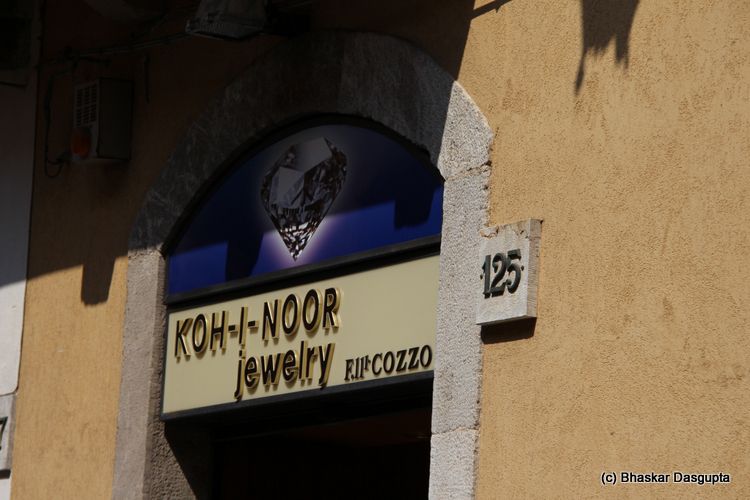 wut? here?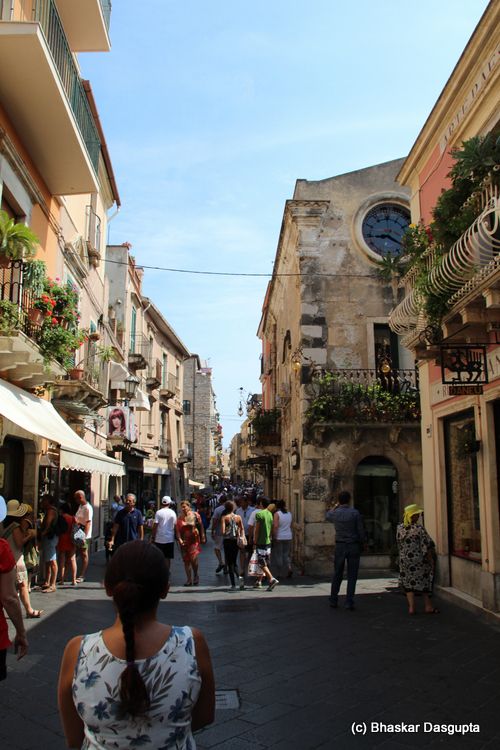 we keep on going down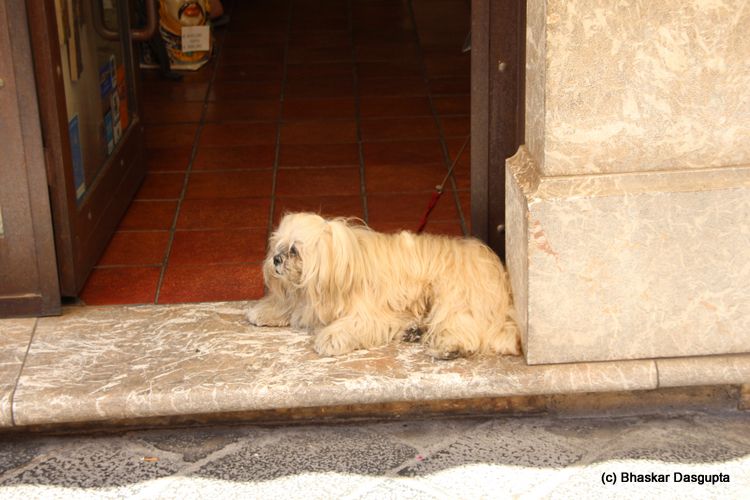 somebody is happy.
thank you, I already have my doll :)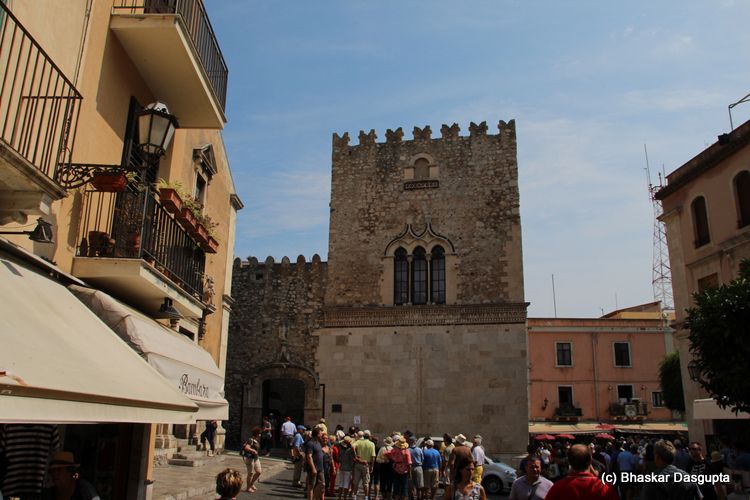 Another church
its a much smaller church. not that well decorated either…but with some interesting characteristics. The painting behind the altar has been in the wars…the paintings on the wall are unframed..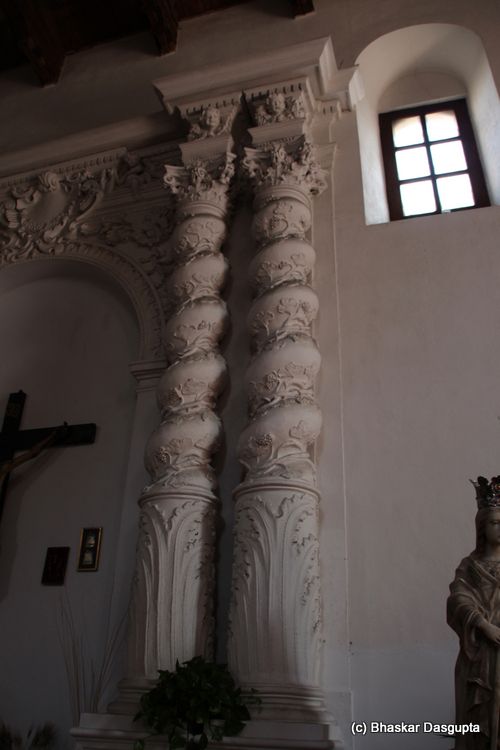 The pillars are very nice.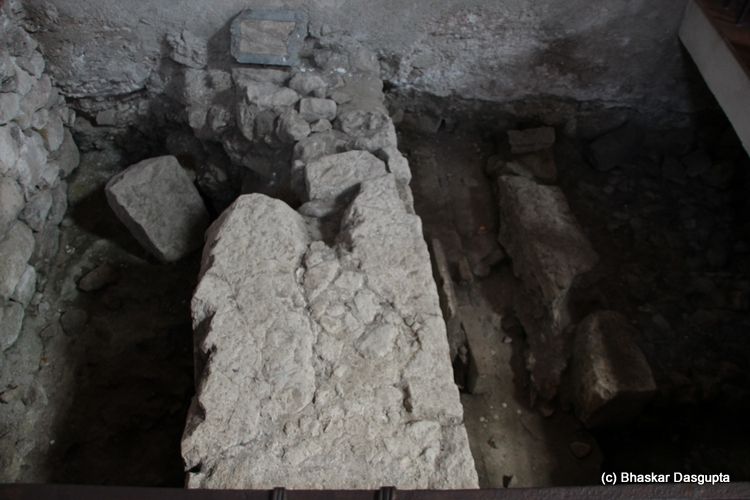 Some excavations from old old days…
We come out and turn right to get to the Greek Theatre. Massive construction.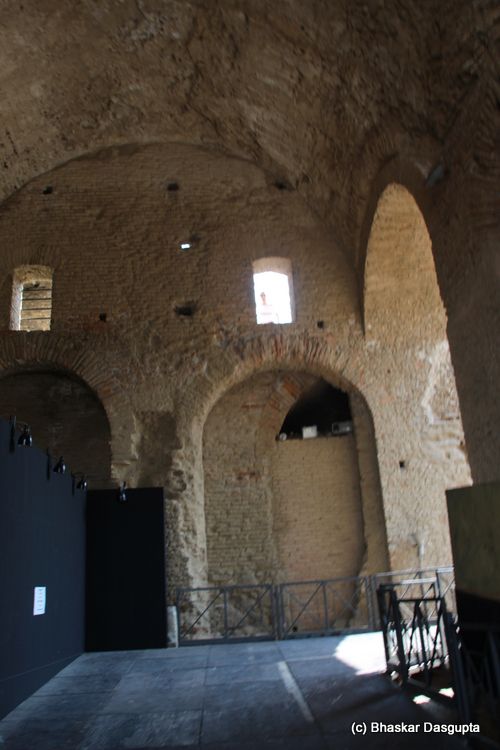 we are entering from the back side..
built of brick…originally Greek, it was completely rebuilt by the Romans who converted the Theatre into a gladiatorial arena.
And then I come out to see this most amazing structure.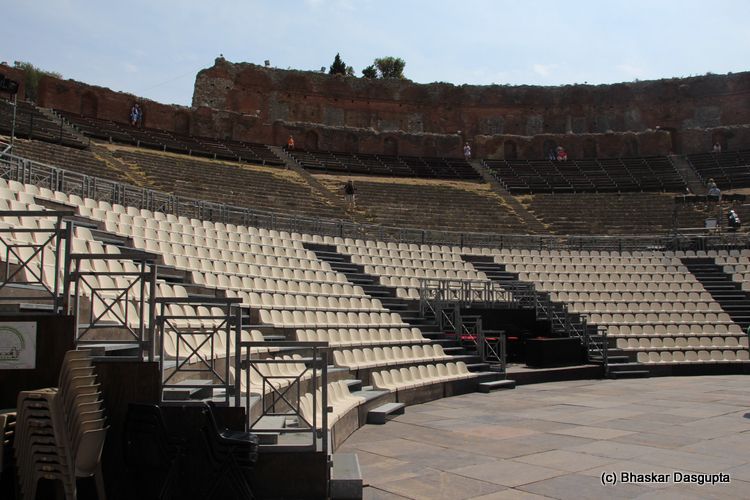 has rows of seats around it now.
I look back at the Volcano.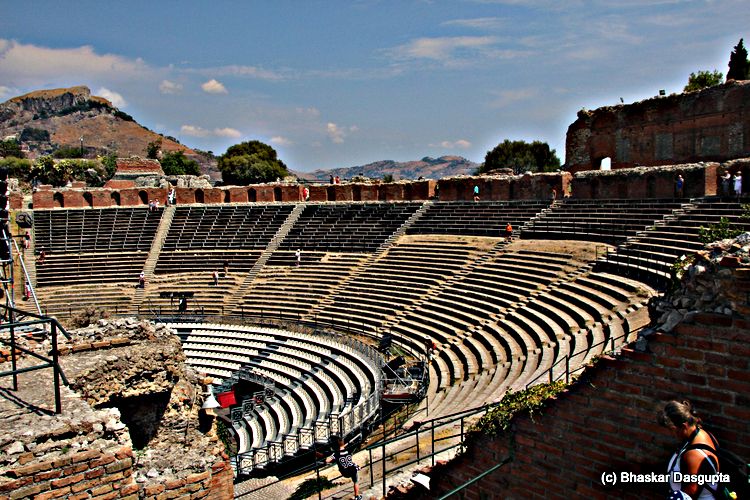 climbed up into the stands…but really? it didnt speak to me :(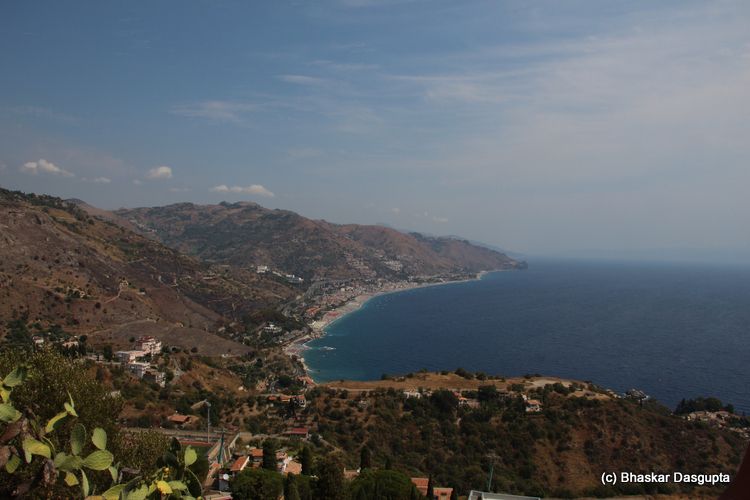 the view over the sea is beautiful but its fragile..almost artificial.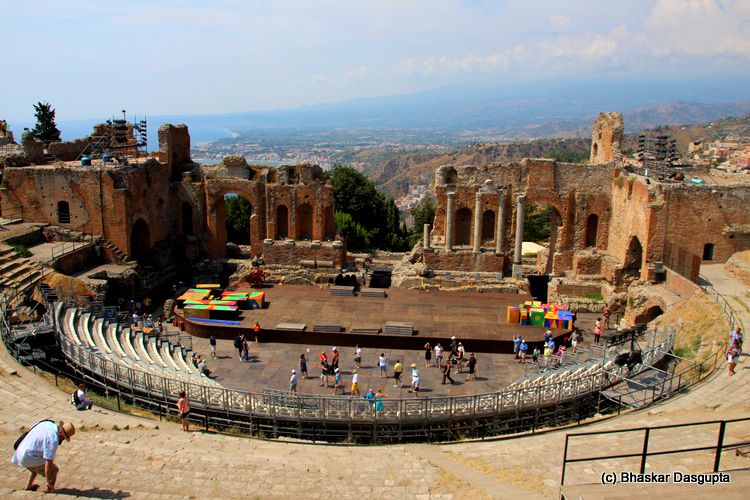 And then you can sit here and see the theatre and also the volcano
see?
it would be amazing in the evening with lights, no?
on the top corridor
another view of the amphitheatre.
beggars…we head back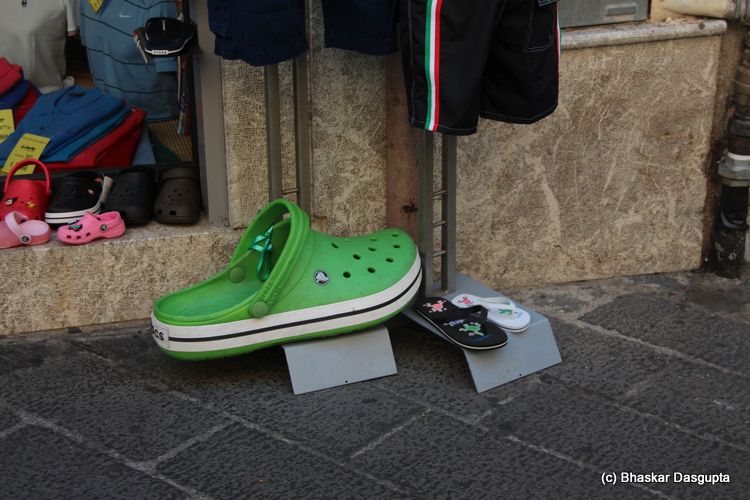 a giant croc!!
it was hot and thirsty work…so I have my typical Sicilian meal, two ice-cream scoops in a brioche roll.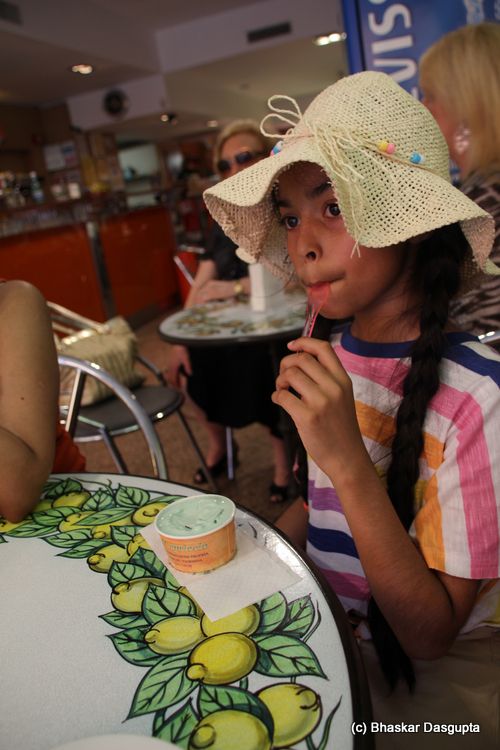 somebody is having fun.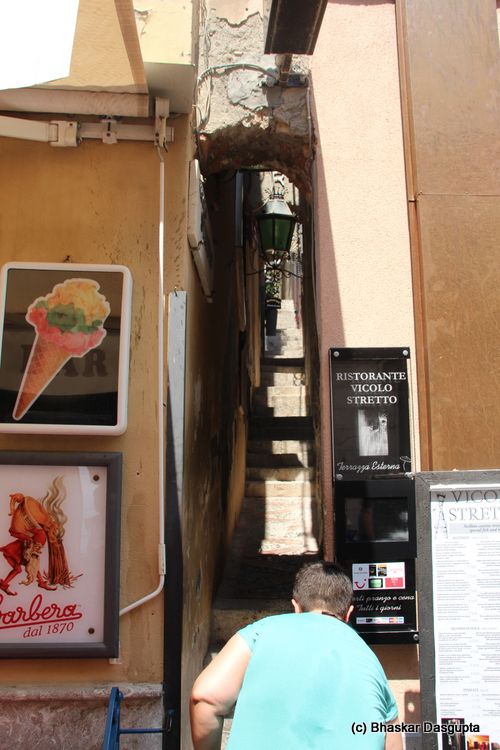 gosh, that's even narrower..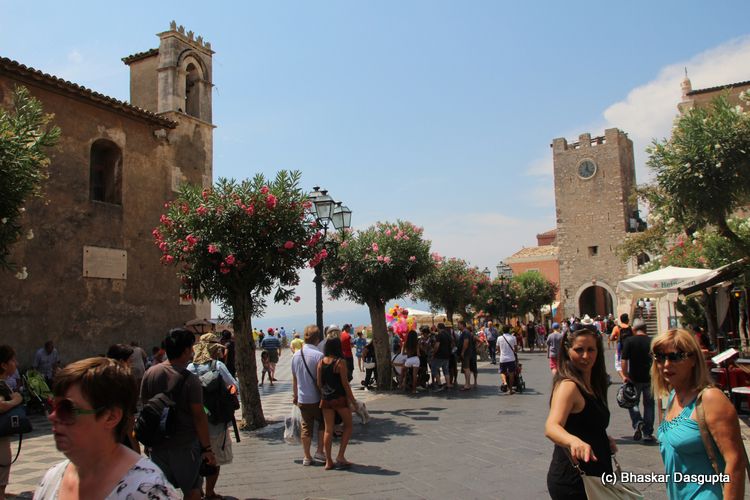 back in the square.
lovely wrought iron lampposts
Romeo and Juliet Stairs..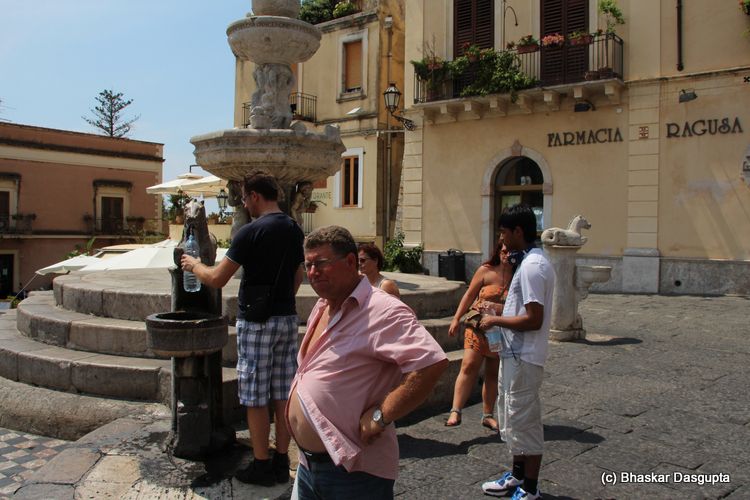 its getting very warm…
Kannu filling up the bottles.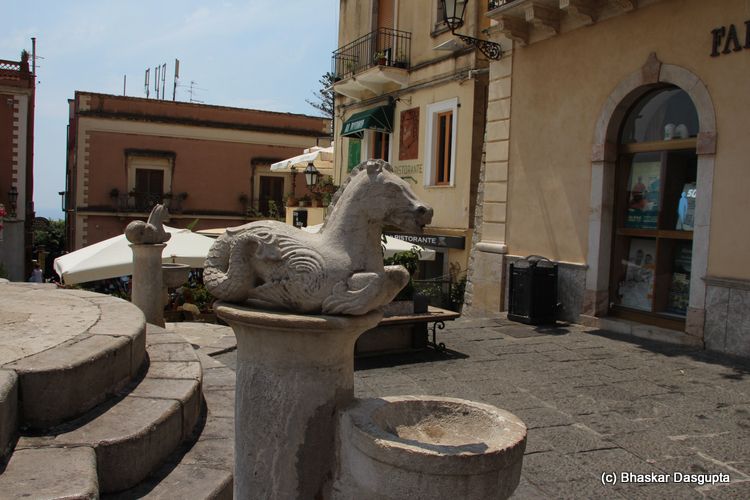 quite an interesting sea horse?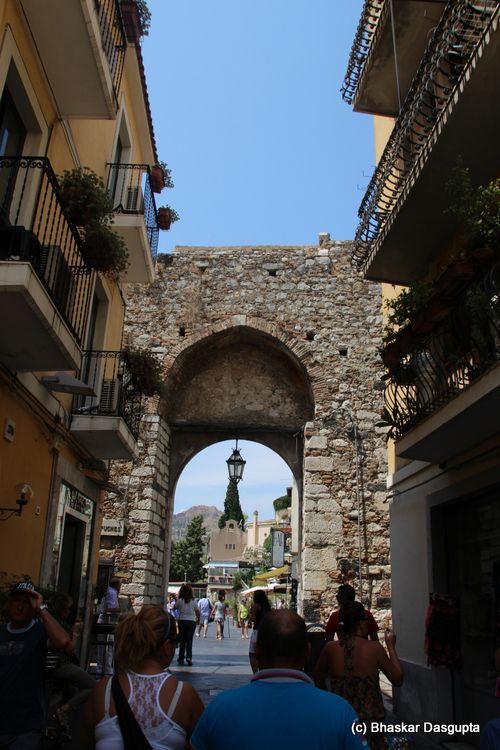 reached the city gates.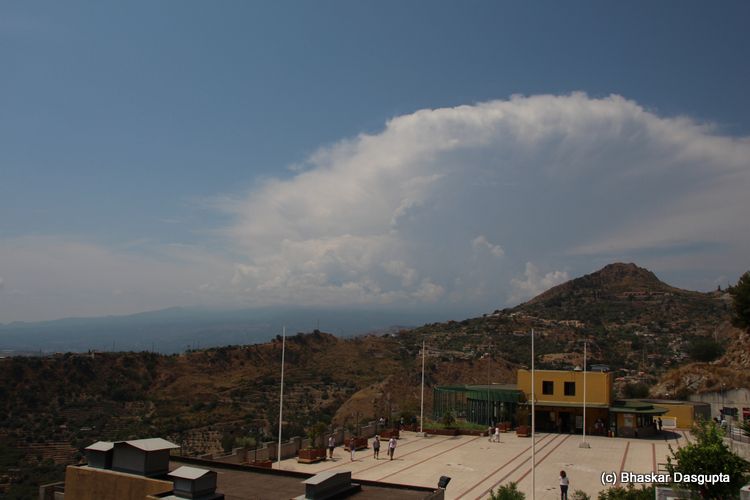 Mount Etna is getting excited.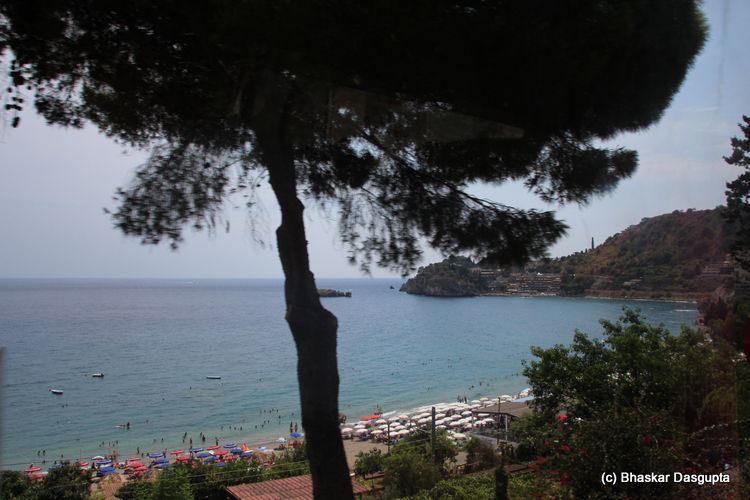 Another last view of the lovely countryside around Taormina before we board the bus and then off to Mount Etna. Its an ok town, if you are one of those silly people who get excited about movie stars, then this is for you, otherwise this is a giant tourist trap. Not impressed. Didnt speak to me. Very artificial. Bah.