So we popped into our penultimate destination of Chiesa di San Giovanni degli Eremiti
Or the Church of St. John of the Hermits. The church was built way back in the 6th century. And then converted into a mosque after the Arabs conquered Sicily and the Emirs ruled Sicily for 2 centuries. And then Roger II took over Sicily and returned the mosque to the Benedictine Monks
You can see the bulbous red Moorish domes
It has been restored quite a lot of times over the past so many centuries
and the best part of this place is that its surrounded by the most verdant garden.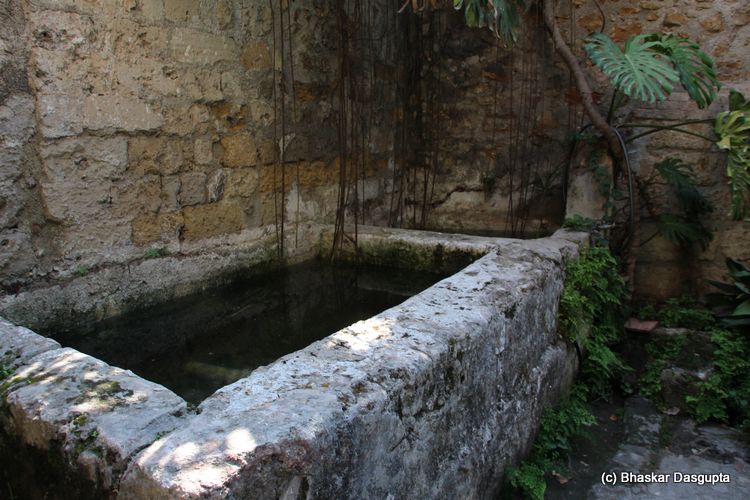 An Arabic cistern is used for irrigation. You can see that the roots of the trees have dropped into the water…very nice.
beautiful arches..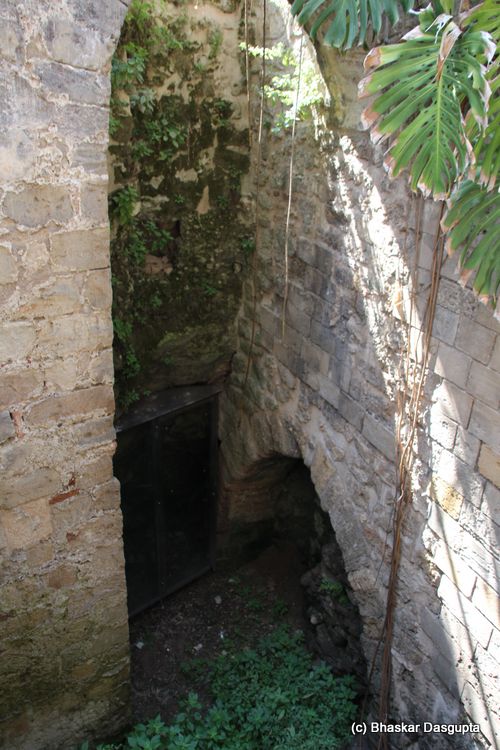 some of the areas are obviously inaccessible but its on a bit of a hillside and has loads of levels.
I walk past the cloisters and go into the church proper
I quote, "The church lies with a flank on a square construction, which was probably a former mosque. The church is on the Latin Cross plan with a nave and two aisles and three apses. Each of the square spans is surmounted by a dome. The presbytery, ending with a niche, has also a dome."
its a very cool and calm place. Obviously nothing has survived from way back and the architecture and restoration is much more recent. No decorations, no nothing, bare walls but it has a huge beauty without it. A stark quiet place. If there had been a pew, i would have liked to sit here for some time
This is the Hall of the Specification, which was used as a dorm, dining hall and covered cemetery. During the excavations, they determined that this was part of an ancient Islamic building..but it wasn't sure as to the original purpose – mosque or a prayer hall? no idea. But you can see the frescos…
come out of the Hall and look up at the bell tower..Distinctively Norman in appearance, in startling contrast to the other Moorish elements. See the Gothic lines and Mullioned windows…
and there are the famous red domes. Without the bell tower, this could easily be taken as a mosque.
Obviously an arch was here…two of them actually, its either been demolished or now bricked up. so many mysteries.
Another view of the domes
and then we went to the cloisters
the gardens are lush and verdant. there are citrus plants, and palms and firs and and and.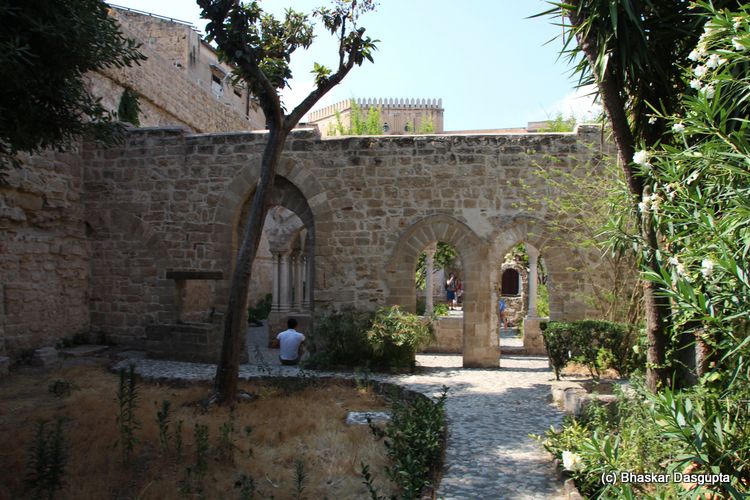 the entrance to the cloisters.
We pass what looks like a cistern. No water…
mmmm, lovely. I remember seeing them in India. you can pluck the individual flower stems and suck on the stem, and you can actually get a sweet tasting flavour :) poor man's dessert
And here's the cloister.
a tiny well in the courtyard.
You can still see the lovely detailing on the arches and lintels.
long peaceful corridors. And this is where I took a few minutes to sit and relax. It was extraordinarily peaceful. And I really met Him. you feel so much in tune with the garden, the hustle and bustle of the city is far away. Truly magical place and these few minutes of peace was worth all everything. you can touch the stones and feel the holiness and peace permeating from the surroundings.
view of the domes and the bell tower
Wandered around the garden, looking at the citrus trees, the pomegranate trees, ferns and firs, jasmine plants, oleander trees, palms and flowering plants. It was truly paradise. Its no surprise that the Persians gave rise to this concept that Paradise has to be a garden, and the Mughals/Persians took it literally and created masterpieces of gardens in so many countries. Don't look at the Arabs, they have camels as their idea of beauty (j/k) but to spend time in this garden was beautiful.
Once the kids go off, I think i will convert my little patch of suburban garden into a lush area…not a lawn…that would be an interesting project. with loads of interesting statues and plants and trees and nooks and crannies and fountains, and and and.
I leave the church very regretfully. I think I will come back here again before I die, i have that feeling.
more graffiti. Some for God, and Some for Police/….
the fam was getting tired, so i managed to encourage them for one last place to check out.
passed a wonderfully named street
say what?
till we reach the catacombe dei Cappuccini.
we were not allowed to photograph, but I still managed to take some..Here are some more details of this extraordinary place.
the most famous inhabitant of this place is Rosalia Lombardo. a 2 year old girl who was embalmed using a secret recipe (which has now been determined). 100 years later and she looks like she has just fallen asleep. What an emotional view.
There are sections for virgins, for monks, for doctors, for professionals like Lawyers. They are wearing clothes and you could, on the payment of regular funds, ensure they are changed regularly and displayed. No money, they get popped into a niche. totally extraordinary sight. 8000 mummies in here. Unfortunately, they are decaying away as the tourists get more and more into it, their breath and other disturbances cause deterioration in the bodies.
we then made our way back and this time managed to find a seat on the train.
a very tired little girl…