Good heavens, those shoes are an engineering marvel and it requires amazing acrobatics and muscle control to operate them. I was gobsmacked at them. Brilliant stuff. If you wanted to see more photographs in higher resolution and skip my silly comments, here's the slideshow.
Keds, flat leather shoes and shoes with what appears to be an anklet wrapped around it. Bloody good, looks very nice. Mind you, you have to be careful with that stuff as it can get caught in protrusions and stuff, but looks very good.


Back away slowly from the lady, but as you can see, the size of the shoe is bigger than the feet. At least 2 sizes too big. Not good.


Hmmm, not very impressed by these open toed but slabby heeled shoes. They really do not look good.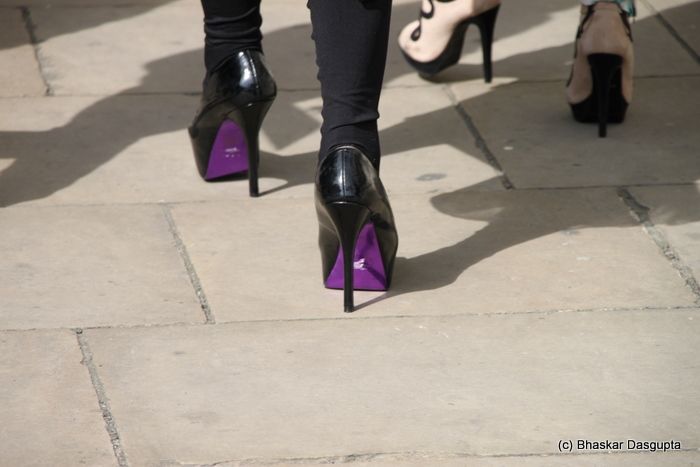 This is my biggest bug bear. You spend hundreds of pounds of shoes, high heels, have back ache and leg ache, your toes are squished for looking good and then you ruin it all by not taking off the label cleanly? Bah!. But this new fashion of showing the underside of the heels in eye catching colours is very nice. Very discreet colour attraction.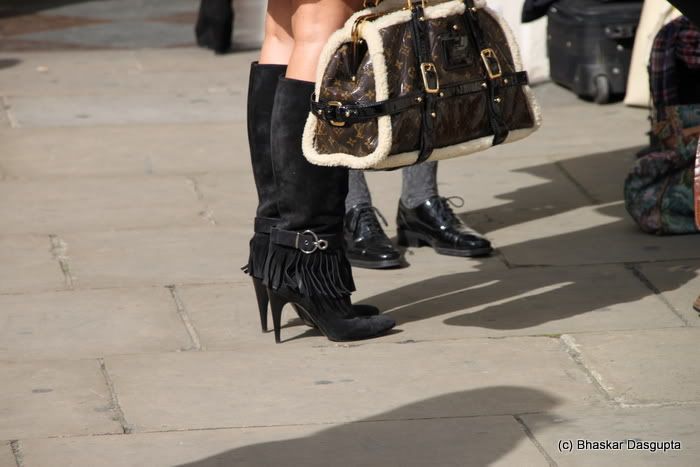 Nice boots, although the bag is a bit naff. The highly polished plain leather shoes were good as well.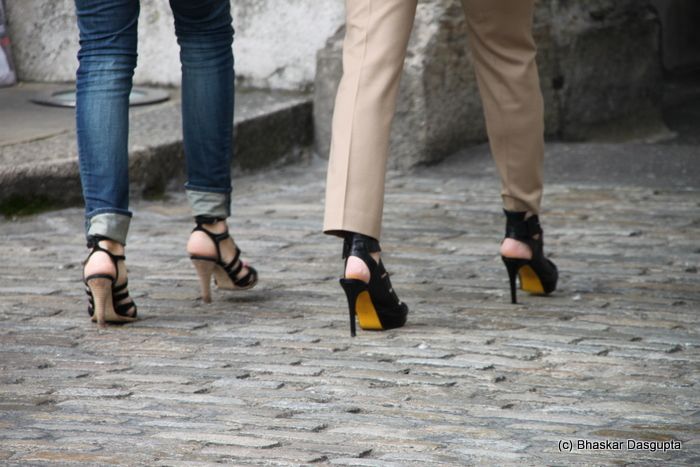 Lovely yellow colour on the heel and both shoes look very nice.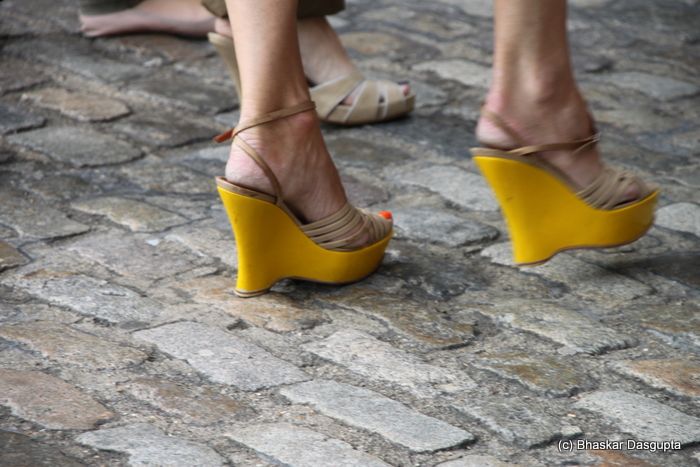 But you have to take care of them heels, specially if they are bright yellow. You cant go about with damaged, scuffed and scarred heels, love. And please, do something about your own heel, get a pedicure done. Those white scaly heels look disgusting.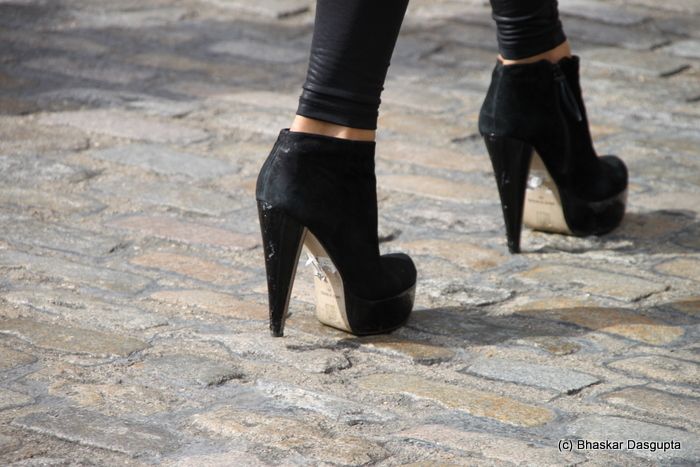 See? See? the labels havent been removed. Gwad, lady, do something about them. Looks so unprofessional.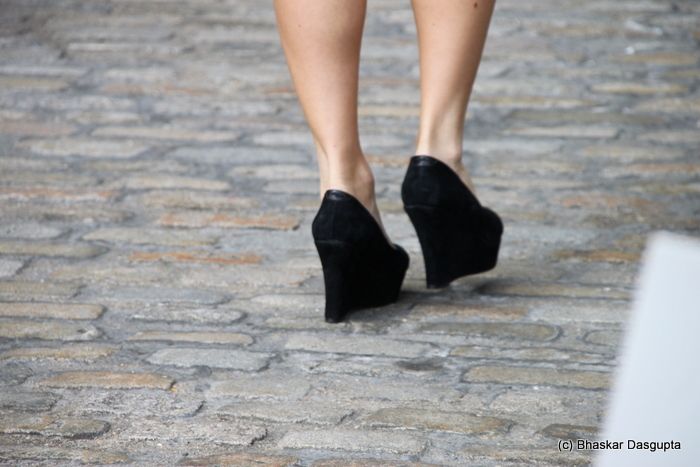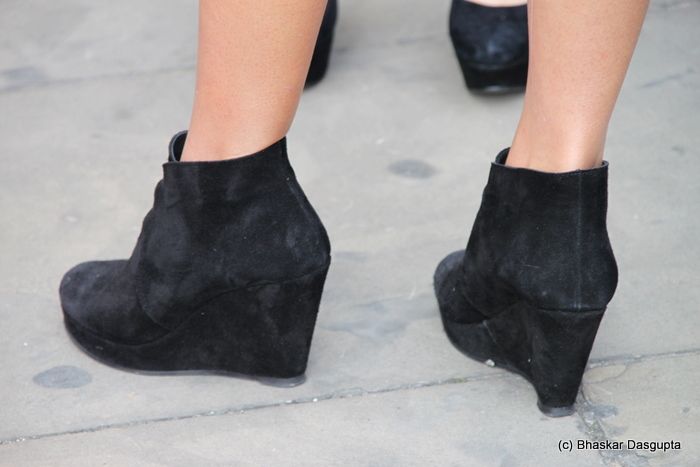 Niceish if a bit blocky. Not impressed by these types of shoes. Look too much like a slab. They arent delicate. They dont show off the ankle and scuff marks show up quite soon.


Hmmm, nice, but I think a tad overboard on the fluff on the top of the shoes. No?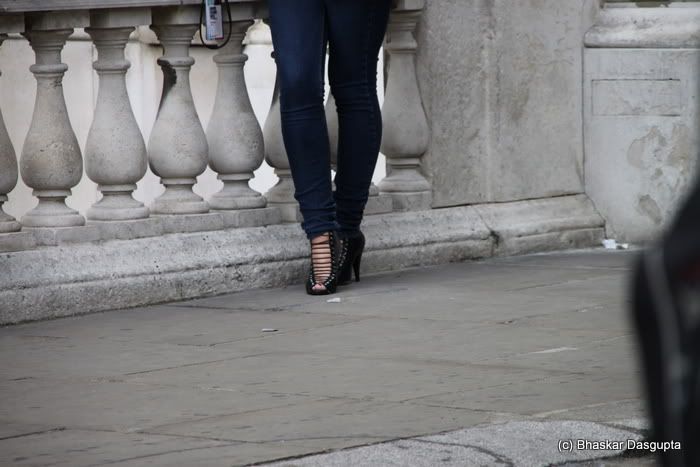 Nice. The patterned stockings are a nice touch.


A camerawoman's shoes, sensible, high heels but with a wide base, looks comfortable. Good choice.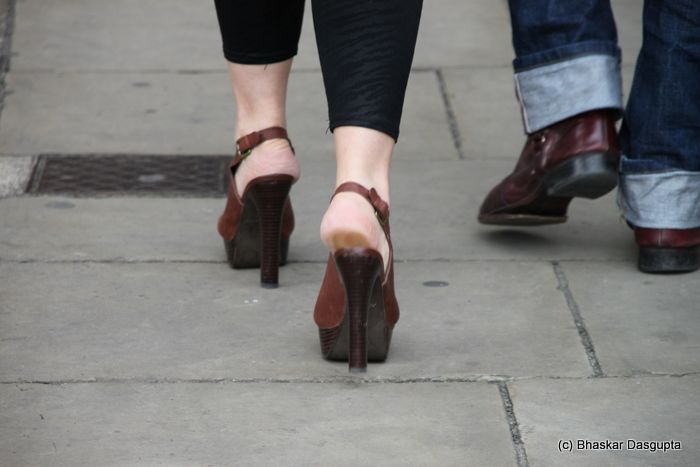 These were nice as well, simple, strappy sandals but her walk should get improved, notice how her heel doesnt come down squarely on the shoe on the inside? there is a 0.5 – 1 cm gap.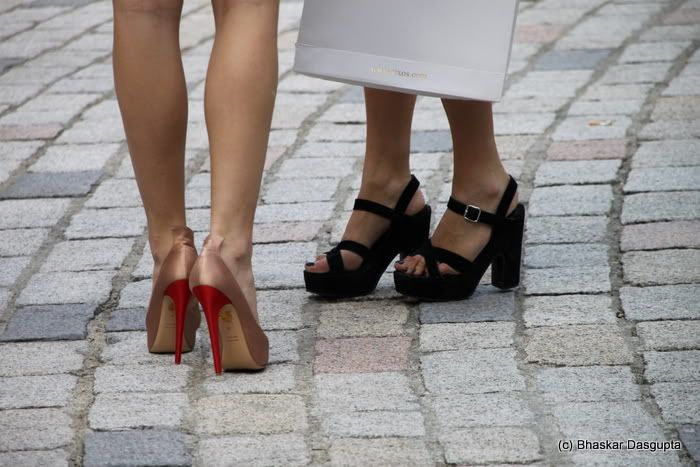 The shoes on the left are brilliant, very nice. On the right, the shoes are just ok. Those pillar / pedestal heels, hmmm, no, they are way too masculine with the broad straps and severe looking buckle. Plus looking at the toes, the lady is not comfortable at all, she is trying to brace herself with the toes on both feet, she is heading for trouble.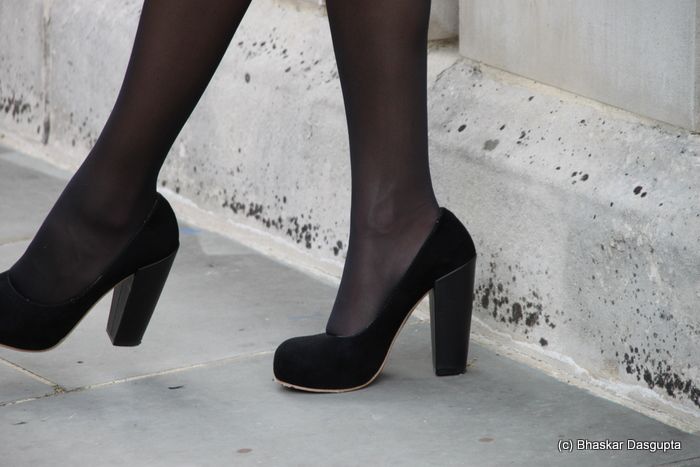 Now despite these pedestal heels, there is some tapering to them and the severe simplicity means that these shoes are on the plus good side. Plus they show off the ankle, or would have if she wasnt wearing those stockings. But irrespective, she looks good.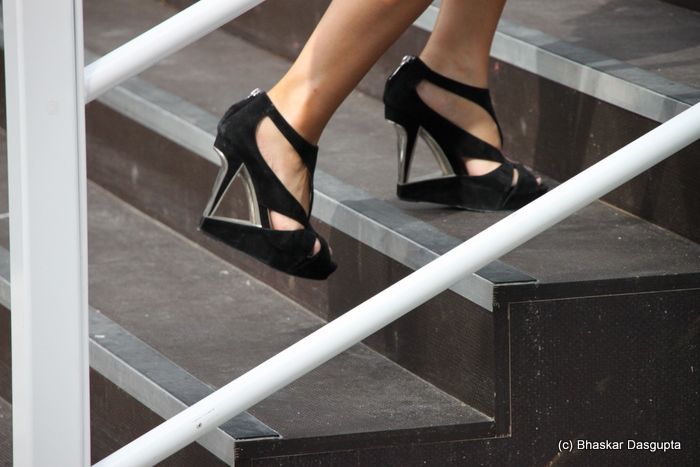 See what I mean by engineering? Very nice. Looks like what McLaren (the Formula 1 racing firm) would do if it was asked to design a shoe.


Hmmm, NO!, total disaster from the feet down to the sole.


Then these four lovely ladies wearing white tee shirts (which said, I'm wearing Anna's shoes) pranced around. Lovely, all the shoes look very beautiful. Very classy, very sleek, feet look lovely and well maintained. Just perfection. Although the red band was a wee bit too wide for my taste, but its a minor point. This seems to be the start of a new trend, having a floating panel on the top.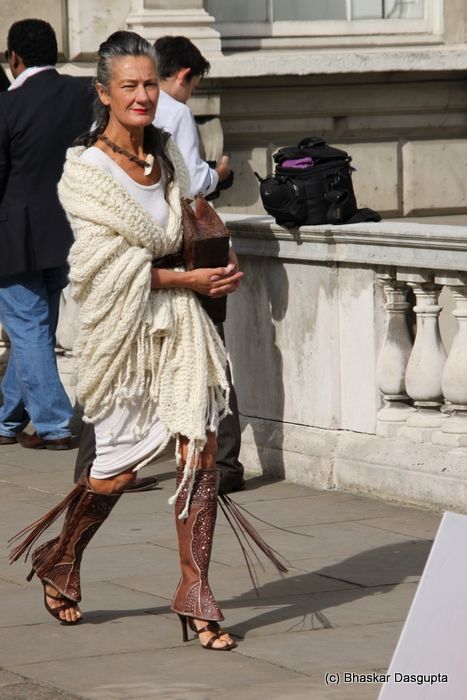 Here's another extraordinary well, what do you say? boot? or shoe? or sandal or what? She carries it off but there were some doubletakes..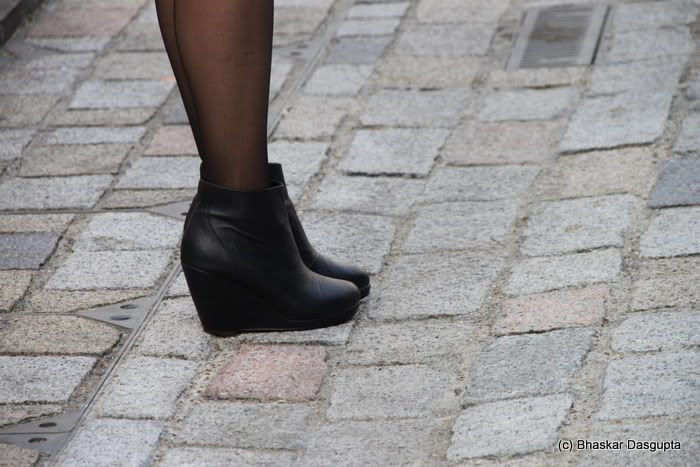 See what I mean by blocky shoes? They dont say anything, they are just a huge wedge. Not impressed at all.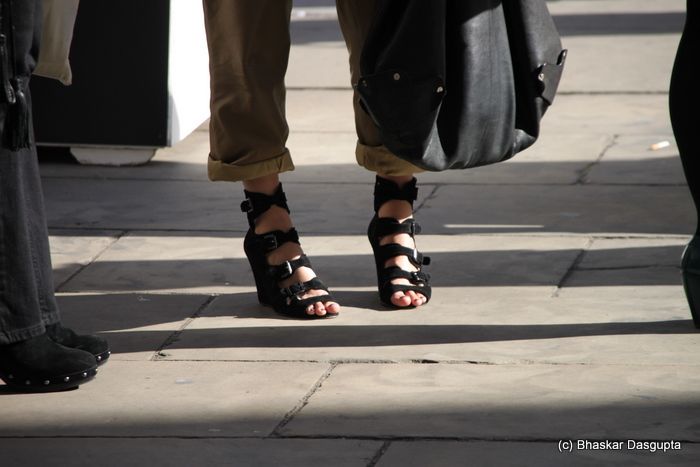 Hmmm, ok, nothing much to say.


Lovely sleek classic sandal with one strap. Maybe something could have been done to make sure that the strap doesnt flap around, but minor point. Good material and good colour. Very nicely highlighting the ankle and the lady is smart enough to have rolled up her trouser leg. Nice.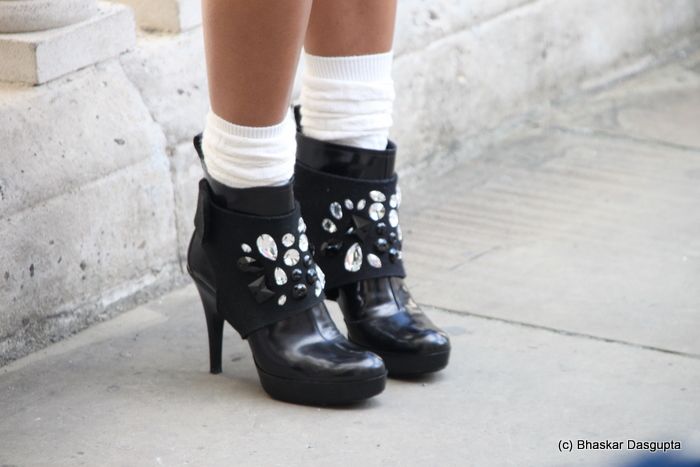 Hmmm. Too much. Trying to do too much, I would say, too many jewels. And what's with the damn socks?


Very nice, lovely arrangement around the big toe, nice band, lovely legs, beautiful.


Here we are with the pedestal shoes. THis is a bit better, but no, I dont think it helps in the walk at all.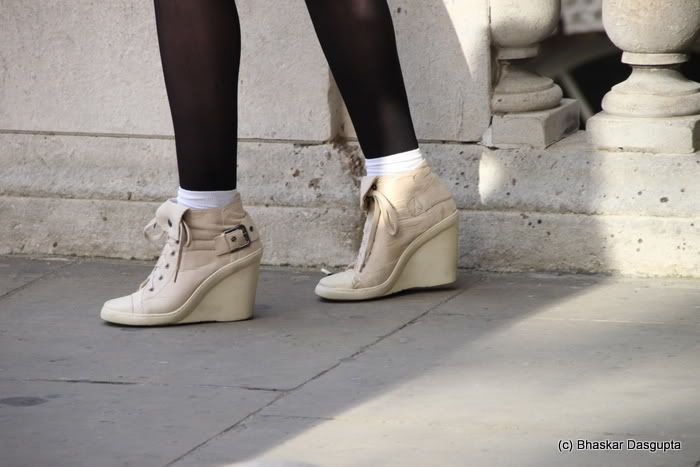 I did a double take on this one. Good heavens, the lady needs to be an acrobat on this.


Bit too much gold but ok, nice interesting layered concept with the zipper.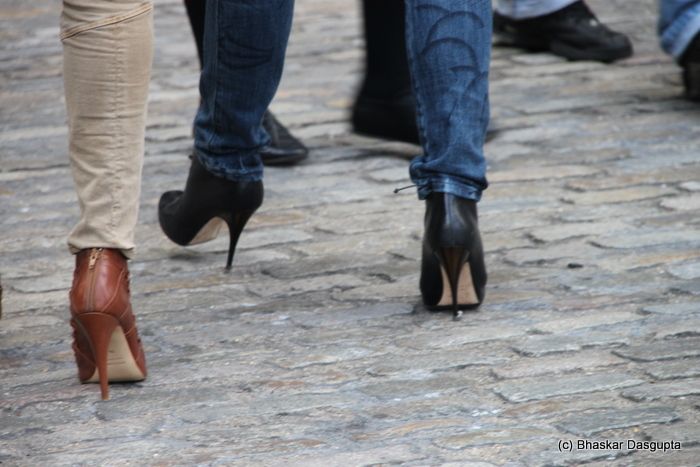 Perfect. Both shoes are perfect. Nicely arched, good heels, not too much ornamentation. Very nice.


Avoid. Looks like a total disaster. Bleah. Like the colour has run or something. What were you thinking about?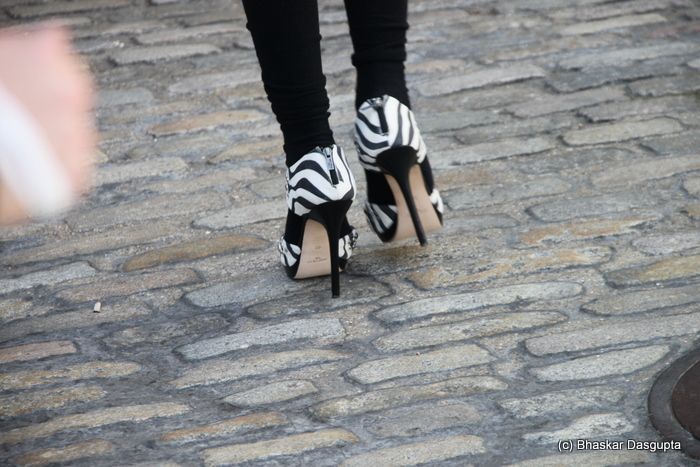 Zebra stripes. Fairly ok.
So there you have it, the shoes that I saw at London Fashion Week. There are more shoes on the model photo essay.