Zimbabwe is a beautiful country which has been progressively ruined by the Brits and then that spectacular example of the African BigManus Corruptus, Robert Mugabe.
It is perhaps ironic and an act of God that its embassy in London is housed in the Zimbabwe House, a building which has statues which stand for scientific study and research. I quote,
Epstein's description of the sculptures: "The series represent symbolical figures of scientific study and research, and a presentment of Life, its origin and growth. Apart from my desire to decorate a beautiful building, I have wished to create noble and heroic forms to express in sculpture the great primal facts of man and woman. The first figure starting on the Strand side presents Primal Energy, a symbolic male figure who, with outstretched arm in a forceful gesture as if pressing its way through mists and vapours, blows the breath of life into the atom. Next ' Matter,' a figure of rude and primitive aspect, who folds in his arms a mass of rock in which is vaguely infolded the form of a child; thus form and life emerge from the inchoate and lifeless, Hygeia, symbolic figure of the Goddess of Medicine and Health, holds the - cup and serpent. Chemical Research, a male figure intently examining a retort. Academic Research, a male figure examining a scroll; these two figures form the corner decoration of the building; on Agar Street come 'Mentality,' the Brain, a figure holding a winged skull, symbol of Thought. Next is the Newborn, an old woman presents the newly-born child in a cloth. Youth, an aspiring figure with head and arms upraised. Man, a figure of man in his energy and virility. To-day the use of great words like ' virility' has become so smirched by coarse shame that it becomes a hazardous thing for an artist to use them in a description of his work. This figure looks towards a figure of Maternity, a brooding mother holding a child in her arms. The figures that follow represent Youth, joy in life, youths and maidens reaching stretching arms towards each other; they represent young life, puberty ('puberty' is another word that is banned). Throughout I have wished to give a presentation of figures joyous, energetic, and mystical. That the figures should have an ideal aspect, be possessed of an inner life, is a requirement of sculpture, and also they should adhere to the forms of Nature, the divine aspect of bodies; it is very difficult for me to say in words much that I have wished to put into these figures; the bald description does not sound adequate; they will suggest meanings I cannot express in words.
Here are the statues on the front of the building. These are still fairly good.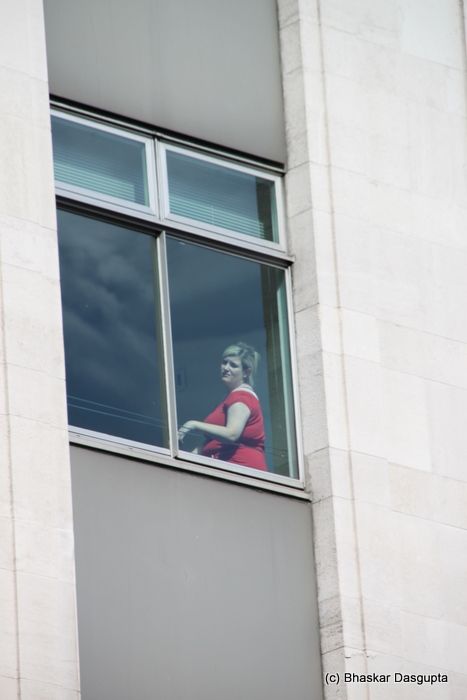 Now this lady looking forlornly out of the window was even better. She looks gorgeous.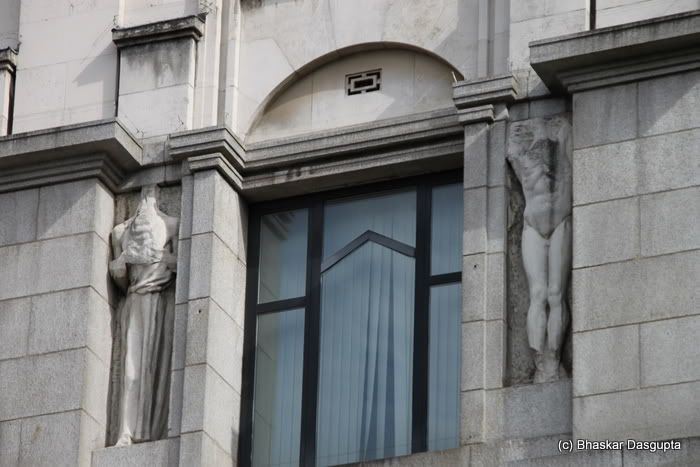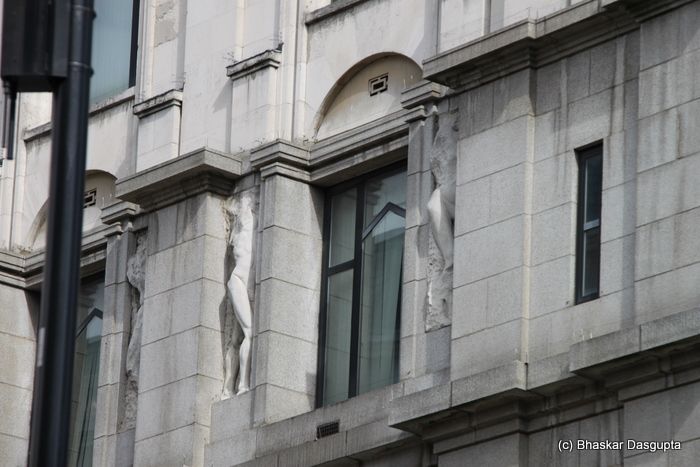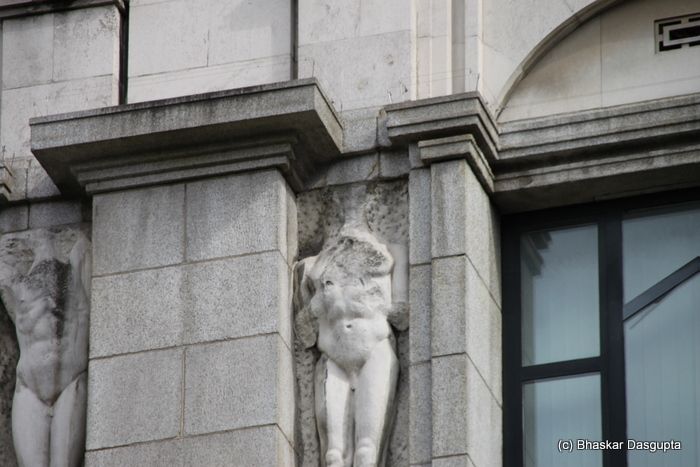 The statues on the side of the building are horrid. Just look at them, they have all been hacked off because some bits fell off in the 1930's and then some idiot decided to hack off the rest. Vandals.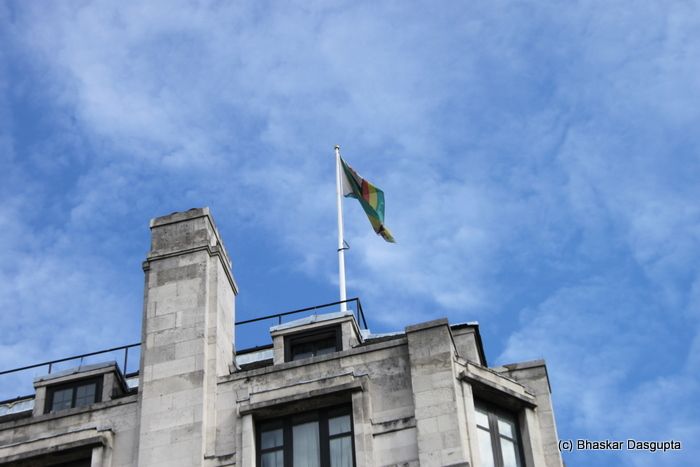 They couldnt even wash the damn flag, you philistines, and while you are at it, wash the building as well.




The crest of Zimbabwe. Showing Great Zimbabwe, the impala and the motto, where there is no unity, no freedom and certainly not any work. Bah. Here's the wiki entry for the building and here is the slideshow.