This lovely little building houses what is the equivalent of the Supreme Court in HK although one has to be careful of thinking that the Supreme Court is totally independent in HK, its not really.
Slippery slope, that topic but to my considerable surprise, slopes in HK are also registered. Holy Cow!


But this building has a fascinating history. I quote from Wikipedia.
The original structure on this site dated back to 1842.[5] The first Governor of Hong Kong, Sir Henry Pottinger resided there from 1843 to 1846. His successor, John Francis Davis also lived there for a while, before moving to Caine Road. The building likely served as one of the earlier homes of theLegislative Council of Hong Kong during this period (1843–1846). The building then had several owners, including Emanuel R. Belilios, [6] and was occupied among others by the tai-pans of Augustine Heard and Company, a trading firm that went bankrupt in 1876.[3] It was also used by HSBC and was once home to the Russian Consulate.

In 1915, it was acquired by the Paris Foreign Missions Society, which commissioned a major renovation. The architects were Leigh & Orange.[7] In the process, a chapel topped by a cupola was added in the north-west corner, and the building was refaced with red bricks. It reopened in 1917 and became known as the "French Mission Building".[2][3] In 1953, it was sold back to the Hong Kong Government.[2]

It was then used successively by the Education Department, the Victoria District Court (1965–1980), theSupreme Court (1980–1983), and the Government Information Services (starting from 1987). It has been used as the Court of Final Appeal since the inception of the Court at the time of the transfer of sovereignty over Hong Kong, on July 1, 1997.[1][8] Sometime after 2011, the court will then move to the currentLegislative Council Building, formerly the Supreme Court Building.
As you can appreciate, the building has got history by the oodle.
A red brick building, it has these lovely green wooden shutters and lovely functional balconies.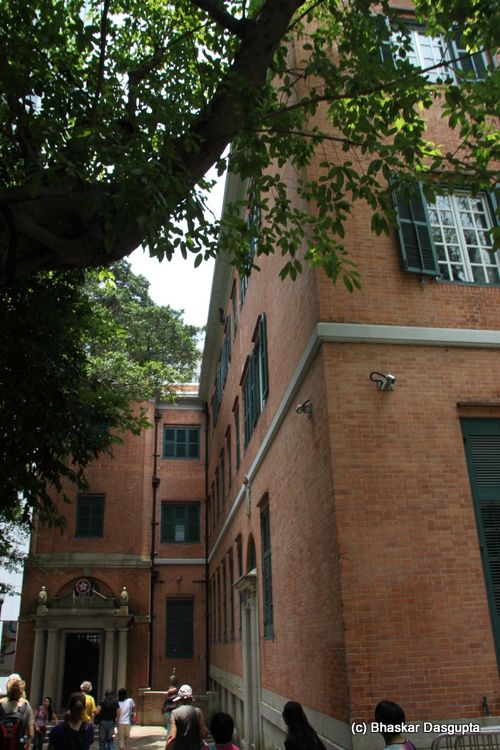 And one see's the entrance to the court.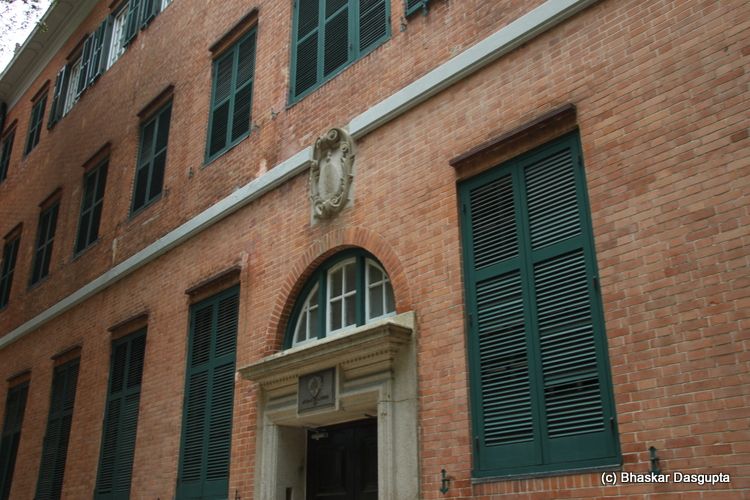 On the right hand side, there is another entrance.


A lovely lovely set of windows.


The shield of the French Mission dating back to 1917 can be seen on top of the door.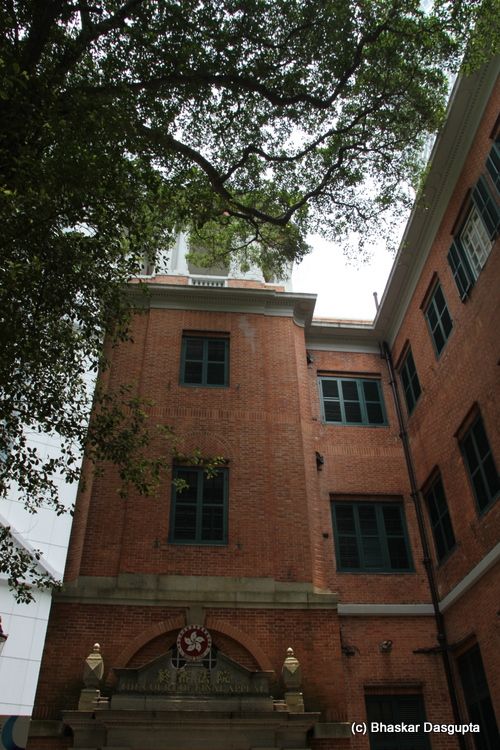 It really is a handsome building.
This is a painting of the building, how it looked in the 19th century when it was built.
As one can see, it was white clad with ochre windows back then. Now its brick clad with green windows. Lovely, very beautiful indeed. Mind you, I touched the bricks, but for a building which has so much history and so many different owners, it didn't feel that this building stored much of the emotion. Perhaps it was the refurbishment? Or just my fevered imagination?