This is the second set of photographs of my trip to Bhojpur during my May visit to India. So we parked the car and got out.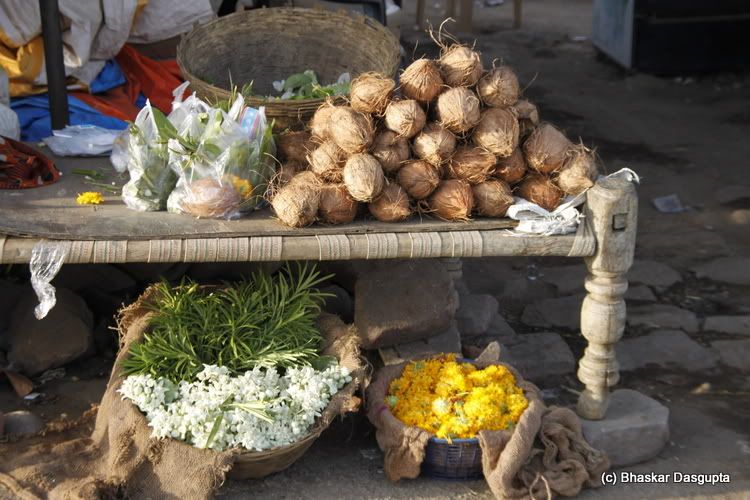 Even at this early hour, the shopkeepers are up and about with the stuff for puja. Coconuts, garlands of various hues and something interesting, which is in the plastic bag. The bag contains a neat little combination of a coconut, some leaves and a garland. Its like one of the pre-packaged 3 course meals you get. Which is what it is for the Gods, no? Interesting.


On the hill. On the right is the car parking space. On the left are the stalls. At the bottom of the road is the entrance booth where you have to pay for entry into the premises.


More knick nacks and gee gaws for sale.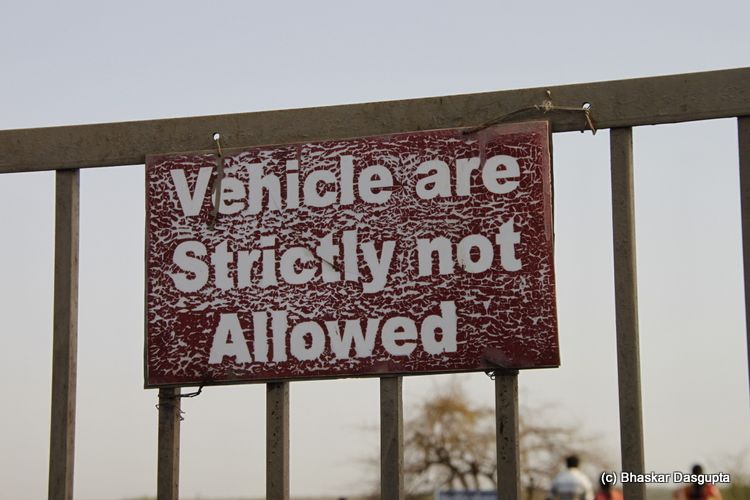 Well, you have been told. In less than sterling grammar as well. But that's not the point, the point is that you cannot drive into the precinct of the temple. For obvious reasons. You don't want the temple to be ruined with vibrations and exhaust pollutants. Not that many will care.


Looks like a Jain Temple to me. Hmmm, I dont recall seeing this before. Mind you, I dont recall seeing that horizon filled with houses and factories either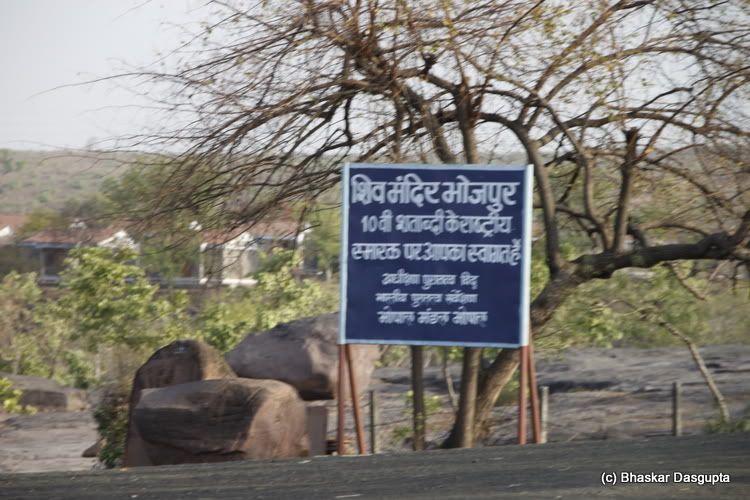 The entrance has tons of signs. No polythene zone on the left. Quite good and impressive. On the right is a notice about the 10th century Shiv Mandir and that it welcomes you.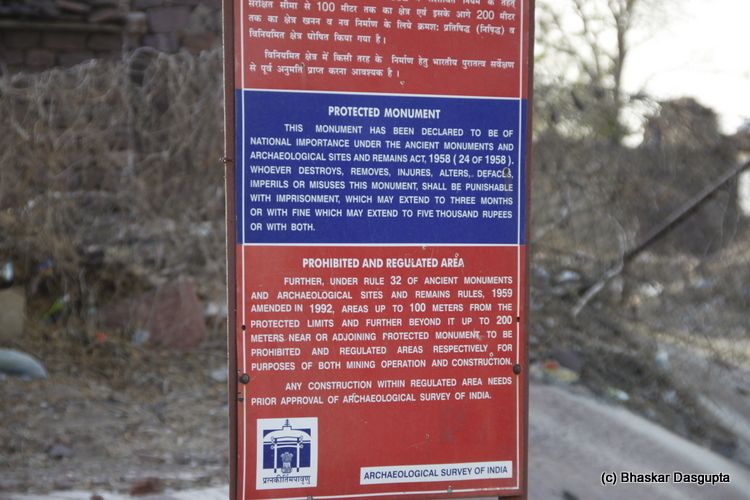 On the left we have the standard protected monument board from the Archaeological Survey of India which warns of prison and fines for misuse or damage and and and. And n the right, there is a list of rules and guidelines for pilgrims.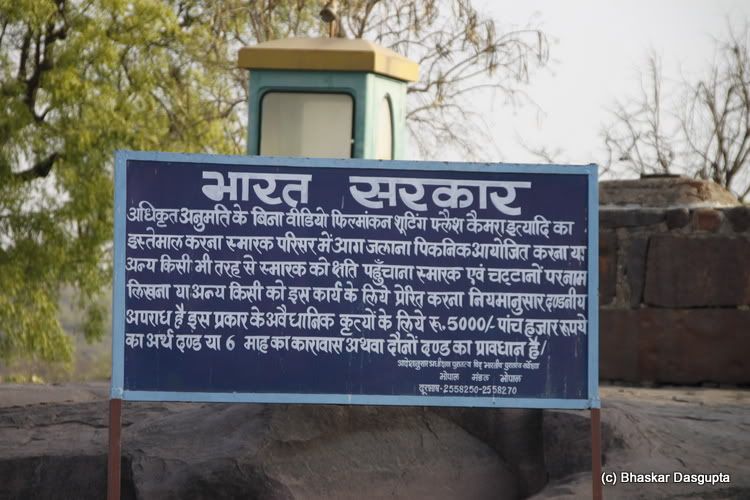 A whole host of dont's. Video photography, flash photography, lighting fires, picnics, graffiti are all prohibited under the pain of fines or imprisonment of up to 6 months. Gosh. I had to take a photograph of the sign. Non Flash of course.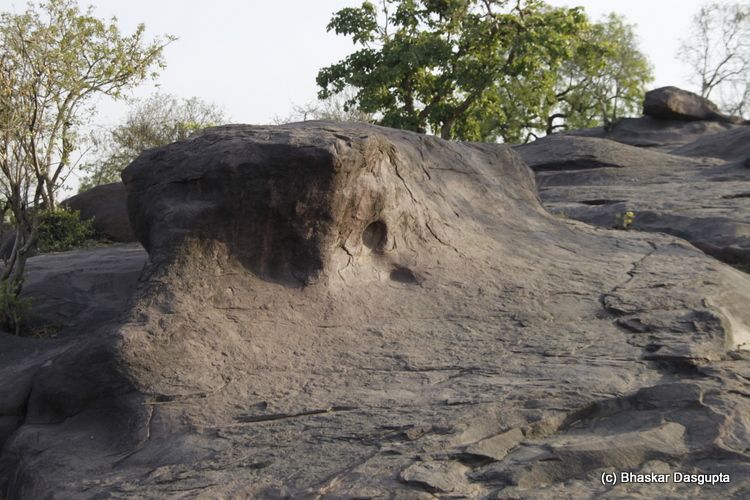 Funny shaped rock. Looks almost like a bullet train. Or a face?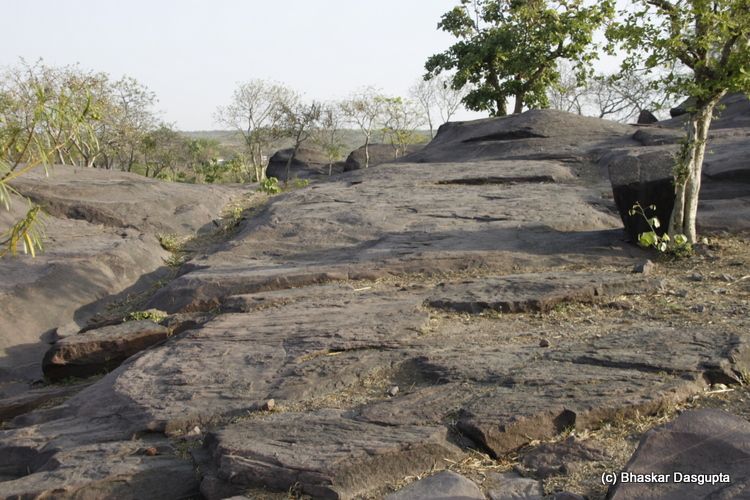 This is flat stony ground but even within it, you have trees popping out.


There's the temple. It has been restored quite a lot. Previously it was crumbling and broken down. It was finished in the first place, but now they have repaired what was left. And plonked a fibreglass top on the top of the temple where the roof had fallen down. I just wonder what it would have looked like in its heyday if it had been finished.


As I mentioned, the temple had not been completed so you can see remnants of the construction all around. Here are two broken pillars, presumably which were going to be used to prop up something at the temple but were left there 1000 years back.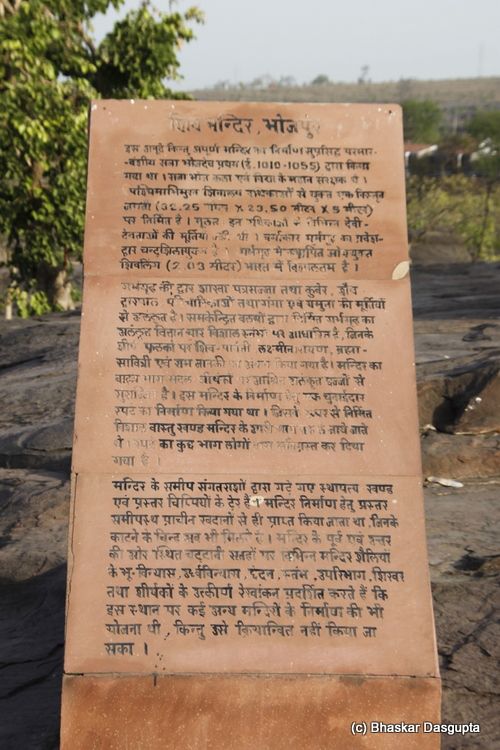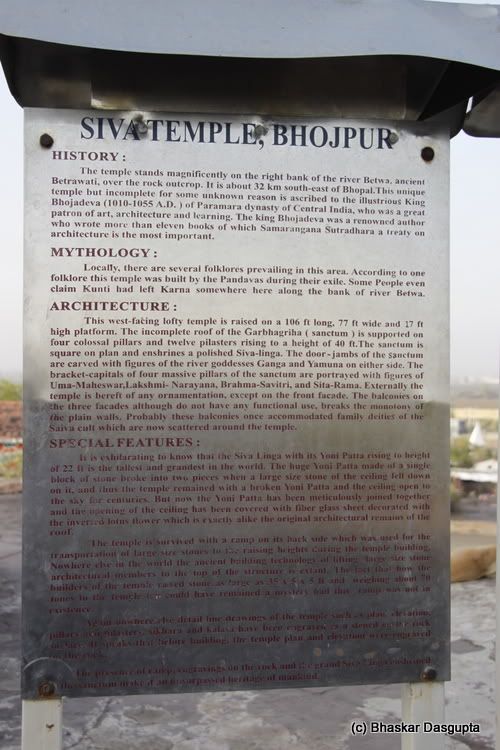 A stone and metal sign which gives a bit of the background to the temple. I didnt know that the ruler who got this constructed wrote more than 11 books out of which Samarangana Sutradhara, a treatise on architecture, is one of the most important. When i poked around a bit more on this, found out that this book is one of the most important books which underpin the Indian science of Vastu which deals with architecture and house planning. Its NOT feng shui, btw. Interesting indeed. Spoke to Ma and she will ship over a copy of this book. Lets see what it says. Apparently this book also has got references to flying vehicles which gets ufologists all excited.




And then we have couple of snoozing dogs.



Hold on, there is another one right there on top of the rocks as well.


A staircase made up of fallen pillars or carved lintels cemented together. God, what a cack handed way of creating this.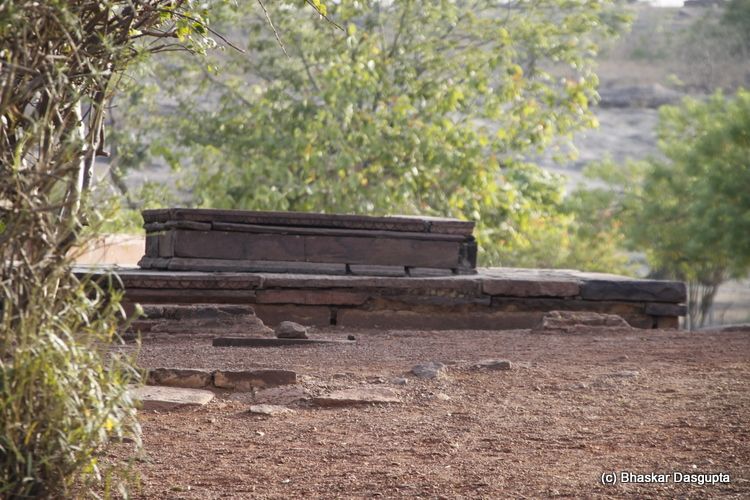 A chabuttara. A base for sitting or a foundation for a temple? nobody knows.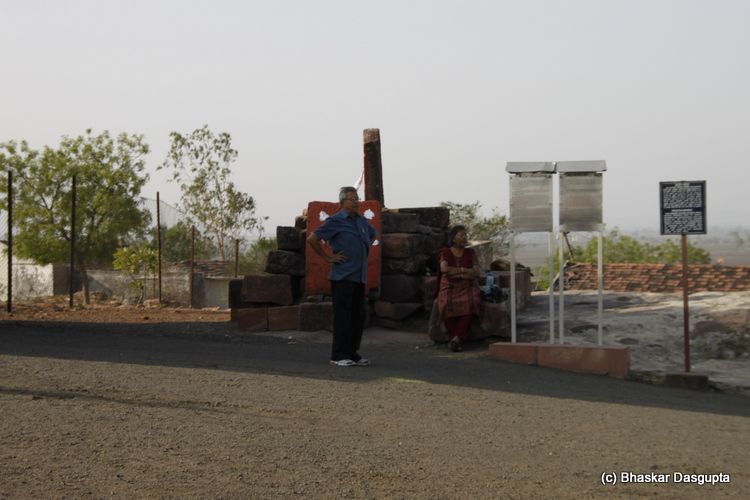 We had reached the top of the hill by now. Ma Baba decided to sit this one out. With Ma's artificial knee, dont think it would have been a good idea for her to be gadding around the place. Baba wanted to be with Ma. And bicker as usual. They are just so cute.


A hanuman temple. This is an extraordinary phenomena. People paste this orange/vermillion paste on top of any odd sod stone and it suddenly becomes a statue of Hanuman.


You can see a tiny statue of Ram on the right with an earthen statue of Hanuman on the left. With a tinsel fringed white flag on a twig.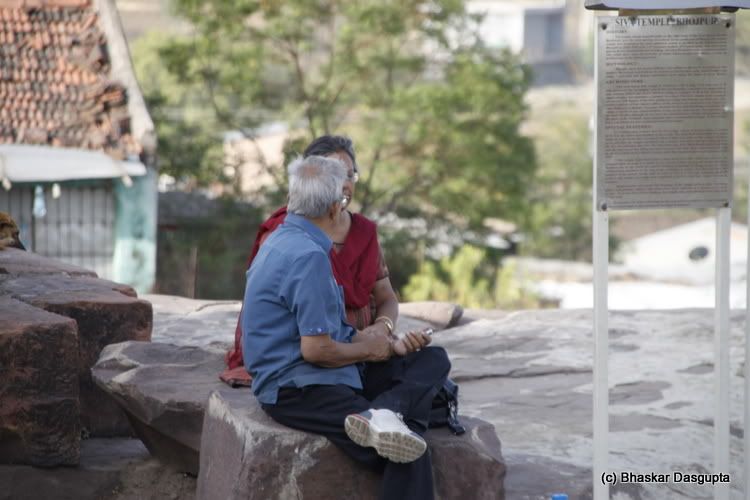 A yoni patta. This representation is quite a complex one. Some think this is a representation of the female genitals. Or a source of life (which is also true) or a form of life. This representation is for Shakti, the female goddess.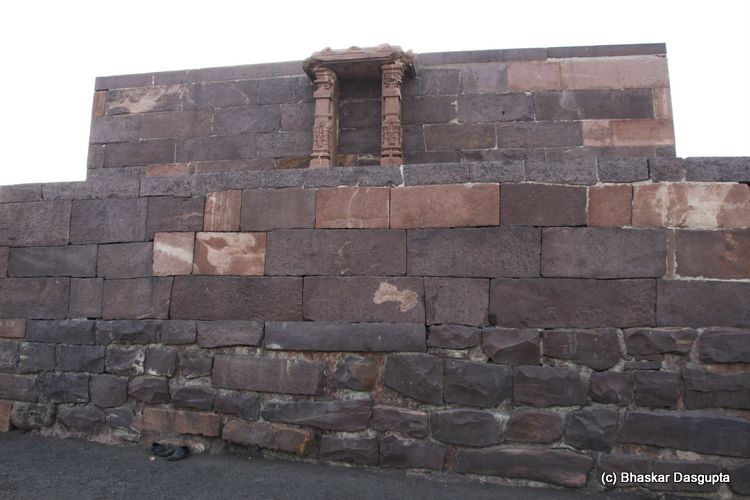 This looks like it has been restored but the doorway is a false one. Highly carved no less but just resting against the wall.


Please take off your shoes. And an ugly disgusting cemented block. Ridiculous, why couldnt they follow the standard sandstone structure?


A pile of shoes and slippers left by the worshippers who have gone on above.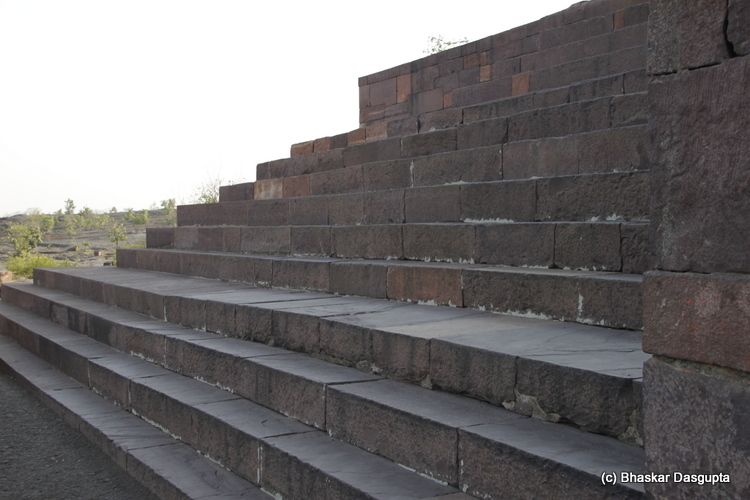 And here are the steps to the temple proper. Next we check the forecourt.