When I first saw the plaque on the cathedral, I actually first thought that it was about the Russian Royal Family in exile. Then once I got home and looked it up, the holy family is the Christian Holy Family who spent a long time trundling around in Sinai as Moses wouldn't stop and ask for directions.
And this strange stuff appears


oooo, its a garden…but closed for renovations…
Anyway, I turned the corner and there this building was.


With this lovely lady caught in the frame, lovely hair..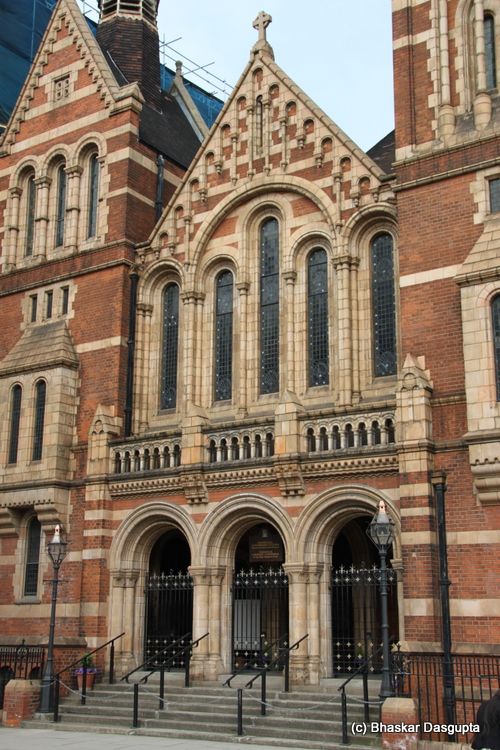 Most wonderful terracotta and brick architecture.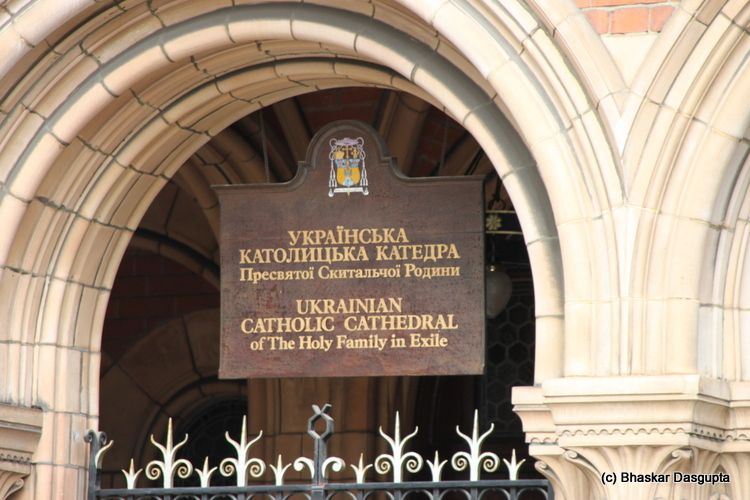 Here's the sign. It wasn't originally made for them. Here's a bit of a history of this building from here.
The structure which today is the Cathedral of the Holy Family in Exile was built as the King's Weigh House Chapel, in 1891. The origins of this chapel are to be found in the Free Chapel (free from the bishop's jurisdiction), founded by Queen Matilda in 1148 in the vicinity of the Tower of London. With the passing of the Act of Uniformity, in 1662, the greater portion of the Free Chapel's congregation left the Established Church and became an independent congregation. Soon afterwards they began to meet in an ancient building in Cornhill, where foreigners' goods on entering London were compulsorily weighed on the King's Beam "for the greater security of the citizens". Thus, their chapel acquired the name, the King's Weigh House. They retained this name even after building their own chapel on the site of the present Monument Station. After more than two centuries occupying various sites in the City, the chapel moved to the west end and amalgamated with a similar congregation in Robert Street (later renamed Weigh House Street), off Oxford Street. The construction of the present church began on this site in 1889.

The King's Weigh House Chapel was designed by Alfred Waterhouse, the architect of the Natural History Museum. A masterpieces of compact planning with an oval nave and gallery, the cathedral seats 900. The round-arched Italianate classical design, using hard brick and buff terracotta, is typical of Waterhouse and is evident also in his better-known Natural History Museum. The domed ceiling, a World War II casualty, has been restored.
A little passageway running down the side of the building.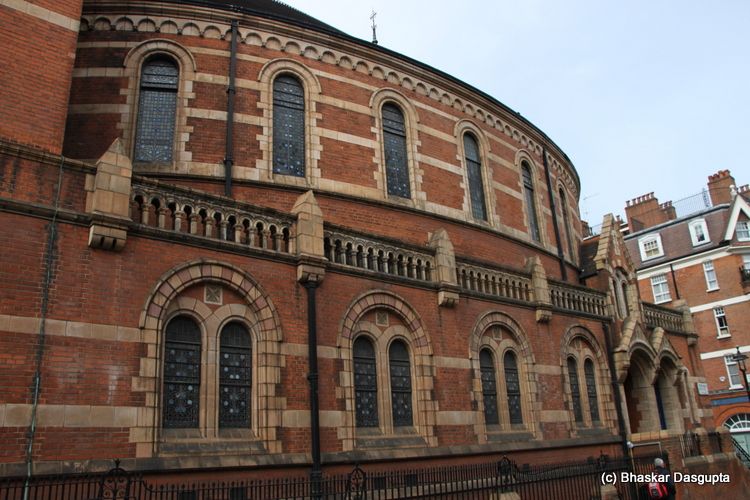 This so reminded me of Italian churches, which puzzled me, I never thought that Ukraine had this kind of architecture, Gothic yes, Italianate? no


The bell tower is really beautiful.


A bird decided to walk through the puddle.


And now you can see the circular, well, its more ovalish..


Not that many stained glass windows


The building was significantly damaged during WW2 due to bombing and took many many years to restore.


The rear entrance




A set of builders gloves, I have moved off now to Oxford Street


Sea of people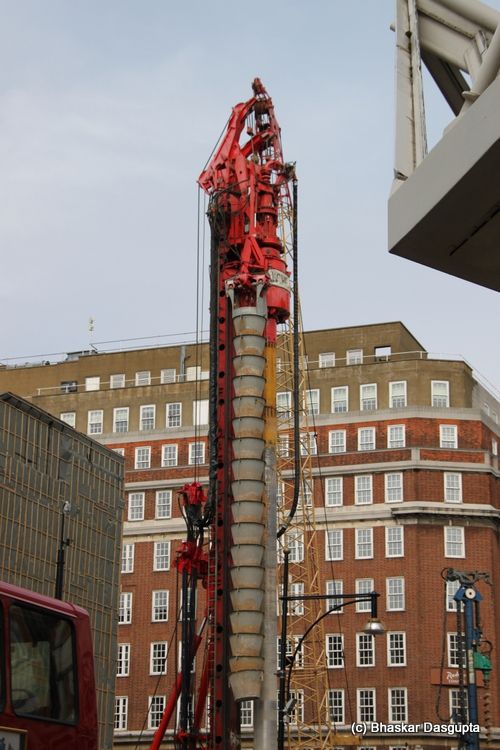 Some construction taking place, the collection of buckets is fascinating.